20 Finalists Emerge from the MTN mPulse Spelling Bee Competition
A new champion is set to be crowned when the top 20 finalists of this year's MTN mPulse spelling bee take center stage at the grand finale on November 27, 2021.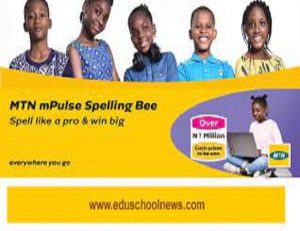 The top 20 finalists who were announced last week on the mpulse website are the best among 1000 participants who took part in the second round of the competition.
The finalists who are students between the ages of 9 and 15 in primary and secondary schools across the country will be expecting tougher words than those they faced in previous rounds of the competition.
The winner of the mPulse Spelling Bee Competition will be awarded a N2 million Scholarship grant, a laptop, a smartphone, and a mPulse Goody Bag.
MTN will also extend gifts to the school of the winner, which will receive state-of-the-art ICT Devices, including 10 laptops and 10 Hynet Modems and the champion's teacher will be awarded the sum of N500,000 cash.
Following participation from over 16,000 children across the country, Snow George, a 15 year old student of Starville School, Abuja emerged glorious at the 2020 MTN mPulse spelling bee edition in an exciting finale after she beat Ansel Ifelaja of MasterHills College Lagos with the correct spelling of the word 'Doraphobia'.
Like previous rounds, the finale will be held on the mPulse website and streamed live on YouTube.
The mPulse spelling bee is a competition organized by MTN Nigeria for students in primary and secondary schools to promote literacy, broaden vocabulary, sharpen comprehension skills and develop self-confidence through competition.
The MTN mPulse grand finale will be held on November 27, 2021 by 10 am, find out who takes home the grand prize live on bit.ly/mpulsefinale
MTN Nigeria Launches 575m Ordinary Shares @ N169 per share
MTN Nigeria Communications Plc, Nigeria's largest telecommunications company,has announced that it will open public offering of 575 million ordinary shares to the general retail investing public at a price of N169 per share.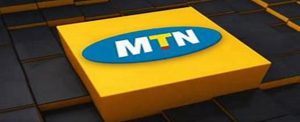 Uto Ukpanah, company secretary, MTN Nigeria disclosed this in a statement made available to Nigeria CommunicationsWeek on Tuesday, in Lagos.
The Offer according to Ukpanah will open at 8:00am on 1 December 2021 and close at 5:00 pm on 14 December 2021.
"The minimum subscription is for 20 shares and lots of 20 shares thereafter. The Offer includes an incentive in the form of 1 free share for every 20 shares purchased, subject to a maximum of 250 free shares per investor.
"The incentive is open to retail investors who buy and hold the shares allotted to them for at least 12 months, post the allotment date.
"The Retail Offer is the first in Nigeria to be delivered via a digital platform. By using the power of technology, it aims to facilitate the maximum possible participation by Nigerian investors".
Commenting on the price announcement, Karl Toriola, chief executive officer, MTN Nigeria said: "The success and growth of MTN Nigeria is intrinsically linked to that of Nigeria and Nigerians. Therefore, we are very excited to offer Nigerians the opportunity to own shares in MTN Nigeria."
"Our journey to becoming the largest network in Nigeria has been humbling, but we still have a long way to go. There is much more to do to support the evolution of an inclusive digital economy, and we continue to invest as we evolve into a truly digital operator, capable of seamlessly integrating value across the evolving telecommunications, digital and fintech segments."
Ralph Mupita, president and chief executive officer, MTN Group, said the Offer aligns with MTN Group's strategic priority to create shared value.
"In the last 20 years, we have worked diligently to connect 68 million subscribers onto voice and data networks and ensure that we deliver the benefits of a modern connected life.
"With this Offer, we will contribute to the further deepening of Nigeria's equity capital markets. It is the first in a series of transactions as the MTN Group implements its plans to ensure broad-based ownership by reducing its shareholding in MTN Nigeria to 65% over time.
"We thank the Nigerian authorities for the support we as MTN Group have received in the various approvals related to this Offer, and remain committed to play our humble role in driving digital and financial inclusion across the country over the medium-term".
Investors will be able to submit applications through the Issuing Houses, Receiving Agents (authorised Stockbrokers and Nigerian banks) and online via a unique digital application platform, PrimaryOffer, administered by the Nigerian Exchange Limited.
Intelsat Invests US$2bn into Unified Global 5G Network
Africa-focused satellite operator Intelsat is currently building a unified global 5G network the company says will support virtually any access technology, and enable the next generation of global mobility, IOT and 5G services.
The company believes while the continent relies heavily on 3G and 4G for connectivity, the role of 5G in the future African connectivity landscape is not in doubt, given the increased urgency for enhanced connectivity services for households and businesses.
Intelsat asserts that its hybrid, multi-orbit, software-defined 5G network will enable simple, seamless and secure coverage.
Hans Geldenhuys, Director, Africa Sales – Intelsat, explains: "Intelsat's open architecture design which integrates multiple orbits supports virtually any access technology, while the multi-layer approach ensures no single point of failure in the system by creating redundancy – the assurance of continuous high level of service.
The construct of our network – cloud-based, fully virtualised, and software-defined – enables ground and space systems to interact seamlessly, no matter the orbit or band. Software-defined satellites provide 'follow me' capacity that dynamically allocates based on prevailing and predicted demand.
"The network enables frictionless connectivity with global roaming and easy integration with the growing 5G networks of the world, including common hardware platforms."
To this end the company has confirmed that ten satellites, including two software-defined, are already in production and will complement its existing fleet of 52 satellites.
"… and we are also progressing in the design phase of all aspects of this network with our solutions partners," Geldenhuys adds.
The company is mobilising this infrastructure to entrench its service and value proposition in the market – and more so because its leadership believes that 5G is inevitable and there is no doubt about its role in the future African connectivity landscape.
Geldenhuys continues, "5G is a catalyst for innovation and will give an opportunity to industry and service providers, communities, and individuals to advance their digital agendas towards economic growth, job creation and socio-economic development. However, it is likely that the mobile technology that will dominate in Africa for the foreseeable future will be 4G."
Intelsat adds that according to the GSMA, 5G in Africa will only account for 3% for all connections in 2025, while 4G will continue to grow to 27%.
To make 5G successful, it will be essential for all stakeholders to put in place the necessary building blocks to maximise the opportunity that the technology can bring, the company says.
Satellite support for 5G
Intelsat is also confident of its strength in satellite infrastructure services and underlines the value of this technology in supporting 5G development on the continent – particularly in terms of extending connectivity to rural areas.
The company says for 5G networks, satellites will play an even more important role as operators will rely on their ubiquity and resiliency to ensure end-users have access to a broad range of applications, including in remote and rural areas – and even in airplanes or on ships.
Geldenhuys adds, "Satellites gives the opportunity to offer vastly enhanced and faster broadband connectivity with additional backhaul, creating redundancies, and providing remote and rural areas with greater connectivity.
Satellite will complement terrestrial networks in underserved areas for homes and businesses, or to enterprise sites as a backup. As you move to more rural and remote areas, only satellite communication has the potential to provide reliable coverage and sufficient data density.
"As the number, uses, and requirements of connectivity continue to evolve, so does the importance of extending the promise of 5G networks beyond the urban and densely networked communities."
The company says that with the majority of the population on the continent living in rural areas where voice traffic still runs over 2G networks and devices on 2G mode, it will be difficult to skip 4G and migrate to 5G without, first, taking steps to migrate 2G/3G voice to VoLTE (Voice over LTE) over 4G networks.
In the short- to medium-term, governments and the mobile industry will, therefore, need to focus on efforts to increase 4G adoption among mobile users. This will involve strategies to make 4G devices more affordable and provide relevant digital content to drive demand for enhanced connectivity services, Intelsat states.
Geldenhuys adds, "5G will be a primary use case and provide significant opportunities to enterprises of all sizes, given the challenges around access, cost and reliability of existing connectivity services.
However, the cost of 5G devices will play a crucial role in 5G adoption rates for consumers in Africa, where smartphone affordability is a significant barrier to mobile access and ownership.
"We have long advocated for the integration of standards across the telecommunications ecosystem, which are now making it even easier to integrate satellites into new and innovative connectivity solutions.
"As mentioned, at Intelsat, we're building an advanced network – aligned with these standards – that can support multiple access technologies, and ultimately make it easier for companies, governments, and communities around the world to connect and power their digital future.
"Our unparalleled unifying network will set the standard in 5G connectivity and uninterrupted global broadband service with unrivalled coverage, economics, and performance."
The issue of spectrum
Intelsat suggests that for 5G to be fully realised, terrestrial telecommunications systems will not be enough.
"We will need to move to an integrated 5G 'network of networks' where satellites play an increasing role, alongside terrestrial networks and Intelsat has, for instance, been working on 3GPP standards.
When looking at spectrum bands, a balanced way of thinking is needed to cater for wider geographic areas and ultra-high-speed capacity with low latencies. Mid-band spectrum (i.e., C band) is still required by satellite services as a robust transmission for Africa and there is a real need to protect these services and enable regulatory certainty for their future," Geldenhuys adds.
The company believes that regulators and policymakers have an important role to ensure that the mobile industry and 5G are major catalysts in speeding up the digitalisation of the continent. But it must be done in a balanced way which does not impact other services such as FSS. So, adding more spectrum is not the answer to the coverage challenges.
"In order to bridge the digital divide, regulators need to cater for a balanced approach. One that takes care of all technologies and allows them to grow to meet the 21st century connection challenge for Africa," says Geldenhuys.
The company suggests that more needs to be done to raise end user awareness of the breadth of 5G use cases and areas of application. To accelerate the adoption, end-users must see the value of the technology.
Mobile Data Traffic Increased Almost 300-fold Over 10 years – Ericsson
Ericsson global insights reveal an almost 300-fold increase in mobile data traffic since 2011 – the year in which Ericsson Mobility Report was first published. The findings, based on current and historical network data, are included in the special ten-year edition of the Ericsson Mobility Report November 2021.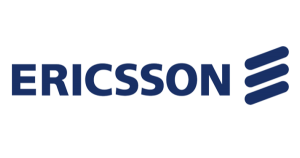 The report looks back at some of the key trends and events that have shaped the last decade, as well as revealing the latest forecasts toward 2027.
The premise that 5G will become the fastest deployed mobile generation to date has been enhanced with an updated estimate of close to 660 million 5G subscriptions by the end of this year. The increase is due to stronger than expected demand in China and North America, driven in part by decreasing prices of 5G devices.
There was also a net addition of 98 million 5G subscriptions globally in Q3 2021, compared to 48 million new 4G subscriptions. At the end of 2021, it is estimated that 5G networks will cover more than two billion people.
According to the latest forecasts, 5G is on track to become the dominant mobile access technology, based on subscriptions globally, by 2027. 5G is also expected to account for around 50 percent of all mobile subscriptions worldwide – covering 75 percent of the world's population and carrying 62 percent of the global smartphone traffic by 2027.
Fredrik Jejdling, Executive Vice President and Head of Networks, Ericsson, says: "Mobile communication has had an incredible impact on society and business over the last ten years. When we look ahead to 2027, mobile networks will be more integral than ever to how we interact, live and work. Our latest Ericsson Mobility Report shows that the pace of change is accelerating, with technology playing a crucial role."
Since 2011, the deployment of 4G LTE networks has been pivotal in generating 5.5 billion new smartphone connections worldwide, contributing to the market availability of more than 20,000 different 4G device models.
This report indicates a much earlier technology lifecycle of 5G devices, with 5G handsets today accounting for 23 percent of global volumes, compared to 8 percent of 4G handsets at the corresponding point in its lifecycle.
This is helping to fuel an exponential growth of mobile data traffic. Mobile network data traffic was up 42 percent, year-on-year, in Q3 2021 accounting for approximately 78 exabytes (EB), including traffic generated by Fixed Wireless Access (FWA) services.
In Q3 alone, mobile data traffic was more than all mobile traffic ever generated up until the end of 2016. New forecasts reveal that total mobile network data traffic is likely to reach 370EB by the end of 2027.
The report also reveals that the nature of mobile connections is changing rapidly, contributing to the ongoing rise in mobile data traffic. Broadband IoT has now surpassed 2G/3G as the segment that connects the largest share of IoT applications.
It is expected to account for 47 percent of all cellular IoT connections by the end of 2021, compared to 37 percent for 2G/3G and 16 percent for Massive IoT technologies (NB-IoT and Cat-M).
New forecasts reaffirm the rapid acceleration of massive IoT deployments in coming years, spanning use cases such as e-health wearables, logistical asset tracking, environmental monitoring and smart meters, and smart manufacturing tracking and monitoring devices. Massive IoT deployments are forecast to account for 51 percent of all cellular IoT connections by 2027.
In the same forecast period, FWA connections are forecast to grow almost threefold – from 88 million by the end of 2021, to around 230 million in 2027. Almost half of these connections are expected to be carried over 5G networks.
The ten-year anniversary edition of the Ericsson Mobility Report includes four feature articles:
Building 5G infrastructure for the digital future, together with Far EasTone
Network build-out to boost digitalization, together with stc
Time-to-content: Benchmarking network performance
Building sustainable networks