Airtel Launches 4G Network in A'Ibom
Airtel Nigeria, telecoms giant, has launched a 4G network in Akwa Ibom State to boost internet usage in the area.
Speaking at the formal launching in Uyo, Akwa Ibom State capital, Mr Segun Ogunsanya, managing director and chief executive officer, said that the launch serves as a testimony of their commitment to empower the people of the state.
"This launch serves as a glowing testimony of our commitment to partner and empower the good people of Akwa Ibom State"
He added "Ours is a 4G service that is not only fast and reliable but a 4G service that works"
Ogunsanya explained that the 4G holds enormous benefits for the People and government, as it will aid and accelerate economic and commercial activities.
"4G comes with tons of benefits: It will accelerate economic and commercial activities; it will boost personal and professional productivity; it will help in creating more entrepreneurs; it will offer the youth a big leverage to express their creativity and talent; it will improve the overall quality of life and connect more people to their dreams.
"With 4G, Airtel will also power people, business and aid governance through technology"
He hinted that the journey of building the network began last year, adding that they have recorded major milestones through the launching of the network in Ibadan and Abuja
"Last year, we began an interesting journey of building the largest and most robust 4G… network in Nigeria. And we have made great progress on this journey, connecting many towns and cities, pan Nigeria. Specifically, on the 13th of February, 2018, we recorded a major milestone with the pioneer roll-out of our 4G network in Ibadan to the delight of many Nigerians who live in the ancient city. On Thursday, 4th May, 2018, we also launched our 4G service in Abuja,  the nation's capital.
Also speaking, the governor represented by Dr Emmanuel Ekuwem, secretary to the State government,  thanked the service providers for coming into the state to build the 4G network adding that the network will boost productivity of the government.
"I will like my fellow citizens in Akwa Ibom State to know that 4G is not for fun. It is for productivity, business, growth, for enhanced performance.
"As we say in ICT Industry that there is a speed, you assess a reservoir of knowledge, which is broad band Internet.
"And the ease which you transfer the knowledge which you acquire to any field of human endeavour, that is what gives you an edge over others.
Right of Way: Experts to Discuss Next Steps for Broadband Internet Penetration for Africa
#StartupSouth, which educates, connects and attracts funding to founders and Startups within the South-South/South-East is hosting top Industry professionals and Government officials to a virtual event  on May 29, 2020 to discuss next steps towards Scaling Broadband Internet penetration in Nigeria in particular and Africa in general.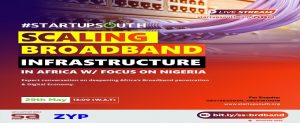 This followed the recent announcements of  per linear meter Right of Way charge review by different states in the cohtry.
Right of Way Charge Per Meter of Fiber Optics Cabling is considered one of the most vexatious and biggest hindrances to growth in the industry. Panelists will discuss challenges, solutions and next steps towards broadband Internet Penetration in Africa.
Panelists include Steve Song  (Fellow at Mozilla Foundation and Lead at NSCR – the organization behind the Africa Broadband map website) and Mr. Gerald Ilukwe – former Manager, Galaxy Backbone and Chief Information Officer, Kaduna State Government. Others are Bradley Shaw – Regional Manager, Middle East & Africa at NuRAN Wireless, Akintunde Oyebode – Special Adviser, Trade, Investment and Innovation, Ekiti State and more.
Speaking about the event, Uche Aniche – convener of #StartupSouth – said, "the event will enable professionals. Public officials and Investors to come together and discuss a way forward. You will recall that this was the central theme of our conference (#StartupSouth5) in Uyo last year. We expect more states to adopt this policy, but, more importantly, we want to see them do so in a very sustainable manner that ultimately unlocks the true benefits to citizens.
Liquid Telecom Eyes Datacentre Expansion in Nigeria, Ghana
Strive Masiyiwa, Executive Chairman of the Liquid Telecom Group, confirmed that plans are at an advanced stage to enter West Africa and said: "We have secured land to build the largest datacentres in Nigeria and Ghana."
Masiyiwa's confirmation was included in an announcement by Africa Data Centres, the pan-African network of interconnected, carrier-and cloud-neutral datacentres, that its deal to acquire a Tier IV datacentre in Johannesburg from Standard Bank has been unconditionally approved by the South African Competition Commission.
Africa Data Centres, part of the Liquid Telecom Group, believes the acquisition will prove highly disruptive to the South African datacentre and co-location market, and added that the facility is available on an open-access basis, giving every modern technology-driven enterprise the confidence to innovate and grow.
Stephane Duproz, CEO of Africa Data Centres, said the facility will redefine the datacentre experience for regional, continental and global customers. "The acquisition marks a significant extension to Africa Data Centres' pan-Africa network of interconnected, carrier and cloud-neutral datacentres."
Jörg Fischer of Standard Bank added, "Standard Bank is extremely pleased to have completed this historic milestone with Africa Data Centres, which is aligned with the Bank's cloud-first digital transformation strategy. Our digital vision is to bring innovation into every aspect of the bank's IT systems, transform the employee experience and in turn enable a consistently rich and rewarding customer experience."
In line with all Africa Data Centres' facilities, the Johannesburg site will also operate on a fully carrier-and cloud-neutral basis.
The unveiling of this remarkable facility coincides with an unprecedented level of demand from national, continental and global customers, expecting the highest levels of quality, security and reliability, according to the companies.
In response to this demand, Africa Data Centres has also started work on a further 10MW IT capacity facility at its Midrand campus.
CWG Plc Records Profit Before Tax of N634M in 2019 Financial Year
CWG Plc, the Pan-African Information and Communications Technology Company and Nigeria's largest system integration company has released its audited full-year financial statement for the period ended December 2019.
The results showed positive improvements from 2018 audited financial statements, as it increased its gross revenue by 23.4 percent to N9.6 Billion in FY 2019 from N7.8billion in 2018.
However, Net Assets grew by 67.4 percent to N192million from N115million in the previous year.
The growth in revenue and profit was achieved with a reduced OPEX of 23 percent over 2018 financial year.
CWG Plc closed 2019 with a positive EBITDA at N892million, PBT N634million and ended that year with a Profit after Tax of N73 million.
CWG Plc is one of Nigeria's leading players in the Hardware and IT enterprise solution industry.
As part of its efforts to step up its operational value, it got its shares listed on the Nigerian stock exchange a few years ago.