Backup is Important to Mitigate Crash, Theft -Omotoso
Bolanle Omotoso is the country manager of Data Recovery Specialist Limited. He studied Computer Science and has a Certificate in Marketing at The Polytechnic, Ibadan. He has vast exposure in the ICT industry. Besides IT consulting and training organizations, he has other experience in the discount house sub-sector where he served as a pioneer head of IT of a PFA. He also has a brief stint as the head of IT of a leading issuing house/capital market operator; Greenwich Trust Limited. Omotoso spoke to Hilary okeke
Businesses Reluctance to Make Provisions for Disaster Recovery
It is not peculiar to Nigeria; it is a global problem. People easily forget to do the needful why catching up with other chores of life. It never occurred to many people that they actually spend more time on their computers than in their cars or bed at home. That simply means that our lives or businesses depend to a large extent on these systems, so why would you not backup your files? These files make up business information with which we run the operations and take decisions. In large organizations where you have an IT department, the IT people are usually overwhelmed with tasks such that in order to keep pace with requests and challenges posed to them by the business people, they just dedicate their time only to the routine backup of the business applications because this is where the books are maintained, leaving out user's files. That is the mistake made easily. If you want to confirm how critical the users' files are, take a laptop belonging to a CEO of a company for five minutes and let us watch if he can function. Backup is necessary not only to escape a crash but also to mitigate theft. No data recovery company can recover files from a stolen laptop.
Building Redundant Data Centres is Very Expensive
Whatever is good and essential will cost money, but the costs must be associated with the business running costs because if you do not have access to your business information, then the business may cease to exist. By our partnership with the largest IT Company in Asia, our proactive solutions are very affordable now as we do not ship crashed disks. Our proactive solutions which involve setting up Disaster Recovery and Business Continuity strategy deployments are also next door because we have partnered with 2 other world leading backup solutions giants, Acronis and Synology.
Let me quickly say that most costs associated with these sites are actually spent on infrastructure, not the actual solutions. In the developed worlds, they do not use generators as we do. If you remove the power generation cost alone from a hot site, you will realize that it is a one off cost and is infinitesimal compared to its benefits.
With time, we will begin to introduce online backup solution to the corporate customers since we cannot guarantee when adequate power supply will become stable in Nigeria.
Online backup solution means a customer's critical files are stored on a remote server accessible only by the authorized representative of the customer. The servers are maintained in an environment where light does not blink, and also electrical surge and spike are uncommon. The solution will really save cost for customers.
Convincing Businesses to Look Towards the Area Of Data Recovery
What we have started to do is to sensitize the corporate organizations to take the issue of total user backup as a serious business; this is preventative and proactive, and also cheap. As regards data recovery, once a crash occurs, it is logical for the victim to seek our assistance except the lost files are not critical, but because adequate backup will always be better than a recovered job, we are busy deploying proactive solutions to prevent crashes because 100% data recovery is usually not feasible anywhere in the world.
Other Solutions to Recover Data in Cases of Accidents
The off site backup centres are proactive solutions which can cater for accidental deletion or unintentional crash or a good response to a natural disaster. On the other hand, when a storage medium has crashed and there is not up to date backup copy of the files, the next logical thing to do is to shutdown the machine to prevent further accesses which may jeopardize a professional data recovery exercise, and then call for a professional's help.
In some cases, you will see customers using some online data recovery software tools without first evaluating the crash situation. You need more than recovery software for successful data recovery, your skill counts too. For example, if you are given a chainsaw, can you fell a tree? Of course no, because you have not been trained; not everybody with a clipper can cut your hair. Most customers end up destroying the files by using the do-it-yourself tools. The best bet is to come to the professional provided the sought files are critical.
e-Payment and Role of Data Recovery
Obviously the need for storage is growing, and the more we depend on computers, the more storage we will need, and the more protection we must give to these storage devices. In actual fact, we will be saving lives if a critical payroll system should crash and the last month credible backup is not available. That would definitely delay people's salaries. Our ability to quickly restore the files will lower people's blood pressure as they will get their pay timely, and also ensure that the e-Payment system continues to work.
Popularity of Data Recovery in Nigeria
As I said during the press conference, the data recovery knowledge is very limited and in fact, not existing in a qualitative or organized manner. What you have everywhere is just hard disk slaving. When a crash occurs, a typical IT personnel will attempt to attach the crashed disk to another working system so that he can access the files through that system.
There are different complexities to a crash, and that is why after slaving does not work, they will then send the disk to us. We see that everyday especially with big organizations because they have IT departments. But data recovery body of knowledge transcends just slaving a disk.
There are procedures and processes to be followed religiously, and they are not static. It is the crash situation that will determine what procedure to adopt. Surgeons do not operate on a patient the same way for all ailments.
There are several causes of a crash and each crash situation may be hardware or software related. By God's grace, one of our mandates is to establish an International School of Data Recovery and Forensic Sciences in West Africa. We have already chosen Ikorodu as a very good location for this school because of its serenity and security.
100% Guarantee of Data Recovery for Compromised Electronic Storage Devices
There is nothing like 100% recovery because during the course of a crash, some sectors housing critical data files may have become bad and inaccessible such that you may even need to carry out a transplant for the crashed disk in order to access it. It feels so good when a system is up and running. When the machine breaks down, by the time a successful recovery is done, you will only be concerned with the on-the-spot critically needed files; you may even have forgotten where the files were saved. You see, disks do not fail suddenly just as the human heart does not fail suddenly. It is a gradual thing. Cholesterol begins to build up in the walls of the arteries, this causes hardening of the arteries over time so that they become narrow and totally block blood and oxygen from flowing to the heart. A disk that is about to crash gives signs, but users are always in a hurry and too busy to take notice. Just the same way people do not remember to religiously service their cars or generators until they breakdown.
With our skills and tools, our lowest success rate is 72.07% and we have done 99.9% before. It is a lot of feat to achieve our records, remember we use proprietary licensed tools.
Implications of DRSL's Alliance with Myung Information Technologies
The relationship is that of a mother and child because the Nigerian office actually represents its operations and services in West African nations, not only for data loss recovery but for all services and products being sold by the technology giant.
Myung has invested in West Africa, starting in Nigeria by transferring technology, skills, business models, and procedures to us. We operate as a branch office not as a business partner, and this has enabled us to handle more jobs. We will soon appoint sub-business operators (SBOs) that will act as collection centres at some strategic locations in Nigeria and Ecowas nations. That is the model we have been given to increase our market share, irrespective of where the job is coming from, the customer will enjoy the same quality service delivery as practiced in Korea.
Annually, we must go for six weeks technology training at the head office in Korea, likewise all the branch offices to update the personnel there of the latest development in data loss recovery and forensic services. At the global office, there is a building filled with research and development specialists who ensure we keep pace with every crash situation.
Unless we cannot find a spare part for a job, we do not ship disks abroad again. In fact, if we have a very complex situation on our hands, specialists in Korea can remotely support in order to save time and cost.
CBN Pulls Rate Cut Trigger, King Dollar Returns
By Lukman Otunuga, Senior Research Analyst at FXTM,
In a move that caught investors off-guard this week, the Central Bank of Nigeria (CBN) slashed interest rates by 100 basis points bringing the MPR to 11.5%. Given how inflation has been above target since 2015, rates were expected to remain unchanged for the rest of 2020 and possibly early 2021.
The question on the mind of many is whether the rate cut will achieve the desired effect by stimulating consumption and economic growth? Ongoing border closures and disruptions created by COVID-19 have pushed inflation to levels not seen since March 2018 above 13.20% while a drop in the production and price of Oil continues to rub salt into the wound. While looser monetary policy could support growth, it may come at the cost of rising inflation and weaker Naira.
Over the past few months, central banks across the globe have deployed unprecedented measures to defend their respective economies against the coronavirus menace. However, fiscal policy has been identified as the sharper tool with governments across the world providing a critical lifeline to keep the wheels of their respective economies rolling.
Outside of Nigeria, King Dollar made a return by appreciating against every single G10 currency. In times of uncertainty, everyone wants a juicy piece of the world's most liquid currency. As coronavirus cases rise in Europe and other parts of the world, the flight to safety is likely to boost appetite for the Dollar. This is bad news for many emerging markets currencies, especially those with high Dollar-denominated debt.
On the commodity side, Oil prices remain heavily influenced by demand-side factors and the state of the global economy. Prices are likely to remain stuck around the $40 regions in the near term, especially If another round of possible lockdowns hit Oil demand. Looking at the technicals, WTI Crude is under pressure on the daily charts. If prices are unable to break away from the sticky $40 regions, the next key point of interest remains around $38. A weekly close above $41.50 could pave a path towards $43.
NCC Arrests Man for Hacking into DSTV System
Nigeria Copyright Commission (NCC), has arrested one Mr Aliu Olalekan, for allegedly hacking into DSTV system and watching the channels free without subscription.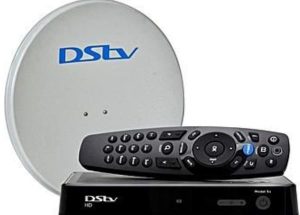 Mr Matthew Ojo, NCC Director in the Lagos Directorate Office said this while speaking with newsmen in Lagos, on Tuesday.
He said that the suspect used to watch DSTV channels free without subscription on his Android phone via an app which he downloaded on google play store.
"This suspect distributed the know-how to his telegram followers and on his blog with the aim of gaining more followers and viewership on his blog and makes more money through google ad-sense.
"The operation was based on surveillance which had earlier been carried out by the Multi-choice team and verified by a copyright inspector, " he said.
He added that the arrest was made in collaboration with a team of copyright inspectors led by the Head of Enforcement Department, Mr Charles Amudipe.
Others included; a team from Multichoice Nigeria led by Mr Umar Ibrahim and policemen from Lagos Command Headquarters, Ikeja.
Ojo said that the joint team conducted an anti-piracy operation at the premises of the culprit in Amukoko, Lagos.
According to him, the suspect was contacted on phone by a member of the operation team on the disguise of patronising him. "The suspect came out to meet the caller and in the process of discussion, he was apprehended.
"The suspect took the team to his resident. The squad paraded his one-room apartment and recovered his laptop and phones used in perpetrating the ungodly act. "He was arrested and brought to the copyright commission office for further investigation, " he said.
Ojo said that, on getting to the commission's office, the statement of the suspect was taken and the inventory of items seized from him taken. He said that investigation on the matter was still ongoing and if found guilty the suspect will be charged to court.
NCC, Digital Encode Support NITRA Innovative Tech Forum On Post-COVID-19 Strategies
The Nigerian Communications Commission (NCC), Nigeria's telecommunications regulator and Digital Encode, Cybersecurity and Compliance advisory company, have indicated interest to partner with the Nigeria Information Technology Reporters Association (NITRA), the national umbrella body of ICT reporters, as it organizes a forum that will x-ray the industry's future plans for ICT growth post pandemic era.
The event, slated to hold on October 15, 2020, will seek to discuss the needs for a fortified ICT sector after the COVID-19 era, and the level of preparedness of ICT stakeholders to embrace the challenge of being pivotal to the stability and growth of all other sectors.
A statement from NITRA National Secretariat in Lagos indicates that due to the pandemic and need to observe the COVID-19 protocol on social distancing, the event will be held via a Webinar.
This year's theme, "Multi-stakeholder Approach To National Recovery Post-Pandemic", is in line with the annual event's generic theme, 'NITRA Innovative Tech Forum', a contribution by NITRA to the development of Information and Communication Technologies (ICTs) innovations and policies in Nigeria.
Prof. Umar Danbatta, executive vice chairman, NCC is expected to deliver the keynote speech at the event and will throw more light on Federal Government's plans, programmes and policies on post-pandemic strategies using ICT.
Dr. Adewale Obadare and Dr. Seyi Akindeinde, founders of Digital Encode, while accepting to support the event expressed their readiness to offer their expertise in Cybersecurity for organisations to prepare against cyber- attacks with the new normal.
They will also highlight areas that are high risks that need fortification in terms of cybersecurity.
Speaking on the event, Mr. Chike Onwuegbuchi, national chairman, NITRA, noted that as the COVID-19 pandemic continues to leave its negative trails across the globe, economic reboot for countries will not only depend on how well they readapt to the new normal, but also more on their recovery plans.
According to him: "While the federal government has consistently expressed its willingness to set all policies in place to engender growth, and accelerated implementation of these policies, private sector firms have also shown great hunger for the task ahead in post-COVID-19 era.
However, the question that needs to be answered is whether all stakeholders are ready for the required task ahead."
The event will also offer participating companies opportunities to publicize some of their individual efforts at contributing to reacting a soft landing or lifeline for SMEs and other ancillary companies as the pandemic threatens their survival.
Digital Encode is a multi-award winning and leading consulting and integration firm that specializes in the design, management, and security of business-critical networks, telecommunications environments and other Information Technology (IT) infrastructures.