Cleanbuild.africa Calls for Climate Action Volunteers
The word 'climate change' has been recurring for more than a decade, but now we all are feeling the effects, some more than others. Although we read and hear about the effect of climate change and how it is affecting countries on a global scale, what some people still fail to realise is that everyone is affected someway somehow.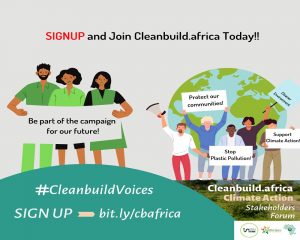 Climate change plays out differently from one country to the other. Yet, more and more people are becoming vulnerable to the effects in diverse ways – ranging from increased temperature, wildfires, food shortages, water scarcity, hurricanes, extreme weather conditions, and many other destructive natural phenomena.
All of these climate-related disasters underscore the need for urgent collaborative actions and it is precisely what Cleanbuild.africa's upcoming Climate Action Stakeholders Forum aims to explore. The event will assemble over 300 including cleantech startups and advocates, stakeholders, policymakers, investors across all climate verticals.
A Call for Volunteers
Do you have a keen interest in contributing to ongoing efforts that tackle climate change?  Would you like to support the CleanbuildVoices campaign as a volunteer? If yes, you could apply here to volunteer as a social media, content developer, researcher or campus ambassador.
Expectations as a Volunteer
i) Social Media
As a volunteer on social media, you would be required to:
Run #CleanbuildVoices campaigns.
Increase engagement across social media.
Work with an in-house social media manager to develop and implement strategies.
ii) Content Development
As a volunteer writer, you would be required to:
Assist the writing team with well-developed articles around renewable energy, clean technology, and climate change
Pitch content ideas that can drive engagement
Work closely with the editor
iii) Research
As a research volunteer, you would be required to:
Conduct in-depth research in the areas of climate finance and policy; the state of Africa's transition to renewables: its potentials and challenges; and Africa's approach to a circular economy.
Keep abreast of current global developments and trends within the energy industry.
Be familiar with key players within Africa's cleantech and waste management sectors.
iv) Campus Ambassador
As a volunteer, you would be required to:
Be the voice of #CleanbuildVoices on your campus
Promote the upcoming cleanbuild.africa events and projects
Bring ideas to help increase awareness of #CleanbuildVoices campaign on the campus
If you fit into any of the available options and would like to be a volunteer, click here to fill a form.
Climate change is real and collectively we can make a difference. Remember, there is no 'Planet B' if our earth is completely ruined. Hence, now is the time to act for the greater good of humanity.
Cleanbuild.africa is building the largest stakeholders climate action in Africa and we are excited for you to be a part of this movement.
Ugbe, MultiChoice CEO Begins Tenure as BON Chairman
John Ugbe, chief executive officer, MultiChoice Nigeria, has been sworn in as the chairman of the Broadcasting Organizations of Nigeria (BON).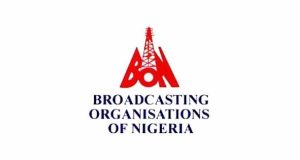 The swearing in ceremony held yesterday at the Transcorp Hotel in Abuja.
At the event, Dr Mansur Liman, director-general of the Federal Radio Corporation of Nigeria (FRCN), was also sworn in as BON vice chairman.
Ugbe emerged chairman last month after defeating Sir Godfrey Ohuabunwa of Multimesh Limited by 63 to 35 votes in an election at the Coronation Hall of the Kano State Government House, Kano
The ceremony was well attended by relevant government agencies, including the Nigerian Broadcasting Commission (NBC), Voice of Nigeria (VON) and Nigeria Television Authority (NTA).
Speaking after he was inaugurated, Ugbe promised to reposition BON.
Dignitaries led by Dr Abdullahi Ganduje, Governor of Kano State delivered goodwill messages.
Also at the event were Senator Francis Onyewuchi, who represented Senate President, Senator Ahmad Lawan; and Enyinnaya Abaribe, Senate minority leader.
Other dignitaries in attendance were Senators Kabiru Ibrahim Gaya, Ayogu Eze, D. A. Sankara (Chairman, Senate Committee on Information), Honourable Segun Odebunmi (Chairman, House Committee on Information), Alhaji Balarabe Ilelah, NBC Director- General; Dr Olalekan Fadolapo (Registrar APCON), Mr John Momoh (Chairman of Channels Media), Prince Nduka Obaigbena (Chairman of ThisDay Media Group) and Mr Femi Adesina (SA Media and Publicity to President Muhammadu Buhari) were
Hajia Sa'a Ibrahim, outgoing chairman, charged the new chairman and vice chairman to continue to unite BON members and ensure a focus on that professionalism.
She also harped on training and preservation of the core values of BON.
MultiChoice Nigeria Unveils Exciting Lineup of Shows and Series Ahead of this Years Festive Season
MultiChoice Nigeria has unveiled a lineup of new shows, series and other content offerings coming to its DStv, GOtv and Showmax platforms ahead of the festive season and well into 2022.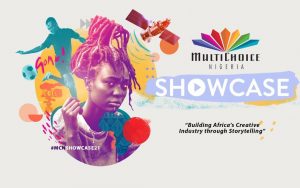 The content unveil was done at the 2021 MultiChoice Showcase event which took place on Thursday, 21 October 2021.
Busola Tejumola, executive head, Content and West Africa Channels, MultiChoice Nigeria, who spoke at the event alongside other company executives and partner channels' managers, talked about the new shows coming to Africa Magic Showcase, Urban and Family, and those coming to Akwaaba Magic throughout the rest of the year and the first quarter of 2022.
She also shared there will be a channel that will showcase live festivals and events across West Africa.
Existing shows and series like 'Turn Up Friday', 'Owambe Saturday', 'Music Buzz', 'Unmarried', 'Date My Family', 'Judging Matters', 'Shoot Your Shot', 'Love Come Back', 'The Flatmates', 'The Johnsons', 'My Siblings and I', and more will return with new seasons.
On the other hand, brand new shows, 'Movement Japa', which will air on Africa Magic Showcase and 'Rishante', which will air on Africa Magic Urban, will both premiere in November 2021.
In addition, brand new shows are coming to MultiChoice's on-demand video platform, Showmax, this month and early next year.
The first Nigerian-produced comedy series on Showmax, 'Ghana Jollof', will premiere on Friday, 22 October 2021, while 'The Real Housewives of Lagos' will premiere in January 2022. 'The Africa Magic Viewers Choice Awards' will also return next year.
Rashineh Ifoh, Lead Content, Pop Central TV, also talked about new shows coming to the channel this year and early 2022.
He broke their top offerings into six shows, including a discussion show, reality series, and other formats. One of them, 'The Rush', speaks about the 'testament of the reality of winning, where the finalist walks away with N15 million.' They also have a show featuring former Big Brother Naija couples – BamTeddy called 'Uncut With BamTeddy'. Their other shows include 'Phenomen-ally', 'Another Angle', 'Story Africa', and 'Side Men'.
On Honey TV, Busola revealed that viewers can expect even more lifestyle content, especially locally-made content straight from Nigeria.
Perhaps most exciting to note is Toke Makinwa's talk show, 'Talk With Toke Makinwa', coming to the platform in November 2022. Other shows include Winnie Okpala (Zeelicious') cooking show – 'My Naija Plate', 'Drum Crime Series', 'Kid's Kitchen Relay', and the second season of 'Pastor's Wives'.
Akintunde Bada-Johnson, Country Manager, ViacomCBS, also gave insight into what viewers can expect to see on their channels for the rest of the year. He said, "We have something for everyone – especially on MTV Base, BET Africa and Nickelodeon."
He revealed that they would air the 'Soul Train Award' live on BET and the 'Video Music Awards' on MTV. He also stated that there'll be a return of the second season of shows like 'Inside Life With Erica' on MTV Base as well as 'Isono' on BET Africa.
John Ugbe, chief executive officer, MultiChoice Nigeria, reaffirmed MultiChoice's commitment to making services more accessible. He said, "At MultiChoice, our customers are at the heart of everything we do, and while we pride ourselves on being the nation's leading entertainment platform.
"We know that our success is hinged on the experience our customers have while interacting with our services. This has informed our deliberate shift to more convenient and responsive digital options.
"DStv online is a mobile-based service that gives you the same package offering that your DStv subscription offers. It makes entertainment more accessible as you can watch and catch up on your favourite shows on the go".
Tope Oshunkeye, head of marketing, MultiChoice Nigeria, also announced the release of a new program on DStv called 'CRIS' (Content Recommended Intelligence System).
The program will be controlled by a button on the remote that recommends shows for the viewer based on other content they are currently consuming or their viewing patterns.
This will be available on HD decoders. Oshunkeye also announced the creation of a brand new GOtv package that allows customers to experience more exciting channels.
The package called 'GOtv SUPA' will be available on Monday, 1 November 2021 and will cost N5,500. It will have more channels like ROK, Honey TV, Nick Jr, Africa Magic Urban, WWE, and 80 + channels.
Most of these new shows like 'Dilemma', 'Venge' and 'Mercy, What Next?' have already started to air on DStv. More programming will begin on DStv and GOtv as October runs out, through the rest of the year and in the first quarter of 2022.
Royal Navy Warship Arrives Lagos for Gulf of Guinea Deployment
The British Royal Navyship, HMS Trent, has arrived Lagos State as part of its three months deployment to the Gulf of Guinea.
The HMS Trent and her contingent of Royal Marines from 42 Commando are on a three-month deployment to the Gulf of Guinea.
The Port of Lagos is the second stop for HMS TRENT since departing Gibraltar in October.
The Royal Navy War ship was received by the United Kingdom, UK, Deputy High Commissioner in Lagos, Ben Llewellyn-Jones, at a reception on Saturday.
According to Llewellyn-Jones: "Nigeria's security and prosperity matters to the UK. The Royal Navy is here because the UK is a committed partner for Nigeria and the wider West African region.
"We will continue to work with the Nigerian authorities to address illegal activity; improve maritime security; counter-piracy and tackle the Illegal Wildlife Trade.
"To do this, we will draw on the experience we have of cross and multi-agency co-operation in the UK to promote peace, development, and prosperity."
The HMS Trent has a packed schedule of events, including various capability demonstrations and training, with 42 Commando delivering their specific Vessel Boarding, Search and Seizure training to the Nigerian Navy.
In addition, members of the ship's company will also step ashore with a charity beach clean as well as attending the Maritime Security Conference at the Nigerian Institute of International Affairs (NIIA).
Also speaking, the HMS Trent's Commanding Officer, Commander Thomas Knott said: "As Trent made her way to the Gulf of Guinea my crew honed their skills in Maritime Security Operations and commenced Counter Illicit Activity Patrols.
"Piracy, Narcotics and broader criminal activities in this region demand that my Royal Navy Sailors and Royal Marine Commando Force are always ready to respond, from Boarding Operations through to lifesaving assistance at sea."
Boarding exercises are vital integration training for the newly embarked Royal Marines, who joined at the start of the HMS Trent's patrol of the Gulf of Guinea.
42 Commando will perform a key role as part of the ship's company of the HMS Trent, training partner forces across the region and helping to develop their capabilities.
The three-month deployment will see the ship travel around the Gulf of Guinea, visiting countries including Ghana, Senegal, and Gambia.
Alongside their commitments to conduct joint exercises and train with partners in the region, the HMS Trent will also conduct maritime security patrols and promote the UK's position as co-president at the G7++ Friends of Gulf of Guinea conference in November.