Co-Location: An Imperative for CAPEX Reduction
Although there are pockets of sharing of infrastructure among telecommunications operators among Global System for Mobile communications (GSM), operators there is urgent need now for a massive adoption of co-location of infrastructure by them.
Most importantly, with the global economic meltdown which has reduce the ability of over seas financial institution to give support to businesses thereby affecting the ability of those organizations especially equipment manufacturers as the case may be in telecommunications space to supply equipment on credit to operators in developing countries. To this end, there is urgent need for telecom operators in Nigeria to increase adoption of co-location of infrastructure as a way of reducing cost as well as palliative measure in the current economic recession than looking up to government for such.
Nigeria CommunicationsWeek investigations reveal that unlike their GSM counterpart that have gradually adopting co-locations, CDMA operators are yet to consider the option. They are still pursuing the policy of doing it alone as well as battling with the idea of being the first to reach certain subscriber base through expansion without regard to its implication on the already high cost of doing business in the country.
It was reported that a certain CDMA operator, known for this business model lately realized that it lost over N8 million in the last fiscal year as a result of its quest to do it alone and being the first.
More so, there is nothing wrong for a company to be the first to expand to a town but, such company should consider as ways of reducing cost sharing sharable infrastructure with other operators that are there before it, but may not be operating on the same frequency. For instance, there are infrastructure CDMA operators and GSM operations could share these are generating sets, towers, compound among others.
According to a report released recently by a market research firm, Infonetics Research, global service provider capital expenditures (capex) hit a plateau at $298 billion in 2008, marking the end of a five-year investment cycle. This represented a 12.9% increase in capex spending from the previous year, with much of the growth due to currency appreciation against the US dollar, which peaked in July 2008.
The report noted that the first quarter of 2009 was ugly for equipment vendors because service providers were very cautious, pulling back significantly in some areas, particularly TDM and IP voice infrastructure and SONET/SDH optical equipment spending. On the other hand, it was a stellar quarter for large service provider shareholders, as free-cash-flow among service providers is at an all-time high. Overall, service providers around the globe are maintaining clean balance sheets, telco revenue continues to show resilience, and consumers are increasing mobile Internet usage on their iPhones and other smartphones.
Infonetics is now projecting a 2.8% downturn in worldwide carrier capex in 2009, followed by a flat 2010 and a slow return to growth in 2011 with the start of a new investment cycle.
These points to the fact that telecommunications operators should develop tick skin in the face of all these, and in developing tick skin requires effective resource management which co-location is one of them.
In order to meet the increased communications infrastructures sites rollout demand, statutory requirements for infrastructure sharing and harness economic advantages derivable from co-location and sharing telecoms infrastructure, it is important for operators to explore the possibility of site infrastructure co-location with other telecom operators.
In general, co-location is moving or placing things together, and is used to mean the provision of space for a customer's telecommunications equipment on the service provider's premises. In the internet world for example, a Web site or an ISP could place its network routers on the premises of the company offering switching services with other ISPs while in the GSM/Telephony world, Operator could decide to share facilities/sites for cost savings reasons. Co-location is sometimes provided by third party company that specializes in collocations.
Benefits of Co-location
Operators can derive savings on Capex and Opex required for site infrastructure build allowing for more efficient utilization of Capex to expand for coverage and capacity.
Scarce capital and management attention can be diverted to key value-creating activities such as customer acquisition, service quality, operational and strategic excellence.
Co-location provides solutions to problems on capital-constrained, high interest rate, high growth environments.
By adopting co-location, there is no need for operators to maintain in-house expertise to build, operate and service site infrastructure.
There is reduced cost to operators under Towers/Equipment lease, on built in Capex costs and Opex costs resulting in increased operating margins.
Addresses regulatory pressure to co-locate and admin costs to operators of managing the co-location process and activity, increased entry speed for new companies.
It reduces environmental hazard caused by having so many sites.
There are two options available to operators for co-location: Operator to operator agreement where an operator will offer one or more operators a space in his location to share some infrastructure.
Third party service provider can provide a site and facilities, for example a Tower for one or more operators to mount their equipments like radios and antennas.
What can be shared through co-location? Shelter Space, Tower or Mast Structures
Cable Ducts, Earthing Protection System, Lighting Protection System, Rack Space, Fence-wall or palisade fencing, Equipment Shelter Plinth, Transmission Link, AC power (public & private source), among others.
Steps required towards co-location
According to Gbenga Adebayo, chief executive officer, Community Network Support Services (CNSS), these steps are, identification of the technical requirements of co-location with a view to strategizing on meeting the requirements, development criteria for achieving a fair, effective and balanced site co-location evaluation and implementation arrangement with other operators.
Others include development of operator's policy for co-location and provision of framework for accommodating statutory guidelines within the operator's policy document, and provision of basic information to Operator's management to enhance management decision making on proposed infrastructure sharing with a view to harnessing economic advantages derivable from the project.
Against these backdrops that Telecom Answers Associate in collaboration with Nigerian Communications Commission (NCC) last week reiterated the imperative of co-location at a co-location forum held in Lagos.
Engr. Ernest Ndukwe, executive vice chairman, NCC, said at the forum that co-location is the next stage of telecommunications revolution in the country, which informed the commission's licensing of some companies to provide co-location infrastructure.
He said that, if operators co-locate their infrastructure there will be great reduction in cost, proliferation of mast that distorts beauty of the environment among others. He noted that the commission partnering with Lagos State government to destroy all the mast erected by cyber cafés and others that are no longer in use. NCC he said being the foremost telecom regulatory agency in Africa has set-up diverse plans and initiatives that will bring about better service delivery by the operators of which co-location id part of it.
Funke Opeke, speaking on 'Network Planning Considerations in Telecommunications Co-location', stressed the need to allow cordial operation among telecom operators such that will unite them in communications and information processes.
She added that financial reliability, service level agreement and maintenance of infrastructure will help co-location.
The time has come for the telecom companies in Nigeria to stop playing the number game of how much infrastructure and sites they own and start looking at ways like co-locating and have agreed shared infrastructure with other operators. Operators should start focusing on network expansion, and increasing coverage using the most economic and efficient means possible to promote rapid growth in the industry and reduce the environmental hazards and other disadvantages caused by having so many individual communications infrastructure.
Satellite Operators Push New Signal across Africa, Indian Ocean Regions
The Agency for Air Navigation Safety in Africa and Madagascar (ASECNA), has started to broadcast a Satellite-Based Augmentation System (SBAS) signal over Africa and Indian Ocean (AFI), providing its first open service in the region via NIGCOMSAT-1R Satellite managed and operated the by Nigerian Communications Satellite Ltd., under the Federal Ministry of Communications and Digital Economy.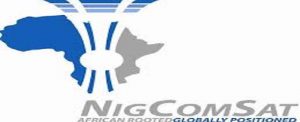 This early open service is provided as part of the programme, which pursues the autonomous provision SBAS services in Africa, to augment the performances of the satellite navigation constellations GPS and Galileo.
With improved accuracy to within a meter, and boosted integrity, availability, and continuity of safety-related applications, these SBAS services will improve flight safety and efficiency in Africa, and also benefit the economy in many areas as land, sea, and rail transport, as well as mass-market applications, supporting user safety, cost-effectiveness, and sustainable development.
The launched open service essentially aims to carry-out technical trials, and to undertake partner airlines field demonstrations for aircraft and rotorcraft, to demonstrate the benefits of the future operational safety-of-life SBAS services, expected from 2024. It will also include early Precise Point Positioning (PPP), and emergency warning service to populations, which performance will be proven through other demonstrations.
The signal-in-space is generated by a dedicated system tested, developed as part of the "SBAS for Africa and Indian Ocean" preliminary design phase, financed by the European Union, and awarded to Thales Alenia Space, Joint Venture between Thales (67 per cent), and Leonardo (33 per cent).
The "SBAS for Africa and Indian Ocean" is based on the European EGNOS (1) developed by the European Space Agency (ESA), acting under the delegation of the European Commission and operated by the European GNSS Agency GSA.
The system prototype uses as reference stations the SAGAIE network deployed by CNES and ASECNA with the support of Thales Alenia Space.
The signal is broadcasted via the SBAS payload on NigComSat 1R GEO satellite of the Nigerian Communications Satellite, and an uplink station deployed in Abuja, Nigeria.
It is compliant to the standards and recommended practices of the International Civil Aviation Organisation (ICAO), and the minimum operational performance standard developed by the Radio Technical Commission for Aeronautics (RTCA) organisation.
It will be visible in the whole of Africa and the Indian Ocean, up to the West Australian coast, and also in Europe.
Dr. Abimbola Alale, managing director/chief executive officer of NIGCOMSAT, said: "we are proud to be part of this ambitious program to provide satellite navigation services in the Africa and Indian Ocean region. The use of our geostationary communication satellite NIGCOMSAT-1R navigation payload to broadcast the first signal will be Africa's premier contribution to SBAS as a regional satellite-based augmentation system for the continent."
On his part, Benoit Broudy, vice president, Navigation Business at Thales Alenia Space in France, said the longstanding expertise acquired with the development of EGNOS1 SBAS in Europe, and KASS SBAS in Korea, combined with the new leading-edge satellite positioning technologies make Thales Alenia the ideal partner to best support countries to implement their own SBAS efficiently.
"The equatorial region represents also a key engineering challenge for such a system due to difficult ionosphere conditions, for which Thales Alenia Space has developed a proven solution," he stated.
Mohamed Moussa, director-general of ASECNA, said the provision of the first African SBAS early service is a crucial major step forward in the development of satellite navigation in the AFI region, and in the deployment of the "SBAS for Africa and Indian Ocean" system, the navigation solution for Africa by Africa.
He said: "It demonstrates the ambition and commitment of ASECNA to enhance air navigation safety for the benefit of the whole continent, in line with my vision for the unification of the African Sky."
ipNX, USTDA Ink Partnership Deal to Develop Nigeria's ICT Infrastructure
ipNX, Nigeria's pioneering and leading information, communications and technology (ICT) company and the United States Trade and Development Agency (USTDA) have signed a partnership deal that will further support the development of Nigeria's ICT and broadband infrastructure and help ipNX expand its fibre-optic network to more than 200,000 residences in Lagos and other locations, including Abuja and Port Harcourt.
A virtual signing ceremony that signalled the beginning of this far reaching relationship between the two parties was held on Thursday, September 17, 2020.
Through this innovative initiative, the USTDA is supporting ipNX to promote inclusive, secure and sustainable connectivity across the nation.
The agreements were made possible as a result of several engagements between the USTDA delegation to Nigeria and the leadership of ipNX; and will advance the goals of the recently updated Nigerian Broadband Plan.
At the Signing Ceremony, Ejovi Aror, group managing director of ipNX, said: "We believe that world-class connectivity and broadband internet access will be pivotal to the digital transformation and socio-economic development of Nigeria.
'We are very positive that this project will play a crucial role in making our belief a reality."
Aror added that with the emergence of the COVID-19 pandemic, the case for a vibrant ICT sector has never been stronger and the new partnership will bring ipNX a step closer to achieving its mission to continually leverage technology to create innovative solutions that help mankind thrive, while making a crucial impact to the lives of Nigerians across the country.
Mary Beth Leonard, U.S. Ambassador to Nigeria, said' "These projects will support the development of Nigeria's telecoms infrastructure and help to achieve the goals of the National Broadband Plan.
"The U.S. Government has committed significant resources to improving telecoms infrastructure in Nigeria and this support is crucial as we believe that investment in critical ICT projects will strengthen the resiliency outlined in Nigeria's economic sustainability plan."
Also present at the virtual event, the Director, Technical Standards and Network Integrity of the Nigerian Communications Commission (NCC), Engr. Bako Wakil, who spoke on behalf of the Executive Vice Chairman of NCC, said: "The support this grant will provide to the telecommunications sector, in particular broadband, is in line with the National Digital Strategy and the National Broadband Plan.
"The NCC would like to congratulate ipNX as it shows the company's integrity and commitment to be selected for this grant".
ipNX also revealed that it intends to continue to work with USTDA beyond the preliminary stage, to execute many more projects into the future that will bring about the digital transformation and socio-economic development of major cities in Nigeria in alignment with the National Digital Economy Policy and Strategy.
With their partnership, both parties fully agree that further development of the nation's broadband infrastructure is key to unlocking the potential promised by Nigeria's digital economy.
According to the World Bank's 'Nigeria Digital Economy Diagnostic Report' released in 2019, Broadband is a key enabler to harness the digital economy transformation and high-speed broadband has the potential to accelerate Nigeria's socio-economic development.
Manfa, ANSICTA Boss Pledges to Collaborate with NITDA for Establishment of Zonal Office in Anambra State
Mr Theo Manfa, managing director/chief executive officer, Anambra State Information and Communication Technology Agency, (ANSICTA) has hinted that they are ready to collaborate with National Information Technology Development Agency, (NITDA) for the establishment of the agency's South-East Zonal office in the State.
He stated this when he led ANSICTA delegation to NITDA's head office in Abuja recently.
Mr Manfa explained that the call for special requests by the state is necessitated by the fact that the state "has long been known as a home of innovation and entrepreneurship, through the various markets like Onitsha and Nnewi and the plethora of locally produced goods they spawned over time."
He said that innovation and entrepreneurship are important elements to drive the digital economy which the nation is striving to create adding that the state has been watching with keen interest the activities of Federal Ministry of Communications and Digital Economy and NITDA which necessitated the intended partnership.
He requested NITDA's partnership with ANSICTA in building an ICT Hub in Anambra State; hosting a NITDA regional office; hosting NITDA events and programs as a State and region; trainings and Skills development programs of NITDA where the State hopes to train 40,000 residents in the next 2 years in Digital skills; establishment of cooperation on the Nigeria Government Enterprise Architecture (NGEA) and the provision of the Unity Board where 150 units were requested for a program for secondary schools in Anambra.
ANSICTA also presented an award to the Director General for his "Outstanding Achievements in Driving theDigital Economy" which was received by Dr. Vincent Olatunji on behalf of the DG.
Dr. Olatunji responded along with comments from some of the Directors and said NITDA would be glad to cooperate with the State.
He said it was gratifying to note that Anambra State now has an ICT Agency as Gov Willie Obiano had visited NITDA 6 years ago and the agency had worked with the State in developing an ICT policy for Anambra.
The success of that exercise is the take off of the agency (ANSICTA) which is the execution arm of the policy developed by NITDA.
He further said ANSICTA was by the speech of its MD really in tune with the affairs and mandates of NITDA and stated that ANSICTA should make a formal application for the things requested at this meeting will be looked into by Management for approval by the Director General.
He also thanked ANSICTA for recognizing the hard work of the DG through the award they presented, which he said was most encouraging.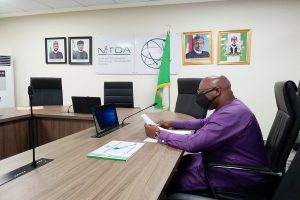 Michael Orekyeh; chief operating officer of ANSICTA was part of the delegation from Anambra State. while the Director General of NITDA, Malam Kashifu Inuwa Abdullahi was represented by the Director E-Government and Regulation, Dr. Vincent Olatunji; Director Office of ICT Innovation and Entrepreneurship – OIIE, Dr. (Mrs.) Amina Sambo Magaji; Deputy Director of IT Infrastructure, Dr. Saidu Kumo; SA Technical to the DG, Dr. Mohammed Yahaya; Corporate Strategy Department, Dr. Taofik Yekini and other Directors and Key Management Staff.