Coca-Cola Commits $17M in COVID-19 Response Across Africa 
Coca-Cola in Africa, and its bottling partners (the "Coca-Cola System") and The Coca-Cola Foundation (TCCF), in partnership with NGOs have been deploying a range of resources, including capabilities, funds and products to support governments, communities and local economies in their urgent efforts to contain the spread and impact of the Coronavirus since its outbreak on the continent.
The Coca-Cola System is committing US$13million to support the continent through the various phases of the COVID-19 pandemic.
In addition, The Coca-Cola Foundation (TCCF) has granted just under $4 million to international and local NGOs, such as the International Federation of the Red Cross and Red Crescent Societies (IFRC) and Amref Health to procure and distribute personal protective equipment (PPEs) and other critical needs for frontline workers and to help fund ICU-enabled ambulances for example in Mauritius and Madagascar.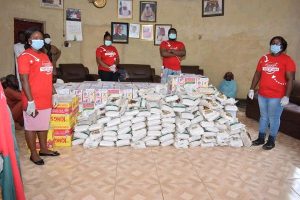 The Coca-Cola system also donated to National Solidarity Funds in South Africa, Morocco and Djibouti and additional funds were allocated to boost awareness and mobilization to help stem infections in vulnerable communities across several countries.
In addition to suspending all commercial advertising of its brands and deploying its marketing and trade assets, including social media channels, product labels and point-of-sale materials, to amplify COVID-19 messaging, the Coca-Cola System is providing funding and other forms of support to help bolster the micro, small and medium enterprises in the retail, hospitality and recycling sectors, who have been among the hardest hit businesses across countries.
Coca-Cola company is also working with some NGOs and social enterprises, including Givefood.ng in Nigeria, Gift of the Givers in South Africa and National Disaster Management agencies to provide food parcels for vulnerable families whose livelihood has been disrupted by the lockdown and other restrictions.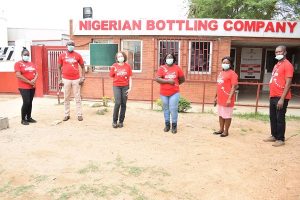 Coca-Cola's bottling partners on the continent, on their part, are making significant contributions to the fight against the pandemic through a variety of interventions, including lending their distribution capability to help deliver medical supplies, food parcels, 3-D printed face masks and other PPE as well as donating cash, beverage products and food items.
In response to the critical need for the hand sanitizer, Coca-Cola Beverages Africa in Uganda and Ethiopia, Bralima in DRC, Les Brasseries du Congo in Congo, and Nigerian Bottling Company in Nigeria have deployed their technical expertise and facilities to produce over 30,000 litres of alcoholic sanitizer in line with World Health Organization (WHO) standard which were distributed to governments and vulnerable communities free of charge.
"Our deepest sympathies go out to all those impacted by this virus and their families.
"We are leveraging on the experience and capabilities the Coca-Cola System has built in over 90 years of serving consumers and making a difference across Africa, in the planning and deployment of our resources to effectively support governments in the efforts to contain the spread, support vulnerable communities and get local economies back up and running," explains Bruno Pietracci, President of Africa & Middle East for The Coca-Cola Company.
In some countries such as in Eswatini, Ethiopia, Uganda and Zimbabwe, Coca-Cola in Africa  provided its marketing expertise either directly or through its partnership with Project Last Mile, to support Ministries of Health simplify and amplify health and safety messages. Additionally, in Egypt, Coca-Cola decorated its bottles with messages of gratitude and appreciation to every doctor in the country's "white army".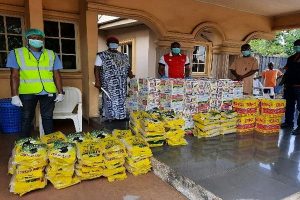 The Coca-Cola system has leveraged its years of experience in water access, sanitation and hygiene through the Replenish Africa Initiative (RAIN) to develop unique emergency handwashing stations (some foot operated, some using jerrycans), which are now set up in high traffic areas, border points and in vulnerable communities.
"The Coca-Cola system has been through many global crises during our 134 year's history. Making a positive difference during times of crisis is in our DNA. We are in this together with our communities.
"Going forward, supporting micro and small businesses who are the fabric of our communities and the backbone to Africa's resilience, will be a key priority for us," added Pietracci.
New Broadcast Code Unworkable and Unenforceable- Okoroji
Chief Tony Okoroji, chairman, Copyright Society of Nigeria (COSON), has joined the stakeholders in the creative and broadcast industries calling for a revisit of the recently amended 6th edition of the National Broadcasting Code.
Okoroji made the call while speaking on both News Scope with Patrick Doyle, Silverbird Television's flagship public affairs programme; and The Morning Show on Arise News.
According to Okoroji, the code's stated objective of increasing Nigerians' participation in the creation and dissemination of broadcast content, is commendable.
However, he stated that the amendments to code have been drafted in a way that makes them unworkable and unenforceable, as they carry the potential for unending litigation and risk for significant divestment from the creative space.
The COSON chief said the drafters of the code may have acted ultra vires, as they appear to be minded to place a subsidiary legislation above the constitution, which implies an attempt to usurp the powers of the National Assembly to make laws.
He noted that some provisions of the code may be unconstitutional, notably those on content exclusivity, advertising and payment of royalties for musical works and sound recordings.
He observed that the drafters seek to treat the rights of parties in to a contract to agree on their terms with indifference.
Okoroji, a reputed intellectual property expert, expressed concern that the NBC did not take input from many key stakeholders, who will be impacted by the code, before or during the amendment process, which he said took place when movement was restricted by the COVID-19 lockdown.
Others who have called for a revisit of the code include Mr. Lolu Akinwunmi, former chairman, Advertising Practitioners Council of Nigeria (APCON), who said many issues the code seeks to address are already adequately covered by the APCON Code. He called on the Minister of Information, Alhaji Lai Mohammed, to reconstitute the APCON Council, which can better deal with the issues related to advertising.
Also, Mr. Chris Ehindero, an independent movie producer, said the code will kill investments in the creative space at a time the industry is about to start enjoying investments in big productions. Similarly, Mr. Richard Akinnola, a renowned journalist and Director, Media Law Centre, said the code cannot withstand legal scrutiny.
The Independent Broadcasters Association of Nigeria (IBAN) has also asked the National Broadcasting Commission (NBC) to suspend the implementation of the amended 6th broadcasting code.
On The Morning Show on Arise News, Okoroji said that he suspects that the hold that MultiChoice has on the English Premiership is driving some of the provisions in the revised code.
He suggested that some Nigerian broadcasting stations should pull their resources together and challenge MultiChoice rather than going it alone.
He complained about the recent penchant of Nigerians to attack Nigerian companies with foreign origins, saying that such may lead to serious divestment in Nigeria and massive loss of jobs held by Nigerians.
"MultiChoice may have originated from South Africa, but Multichoice Nigeria is a Nigerian company. The Chairman of the company, Mr. Adewumi Ogunsanya, is a Nigerian; the CEO, Mr. John Ugbe, is a Nigerian.
"Thousands of Nigerians make their living through MultiChoice. What do we gain by hounding the company?
Pay-as-You-Go not Applicable to Pay TV – FCCPC
Mr. Babatunde Irukera,chief executive, Federal Competition and Consumer Protection Commission (FCCPC), has stated that the pay-as-you-go billing model in telecommunications is not necessarily applicable to pay television.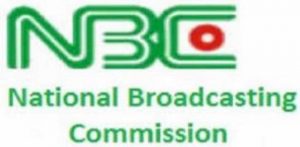 Irukera said this on Friday while appearing on Sunrise Daily, Channels Television's flagship public affairs programme.
Responding to a question on the subject, Irukera said many pay television subscribers confuse the operations of telecommunications with those of the pay television industry.
He explained that it what obtains in telecoms is not necessarily applicable in pay television, as broadcast content must have been paid for and customers only pay for access unlike in telecommunications where the subscriber only pays when the timer starts.
He added that that what consumers mean to ask for is actually pay-per-view and went further to differentiate the two terms.
"My challenge with what sometimes is the discussion around pay-as-you-go in pay TV is that there is a disconnection and we've been through this.
"We have conducted some investigations and we have done some surveys in different parts of the world.
"The pay-as-you-go model in telecommunications is not necessarily applicable and so we confuse it sometimes with pay-per-view.
"Pay-per-view is not that you pay for what you view from the point of when you turn your television on.
"It is primarily that there are certain programmes, maybe a boxing match, a soccer match or some movies that are still in the cinemas that some of the pay TV operators have bought and you can literally request instead of going to a stadium or going to a cinema to watch, you can watch it in your home and pay for that view.
"That is pay-per-view, but we confuse it with pay-as-you-go.
"What people are asking for in pay-as-you-go is when you turn on your television and you are watching, you pay. When you turn off your television and you are not watching, you don't pay.
"It is difficult because the content has been created, what you are paying for is access.
"How you use the access is entirely discretionary and up to you.
"Unlike the telephone where the clock starts and the airtime goes down, you have paid for content," he said.
The agitation for the implementation of pay-as-you-go in Nigeria is a loud one. An Ad-hoc Committee of the House of Representatives is currently investigating the non-implementation of pay-as-you-go by pay television service providers.
In a presentation to the committee on June 30, Alhaji Lai Mohammed, minister, Information and Culture, said the adoption of pay-as-you-go will allow consumers to select channels for themselves, pay daily, weekly or bi-monthly for packages.
StarTimes Hikes Subscription Prices, Introduces New Channels
StarTimes, leading pay- tv operator, on Friday marginally adjusted its subscription prices taking effect from August 1 just as the company deepened its content offering with new channels.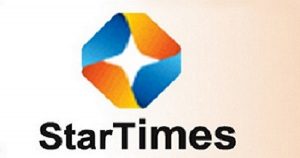 With the price increase, basic bouquet now goes for N1,700 as against N1,300 monthly to enjoy close to 80 channels; Classic Bouquet subscribers will pay N2,500 as against N1,900 monthly with close to 100 channels while Nova bouquet remains unchanged at N900 with over 43 channels.
At a virtual press conference on Friday, Viki Liu, brand and marketing executive of StarTimes, said for dish users: smart bouquet subscribers will pay N2,200 as against N1,900 monthly; Super Bouquet subscribers will pay N4,200 as against N3,800 monthly while Nova bouquet remains unchanged at N900.
She stated that StarTimes was not known for incessant price increase, recalling how the firm slashed prices on two occasions in 2017 and 2018 in its drive to make digital TV available to every home.
So far the company has expanded the scope of its offerings, introducing 15 new channels in the last six months as well as the pay as you go which enables subscribers to daily or weekly.
The price increase was said to have been effected in other African countries since the first quarter of this year.
The new pricing took effect in Democratic Republic of Congo, Burundi, Guinea and Madagascar from March 1st, while it took effect in Rwanda and Zambia on June 1st 2020.
The company said the recent increment in the Value Added Tax (VAT) from 5 % to 7.5 % as well as the foreign exchange rate had impacted on the cost of operation.
"All of our foreign content is bought in dollars and to continually serve our subscribers the best content, the subscription price has to be reviewed upwards.
"Dollar was about N360 in 2017; today, it's above N450 in the parallel market. Unfortunately, certain external factors are beyond our control; we are forced to adjust to realities before us," Liu added.