Computer Warehouse Wins Sun Microsystems Awards
Computer Warehouse Limited, the hardware subsidiary of Computer Warehouse Group, has won three awards at the Sun Microsystems Partners Executive Summit, held at the Emerald casino Resort South Africa.
Nominated in several categories, Computer Warehouse Limited won in the categories of Best System Partner of the year, Best Storage partner of the year and Best Overall Partner of the year in the region of Sub Saharan Africa. Phillip Obioha, chief operating officer, Computer warehouse, received the awards on behalf of the company.
Steve Furniss, vice president, Sun Microsystems, Sub-Saharan Africa, expressed appreciation to CWG for her contribution to the success of the region stating that where other regions recorded significant drop in the result, only Sub-Saharan Africa region recorded significant growth of about 25% year on year with huge growth from West Africa contributing about 40% of Sun's financial growth.
The event which is held annually is gathering of all Sun's partners in South and sub-Saharan Africa region to review business in those regions, introduce new technology and reward outstanding performers.
It would be recalled that CWL has won other Sun awards at this event over the past few years.
Innovectives Partners Mastercard on SME-in-a-Box Cashless Solution
Innovectives Limited, Nigeria's fintech firm has said it is excited to work with the amazing team at Mastercard and partner fintechs to unlock rapid growth through digitization for small businesses in emerging markets with SME-in-a-Box cashless solution.
Mastercard has launched a new low-cost payments solution that enables small business owners to move their businesses online and accept a range of digital payments from their customers.
The "SME-in-a-Box" solution is powered by Mastercard's payment technologies and that of its StartPath fintech partners, including onboarding technology provider Signzy and Mastercard's network of Tap on Phone partners.
It is also powered in Nigeria by leading fintech, Innovectives.
The solution will aid small and micro merchants across the country in expanding their customer base via digital platforms and enable sustainable revenue growth.
The unique offering enables business owners to access a wide range of financial services quickly and easily through a single intuitive app compatible with all Android mobile devices.
The app's functionality supports contactless payments, Quick Response (QR) code payments, and can generate e-payment links for remote payments.
The platform can be leveraged by partners including banks, Payment Service Providers and Mobile Network Operators through application programming interfaces (APIs) or a white label app to rapidly take the solution to market
Olubusola Osilaja, group executive director, Platforms and Partnership – Innovectives said, "Merchants across emerging markets are the backbone of these economies and are eager to do more. However, many of them are limited in accessing supportive financing and business support. In combination with the impact created due to the pandemic, the need to support SMEs is more stringent than ever before.
"We are leveraging our strength in banking, payment and lending technologies, along with a deep understanding of retail merchant networks to deliver SME-in-Box. We are excited to work with the amazing team at Mastercard and partner fintechs to unlock rapid growth through digitization for small businesses in emerging markets," Osilaja said.
Mastercard has made a global commitment to bring 1 billion people into the digital economy by 2025. This includes 50 million small businesses and 25 million women entrepreneurs.
As part of its response to the COVID-19 pandemic, Mastercard has pledged $250 million in financial, technology, product, and insights support over the next five years to small businesses across the globe, supporting the financial security and vitality of businesses and their workers.
SME-in-a-Box offers a low-cost acceptance service that can run on smart phones and is powered by Mastercard Payment Gateway Services. It also delivers speed and simplicity with remote digital onboarding services from Mastercard's StartPath partners.
In addition, through its Simplify Commerce offering, Mastercard will enable SMEs with a plug-&-play e-commerce store builder with an instant online checkout. SMEs can access a virtual card and get access to business tools through Mastercard's partner ZOHO as well as get access to educational tools. These capabilities have been packaged as a bundled solution combined with special incentives to drive adoption and support business owners to tackle challenges during COVID-19.
Gaurang Shah, senior vice president, Product Management, Digital Payments & Labs, Middle East and Africa – Mastercard, commented: "The SME market represents 90 per cent of businesses in Nigeria, and has been deeply impacted by the pandemic.
"We recognize the overwhelming pressure that small business owners are currently facing and are committed to supporting them through COVID-19 and beyond by bringing our tools at a low cost and rapid time to market. The SME-in-a-Box offering provides SME owners with a quick and simple way to digitize their business and build a platform for sustained future growth."
Inlaks is System Integrator of the Decade at GITTA 2020
Inlaks, the leading African systems integrator and financial technology solutions provider, has been adjudged the System Integrator of the Decade at the 2020 edition of the Ghana Information Technology and Telecoms awards (GITTA).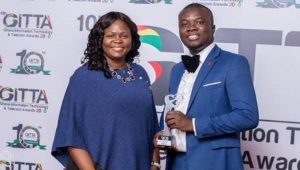 The company beat competition from other players to pick up one of the top awards of the night to cement its position as one of Africa's leading system integrators.
The Acting Country Manager of Inlaks Ghana, Yacoba Esther Amuah dedicated the award to the hard-working staff, management, executives and visionary board indicated that being an organisation that offers differentiated information technology-enabled solutions to maximize its customers' values, it is not surprising that Inlaks emerged as the winner of this award.
"At Inlaks, we have invested in our people, technology and all the necessary resources required to enable us realize our mission and vision. We are continuously improving upon our customer relationships and stakeholder engagements and ensuring that every project of ours is an improvement upon the previous one.
Inlaks has a proven track record of delivering excellent and customer-centric IT solutions across Africa. This award will go a long way to broaden the reach and impact of Inlaks operations across Africa and the world at large. This achievement means an upgrade in quality work and delivery because a standard has been set," she added.
Inlaks is a leading system integrator in Sub-Saharan Africa. The company partners with leading OEMs in the technology industry to provide world-class information technology solutions that exceed the needs of its customers. Over the years, Inlaks has built a reputation as the foremost ICT and Infrastructure Solutions Provider, helping customers effectively seize new market and service opportunities.
With an impressive customer base that includes six Central Banks in West Africa, 18 of the 24 banks in Nigeria and other major customers in the West African region, Inlaks has become the dominant Information Technology Company in Africa. Inlaks' customers cut across various segments including Banking, Telecommunication, Oil/Gas, Power, Utilities and the Distribution sectors of the economy.
In its landmark 10th year, the Ghana Information Technology & Telecom Awards (GITTA) has become the cornerstone that promotes and celebrates successful ICT innovations across various sectors and industries in Ghana.
The 2020 GITTA awards scheme, which was themed, 'Celebrating a Decade of ICT Excellence' recognized the efforts of individuals and institutions playing notable roles within the telecoms and the broader information technology industry. The event attracted industry giants and key stakeholders from the Ministry of Communications, National Communications Authority, Bank of Ghana and many others.
eBanqo's Omnichannel Platform Helps Businesses Offer Live Chat Assistance and  Extend their Services on Messaging Apps
Businesses today serve customers based on companies' own terms and not necessarily how customers prefer.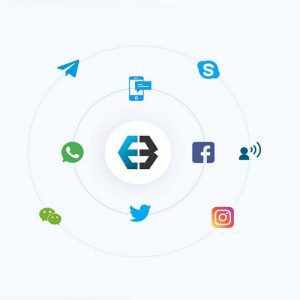 For example, customers are required to download apps to enjoy companies' services, are expected to send emails and wait for 24+ hours to get their issues resolved, or have to call contact centres and wait on the phone for 'the next available agent'.
eBanqo Inc, a cloud customer engagement platform provider, offers businesses a platform to deliver faster and more convenient customer support, as well as extend their services to messaging apps that customers already have.
eBanqo enables the automated delivery of  services, instant resolution of customer issues, real-time responses to customer enquiries, and live chat via web chat, Facebook Messenger, Twitter DM, WhatsApp and In-app.
"Our focus is to make it possible for customers to solve issues instantly, without having to wait for hours to get them resolved. Our vision is for companies to have their services available on whatever channel the customer already has, with no need for the customer to download a new app to utilize a company's services" said Charles Ifedi, CEO and Co-founder of eBanqo.
"The ability to perform transactions from the messaging apps to the back-end systems of organisations is one of our main areas of differentiation. We want to make it possible for customers to resolve issues themselves, enjoy services, and perform transactions, without speaking with anyone in the organization, in a safe and secure manner".
eBanqo aims to enable organizations to make the most of their existing social media investments while improving the quality of their services to customers.
One of the ways eBanqo does this is by enabling customers to immediately purchase the advertised services of an organisation directly from social media platforms (e.g. Facebook) without having to leave the platform.
Similarly, when customers post or tweet about a business, a chatbot can immediately send a direct message to the customer to engage the customer in resolving their issues or answering his/her query instantly.  These are some of the ways in which customers can get immediately engaged with businesses at the exact time when customers actually need to.
All businesses regardless of size can widen their reach, making their services accessible from messaging apps and also provide 24/7 support across multiple messaging channels. This helps businesses to deliver an omnichannel experience, and easily manage customers' interaction from various platforms, all from one dashboard.
Businesses have realized the power of messaging and are adapting to a "chat-first strategy". This is no surprise as messaging app usage has surged with WhatsApp boasting of over 2 billion monthly active users, and Facebook Messenger with over 1.3 billion monthly active users.
Furthermore, customers are turning to chat as phone calls and emails have failed to provide the instant responses they have come to expect. eBanqo helps businesses to navigate this change in customers' preference and makes the transition seamless and painless.
About eBanqo
Headquartered in Georgia, USA, eBanqo is an omnichannel customer engagement platform provider that helps businesses deliver their services, automate FAQs, and provide live chat services via messaging platforms.
Founded in 2019, the company already serves customers across different sectors.
Customers include forward-looking enterprises like Hygeia HMO, Cellulant and Page Financials to innovative businesses like VFD Bank and SystemSpecs.