COVID 19: NITDA DG Admonishes Startups To Possess Entrepreneurial Mindset
Amidst the uncertainties the novel COVID I9 pandemic is causing globally and indeterminable time the world would come out of it, the National Information Technology Development Agency, (NITDA), has resolved to continue with its planned activities aimed at increasing the capabilities of the startups in the country by leveraging on digital technology.
The agency on Friday, in a closing ceremony of the maiden online edition of Start UP Clinic, Abuja, one of such events already slated at pre-pandemic time, the Director General of the Agency, Mallam Kashifu Inuwa Abdullahi, delivered a motivational speech to 20 startups who have been in virtual booth camp in the last five days.
In his remark, the Director General acknowledged that, "things are not going to be the same after the pandemic and the world economic order is going to change" which he said would lead to closing down of lots of businesses, advised the Startups to possess both the entrepreneurial mindset and entrepreneurial environment capabilities in other to survive during and at the post pandemic world.
The DG stated that, to build these capabilities, the startups need to adjust their tactics, change course, and ignore the conventional wisdom that says; "go to school read hard, pass with flying colors and get a good job.
"No, there is not going to be jobs for you. I think what we need now is; you need to go to school, be a streetwise, hack the problem and be an entrepreneur."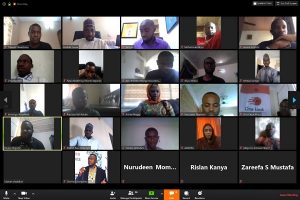 Mallam Abdullahi noted that by creating an entrepreneurial mindset, they would become successful startups adding that there is a significant difference between people who start their own companies and truly successful entrepreneurs.
"Many people start their own businesses but few people actually achieve the kind of success they dreamed of at the start. What is the difference between people who start up their own business and successful entrepreneurs? The answer is the entrepreneur's mindset," he added.
He enjoined the startups to have a mindset of creating businesses for themselves, rather than creating jobs to ensure continuity in case of their absence while the companies are still active.
According to the DG, "this means that you have been able to create a functional entity, not just a job position where you do all of the work. This is the type of mindset you must have if you want to become a truly successful entrepreneur."
"Creating an entrepreneurial mindset starts at the beginning, before you do anything to start up your company. It means having a grand vision and passion.  It means carefully considering all that you want your company to be before it even exists.
" It means imparting your vision, your dreams and your principles into the company right from outset. You need to ask yourself meaningful questions so that you are able to focus on more than just the day to day functions of running your business. Your business must be built upon your dreams, your passions and your principles. This is the difference between a job and a business."
He challenged them to leverage on the two capabilities to grow their start up to becoming unicorn businesses which means a privately-owned company that worth at least one billion USD.
While admonishing them on how to attain the feat of becoming a unicorn company, the DG stated that they could become Unicorn companies within short period by following the playbook of successful startups followed which are just three simple rules of beginning with a plan to disrupt an existing industry; injecting capital to grow as rapidly as possible and tolerating high risk in a rush to conquer and dominate the market segment.
Mallam Abdullahi noted that in the region, there are only three Unicorn Companies  and while South Africa has two, Nigeria can only boast of one.
He however stated that our country has a competitive advantage to be among countries with many unicorn companies because of her digitally native population and untapped market.
He added that the government is creating an entrepreneurial environment for the start up to thrive.
He listed the government's efforts to include, the culture, infrastructure and support.
Mr.Nnamidi Nwachuku, one of the participating Startups, in his remarks observed that the Online Start up Clinic as organized by the Office for ICT Innovation and Entrepreneurship (OIIE) has greatly impacted on their knowledge positively.
He noted that the experienced shared by many facilitators at the five days event would provide them the impetus to survive in their respective market segment.
He said, "We have similar experience like the Jigawa edition which was physical. The impact was good as if it was physical. The evaluation form would help us to improve on our innovations. Like me, I have vision to build my business to become a unicorn without looking at the investor and I know it is realistic because I know my capabilities."
Dr Amina Magaji Sambo, OIIE National Coordinator, urged the participants to adhere to all the guidance availed them during the period and ensure that they keep updating the office of their progresses and challenges.
NDPR to Safeguard Personal Data of Nigerians -DG NITDA
Mallam Kashifu Inuwa Abdullahi, director general, National Information Technology Development Agency (NITDA), has disclosed that the motive behind the issuance of Nigerian Data Protection Regulations, (NDPR) by the Agency was to safeguard the right of natural persons to data privacy, fostering safe conduct for transactions involving the exchange of personal data, enablement of Nigerian businesses to be globally compliant and competitive and to create jobs for Nigerians.
Mallam Abdullahi revealed this Friday while delivering the keynote address  at the 6th annual conference of Institute Internal Auditors of Nigeria, (IIAN) with the theme:, "Agility and Resilience" which was held on zoom conference platform.
The Conference aimed at preparing participants across Internal Audits, Internal Controls, risk management, revenue and Government assurance and other business professionals to learn how to leverage on new technologies and procedures towards actualisation of the organisation's goals and objectives.
The NITDA DG who was represented Director e-Government Development and Regulations, Dr Vincent Olatunji stated that since inception of the Agency in 2001, it has been playing a catalytic roles to spur the infusion of technology into nation's work processes reiterating that the Agency plays "critical roles in capacity development, provision of working tools for Ministries, Departments and Agencies (MDAs).
"NITDA also has an existing arrangement with the office of the Auditor General of the Federation to aid the office in the discharge of its activities."
Mallam Abdullahi said, "The Nigeria Data Protection Regulation (NDPR) was issued on 25th January, 2020 by my predecessor, DrIsa Ali Ibrahim Pantami, the Honourable Minister of Communications and Digital Economy.
"As part of his think-tank then, our thinking was that Nigeria needed to quickly provide a regulatory framework for the processing of personal data.
"This was even more pertinent in consideration of the global implications of non-performance.
"Businesses where losing bids because investors felt there was no data privacy regime in Nigeria.
"The Agency's implementation of the NDPR has been innovative and impact oriented. For the first time in data protection implementation, auditors became recognised as Data Protection Compliance Organisations (DPCO)".
He maintained that NITDA has 72 licensed DPCOs among which are members of this "august body," adding that "this posture is not as a result of lack of professionals in the IT industry, rather, we have made conscious efforts to carry every relevant stakeholder along in our developmental regulatory strategy.
" I hope this noble institute would repay NITDA's generosity by imbibing ethical and professional principles on your members for better implementation of the Regulation."
Earlier in his remarks, the Managing Director and Chief Executive Officer, New Capital Cooperatives Society Mr. Benedict Anyalenka while commending the organisers of the conference affirmed that data privacy and protection should be a requisite skill needed for development of the Information Technology Sector as it would create platform for protection of information against unauthorized usage.
Anyalenka, however, called for proper awareness on the importance of data privacy among organisations and stakeholders across the country to safeguard citizens' data.
FG Reveals Plans to Deploy Technology in the Health Sector
As part of its response to the COVID-19 pandemic, the federal government of Nigeria has announced plans to deploy information and communications technology (ICT) in the country's health sector.
This is part of the plans to achieve transparency and accountability in health care delivery across the country.
Dr. Ngozi R. C. Azodoh, director, Special Projects, Federal Ministry of Health, who represented Osagie Emmanuel Ehanire, Honourable Minister of Health, revealed this while speaking at MTN Nigeria's Revv Programme masterclass on Thursday, September 17, 2020 .
The virtual session themed 'Bridging the healthcare divide through technology and partnerships' had in attendance health sector experts including Chief Executive Officer, Hygeia HMO Limited, Obinnia Abajue; Chief Operations Officer and Co-Founder, Afya Care, Kola Oni; Managing Director, Ingress Health Partners, Dr. Orode Doherty and Chief Executive Officer, Tremendoc Limited, Ugochukwu Chikezie. The session was moderated by the General Manager, Business Development, MTN Nigeria, Omotayo Ojulatayo.
According to Azodoh, the federal government has put structures in place to utilise ICT as part of efforts to standardise the healthcare system.
"The government is working hand in hand with state governments across the country to maintain transparency and accountability, adding that ICT and other forms of electronic platforms are currently being improved and expanded following the federal government's COVID intervention".
She also shared that the ministry is willing to support small businesses in the sector imploring the participating SMEs to seize the opportunities provided by The Revv Programme.
"I want to ask everyone who is listening to write to the MTN Revv team and say this is one thing I want the Federal Ministry of Health to do to help my business then we can engage on how to proceed," she enthused.
In her parting remarks, she also commended MTN Nigeria for providing a platform for SMEs to expand their capacity. "I must commend MTN for this excellent initiative. It has been very productive for me and an opportunity to transfer knowledge."
The Revv Programme is an initiative from MTN Nigeria to help small businesses rethink and retool their operations in order to withstand the effect of the COVID-19 pandemic using a four-pronged approach that includes masterclasses, access to market, productivity tools support and advisory initiatives.
Peace House Charity Foundation Seeks for DCTC Intervention
Mallam Kashifu InuwaAbdullahi, director general, National Information Technology Development Agency (NITDA), asserted that if we do not empower our people, they become a problem to the society in future.
He made this know on Friday while receiving a delegation from Peace House Charity Foundation,Yola who were at the Agency's Corporate Headquarter, Abuja to seek for interventions in the areas of ICT.
The representative of the Director General, Dr. Vincent Olatunji, Director eGovernment Development and Regulation stated that one of the mandate of the Agency is the deployment of ICT infrastructure as such the Foundation's visit at this time is very apt as the Agency is relentlessly working on the implementation of the Digital Economy strategy.
MallamAbdullahi affirmed that Agency at the moment is looking for organisations to partner with to sustain Digital Capacity Training Centres deployed across the country.
He commended the effort of the organisation in assisting orphans with not only providing basic education but also the provision of skills, mentorship and moral upbringing.
Speaking earlier, Mr Mohammad Bello, a Director with the Foundation said that the organisation was at the Agency to seek for ICT intervention and to commend NITDA's effort in promoting ICT knowledge across the nation.
He stated that the organisation supports education for the orphans and the less privileged,  promote health care delivery especially among women and children, provide sensitisation workshop for parents (mothers) on parenting and matrimonial home, promote unity and encourage self-reliance among the populace.