DG NITDA Says Youths Are Critical Stakeholders in Digital Economy
Youths in Nigeria have been enjoined to consider themselves as critical stakeholders and major players in Nigeria's drive towards diversification of the economy from natural resources economy to digital or knowledge based economy.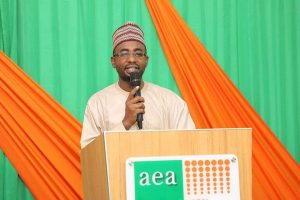 Kashifu Inuwa Abdullahi, director general, National Information Technology Development Agency(NITDA), gave this advice on Wednesday in Abuja at the official Closing Ceremony of Photography and Cinematography Skill Training organised by Abuja Enterprise Agency, (AEA).
Abdullahi explained that the youthful population the nation is endowed with provides her with competitive advantage to be a key player in global digital economy.
He said, "Our greatest resource is not natural resources rather the human resource; that is where our strength lies; what we know and the knowledge we have. Our people, not oil and gas is our strength.
"With this kind of capacity building, the government is laying emphasis on skills and less attention is being given to certificates.
"This training on Photography and cinematography can sprout you to be employers of labour.
"The world is going digital now and we now have digital media where you can leverage on Information Technology (IT) to market your contents.
"You can use the power of pictures to dramatize your content which can be communicated to the world online," he suggested.
Sharing how lucrative photography and cinematography skills have become in Nigeria today, the DG said that to get a photographer to cover an event in Abuja today cost N150,000 to N400,000 and getting like four events in a month can earn them almost N450,000 which is difficult to get as salary if you are a fresh graduate in government employment.
"The future is great with this kind of skill acquisition because everything is becoming electronic and the market is becoming promising.
"I challenge you to grab this opportunity to become job creators. The labour market is stiffle because of number of graduates we churn out every year.
"With this kind of training you can also become a unicorn business.
Arabi Muhammad Tukur, Managing Director, Abuja Enterprise Agency, in his remarks thanked the NITDA boss for identifying with the event.
He urged the participants to heed to the advice of the DG because "they are words full of wisdom."
He said the government is ready to support good business ideas and has created platform for easy registration of businesses.
Earlier in his goodwill message, President Muhammadu Buhari's official photographer, Mr. Bayo Omoboriowo expressed his gratitude to NITDA for what the Agency is doing for the younger generation.
"We want to build a creative industry and we are happy NITDA is supporting us because the Agency believes in what we set out to achieve. The Agency has supported us with 35 computers and we are grateful for this gesture," he added.
NCC Lifts Suspension on Spectrum Trading Guidelines
The Nigerian Communications Commission (NCC) has considered lifting the suspended Spectrum Trading Guidelines (STG), 2018, pending the conclusion of the ongoing review of the Guidelines.
The lifting of the suspension followed deliberations on the subject by the Board of NCC at its Special Board Meeting, which held on Wednesday, September 16, 2020.
The Meeting was preceded by the suspension of the STG by the Board at its 96th Board Meeting held in May 18, 2020.
"The Board was satisfied that, given the state of the consultation, it was possible to lift the suspension of the STG pending the conclusion of the review," NCC said in a public notice signed by Dr. Ikechukwu Adinde, director, Public Affairs.
"Accordingly, the Board resolved that the suspension of the STG be lifted and that relevant stakeholders continue to operate the STG while a new/revised STG is finalised in consultation with the industry," the public notice added.
The Commission had, in a statement issued on May 27, 2020, announced the suspension of STG 2018 for the Nigerian telecommunications industry and informed all licensed telecoms operators, prospective investors, industry stakeholders and the general public of the regulatory decision.
The Board of NCC had earlier taken the decision for Spectrum Trading in response to telecommunications global dynamics, as well as the efforts to optimally utilise and maximise the benefits of Spectrum as a scarce resource.
Spectrum is a limited resource, which, when inefficiently utilised, greatly limits broadband coverage and speed. The current Spectrum Trading Guidelines were developed in 2018 after industry-wide consultations and this instrument allows that the Spectrum resource be traded on the Secondary Market through Transfer, Sharing or Leasing (TSL) upon satisfying stipulated regulatory conditions.
According to the Commission, the Nigerian National Broadband Plan (NNBP), 2020-2025 launched by President Muhammadu Buhari in Abuja in March 2020, requires that these Guidelines be reviewed to ensure that unutilised Spectrum is fairly traded to facilitate rollout by other operators amongst others.
The Guidelines will also help to address the need for ubiquitous broadband deployment to accelerate penetration and access in line with the economic Agenda of the Federal Government.
Pantami Urges Nigerians to Inculcate Healthy Practices on Cyberspace
As the world marks the Cybersecurity Awareness Month this October, Dr Isa Ali Ibrahim (Pantami), minister of Communications and Digital Economy, has called on Nigerians to embrace healthy practices on Cyberspace.
Pantami disclosed this in a statement released on Wednesday by Dr Femi Adeluyi, Technical Assistant (Information Technology).
According to him, "Cybersecurity awareness has become imperative due to the attendant risks that emanate from the appreciable migration of several transactions, meetings, lectures and other forms of interaction to online and digital platforms due to the COVID-19 pandemic.
"The importance of cybersecurity awareness is emphasized in Pillar #6 (Soft Infrastructure) of the National Digital Economy Policy and Strategy (NDEPS) for a Digital Nigeria. The Soft Infrastructure pillar aims to ensure that Nigerians are secure online.
"Furthermore, Section 106(1(c)) of the Nigerian Communications Act (NCA) 2003 states the role of the Nigerian Communications Commission in the protection of consumer information.
"Similarly, the National Information Technology Development Agency (NITDA) Act 2007 Section 6(l) states the role of NITDA in promoting the development of information technology to enhance national security.
"The Nigeria National Cybersecurity Framework also prescribes guidance for public and private sector organizations for instituting measures for enshrining cybersecurity culture and enthrone cyber-resiliency in Nigeria".
He added that Cybersecurity is essentially about awareness and that he has directed parastatals under the purview of the Ministry- NCC, NITDA, NIMC, Galaxy Backbone and NigComSat- to embark on a nationwide Cybersecurity Awareness Programme.
According to him, "This 31-day awareness drive, throughout the month of October, will enable Nigerians obtain the knowledge required to embrace the digital economy and its many benefits, while protecting themselves against the tactics of cybercriminals.
The Honourable Minister urged everyone to be extra-cautious and reinforce security measures while interacting online, especially when it involves sensitive information.
He also stated that they are committed to keeping Nigerians safe online and wishes citizens a successful Cybersecurity Awareness Month.
Google and NTDC partner to support Tourism Industry – launch Tour Nigeria Collection
Google and the Nigerian Tourism Development Corporation (NTDC) have partnered to help the Nigerian tourism sector recover and grow in the wake of the COVID-19 pandemic.
The partnership is geared towards providing training for small businesses, digital skills initiatives for individuals and the launch of a new Google Arts & Culture collection called 'Tour Nigeria'.
Google Arts & Culture has worked with the NTDC over a number of months to create an online exhibition of imagery, stories and commentary highlighting some of Nigeria's beautiful, hidden gems – from the Awhum Caves of Enugu, to the Farin Ruwa falls of Nasarawa, the Osun Osogbo sacred grove of Osun state, and the Wikki Warm spring of Bauchi state.
The project also features stories and photos from some of the most colourful cultural festivals in the country including the Yauri Rigata Festival, and the Kano Durbar Festival.
Google Arts & Culture and the NTDC have also launched a new 'Explore Nigeria' video series featuring top Nigerian social media influencers and YouTube creators.
This video-based series highlights the best of Nigeria through the eyes of these influencers and can be found here at http://goo.gle/TourNigeria.
Amit Sood, director, Google Arts & Culture, speaking on the partnership, said "Rich heritage, natural beauty and vibrant cities, Nigeria is a destination we all need on our travel shortlist soon.
"Even though 2020 continues to be a challenging year for Nigerians and travellers from around the world, I hope that this unique online experience – created in collaboration with the Nigerian Tourism Development Corporation – can contribute to further promote Nigeria's iconic sites and capture its stories.
"And even though I can't travel, the project inspired me to start that journey by exploring the country through the works of Africa's first literary Nobel laureate Wole Soyinka. "
"The tourism sector is a key pillar of Nigeria's economy. Initiatives that support and promote domestic tourism are critical, not only for the sector but also because a stronger tourism sector will help Nigeria's economy recover in the wake of the COVID-19 pandemic.
"An expanded tourism sector will be able to drive employment and stimulate economic growth. Initiatives like Google's – that are grounded in data-driven insights into how the sector can be supported and grown – strengthens NTDC's 'TOUR NIGERIA' strategy, which seeks to promote domestic tourism in Nigeria.
"We are even more convinced now of the validity of this strategy and the rightness of our path, and are excited to kick start this with the 'TOUR NIGERIA' collection with Google Arts & Culture", said, NTDC director-General, Folorunsho Coker.
The partnership with NTDC will provide support for the local tourism sector including providing training programs to enable businesses to leverage online tools they can use to grow their businesses.
The program also features a digital skills program aimed at helping individuals to skill up so they can find jobs or further develop their careers within the tourism industry.
SMBs are being assisted by way of digital migration programs to help them get online, and expand their audience reach.
And, lastly, the partnership will create exposure for Nigeria's tourist attractions through Google's technology offerings including virtual reality, 360° videos, Street View, ultra-high-resolution "gigapixel" images and Google Arts & Culture initiatives.
Juliet Ehimuan-Chiazor, country director, Google Nigeria, said "We're always looking for new and creative ways in which technology can foster connections between people and the arts.
"'Explore Nigeria' is an expression of that desire and a tangible program that demonstrates our economic support of and commitment to Nigeria."