DHL Sees Changes in Africa's Tech Market
Competition within the technology sector is becoming more intense and Asia's importance as both a manufacturing location and a consumer market is growing.
However, although Asia is still key to the sector, Africa has also witnessed an explosion in technology adoption recently and is set to develop as a region.
This is according to Charles Brewer, managing director for DHL Express Sub-Saharan Africa, who said that a recent DHL global technology conference revealed these trends around the changing dynamics of the technology market.
He said that due to the increased competition within the sector, suppliers need to adapt and improve products and services in order to retain and grow market share.
"This presents an opportunity for suppliers to be innovative and provide consumers with the best possible products, services and prices.
"Both of these trends also promise to amplify the role of logistics as a competitive differentiator in the technology industry, notably as global companies are looking for strong and established partners to support and simplify access to the African market."
Brewer said that within Africa, although there has been a significant rise in demand for electronic consumer products, the continent is still in need of increased investment from international technology companies, in order to become more than just an end-user for technology products.
He said that more than any other industry, the technology sector is driven by constant innovation, short product cycles and new sales channels.
"From a logistics perspective this is a great challenge, but it also provides forward-thinking brands with an opportunity."
Brewer said that by setting up shop in Africa, these brands are able to service this growing market and spend significantly less on logistics costs as they are based in much closer proximity to their customers.
According to a recent report by Deloitte entitled The Rise and Rise of the African Middle Class, the continent has a disproportionately young population with 62% of the population in Africa under 25 years.
"This is positive from an outside investment perspective, as it effectively means that there is a guaranteed customer base for years to come when compared to a territory such as Europe, which has a shrinking population."
The Deloitte report also forecasts that if the African middle class continues on its current growth trajectory Africa's middle class will grow to 1.1 billion (42% of the continent's population) by 2060.
The trend of mobile devices preferred over PCs as the access tool for the internet was also highlighted at the conference.
Florence Noblot, DHL's Technology Sector Head for Europe, Middle East and Africa, estimated that 60% of all IT hardware growth will come from tablets and smartphones this year.
"Both devices also elevate a trend towards high innovation cycles, which demands logistics providers to improve time to market while supporting competitive price positioning.
"This trend is also clear in Africa, and according to the GSMA, Africa is now the world's second largest mobile market by connections after Asia and the fastest growing mobile market in the world."
He said that an overall trend towards simplified and lighter products, combined with price pressure, is challenging manufacturers, their suppliers, and sometimes even their competitors to develop collaborative solutions that improve the cost efficiency of the technology supply chain.
"Due to the expected economic growth, technology suppliers have the ideal opportunity to penetrate the African market, but should have experienced partners who are able to provide insight and have experience operating on the continent," concluded Noblot.
CBN Pulls Rate Cut Trigger, King Dollar Returns
By Lukman Otunuga, Senior Research Analyst at FXTM,
In a move that caught investors off-guard this week, the Central Bank of Nigeria (CBN) slashed interest rates by 100 basis points bringing the MPR to 11.5%. Given how inflation has been above target since 2015, rates were expected to remain unchanged for the rest of 2020 and possibly early 2021.
The question on the mind of many is whether the rate cut will achieve the desired effect by stimulating consumption and economic growth? Ongoing border closures and disruptions created by COVID-19 have pushed inflation to levels not seen since March 2018 above 13.20% while a drop in the production and price of Oil continues to rub salt into the wound. While looser monetary policy could support growth, it may come at the cost of rising inflation and weaker Naira.
Over the past few months, central banks across the globe have deployed unprecedented measures to defend their respective economies against the coronavirus menace. However, fiscal policy has been identified as the sharper tool with governments across the world providing a critical lifeline to keep the wheels of their respective economies rolling.
Outside of Nigeria, King Dollar made a return by appreciating against every single G10 currency. In times of uncertainty, everyone wants a juicy piece of the world's most liquid currency. As coronavirus cases rise in Europe and other parts of the world, the flight to safety is likely to boost appetite for the Dollar. This is bad news for many emerging markets currencies, especially those with high Dollar-denominated debt.
On the commodity side, Oil prices remain heavily influenced by demand-side factors and the state of the global economy. Prices are likely to remain stuck around the $40 regions in the near term, especially If another round of possible lockdowns hit Oil demand. Looking at the technicals, WTI Crude is under pressure on the daily charts. If prices are unable to break away from the sticky $40 regions, the next key point of interest remains around $38. A weekly close above $41.50 could pave a path towards $43.
NCC Arrests Man for Hacking into DSTV System
Nigeria Copyright Commission (NCC), has arrested one Mr Aliu Olalekan, for allegedly hacking into DSTV system and watching the channels free without subscription.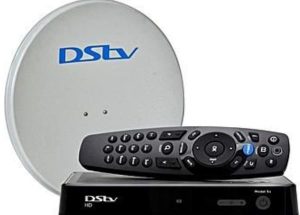 Mr Matthew Ojo, NCC Director in the Lagos Directorate Office said this while speaking with newsmen in Lagos, on Tuesday.
He said that the suspect used to watch DSTV channels free without subscription on his Android phone via an app which he downloaded on google play store.
"This suspect distributed the know-how to his telegram followers and on his blog with the aim of gaining more followers and viewership on his blog and makes more money through google ad-sense.
"The operation was based on surveillance which had earlier been carried out by the Multi-choice team and verified by a copyright inspector, " he said.
He added that the arrest was made in collaboration with a team of copyright inspectors led by the Head of Enforcement Department, Mr Charles Amudipe.
Others included; a team from Multichoice Nigeria led by Mr Umar Ibrahim and policemen from Lagos Command Headquarters, Ikeja.
Ojo said that the joint team conducted an anti-piracy operation at the premises of the culprit in Amukoko, Lagos.
According to him, the suspect was contacted on phone by a member of the operation team on the disguise of patronising him. "The suspect came out to meet the caller and in the process of discussion, he was apprehended.
"The suspect took the team to his resident. The squad paraded his one-room apartment and recovered his laptop and phones used in perpetrating the ungodly act. "He was arrested and brought to the copyright commission office for further investigation, " he said.
Ojo said that, on getting to the commission's office, the statement of the suspect was taken and the inventory of items seized from him taken. He said that investigation on the matter was still ongoing and if found guilty the suspect will be charged to court.
NCC, Digital Encode Support NITRA Innovative Tech Forum On Post-COVID-19 Strategies
The Nigerian Communications Commission (NCC), Nigeria's telecommunications regulator and Digital Encode, Cybersecurity and Compliance advisory company, have indicated interest to partner with the Nigeria Information Technology Reporters Association (NITRA), the national umbrella body of ICT reporters, as it organizes a forum that will x-ray the industry's future plans for ICT growth post pandemic era.
The event, slated to hold on October 15, 2020, will seek to discuss the needs for a fortified ICT sector after the COVID-19 era, and the level of preparedness of ICT stakeholders to embrace the challenge of being pivotal to the stability and growth of all other sectors.
A statement from NITRA National Secretariat in Lagos indicates that due to the pandemic and need to observe the COVID-19 protocol on social distancing, the event will be held via a Webinar.
This year's theme, "Multi-stakeholder Approach To National Recovery Post-Pandemic", is in line with the annual event's generic theme, 'NITRA Innovative Tech Forum', a contribution by NITRA to the development of Information and Communication Technologies (ICTs) innovations and policies in Nigeria.
Prof. Umar Danbatta, executive vice chairman, NCC is expected to deliver the keynote speech at the event and will throw more light on Federal Government's plans, programmes and policies on post-pandemic strategies using ICT.
Dr. Adewale Obadare and Dr. Seyi Akindeinde, founders of Digital Encode, while accepting to support the event expressed their readiness to offer their expertise in Cybersecurity for organisations to prepare against cyber- attacks with the new normal.
They will also highlight areas that are high risks that need fortification in terms of cybersecurity.
Speaking on the event, Mr. Chike Onwuegbuchi, national chairman, NITRA, noted that as the COVID-19 pandemic continues to leave its negative trails across the globe, economic reboot for countries will not only depend on how well they readapt to the new normal, but also more on their recovery plans.
According to him: "While the federal government has consistently expressed its willingness to set all policies in place to engender growth, and accelerated implementation of these policies, private sector firms have also shown great hunger for the task ahead in post-COVID-19 era.
However, the question that needs to be answered is whether all stakeholders are ready for the required task ahead."
The event will also offer participating companies opportunities to publicize some of their individual efforts at contributing to reacting a soft landing or lifeline for SMEs and other ancillary companies as the pandemic threatens their survival.
Digital Encode is a multi-award winning and leading consulting and integration firm that specializes in the design, management, and security of business-critical networks, telecommunications environments and other Information Technology (IT) infrastructures.