Elumelu Foundation Holds Bootcamo for 1,000 African Entrepreneurs
As part of Tony Elumelu's $100 million commitment to empowering African entrepreneurs, 1,000 Tony Elumelu Entrepreneurs, representing 51 African countries from the Tony Elumelu Entrepreneurship Programme (TEEP) Class of 2015, converged near Lagos, Nigeria for an intensive two-day bootcamp session, an unprecedented gathering of emerging African entrepreneurs, from 10-12 July, 2015.
The entrepreneurs travelled from across the continent – from as far as Madagascar and Morocco – and convened in Ota, Nigeria for an entrepreneurship bootcamp made up of interactive sessions with successful entrepreneurs, political and business leaders, and an open mic session with Tony O. Elumelu, founder.
Gambian Badje Modou Lamin, whose business is in the agricultural sector, said, "The bootcamp has been a great experience. I have been able to exchange ideas with a number of entrepreneurs. This has really changed my perspective on Africa."
Maalainine Mohamed Bouya, from Morocco, said: "The bootcamp has been a blast! Right from our journey from the airport down to the bootcamp, we have been discussing and sharing ideas among ourselves. Africa has huge potential."
Nigerian Obinna Chukwu, said: "The bootcamp has been a wonderful experience – I have met people from all over Africa. It makes me proud of being a Nigerian. I thank Tony Elumelu and the Tony Elumelu Foundation for making this happen."
Mr. Elumelu, chairman of Heirs Holdings, spoke on his life experiences and the principles that he learned from mentors, such as Chief Ebitimi Banigo, that he applied towards his own successful entrepreneurship journey. He answered an array of questions during a two-hour question-and-answer session, offering perspective on innovation, strategy, governance, financial management and decision-making.
He said: "Entrepreneurship is not a short-term journey and I am pleased that we can help these emerging leaders, as they seek to join me in transforming Africa. My commitment towards creating a thousand new entrepreneurs who can change Africa forever, has now become a reality. This is only the beginning."
Vice President of Nigeria Professor Yemi Osinbajo, welcomed the entrepreneurs from across Africa and called on them to take advantage of the networks built in Ota to develop pan African investment and trade networks.
According to Vice President Osinbajo, "This programme deserves all the commendation it is getting. Tony Elumelu has courageously put his money where his mouth is. Societies can't develop without social entrepreneurs. I charge you to be little Elumelus and create opportunities for others."
The Vice President was joined by other senior political leaders including Kaduna Governor Nasiru El Rufai, and Lionel Zinsou, the Prime Minister of Benin Republic.
Other speakers included Parminder Vir, OBE, CEO of the Tony Elumelu Foundation; Mo Abudu, Founder/CEO of Ebony Life TV; Nollywood screen icon Omotola Jalade-Ekeinde; Nimi Akinkugbe, CEO, Bestman Games; Rasheed Olaoluwa, CEO of the Bank of Industry; former SEC DG Arunma Oteh; inspirational coach Lanre Olusola; Martin Eigbike, Accenture Development Partnerships; governance expert Angela Aneke; playwright and producer Adewale Ajadi; Sam Nwanze, the Heirs Holdings Director of Finance and Investments; and David Rice, Director of the Africapitalism Institute.
The Tony Elumelu Entrepreneurs of the TEEP Class of 2015 represent 51 African countries and territories. They cover all of Africa's geopolitical regions – North, East, Southern, Central and West Africa – and major language blocs – Anglophone, Francophone, Lusophone, and Arabic Africa – as well as every state in Nigeria.
They represent a diversity of sectors that range from agriculture to education to energy, fashion and ICT, emphasising Africa's potential.
In his goodwill message to the visiting Tony Elumelu Entrepreneurs, Nigerian President Muhammadu Buhari, GCFR wrote, "I am proud that Nigeria (and a Nigerian) is taking the lead in this effort to promote self-worth, encourage entrepreneurship, create jobs, build and promote networks for intra-African trade, business collaboration and investment. Our Administration is committed to unlocking all such opportunities to restore dignity to our people. This programme is one example I hope others will emulate and I commend Tony Elumelu and his Foundation for their endeavor and leadership in this area. "
As he closed the bootcamp, Mr Elumelu challenged all the entrepreneurs by saying, "I want to go to Zambia when I am 80 years old and meet someone who shows me their manufacturing business or financial institution and tells me that it was built starting with $10k from Tony Elumelu. That's what this is about and that's what you owe me."
He added, "The return I want from this $100 million investment is your success, because your success is Africa's success."
After the bootcamp, the Tony Elumelu Entrepreneurship Programme will focus on providing the seed capital and support for the entrepreneurs to put into practice the knowledge gained from the bootcamp and the 12 weeks of training carried out prior to the event.
It will also continue to foster increased collaboration between them and the rest of the Tony Elumelu Entrepreneurship Network as it seeks to promote cross-border trade within the continent.
The application portal will re-open on January 1, 2016 for emerging entrepreneurs across Africa to compete for places in the TEEP Class of 2016.
CBN Pulls Rate Cut Trigger, King Dollar Returns
By Lukman Otunuga, Senior Research Analyst at FXTM,
In a move that caught investors off-guard this week, the Central Bank of Nigeria (CBN) slashed interest rates by 100 basis points bringing the MPR to 11.5%. Given how inflation has been above target since 2015, rates were expected to remain unchanged for the rest of 2020 and possibly early 2021.
The question on the mind of many is whether the rate cut will achieve the desired effect by stimulating consumption and economic growth? Ongoing border closures and disruptions created by COVID-19 have pushed inflation to levels not seen since March 2018 above 13.20% while a drop in the production and price of Oil continues to rub salt into the wound. While looser monetary policy could support growth, it may come at the cost of rising inflation and weaker Naira.
Over the past few months, central banks across the globe have deployed unprecedented measures to defend their respective economies against the coronavirus menace. However, fiscal policy has been identified as the sharper tool with governments across the world providing a critical lifeline to keep the wheels of their respective economies rolling.
Outside of Nigeria, King Dollar made a return by appreciating against every single G10 currency. In times of uncertainty, everyone wants a juicy piece of the world's most liquid currency. As coronavirus cases rise in Europe and other parts of the world, the flight to safety is likely to boost appetite for the Dollar. This is bad news for many emerging markets currencies, especially those with high Dollar-denominated debt.
On the commodity side, Oil prices remain heavily influenced by demand-side factors and the state of the global economy. Prices are likely to remain stuck around the $40 regions in the near term, especially If another round of possible lockdowns hit Oil demand. Looking at the technicals, WTI Crude is under pressure on the daily charts. If prices are unable to break away from the sticky $40 regions, the next key point of interest remains around $38. A weekly close above $41.50 could pave a path towards $43.
NCC Arrests Man for Hacking into DSTV System
Nigeria Copyright Commission (NCC), has arrested one Mr Aliu Olalekan, for allegedly hacking into DSTV system and watching the channels free without subscription.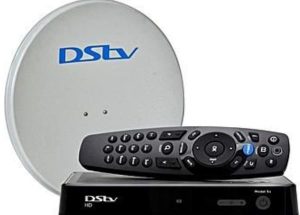 Mr Matthew Ojo, NCC Director in the Lagos Directorate Office said this while speaking with newsmen in Lagos, on Tuesday.
He said that the suspect used to watch DSTV channels free without subscription on his Android phone via an app which he downloaded on google play store.
"This suspect distributed the know-how to his telegram followers and on his blog with the aim of gaining more followers and viewership on his blog and makes more money through google ad-sense.
"The operation was based on surveillance which had earlier been carried out by the Multi-choice team and verified by a copyright inspector, " he said.
He added that the arrest was made in collaboration with a team of copyright inspectors led by the Head of Enforcement Department, Mr Charles Amudipe.
Others included; a team from Multichoice Nigeria led by Mr Umar Ibrahim and policemen from Lagos Command Headquarters, Ikeja.
Ojo said that the joint team conducted an anti-piracy operation at the premises of the culprit in Amukoko, Lagos.
According to him, the suspect was contacted on phone by a member of the operation team on the disguise of patronising him. "The suspect came out to meet the caller and in the process of discussion, he was apprehended.
"The suspect took the team to his resident. The squad paraded his one-room apartment and recovered his laptop and phones used in perpetrating the ungodly act. "He was arrested and brought to the copyright commission office for further investigation, " he said.
Ojo said that, on getting to the commission's office, the statement of the suspect was taken and the inventory of items seized from him taken. He said that investigation on the matter was still ongoing and if found guilty the suspect will be charged to court.
NCC, Digital Encode Support NITRA Innovative Tech Forum On Post-COVID-19 Strategies
The Nigerian Communications Commission (NCC), Nigeria's telecommunications regulator and Digital Encode, Cybersecurity and Compliance advisory company, have indicated interest to partner with the Nigeria Information Technology Reporters Association (NITRA), the national umbrella body of ICT reporters, as it organizes a forum that will x-ray the industry's future plans for ICT growth post pandemic era.
The event, slated to hold on October 15, 2020, will seek to discuss the needs for a fortified ICT sector after the COVID-19 era, and the level of preparedness of ICT stakeholders to embrace the challenge of being pivotal to the stability and growth of all other sectors.
A statement from NITRA National Secretariat in Lagos indicates that due to the pandemic and need to observe the COVID-19 protocol on social distancing, the event will be held via a Webinar.
This year's theme, "Multi-stakeholder Approach To National Recovery Post-Pandemic", is in line with the annual event's generic theme, 'NITRA Innovative Tech Forum', a contribution by NITRA to the development of Information and Communication Technologies (ICTs) innovations and policies in Nigeria.
Prof. Umar Danbatta, executive vice chairman, NCC is expected to deliver the keynote speech at the event and will throw more light on Federal Government's plans, programmes and policies on post-pandemic strategies using ICT.
Dr. Adewale Obadare and Dr. Seyi Akindeinde, founders of Digital Encode, while accepting to support the event expressed their readiness to offer their expertise in Cybersecurity for organisations to prepare against cyber- attacks with the new normal.
They will also highlight areas that are high risks that need fortification in terms of cybersecurity.
Speaking on the event, Mr. Chike Onwuegbuchi, national chairman, NITRA, noted that as the COVID-19 pandemic continues to leave its negative trails across the globe, economic reboot for countries will not only depend on how well they readapt to the new normal, but also more on their recovery plans.
According to him: "While the federal government has consistently expressed its willingness to set all policies in place to engender growth, and accelerated implementation of these policies, private sector firms have also shown great hunger for the task ahead in post-COVID-19 era.
However, the question that needs to be answered is whether all stakeholders are ready for the required task ahead."
The event will also offer participating companies opportunities to publicize some of their individual efforts at contributing to reacting a soft landing or lifeline for SMEs and other ancillary companies as the pandemic threatens their survival.
Digital Encode is a multi-award winning and leading consulting and integration firm that specializes in the design, management, and security of business-critical networks, telecommunications environments and other Information Technology (IT) infrastructures.