Etisalat Reports Healthy Q2 Revenues
Etisalat Group, a leading telecoms operator in the Middle East, Africa and Asia, has announced strong results for the second quarter of 2013, with an increase of quarterly consolidated revenues and subscribers across its operating markets.
Some of the key highlights for Q2 are : interim dividend of 35 fils per share, up 40% from the prior year; and revenue growth 20% per cent
Also revenue from international operations grew by 50% while aggregate subscribers grew to 143 million.
The group also announced that it launched "Flous" that offers banking for unbanking in Egypt and obtained mobile network universal service license in Benin.
It joined GSMA and Global Mobile Health Community in battle against diabetes; and was awarded best CSR practices award
Etisalat Group reported strong consolidated revenues during the second quarter representing an increase of 20% in comparison to the same period of last year and an increase of 3% in comparison to the first quarter of 2013.
During the quarter, Group consolidated revenues was affected by the changing in the accounting treatment of the operations in Pakistan, which was consolidated with effect from January 1st 2013.
In the UAE, revenues of AED 6,303 million for the quarter were 12% higher than in the second quarter of 2012 and 5% higher than the first quarter of 2012. The quarterly year-over-year growth in revenues was primarily due to customer acquisition, an increase in the revenues of data and handsets sales.
Revenue from international consolidated operations grew by 50% to AED 3,513 million, representing 36% of consolidated revenues.
Etisalat Group's first six months 2013 revenue increased to AED 19.5 billion compared to last year's first six months (H1, 2012) where it was AED 16.5 billion.
Ahmad Abdulkarim Julfar, chief executive officer at Etisalat Group, said: "The outstanding performance of Etisalat UAE and the positive performance in Asia are reflected in our Q2 results.
"The board's declaration of interim dividend of 35 fils per share is a strong indication of our steady performance and the success of the Group's strategic plan, which has been supported by a clear and ambitious vision from our top executives and smooth execution by a talented work force.
"Etisalat commitment to communities and investment in human capital, technology and innovation is enabling growth across our operating markets and this is reflected positively in the results.
"These results demonstrate that Etisalat Group is absolutely on the right track and able to continue to add value to its subscribers, shareholders, employees and the communities it serves."
4G Advancement in Ethiopia: A Milestone in the Country's Telecom Landscape
By Abiye Yeshitila
Ethiopia is on the verge of massive digital transformation, as one of the fastest growing economies in Africa, which is being led by consumers who, today, have access to more devices and are more connected than ever.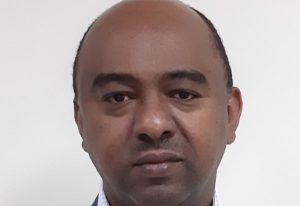 The ICT market in Ethiopia is constantly evolving, and telecommunication providers have to offer products and services that meet their customers' demand for high speed data connectivity.
The first months of 2020 saw the spread of a novel coronavirus around the globe. Subsequent behavioral changes due to lockdown restrictions caused measurable changes in the usage of both fixed and mobile networks.
In Ethiopia, access to mobile communication has expanded rapidly. Proliferation of smartphones and tablets have increased data traffic exponentially, driven by the rise of video content. Explosion of mobile broadband is set to create new demand and an upsurge in household consumption of mobile internet is expected to provide continued impetus to the sector.
Enabling broadband connectivity for all is a basic human right and we know that for every 1000 new broadband connections, 80 new jobs are created (Ericsson and Arthur D. Little). A 10% increase in mobile broadband adoption secures 0.6-2.8% GDP growth (Ericsson and Imperial College) and a doubling of average achieved broadband speed generates an additional 0.3% GDP growth (Ericsson, Arthur D. Little, Chalmers University).
To keep up with increasing demand for data capacity, service providers need a fast solution. They are playing a key role in enhancing networks and paving the way for next generation of mobile connectivity.
Faced with limited spectrum assets and a need to provide the best user-quality network, many service providers have launched 4G LTE networks. LTE simplified the network and increased spectral efficiency significantly while driving down costs. It is the first mobile system that is designed for mobile broadband from the start. Some of the use cases it has enabled include:
Enhanced local-area access through network densification
Machine-type communications, providing efficient connections for non-human centric such as burglar alarms, power meters etc.
Device-to-device communications, where direct communication between wireless devices is enabled in a peer-to-peer mode
Consumer devices dominate for 4G. Despite strong initial hope for laptops as a driving device, it was the app-enabled smart phone that became the killer device. Mobile phones have moved from a communication-centric device to a multi-purpose smart personal companion. Smartphones will continue to see growth and more data-centric offerings are forecast to enter the market.
The latest mobility data shows that LTE accounted for around 11% of subscriptions in 2019 in Sub-Saharan Africa. Mobile broadband subscriptions are predicted to increase, reaching 72% percent of mobile subscriptions by 2025. LTE share will reach around 30% by the end of the forecast period, and LTE subscriptions are set to triple, increasing from 90 million in 2019 to 270 million in 2025.
Championing current demand, 4G brings major improvements in terms of coverage and capacity, offering download and upload speeds many times greater than those achievable with earlier technologies. In addition, support for Machine-Type Communications (MTC) and Internet of Things (IoT) in cellular networks is being drastically improved with the launch of 4G LTE.
Ericsson's services, software and infrastructure – especially in mobility, broadband and the cloud – are enabling the telecom industry and other sectors to do better business, increase efficiency, improve the user experience and capture new opportunities. We have done business in Ethiopia for a long time – since the sales of telephone receivers commenced in 1894.
Ericsson is devoted to support the development of Ethiopia's telecom industry, leveraging our global expertise and technology leadership. We are working together with service providers in Ethiopia to ensure rewarding new user experiences for Ethiopian consumers in the new connectivity era as part of our mission to empower Africa's technology-enabled economies and keep #AfricaInMotion.
What consumers want
Consumers have gone through a massive digital evolution in a short span of time and people today are staying online longer than ever before.
Our go-to technology devices have progressed from PCs to smartphones and communication has grown from voice to video and social networking services. Today, people are prone to behavior that involves reduced human interaction, with the advent of technological options such as e-shopping, e-selfcare and e-billing, to name a few.
The new consumer of today demands a seamless online experience across all the fronts whether it is a smartphone, a tablet, or other devices.
The 4G network in Ethiopia's capital offers mobile users with faster data speeds, high-quality video conferencing and faster response times when using mobile applications or accessing the internet. It also helped service providers meet demand for mobile data, which is rising every year as customers move to adopt data-hungry smartphones, mobile modems and tablets. Hence, there are plans to expand LTE across the country.
A steady upsurge in numbers for smartphone subscriptions and mobile traffic is the norm in the mobile sector. LTE for mobile and fiber optics for fixed connections are becoming widespread and this has led to the introduction of innovative connectivity bundles for voice and data. Demand and usage of digital services like OTT video, smart home, financial services, e-health, e-education is also on the rise.
It has been stated that the mobile industry in Ethiopia is a key contributor to the country's economy and enables new economic activity in other sectors. As wireless connectivity enables business to be done on the go, it allows information and services to be access anywhere, and will create new services and industries.
Abiye Yeshitila is Account Manager at Ericsson Ethiopia
Aptive Capital Dangles $10,000 Equity-Investment in Three African Startups
Aptive Capital, a US-based Venture Capital (VC), has announced its investment in three early-stage businesses in Africa; Nigeria, and Uganda.
Earlier in June 2020, the Africa-focused investment company opened up applications to invest $10,000 equity capital into eligible and high potential startups based in Africa, from its $1 million portfolio fund.
The application, which ran for a month, had over 500 entries from high growth companies with very impressive founders across Africa.
After thorough phases of scrutiny and submission reviews by investment professionals, three startups were selected for the early-stage funding.
Speaking on the investment, Dr Ben Peter, managing partner at Aptive Capital said, "We had lots of entries from impressive founders across Africa who showed so much enthusiasm and had amazing solutions.
"We've settled for these three, not because they are the best, but because we believe their visions as impact-led companies directly align with our goals to promote measurable and innovative social causes in Africa.
"Our team has kick started support for these energetic companies who believe the solutions they are proffering will solve the continent's most daunting problems. This is what Aptive Capital is committed to doing."
According to the organisation, the criteria which determine the selection include; early-stage business, evidence of impact, founding team, uniqueness of the solution, traction, leverage of technology, further projections and validity of the startup industry.
While applications rolled in from sectors such as Digital Storytelling, eLearning, Access to market, Digital payments, Supply Chain management, agriculture, Logistic, eCommerce, Gamification, Big data, Cybersecurity, Crowdsourcing, and eLiteracy, the selected companies include:
Skyfire Digital – Digital marketing agency supporting MSMEs in Africa and the US market to achieve their business ROI objectives as well as scale through various online channels.
Mimi Money – Bitcoin payment solution using crypto to transform payment in Uganda.
Emmnoch Farms – Fish farm solution providing end-to-end along the fishery value chain and connecting rural farmers and bridging the nutrition gap through fish farming.
From the pool, barely 100 startups made it to the second stage which involved due diligence and further documentation.
The next round was a one-on-one Zoom pitch, that saw 10 selected startups make it to the finals. At the final stage, only these three startups were able to successfully gain investment interest from Aptive Capital.
According to Peter, "Our selection process was quite intense and we're glad that these ones not only saw it through but also emerged victorious in the end because of their belief in their solution as well as a very lucid business model."
In the next couple of months, Aptive Capital will, in addition to the $10,000 funding, offer technical support, mentorship, coaching to intensify the social impact of its portfolio companies.  Aptive says its next call for investment rounds will open before end of the year.
NCC Moves to Review International Termination Rate for Voice Services
The Nigerian Communications Commission (NCC) has embarked on a cost-based study to set the new pricing regime for mobile international termination rate (ITR) for inbound international voice calls in the country.
The ITR is the rate paid to local operators by international operators to terminate calls in Nigeria.
As part of the process for the rate determination, the Commission has organised a virtual stakeholder engagement forum with relevant industry stakeholders to intimate them with the ongoing cost-based study and the need to cooperate with Messrs Payday Advance and Support Services Limited, the consultants engaged to carry out the study
Addressing the stakeholders in Abuja recently, Prof. Umar Danbatta, executive vice chairman of NCC, said the study has become imperative following the various implementation constraints arising from contending industry and market dynamics that met previous efforts at finding an optimum price for the termination of international voice services in Nigeria.
Danbatta, who was represented at the forum by Adeleke Adewolu, executive commissioner, Stakeholder Management, NCC, said through the new ITR pricing, the Commission will be able to balance the competing objectives of economic efficiency and allowing operators the latitude to generate reasonable revenue.
The EVC, however, explained that in 2013, the Commission issued a determination stating that mobile termination rate (MTR) rates were the same irrespective of where the call originated, a clause he said was largely misconstrued by operators at that time to mean that ITR should be the same rate as the MTR.
He said this led to operators ignoring the international cost portion, where ITRs were agreed at MTR level without a positive residual to cover the costs of the international leg for local operators.
"As a result of this, the ITRs continued to decline, in line with the MTR glide path and as the ITR was set in Naira, it suffered a further downward slide in dollar terms following the currency devaluation.
"Ironically, the Nigerian operators paid the international operators in dollars to deliver international calls which created an imbalance of payments as the ITR in Nigeria declined," he said.
As a result, Danbatta said Nigerian operators' profitability and commercial results were negatively affected putting Nigeria's ITR below that of most countries with which it makes and receives the most calls, thereby making Nigerian operators perpetual net payers.
"This has, therefore, led to undue pressure on the nation's foreign reserves, which continue to get depleted by associated net transfers to foreign operators on account of this lop-sidedness, hence the need for Nigeria, with volatile currencies, to regulate the ITR to prevent or mitigate the imbalance of payments with international operators," the EVC said.
According to Danbatta, where ITR is not properly regulated, it tends to have a negative effect on a market like Nigeria with major supply-side challenges and associated socio-economic implications.
"So, setting a rate substantially above the MTR has resulted in a number of repercussions. One of such is the consumer shift to online channels as calls are increasingly made through Internet Protocol (IP)-based technologies such as Skype and WhatsApp because of high international call prices.
"To this end, an economically-efficient ITR that is cost-based will maximise economic benefits to all stakeholders," Danbatta told the stakeholders.
Earlier in her remarks, Director, Policy, Competition & Economic Analysis, Yetunde Akinloye, said the forum is aimed at formally engaging with and sharing the perspectives and insights of industry stakeholders and ultimately enlisting their collective support in relation to the inputs and requirements towards the determination of a mutually- realistic ITR in Nigeria.
She noted that the project commenced on March 10, 2020 with a kick-off meeting but was stalled by the challenges associated with the COVID-19 pandemic, necessitating the need to explore emerging channels of engagement to move forward and ensure the completion of the project.
Akinloye reiterated the Commission's commitment to continuously provide a conducive environment and level-playing field for the effective interplay of factors that would sustain market development and growth, while ensuring the provision of qualitative and efficient telecommunications regulatory services for the benefit of consumers and licensees.