Ex-NITDA Director Kemabonta Joins African ICT Foundation Executive Council
Dr. Inyi kemabonta, former director of Standards and Regulation in Nigeria Information and Technology Development Agency (NITDA) and a World Bank Consultant on Nigeria's Digital Economy, has joined the Executive Council of the African ICT Foundation (AfICTF) as Policy and Regulatory Affairs Director.
According to a statement from Mr. Tony Ojobo, president of the Foundation and Chairman of the Board of Trustees,  announcing his appointment, Kemabonta will amongst other functions provide vision and leadership in the development of AfICTF's strategy and policy work concerning ICT Policy in Africa and include regular speaking engagements at industry conferences/events globally for the Foundation.
He said Kemabonta was appointed into the Executive Council of the Foundation in line with the existing template of appointment introduced by the founders of the Foundation in 2009 following nomination by watchers of the ICT/Telecoms industry in Africa.
Kemabonta is an Information Technology Attorney, Consultant, Public Speaker and Trainer. Over the last two decades he worked in both the Legislative and Executive Arms of government during which he chaired and served on several developmental initiatives in the Nigeria ICT industry including the Federal Government program on ICT innovation and entrepreneurship in 2012.
He helped to develop several policies and regulations, among which is the Local Content Initiative in ICT, which have shaped the Nigerian ICT industry.
He has worked on several pieces of legislation for the Nigerian government, such as the Cybercrime Bill, Electronic Transaction Bill, Public Key Infrastructure Regulation, Data Protection Bill, and the NITDA Act of 2007.
He has represented the Nigerian government at several international technology events, including ICANN.
His pioneering work, along with other professionals,in the ICT space for the Nigerian government helped in the establishment of the Nigerian National Information Technology Development Agency (NITDA), the Nigerian Internet Registration Association (NiRA) and several industry platforms in ICT.
Kemabonta was the Director of Standards and Regulation in NITDA until 2014. He was also the pioneer National Coordinator of the Office for Nigerian Content in ICT during which he set up and implemented the legal and institutional framework for the development of an indigenous ecosystem in ICT across the spectrum of human capital, infrastructure, software, hardware and services.
He has a deep understanding of the workings of Information Technology in the Public Sector
In his acceptance letter to the Board, he said Africa has so much potential and opportunities in ICT saying that Information Technology Regulation and Policy Development are areas where a lot can be achieved in a short time and in a sustainable manner.
"I am eager to begin work on a pet project:  Africa's Digital Transformation through Regulation and Policy Development" using my position as a Director. Nigeria might be a good starting point for the project. An aspect of the project is "Computer in Every Home Campaign" which I am eager to kick start as soon as possible", he said.
He currently consults for the World Bank on Nigeria's Digital Economy, and is a Regional Representative of AfICTA on the African Union Policy and Regulation Initiative for Digital Africa (PRIDA) train-the-trainer program.
Apart from ICT, Law and Behavioural Sciences, his professional and academic background includes Communication, Industrial Relations and Human Capital Development.
He conducts trainings in Transformational Leadership, ICT Regulation, Business and Developmental Communication, Negotiation Skills and Knowledge Management.
Inlaks CEO, Femi Adeoti, Wins Top CEOs & Next Bulls Award
Femi Adeoti, managing director and CEO, Inlaks, Africa's foremost Information Technology and Infrastructure solutions provider in West Africa, has been announced as a winner of the 2020 Top CEOs & Next Bulls Awards organised by Business Day Media Limited in collaboration with the Nigerian Stock Exchange (NSE).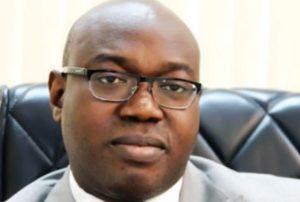 The MD/CEO whilst receiving the award dedicated it to the management and staff of Inlaks for their relentless service even during these trying times.
He also appreciated the board of the organization that drove changes within the organisation particularly in the pandemic which led to the company being recognized and the customers who have continued to support Inlaks while being ambassadors of all Inlaks' solutions.
The CEO and Next Bulls awards, the sixth in its series, recognizes the CEOs of listed companies creating competitive shareholder value through sound strategy, disciplined execution and world class governance. In addition, it celebrates chief executives of quoted companies that have demonstrated the most impressive gains in both share price and service delivery.
Themed "Advancing Against all Odds," this year's award particularly recognised businesses that have been thriving in spite of the global harsh economic realities.
According to the organisers of the award, the indomitable Next Bulls are the CEOs raging forward at a time when many businesses are choosing to retreat, thus acknowledging Adeoti's good leadership in the area of corporate governance, innovation and service delivery.
The CEOs award celebrates the CEOs of successful, privately-owned indigenous companies built by Nigerians, led by Nigerians and poised to lead their categories on the continent.
Established in 1982, Inlaks is Africa's leading Information Technology systems integrator with presence in Nigeria, Ghana, Kenya, Gambia, Sierra Leone, Guinea, Liberia and Cameroon. As solutions provider, it offers core banking, agency banking, fraud management, cyber-security, cloud, data centre, enterprise risk management and software solutions.
Part of the criteria for selecting winners of this year's awards held virtually on September 5, are stock price appreciation, Profit After Tax (PAT) growth, an unblemished regulatory compliance record, and positive marketplace reputation among customers in the period under review.
Winners are also selected based on significant interest shown by active and informed investors on the Nigerian Stock Exchange to invest in their stock should their boards ever decide to take them public.
Transcorp Hotels Hard Hit by COVID-19, Mulls Restructuring
The novel COVID-19 pandemic has caused the African Hotel and Tourism industry to lose over $50bn in revenue.
Amidst this, Transcorp Hotels Plc has suffered unprecedented losses and is looking to restructure the business strategy of its hotels and optimize its operations.
The management of Transcorp Hotels Plc has announced that it will be taking steps to ensure business continuity in the wake of the losses recorded due to the COVID-19 pandemic.
To this end, the hotelier is diversifying its portfolio and reducing its workforce as part of its cost management initiatives.
Mrs Dupe Olusola, managing director, Transcorp Hotels Plc, disclosed this during a Press Conference on Thursday saying "The impact of COVID-19 on the business is like nothing the company has ever witnessed. The hotel and hospitality industry in Nigeria has never faced a crisis that brought travel to a standstill, including the Ebola Virus Outbreak of 2014 and the recession of 2015. The slow pick up of international travel, restriction on large gatherings, the switch to virtual meetings and fear of the virus, has drastically reduced demand for our hotels and occupancy levels to its lowest of less than 5%."
According to her "Despite the losses incurred we have fulfilled our obligations to staff. At the inception of the pandemic, we maintained a 100% salary payment to our over 900 employees in March and April. We also activated various cost-saving initiatives such as renegotiations of service contracts and restructuring of our loans. We suspended further commitment to buy fixed assets and operating equipment as well as reducing our energy consumption and maintenance costs. Despite undertaking these, it has become apparent that more fundamental changes need to be made for the business to survive. To this end, our workforce headcount will be reduced by at least 40%, and our reward system will be optimized."
Mrs Olusola further disclosed that negotiations are ongoing to ensure that our colleagues who will be impacted are adequately compensated given the peculiarities of the economy at this time.
A health insurance package to reduce their health burden costs, especially during the pandemic, amongst other payment settlements, will be activated.
Equally, all Executives of Transcorp Hilton Abuja have now taken a pay cut.
As one of the leading hospitality brands in Africa, Transcorp Hotels Plc has stated its commitment to uphold service standards and ensure that all guests continue to experience the warmth and hospitality that it is known for.
LCCI Announces Date for Virtual Edition of ICTEL Expo
The Lagos Chamber of Commerce and Industry (LCCI), the premier Chamber of Commerce and a leading voice in the organised private sector (OPS) in Nigeria, is set to host the 6th edition of the Information, Communication, Technology and Telecommunications (ICTEL) Expo.
The tech event is scheduled to take place virtually on Tuesday 22ndand Wednesday 23rd September at 9am daily. To this end, interested participants are urged to register online via www.ictelexpo.com.ng
Muda Yusuf, director general of the Lagos Chamber of Commerce and Industry (LCCI) said: "The ICTEL EXPO is positioned to be a veritable platform for both operators and regulators to network, showcase and explore with technology with the view to repositioning the ICT sector of the economy."
Yusuf added "that this year's edition promises to be the best ever in the series with the theme "Exploring Opportunities in the Digital Economy" This is intended to create a platform to discuss strategies for economic diversification and business sustainability with particular focus on ICT, especially with the current challenges posed by the COVID-19 pandemic. There would also be virtual conferences and exhibition during the two-day event.
Yusuf also emphasized that relevant agencies and departments of Government will be exhibiting and attending to other exhibitors and participants.
He stated that the Government Ministries, Departments and Agencies that have confirmed attendance to participate are Ministry of Communications; Nigerian Communications Commission (NCC) amongst others.
In addition, the Honourable Minister of Communications and Digital Economy, Dr. Isa Ali Pantami and the Executive Vice Chairman, Nigerian Communications Commission, Prof. Umar GarbaDanbatta, are expected as Special Guests.
Mrs. Funke Opeke, managing director, MainOne Cable and chairman, Presidential Committee on National Broadband Plan, is expected to deliver the Keynote Address on the first day.
While Mr. Victor Eburajolo, deputy group managing director, Kewalram Group, will be delivering the Keynote Address on the second day at the virtual Expo.
Yusuf stated that "so far, so good the excitement that the virtual Expo has generated has been phenomenal and we are indeed happy about it."