Experts Share Global Mobile Camera Trends for 2022
Leading industry research analysts along with global experts in the field of optical imaging technology have shed light on what the smartphone industry can expect in 2022 with respect to mobile cameras, during a webinar titled "Global Mobile Camera Trends 2022: Innovation Talk".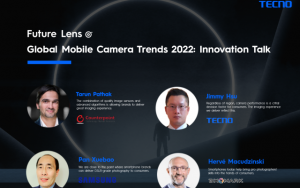 Discussions focused on how camera systems are evolving, and how they have become critical for OEMs as consumers place increasing importance on image capture. Innovations such as the combination of quality image sensors and advanced software algorithms, light sensitivity, image and video stabilization, and continuous lossless zoom have been highlighted by these industry players as Mobile camera trends to continue in the coming year.
The webinar was organized by leading technology research firm Counterpoint, and included were guest speakers from TECNO, a global smartphone brand focusing on rapid-growth in emerging markets, Samsung Electronics, a global leader in semiconductor, telecommunication, digital media and digital convergence technologies, and DXOMARK, an internationally renowned testing agency specializing in cameras, audio, displays, and batteries for consumer electronics.
Hosted by Counterpoint Research's Peter Richardson, VP of Research, speakers Tarun Pathak, Hervé Macudzinski, Pan Xuebao, and Jimmy Hsu shared their insights on camera innovation, market trends, and the latest developments in imaging technology.
Tarun Pathak, research director for smartphones at Counterpoint, highlighted that burgeoning mid-end smartphones across both developed and emerging markets like Africa, Latin America and India will help form factors of quad-cameras and above to dominate. Mr. Pathak also sees "the combination of quality image sensors and advanced software algorithms allowing brands to deliver great imaging experiences across all smartphone price points."
DXOMARK's Hervé Macudzinski, Image Science Director and Product Owner of DXOMARK observed that smartphones today help bring DSLR capture quality and pro photographer's skills into the hands of consumers. Further, he sees low-light imaging as a priority for devices in the highly competitive $400-$600 price bands – where significant improvements can be made.
Pan Xuebao, Samsung Electronics' VP and Head of R&D, believes "We're close to the point where smartphone brands can now deliver DSLR-grade photography in the hands of customers." He mentioned Samsung's Tetra and Nona technology is bringing great performance across both bright and low light conditions by providing a bigger canvas to capture more light, while allowing smaller pixels for higher definition. Speed is also prioritized, with ISOCELL bringing faster autofocus capabilities. "
Jimmy Hsu, Senior Product Manager of TECNO Image Technology, mentioned that demand for more diverse features and personalization could drive demand for ToF (time of flight) and DVS (dynamic vision sensor), which would help smartphone cameras rivals and outperform specialized cameras.
TECNO already focuses on personalization, with advances in dark complexion imaging aimed at users across key markets in Africa, India and other regions, with Hsu highlighting recent achievements and breakthroughs regarding light sensitivity, image and video stabilization, zoom and high-resolution – powered by technologies such as RGBW and G+P, Sensor Shift and telescopic lenses.
He promised some of these new technologies are slated for TECNO's new products in 2022. Hsu also emphasized that "TECNO always aims to provide an excellent photo and video experience through constant innovation and a deep understanding of consumers' needs."
Media representatives and industry players from Africa, Southeast Asia, Europe, and the US also participated in the webinar, sharing their questions with the speakers on topics that interest tech-savvy mobile users and photo enthusiasts globally.
The webinar highlighted future mobile camera imaging technology trends and set expectations of the application of these imaging technologies for global markets and consumers, paving the way for further long-term smartphone imaging developments.
Two NITEL Workers Killed as Telecom Mast Collapses in Benue
Two workers of the Nigeria Telecommunication Limited (NITEL) have reportedly lost their lives after a mast they were working on collapsed in Kastina-Ala Local Government Area of Benue State.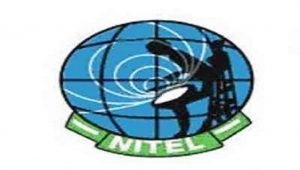 Daily Trust correspondent gathered that the incident happened on Wednesday evening.
Witnesses said the workers were seven in number atop the mast working to dismantle it around the NITEL premises near Takum junction in Kastina-Ala when it suddenly collapsed, killing the two.
Alfred Atera, chairman of Kastina-Ala LGA, described the incident as unfortunate.
"They had loosed one side of the mast when the other part collapsed. Two of them died instantly while five others were taken to the hospital," Atera said.
Contacted, SP Catherine Anene, Police Public Relations Officer, confirmed the report, saying: "Two people died. Others are in the hospital."
5G Launches in US without Huge Impact on Flights
AT&T and Verizon, telecom giants began 5G service in the United States without major disruptions to flights after the launch of the new wireless technology was scaled back.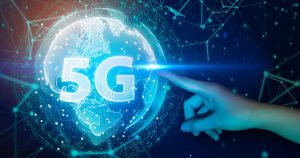 The firms spent tens of billions of dollars to obtain 5G licenses last year, but aviation industry groups have raised concerns about possible interference with airplanes' radio altimeters, which can operate at the same frequencies and are vital for landing at night or in bad weather.
Both AT&T and Verizon this week agreed to scale back the launch of 5G near airports following an outcry from US airlines, who had warned the roll-out would cause mass disruptions.
Despite the scaling back, a handful of international carriers cut flights to the United States from their schedules Wednesday, but there were no mass cancelations and some companies planned to resume service the following day.
By early morning local time Thursday, 473 flights through US airports had been cancelled, according to tracking website FlightAware, down from last week when there were no major dispruptions.
Airlines that cut Wednesday flights included Air India, ANA and Japan Airlines, though all three said they would restore routes the following day.
"Our Delhi to JFK flight left this morning at 7 AM (0130 GMT)," Air India's spokesman said, adding it would also be operating flights to San Franscisco and Chicago.
ANA and Japan Airlines also said they were restoring service on Thursday after assurances from regulators at Washington's Federal Aviation Administration (FAA).
"As the launch of the 5G service in the US has now been partially postponed, operation of ANA flights from January 20 will follow the normal schedule," ANA President Yuji Hirako said in a statement.
The FAA said Wednesday that it has now approved 62 percent of the US commercial fleet to perform low-visibility landings at airports with 5G — up from the 45 percent on Sunday.
"Even with these approvals, flights at some airports may still be affected," the agency said.
"The FAA also continues to work with manufacturers to understand how radar altimeter data is used in other flight control systems. Passengers should check with their airlines for latest flight schedules."
AT&T said Wednesday its high-speed service was available in "limited parts" of eight major metropolitan areas across the United States, while Verizon said it now provides 5G coverage to 90 million Americans.
Glo Presents 13th Car Under Extravaganza Promo
A 37-year-old insurance executive, Kafayat Adewale, has emerged the 13th car winner in the ongoing Globacom's Joy Unlimited Extravaganza promo.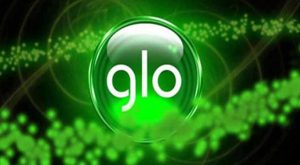 The car Key was presented at the winner in Lagos, while other prizes were also presented to winners in Lagos recently.
The car winner who was accompanied by friends and relatives to the prize-presentation event held in Cele-Okota, Lagos, described the prize as "a unique way to start year 2022."
According to he, "For the past five days, I have not been myself. It's not that I don't have a car but if anyone had predicted in December that I will have a brand new car in January, I wouldn't have believed.
Initially, I was skeptical when I got a call from Glo but by the time the second call came in and they all sounded very professional coupled with the fact that I visited the Gloworld near Cele Bus Stop where I did the verification and I saw the car parked there, I became convinced. I have received the car key and I am now a Glo ambassador. I will continue to convince all Nigerians to join the Glo network. God bless Glo."
At the event, 66 other Glo subscribers went home with different prizes including 23 television sets, 20 refrigerators and 23 generators. The winners who received their prizes with gratitude to Globacom for introducing the promo, collectively agreed that the promo, "has brought joy to us at the beginning of the New Year, thus giving us hope for a better year ahead."
Allen Onyige, a television production executive based in Berger area of Lagos who won a generator said, "I was actually trusting God for a new generator for my production work since last year, only for me to receive a call from Glo this January that I won a brand new generator.
"To God be the glory, this is a New Year gift from Glo. Now, I can go to work. More blessings to Globacom", while a refrigerator winner, Kafilat Rasaq, a 30-year-old business woman from Oyo State who said the prize is going straight home added that "My family will enjoy the new fridge at home; I thank Glo and God for making my family happy".
Also a television winner, Odunayo Balekan, a 42-year-old Engineer with Dangote Cement in Ibeshe, Ogun State, said, "I will enjoy both my football games and nollywood movies with my family on the new television set. I appreciate Glo and will make it my permanent network henceforth".
Abdulrasaq Ande, Regional Manager, Sales, Globacom, expressed the appreciation of the board and management of the company to all Nigerians, particularly Glo subscribers for their support and loyalty over the years.
He said, "You remain our pillar of strength and we will continue to give more value to our subscribers as they use their Glo lines", adding that 12 brand new Kia Rio cars have been won so far in addition to hundreds of thousands of subscribers who have won home appliances including television, refrigerators and generators as well as data plans and other Glo freebies.
Zonal coordinator, National Lottery Regulatory Commission, Mrs. Prisicilla Onuzulu, who also spoke at the event, congratulated Globacom for always delivering on its promises. She said: "Glo is a big brand and they have been compliant since the commencement of the promo. So far Globacom has done very well".