Farmcrowdy Launches Mobile App for Agritech in Nigeria
Farmcrowdy, Nigeria's first and leading digital agriculture platform has introduced a new category of funding small scale farming in Africa by allowing Nigerians to venture and sponsor agriculture; and launched of its first app for Android, iOS and Windows mobile devices.
Techstars Atlanta alumnus, Farmcrowdy is reshaping the way in which people participate in farming and food production, through using their online platform to source funds from sponsors, whose money is used to secure land, plant crops and meet the funding needs of boosting food production with small scale farmers. Farm Sponsors can expect to see returns after harvest of 6-25% between a 3-9 month period, depending on what farm type they choose.
Since the launch of its website 12 months ago, Farmcrowdy has recorded close to 1,000 unique farm sponsors, aggregated a combined 4,000 acres of farmland in Nigeria for farming purpose and grown over 150,000 organic chickens to date.
Having worked with close to 2,000 small scale farmers in Nigeria already, the vast majority of Farmcrowdy sponsors are based in Nigeria, whilst 10% are located in the US and UK.
With another 6,000 Farm Followers visiting their website every week, the launch of the Farmcrowdy mobile app will provide a more accessible platform for agriculture enthusiasts to experience, learn and appreciate agriculture practice first-hand. Farmcrowdy currently provides regular updates, images and videos from the farmers as they work on the sponsored farms, providing an opportunity for their sponsors and farm followers to digitally track the journey of their sponsored farm through regular updates.
Onyeka Akumah, Co-Founder and CEO of Farmcrowdy said "We have launched the Farmcrowdy app to provide an accessible, real-time platform for people on the go, who do not want to miss out on empowering their own communities. In the past month alone, we have witnessed over 500 farm units of poultry – 25,000 chicks – sell out in a few hours to engage farmers who would have found it difficult accessing loans in the banks; so it's super fast-paced. People are equally excited about creating impact in the lives of our farmers while earning a decent return. Nigeria is a mobile-first society and we had feedback from our sponsors who said they wanted improved access to our farms. They spoke, we listened, and we have now built a platform that suits Nigerians' preferred means of doing business. – a mobile app. We expect that with this move, we would continue to stay at forefront of innovation in Agritech across Nigeria and scale our activities into more states in Nigeria while attracting more farm followers and sponsors to engage our farmers".
"By effectively placing farms in the pockets of Nigerians globally, we are collectively impacting national food production and food security. This is our way of creating impact and return model for everyone sponsoring small scale farmers with Farmcrowdy".
Currently operating in eight states across Nigeria, farm sponsors can choose to sponsor a variety of farm types including cassava, maize, rice, soya beans and poultry (broiler chickens for meat); with cycles lasting between 3 to 9 months depending on the farm. Farm sponsorships start from N96,000 [$270], and Farmcrowdy coordinates pre-arranged buyers to sell the farm harvest when the cycle is complete. The farm profit from the harvest is then split between the sponsors who receive 40% of the harvest profits plus their original sponsorship, while the farmers receive returns of 40% and Farmcrowdy gains 20% of the profits.
More than 80% of farmers in Nigeria operate on a small-scale level and it is currently estimated that 38 million of them are unbankable. Farmcrowdy, through pairing farmers with sponsors to effectively manage the farming cycle with training in smart farming techniques, supply of equipment and technical support, has over the last 12 months, ushered close to 2,000 small scale farmers into the financial ecosystem, making them financially inclusive.
The app, which is now available for download in Google Playstore, with Apple and Microsoft following suit soon, will through an accessible information feed and push notifications, allow users to view available farms, follow existing farms, provide ease of communication with farm account officers and allow the facilitation of easy feedback and comments.
Onyeka Akumah added, "This app provides a safe and reliable platform for agriculture enthusiasts to participate in this growing sector from a knowledge stand-point to making informed decisions about exploring opportunities in farming. So, we are looking forward to partnering with more Nigerians locally and globally as we continue to work towards building this community model for Nigerians to empower Nigerian farmers, produce Nigerian food and boost food production in the region while impacting positively on farmers lives and families. This kind of community model will be scaled into other regions as keep learning and improving our processes with the application of technology".
Join Inlaks Live TechTalk Edition on Hyosung's Revolutionary MV 100 ATM Model
Inlaks, the leading Information Technology Systems Integrator specialised in the deployment of highly scalable ICT Infrastructure solutions, will on Monday September 28, deploy the second edition of its virtual thought leadership segment called "TechTalk".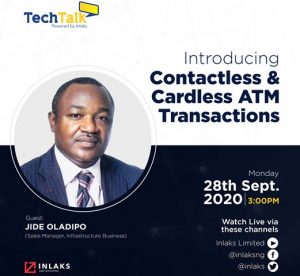 Techtalk which was formerly a pre-recorded segment hosted on the organisations YouTube channel has now transitioned into a live virtual event across Instagram, Facebook, Twitter and YouTube. The virtual edition kicked off in August 2020 with a segment on Financial Crime Mitigation, honing in on the superiority of Temenos Financial Crime Mitigation Solution with Emmanuel Orororo, Sales Manager, Financial Business, Inlaks.
The 2nd edition of Tech Talk promises to offer the same measure of insights as it dives into the world of Automated Teller Machines (ATM) with a focus on MoniValue 100, a revolutionary ATM solution by Hyosung TNS. The MoniValue 100 is especially adapted to the present times as it is a cardless, contactless and changeless solution.
Join this virtual event live by logging on to any of the social media pages below on Monday, 28th September 2020. YouTube: Inlaks, Facebook: InlaksNg, Twitter: Inlaks, Instagram: InlaksNg
Inlaks is a leading system integrator in Sub-Saharan Africa. The company partners with leading OEMs in the technology industry to provide world-class information technology solutions that exceed the needs of its customers.
Over the years, Inlaks has built a reputation as the foremost ICT and Infrastructure Solutions Provider, helping customers effectively seize new market and service opportunities.
With an impressive customer base that includes six Central Banks in West Africa, 18 of the 24 banks in Nigeria and other major customers in the West African region, Inlaks has become the dominant Information Technology Company in Africa.
Inlaks' customers cut across various segments including Banking, Telecommunication, Oil/Gas, Power, Utilities and the Distribution sectors of the economy. For more information, please visit www.inlaks.com
Millions of Cyber Attacks Launched on Nigeria, Others- Reports
There were 3.8 million malware attacks and 16.8 million Potentially Unwanted Applications (PUA) detections over a 7-month period in Nigeria, according to Kaspersky security solutions.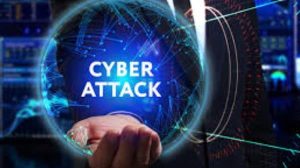 Elsewhere in South Africa, there were almost 10 million malware attacks and a staggering 43 million PUA detections, showing the growing desperation of the attacks.
The company reported on 28 million malware attacks in 2020 and 102 million detections of potentially unwanted programs (pornware, adware etc.) accounted for by the beginning of August 2020.
These numbers show that it's not only the malware that attacks users but also the "grey zone" programmes that grow in popularity and disturb their experiences, while users might not even know it is there.
Potentially unwanted applications (PUAs) are programmes that are usually not considered to be malicious by themselves.
However, they are generally influencing user experience in a negative way. For instance, adware fills user device with ads; aggressive monetising software propagates unrequested paid offers; downloaders may download even more various applications on the device, sometimes malicious ones.
calculating interim results of threat landscape activity in African countries, Kaspersky researchers noticed that PUAs attack users almost four times more often than traditional malware.
They also eventually reach more users: for instance, while in South Africa, the malware would attack 415,000 users in 7-months of 2020, the figure for PUA would be 736,000.
"The reason why 'grey zone' software is growing in popularity is that it is harder to notice at first and that if the programme is detected, its creators won't be considered to be cybercriminals. The problem with them is that users are not always aware they consented to the installation of such programmes on their device and that in some cases, such programmes are exploited or used as a disguise for malware downloads," said Denis Parinov, a security researcher at Kaspersky.
By taking a closer look at PUA, it becomes apparent that they are not only more widespread but also more potent than traditional malware.
Evaluating results over the same 7-month period in Nigeria, there were 3.8 million malware attacks and 16.8 million PUA detections – which is four times as much.
Kenyan and South African threat landscapes have been more intense. In South Africa, there were almost 10 million malware attacks and a staggering 43 million PUA detections.
Kenyan users faced even more malware attacks – around 14 million, and 41 million PUA appearances, Kaspersky said.
Tech Giants Strike Deal with Advertisers over Hate Speech
Web giants including Facebook have struck a deal with advertisers on how to identify harmful content such as hate speech, after an impasse over the issue which led to boycotts of the platform.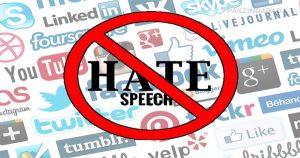 The agreement — which also included Twitter and YouTube — laid out for the first time a common set of definitions for hateful statements online.
In July, hundreds of advertisers including big-name consumer brands suspended advertising with Facebook as part of the #StopHateForProfit campaign, saying the social-media titan should do more to stamp out hatred and misinformation on its platform.
And earlier this month a group of celebrities — including Kim Kardashian, Leonardo DiCaprio and Katy Perry — stopped using Facebook and Instagram for 24 hours, to push a similar message.
The World Federation of Advertisers (WFA) said in a statement Wednesday: "Facebook, YouTube and Twitter, in collaboration with marketers and agencies through the Global Alliance for Responsible Media have agreed to adopt a common set of definitions for hate speech and other harmful content and to collaborate with a view to monitoring industry efforts to improve in this critical area."
The alliance was founded by the WFA and includes other major trade bodies.
According to the WFA, key areas of agreement included applying the alliance's common definitions of harmful content; developing reporting standards for such content; establishing independent oversight; and rolling out tools for keeping advertisements away from harmful content.
The WFA said that properly defining online hate speech would remove the current problem of different platforms using their own definitions, which it said made it difficult for companies to decide where to put their ads.
"As funders of the online ecosystem, advertisers have a critical role to play in driving positive change and we are pleased to have reached agreement with the platforms on an action plan and timeline in order to make the necessary improvements," said Stephan Loerke, chief executive of the WFA.
Luis Di Como, executive vice-president of global media at Unilever, a major advertiser, sounded a note of cautious optimism.
He said: "The issues within the online ecosystem are complicated, and whilst change doesn't happen overnight, today marks an important step in the right direction."
Speaking in July, Facebook's founder and chief executive Mark Zuckerberg said he remained adamant that the company did not want hate speech on the social network.
On Wednesday, the company's vice-president for global marketing solutions, Carolyn Everson, said the agreement gave all parties "a unified language to move forward on the fight against hate online."