Smart Meter Hackathon: Governor Sanwo-Olu Unveils 'Lagos Smart Meter Initiative', CallS for Entry
In a bid to provide Lagosians with affordable meter that would bridge the acute metering gap being witnessed across the country, the Lagos State Government through the Lagos State Ministry of Energy & Mineral Resources, in collaboration with Eko Innovation Centre, has unveiled a Smart Meter Initiative tagged "The Lagos Smart Meter Hackathon 2020"
This new initiative was unveiled by Babajide Olusola Sanwo-Olu, governor of Lagos,  and Goddy Jedy-Agba; minister of State, Federal Ministry of Power,  along with other government officials at a virtual press conference held on Thursday July 30th 2020.
Through the initiative, which is widely applauded as a game changer, the Lagos State Government will leverage the availability of bright local talents in Nigeria to develop and produce affordable smart electricity meters for consumers. The initiative is expected to significantly reduce the revenue leakages in the sector and ultimately improve last-mile electricity supply.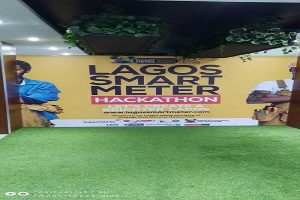 Governor Sanwo-Olu in his remarks stated that the launch marks a significant milestone in the implementation plan of the State Government towards improving access to electricity in the state and it is also in line with the Sustainable Development Goal 7 of the UN which aspires to drive universal access to affordable, reliable, sustainable, and modern energy for all by 2030.
He added that increased electricity access is one of the priority mandates of his administration given its significance in ultimately driving economic development of the State to enable it achieve the objective of making Lagos a 21st century Economy.
"This Lagos Smart Meter Initiative is an important way for the Lagos Government to demonstrate its commitment to improving electricity access and reliability for Lagosians.
"We believe that adequate metering of Lagosians and in turn Nigerians, would increase willingness to pay for electricity, improve productivity, and more importantly, continue to improve the living conditions of our people".
"Now, as we launch the Lagos Smart Meter Hackathon 2020, we call on all relevant stakeholders – electricity sector players, technology experts, investors, regulators – to support this worthy cause as we strive to ensure sustainable electricity for all in Lagos," he disclosed.
In his keynote address, Jedy-Agba explained that local design and production of affordable meters will be transformational for the industry and the economy at large and therefore urged all to support it.
"Lagos is an important state in Nigeria in terms of size, economy and resources. With a population of over 20million and the 5th highest GDP in Africa, Lagos is by far the biggest economy in Nigeria. Therefore, getting access to electricity right in Lagos is critical for access to electricity in the entire country.
"Electricity is an essential service, and we need to ensure that the benefits of smart meters flow to everyone.
"I call on all relevant stakeholders in the sector to support this innovative and impactful initiative– industry regulators, electricity sector players, technology experts, and fund providers."
Similarly, Mr. Olalere Odusote, commissioner for Energy and Mineral Resources, said the initiative is expected to provide access to affordable smart meters for Lagosians to improve electricity supply, monitoring, and trust between electricity providers and end users while preventing revenue leakage. It is also expected to drive innovation and creativity while generating new interest in young people for the sector.
"Over the years, despite significant investments and resolutions around power generation and distribution, there remains a huge metering gap of over 60% of electricity consumers in Lagos and Nigeria. This metering gap is what we are seeking to bridge through the Lagos Smart Meter Hackathon".
"In line with the objectives of the Babajide Olusola Sanwo-Olu (BOS) Administration to make Lagos a 21st century economy, we have identified the need to intervene and support the facilitation of effective metering across the state, to ensure the provision of reliable electricity for Lagosians and Nigerians in the long-term," he stated.
Doja Ekeruche, Advisory Board Member, Eko Innovation Centre explained that a call for application has been sent out to local talents in the tech community to submit their proposed hardware and software solutions using the guidelines stipulated on the Lagos Smart Meter website. All concepts will be assessed based on strict but transparent criteria to identify the most viable concepts proceeding to the next stage.
Furthermore, she highlighted that, "Judges with knowledge and expertise within power and tech ecosystem will review the entries and shortlist teams to proceed to the hackathon event. Final Winners of the Hackathon, in both the hardware and software categories, will win N7million.
"They will also be a part of the co-creation phase with other experts, and then proceed to the production and testing stage before the full commercialization of the smart meter"
Other participants at the event included the Deputy Governor of Lagos State – Dr. Obafemi Hamzat; Olatunbosun Alake, Special Adviser to the Lagos State Governor on Innovation and Technology; other Commissioners, Special Advisers and Heads of Parastatals from the Governor Sanwo-Olu administration; key representatives from the Energy and Technology Industry, journalists and other stakeholders.
NCC Says 78.9m Nigerians now Connected to Broadband
Nigerian Communications Commission (NCC) has revealed that the number of Nigerians connected to high-speed internet rose to 78.9 million in June.
The data from the commission showed that telecommunications operators in the country added 2.2 million customers to their broadband database in the month to raise the figure from 76.6 million recorded in May.
This raised the country's broadband penetration from 40.14 per cent in May to 41.27 per cent at the end of June.
The steady growth in penetration has been attributed to the telecoms operators' aggressive push for deployment of 4G service across the country. To extend the service to more Nigerians, the largest mobile network operator in the country, MTN, recently announced more investments targeted at building more 4G infrastructure
MTN said it planned to spend an estimated N600 billion on technical infrastructure over the next three years as it looks to expand its 4G coverage across the entire country by 2024
The Federal Government also recently launched a new National Broadband Plan (NBP 2020-2025) with a target of achieving 70 per cent penetration in the next five years.
This followed the expiration of the NBP 2013-2018, which delivered 31 per cent penetration as of December 2018.
Aside from the 70 per cent penetration target, the government in the new plan also raised the benchmark speed for broadband service in Nigeria to 25 megapixels per second, which is an improvement from the 1.5mbps benchmark in the 2013-2018 plan.
Gilat Telecom, Spacecom, Unite to Bolster Satellite Services in Africa
Spacecom, operator of the AMOS satellites fleet, and Gilat Telecom, a connectivity service provider, have announced a collaboration "to develop a faster, more reliable and more cost-effective satellite service for organisations of all sizes across Africa."
The service uses Spacecom's AMOS-17 fully digital and advanced High Throughput Satellite (HTS) on both C and Ku band, and Gilat Telecom's unique SD-WAN MAX technology.
The companies add that the service, available immediately, can be used for home and office connectivity including video conferences, e-health applications, e-learning, e-education, etc.
They add that the collaboration will benefit African MNOs and ISPs in several ways including CAPEX savings and higher throughput at reduced operational costs.
"Spacecom's AMOS-17's HTS fully digital payload enables cross-connection between all beam and all bands enabling the use of existing equipment which can also be set-up remotely by the end customers (on existing or new terminals). Using Gilat Telecom's intelligent routing, capacity can be expanded by up to 20% (the equivalent of 6 Mbit/s can be achieved from a 5 Mbit/s downlink)," the companies state.
Another benefit is smart traffic management. The companies explain: "Gilat Telecom's SD-WAN enables service providers and MNOs to centrally control the route that both satellite and fiber traffic takes to and from the customer.
It enables different applications – voice, streaming, caching (Facebook, Netflix, Microsoft cloud services etc.) – to be identified with automatic prioritisation, according to the customer's needs and demands."
Dan Zajicek, Spacecom's CEO said: "This partnership enables us to boost the services offered to customers along with fast returns on investments to these growing markets. We are sure this fruitful cooperation will lead us to many great business opportunities in Africa."
Asaf Rosenheck, Gilat Telecom's CEO also said, "We are an innovative company always focused on how we can improve the service we provide to our customers. Our partnership with Spacecom demonstrates how we work across the ecosystem to drive down costs and improve capacity".
Encomiums as Sonny Aragba-Akpore Bows Out of NCC
It was encomiums galore recently as Management and Staff of the Nigerian Communications Commission (NCC) bid the Commission's Head of Media Management and Public Relations, Sonny Aragba-Akpore, farewell following his retirement.
Aragba-Akpore, former Information and Communications Technology/News editor at the Guardian Newspaper, joined the service of the Commission in 2014.
Speaking at the valedictory party held in his honour on Thursday, which was attended physically and virtually by staff of the Commission, Prof. Umar Danbatta, executive vice chairman, appreciated the level of professionalism Aragba-Akpore brought to bear on his work at the Commission.
Represented at the event by Abigail Sholanke, director, Projects, Danbatta commended Aragba-Akpore for using his many years of industry experience and knowledge as a media professional and corporate communication manager to create a robust relationship with both mainstream and online media stakeholders, which, he said, has contributed significantly to the overall positive image and favourable public perception of NCC.
"On behalf of the Board, Management and Staff of Commission, we wish you a successful retirement and fruitful engagements in your future endeavours," Danbatta said.
In his remarks, Dr. Ikechukwu Adinde, director, Public Affairs Department,  said "within the short time I worked with Mr. Aragba-Akpore, I found him to be a man of uncommon passion for his work," describing him as a very committed and hardworking colleague.
"We, therefore, wish you increased divine favour, as you retire from the services of the Commission."
Other staff of the Commission, including directors, deputy directors, middle management staff, among others, took turns to talk about the favourable working relationship they had with Aragba-Akpore while at the NCC and wished him well in his retirement life.
Responding, Aragba-Akpore expressed gratitude to the Management and Staff of the Commission for their support and cooperation during his service and for organising a befitting valedictory ceremony in his honour, saying he enjoyed working with the NCC.
"This is one event I will not forget in a hurry. Indeed, I feel I am very lucky and singularly blessed and very appreciative of the privilege to work with a leading telecoms regulator like the NCC. For me, it is once-in-a-lifetime opportunity," he said.