How MultiChoice Invested $2.1Bn in Nigerian Economy in 5 Years – Accenture Report
MultiChoice Nigeria, leading video entertainment provider in Nigeria, recently commissioned Accenture, a  top accounting and consulting firm in Nigeria to measure the socio-economic impact of its business in Nigeria between 2015 and 2019.
According to the report, MultiChoice Nigeria had contributed an estimated US$2.1bn to the Nigerian economy within the period under review.
Accenture estimated that the company had specifically spent over $428 million in developing local creative talent, as a result of sourcing and producing local content for DStv, GOtv, M-Net, SuperSport, and Africa Magic, and investing in building local production infrastructure.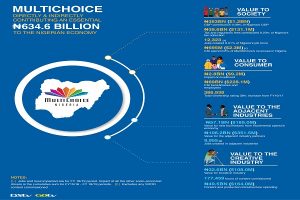 This investment has greatly helped to support the Nigerian movie industry, ensuring that Nollywood movies are available across Africa and the rest of the world.
According to Adewunmi Ogunsanya (SAN), chairman, MultiChoice Nigeria, "The report illustrates MultiChoice Nigeria's total economic impact in Nigeria, including direct, indirect and encouraged influence on the country's GDP.
"The statistics provide further information on the considerable positive socio-economic impact that our operations have made in the development of the communities in which we operate."
Also speaking on the report, John Ugbe, ceo, MultiChoice Nigeria said "As Nigeria's leading video entertainment provider that delivers great entertainment to our customers, we understand that we have a responsibility to provide socio-economic value through our core business activities.
"This Socio-Economic Impact Assessment report aims to quantify and articulate the contribution we have made to the Nigerian economy during the Financial Year 2015/16 to 2018/19."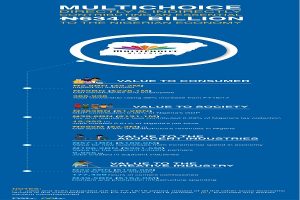 Through their business operations, investments in technology, local infrastructure, Corporate Social Investment (CSI) initiatives and local partnerships, MultiChoice Nigeria has enriched an estimated Two million lives each year through initiatives such as MultiChoice Resource Centres, MultiChoice Talent Factory, GOtv Boxing, Sickle Cell Foundation, the Let's Play initiative, among others. MultiChoice Nigeria has spent US$34.8m in supporting these initiatives.
From its portfolio of grassroot sporting programmes to organising award events that celebrate excellence, and diverse investments in educational and entertaining content, it is evident that MultiChoice Nigeria has evolved from being the small company that opened shop in Lagos with 30 employees in 1993, into being one of the most impactful and admired brands in the country.
TStv Launches PPV Model as Low as N3 Per Day
Telcom Satellite Tv (TStv), digital service television in Nigeria, has created a Pay Per View model for subscribers to pay as low as N3 per day, according to Dr Bright Echefu, managing director.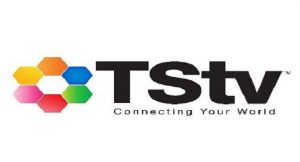 Echefu, who stated this when he paid a courtesy visit on the Broadcasting Organisations of Nigeria (BON) in Abuja, explained that the Pay As You Go model would help subscribers to recharge their decoder accounts with as low as N50 and keep their account balance intact when they do not use the decoder.
Demola Olanrewaju, director of Public Affairs, TStv, in a statement in Abuja, quoted Echefu, as saying that "It is a flexible way of accessing whatever television content preferred, without forcing anyone to choose packages as the model allows anyone to choose any five stations he likes to watch and pay only for those stations," he said.
He expressed delight at TStv's membership of BON and assured that the company would play a vital role in moving the organisation forward.
Sa'a Ibrahim, BON chairman, expressed delight at the visit.
She said that there was always room for new members in the organisation, as the need to come together and collaborate always existed.
She said that BON needed to reclaim its mission of agenda-setting and to play its role in youths' development to help the Federal Government curb anti-social elements that had become rampant on social media.
Jason Njoku, iRokoTV Boss and Wife Contract COVID-19
Jason Njoku, CEO and co-founder of iRokoTV and Mary, his wife have tested positive for coronavirus.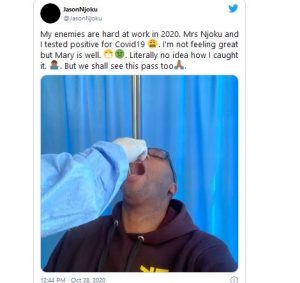 Jason disclosed this on Wednesday when he posted a picture of himself taking the COVID-19 test.
According to him, his wife is well but he wasn't feeling alright, hence the test. He mentioned that his "enemies" were working extra hard in 2020.
"My enemies are hard at work in 2020. Mrs Njoku and I tested positive for Covid19. I'm not feeling great but Mary is well. Literally, I have no idea how I caught it. But we shall see this pass too," he said.
BON, NBC Disagree over N9m Fine on Broadcast Stations for EndSARS Broadcast
The Broadcasting Organization of Nigeria (BON) has disagreed with the National Broadcasting Commission (NBC) over N9 million fine slammed on three broadcast media stations, demanding for withdrawal of the sanction.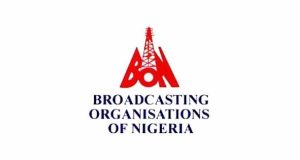 Recall that NBC had recently slammed an N3 million fine on each of the broadcast media stations, Africa Independent Television, AIT, Channels TV and Arise TV for what was described as "unprofessional #EndSARS Broadcast".
Sa'a Ibrahim, the BON Chairman, in a press statement made available to newsmen in Kano, demanded the immediate withdrawal of the fines pending when the media stations were accorded fair hearing to warrant such sanction.
Hajia Ibrahim said procedure of issuing a query to the media stations to enable them to respond was not followed before the sanction.
According to her, "The BON is again saddened at the recent sanction on Africa Independent Television, AIT, Channels TV and Arise TV that was announced by the National Broadcasting Commission on "unprofessional EndSARS Broadcast".
"We kindly request that the sanctions on the stations be withdrawn immediately pending on the formal responses by the stations.
"As citizens, public and private entities on a democratic system of government like Nigeria, it is believed that applications of laws have its procedures and steps before reaching a final conclusion.
"BON wishes to call on the NBC to issue a formal query to each of the stations involved and give stipulated period to formally respond before taking action.
"We also appeal to NBC to be more flexible in its application of sanctions, more so in this crisis period. "We strongly believe in Democracy where citizens and entities are given fair hearing and justice, peace and unity are preached and practised," the BON Chairman however maintained.