IFC, Firstmonie Partner on Access to Affordable Financial Services in Nigeria
IFC, a member of the World Bank Group, has signed an advisory services agreement with Firstmonie, a subsidiary of First Bank Nigeria Limited, to advance mobile financial services and agent banking in order to strengthen the supply of affordable financial services to low-income individuals and small-scale entrepreneurs in Nigeria.
IFC will provide Firstmonie with technical assistance in financial modeling, agent management and customer activation, to a value of $550,000, funded by the Bill & Melinda Gates Foundation.
Mr. Mike Ogbalu, managing director of Pridar Systems (wholly owned by FirstBank), the owners of Firstmonie, said, "At Firstmonie, we are committed to expanding mobile financial services to the under banked and low income communities. With the advisory support from IFC, we hope to achieve our goal of boosting financial inclusion through our product offerings and decrease the population of the unbanked and under-banked in Nigeria"
Nigeria has a low rate of financial inclusion, with only 43% of the adult population having access to formal financial services. The Central Bank of Nigeria (CBN) issued licenses for mobile money operators in 2010, but adoption and usage has been slow to take off due to high costs, poor agent network management and low awareness amongst the population.
David Crush, manager, IFC Access to Finance, Sub-Saharan Africa, said, "Firstmonie and IFC aim to develop a best practice mobile money operation that will demonstrate the sustainable business case for affordable financial services in one of Africa's most important economies. This is a step towards reaching full financial inclusion in Nigeria."
Firstmonie Mobile Money Service is an innovative product that enables customers to access financial and other value added services through their mobile phones.
COVID-19: Rosabon Dangle N3m Collateral-Free Loan for Civil Servants
Rosabon Financial Services, one of Nigeria's leading Non-Bank Financial Services provider, has announced collateral-free and guarantor-free loans as low as 40,000 Naira and up to 3 Million Naira to cater to Civil Servants in light of the Coronavirus crisis.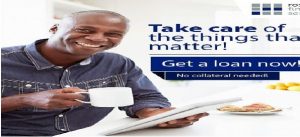 The loan offering is targeted at Civil Servants who are currently affected by the lockdown and have their payroll handled by The Integrated Payroll and Personnel Information System (IPPIS).
According to Mr. Chukwuma Ochonogor, managing director of Rosabon Financial Services, "Rosabon is indeed proud to provide solutions for our borrowers in their time of need. For many Civil Servants in Nigeria, getting funds to help meet basic needs during this COVID-19 lock-down can be tough. As such, our Public Sector Loan service has been designed to effectively address their short to medium-term financing needs."
"While it is true that workers can always save to prepare for the events of an emergency, such as job loss, unexpected home repairs, medical emergency, and others; they may not have fully prepared for the lockdown."
He added: "With the increase in the prices of food items and other harsh financial realities, many Civil Servants may find themselves in a difficult situation. Therefore, Rosabon Financial Services is offering quick and affordable loans with a flexible repayment period of up to 24 months to help Civil Servants survive in the COVID-19 pandemic.
Ochonogor, went further: "To know more about Rosabon Financial Services offerings, click here to find out. Remember, we are in this together and we will continue to keep you updated with our various loans offerings. Alternatively, you can contact us today and call Busola on 0815 088 0038 (Lagos), Rita on 0815 088 0039 (Lagos), Folashade on 0815 084 6657 (Lagos), Sophia on 0815 084 6659 (Port Harcourt), Chineye on 0815 088 0082 (Port Harcourt) or Aderonke on 0811 239 1001 (Abuja). You can also chat us on WhatsApp on 0815 088 0066 or send us an email at info@rosabon-finance.com."
Zenith Bank Introduces Automated Voice Banking Service
Zenith Bank Plc says it has introduced an automated voice banking service, an interactive voice response solution which enables customers to perform basic banking transactions by dialling a dedicated phone line through their registered phone numbers and following the prompts.
Speaking on the launch of the product, Mr Ebenezer Onyeagwu, Group Managing Director/ Chief Executive Officer, said that the "Zenith automated voice banking service is designed to ensure a truly amazing experience that will offer convenience for our teeming customers."
He added that the self-service product would offer quick response to customers in addition to security entrenched by the multilayer authentication mechanism.
He urged the bank's customers to take advantage of the unique service particularly at this critical time when the physical interface with the bank had been adversely impacted due to social distancing, and the restriction of movement in some states due to the COVID-19 pandemic.
Zenith Bank stated that it had clearly distinguished itself in the Nigerian financial services industry through superior service quality, unique customer experience and sound financial indices.
"The bank remains a clear leader in the digital space with several firsts in the deployment of innovative products, solutions and alternative channels that ensure convenience, speed and safety of transactions," it stated.
AfDB Group Unveils $10Bn Response Facility to Curb COVID-19
The African Development Bank Group on Wednesday announced the creation of the COVID-19 Response Facility to assist regional member countries in fighting the pandemic.
The Facility is the latest measure taken by the Bank to respond to the pandemic and will be the institution's primary channel for its efforts to address the crisis. It provides up to $10 billion to governments and the private sector.
Akinwumi Adesina, President of the African Development Bank Group, said the package took into account the fiscal challenges that many African countries are facing.
"Africa is facing enormous fiscal challenges to respond to the coronavirus pandemic effectively. The African Development Bank Group is deploying its full weight of emergency response support to assist Africa at this critical time. We must protect lives. This Facility will help African countries to fast-track their efforts to contain the rapid spread of COVID-19," Adesina said, commending the Board of Directors for its unwavering support.
The Facility entails $5.5 billion for sovereign operations in African Development Bank countries, and $3.1 billion for sovereign and regional operations for countries under the African Development Fund, the Bank Group's concessional arm that caters to fragile countries. An additional $1.35 billion will be devoted to private sector operations.
Commenting on the Facility, Acting Senior Vice-President Swazi Tshabalala said: "The setting up of the Facility required a collective effort and courage by all our staff, Board of Directors and our shareholders."
Two weeks ago, the Bank launched a record-breaking $3 billion Fight COVID-19 Social Bond, the world's largest US dollar-denominated social bond ever on the international capital market. Last week, the Board of Directors also approved a $2 million grant for the World Health Organization for its efforts on the continent.
"These are extraordinary times, and we must take bold and decisive actions to save and protect millions of lives in Africa. We are in a race to save lives. No country will be left behind," Adesina said.