iSON Group Honoured for Entrepreneurial Spirit in Africa
iSON Group, Africa's leading IT and ITeS Company was recently conferred with the 'Special Jury Award for Entrepreneurial Spirit in Africa' Champion in Biz Awards organized by the Associated Chambers Of Commerce & Industry of India (ASSOCHAM) during 4th India – Africa Trade and Investment Forum 2017.
The award which was held at Hotel Le Meridien, New Delhi, India is designed to celebrate Indian reputation in Africa.
Through these awards, every year, ASSOCHAM has been felicitating and recognizing the exemplary Indian businesses who have made a mark in Africa.
The forum focuses on exploring and reviving the potential for India-Africa economic relationship and exploring new dimensions to it.
Receiving the award, Ramesh Awtaney, the Founder and Chairman, iSON Group said, 'We are delighted at the recognition. Our Journey in Africa is rather challenging but satisfying. iSON is committed to the growth of the region as we are determined to continue contributing to the development and welfare of the people there.
Giving direct and indirect employment to over 10,000 people in the region, with 99.5 percent of staff of African nationalities and presence in 25 countries needs tremendous amount of dedication, persistence and people skills to deliver that experience I consider this as a collective reward on behalf of my colleagues without whose cooperation it wouldn't have been possible," said Ramesh about the honour.
With a vision to create a fully digital Africa, iSON Group is changing the IT landscape in Africa and is poised to establish Sub-Saharan Africa as a strong contender in the offshoring sector, whilst acting as a catalyst in raising the quality benchmark of IT services in Africa.
''The award is a testimony to the passion and innovation that puts ideas into practice. It is an example that can inspire the creation of an ecosystem that helps entrepreneurial spirits, nurtures enterprises and helps them grow. All our projects in Africa have tangible results: they help to create new companies and new jobs. I hope they will be an inspiration to authorities, organisations and individuals across the region to do more for entrepreneurs and small businesses, Ramesh reiterated."
FG to Boost Artificial Intelligence
Federal government on Tuesday announced that it has developed initiatives for the adoption of Artificial Intelligence technology in Nigeria.
The establishment of a Centre for Artificial Intelligence and Robotics in Nigeria (CFAIR) is also expected soon.
The National Information Technology Development Agency (NITDA) said that AI applications enable innovative solutions, improve risk assessment, better planning, and faster knowledge-sharing.
Abdullahi Usman Gambo, director of IT Infrastructure Solution, NITDA, spoke at a workshop in commemoration of International Day for Universal Access to Information (IDUAI) organised by the United Nations Educational, Scientific, and Cultural Organisation (UNESCO).
He noted that AI would open up opportunities for access to information and also help to achieve the Sustainable Development Goals (SDGs) set by the United Nations (UN) in the 2030 Agenda.
Gambo said: "Artificial Intelligence is poised to revolutionize the way we go about our daily lives – from governance to business, legislation to medicine to defence, etc. We can all agree that AI is humanity's new frontier.
"We have developed initiatives for adoption of emerging technologies such as AI, strengthen cybersecurity, digital skills for digitally excluded citizens while enhancing the regulatory and market environment to increase access to ICTs, and promote seamless access to information.
"We believe AI and associated emerging technologies will completely enhance the speed, efficiency and effectiveness of information gathering during the exchange of data or the ways of communication," he said.
Delivering his paper, Yushau Shuaib, publisher of PRNigeria, described access to information as the right of the citizens to accurate, transparent, and timely facts and figures.
The former National Emergency Management Agency (NEMA) spokesman stated that governments at all levels have obligations to communicate with people, while the public has the right to know and criticize authorities through constructive engagement.
The media executive, however, appealed to Nigerians not to use social media platforms for fake news dissemination.
"The merits of new media on affordability, accessibility and instant delivery are occasionally marred by the fact that social media is sometimes used to spread fake news", he said.
Shuaib called for collaboration of stakeholders in ensuring appropriate legislation through public awareness campaigns in order to improve access to universal information.
Samsung Unveils Technologically Advanced 2020 Consumer Products
Samsung Electronics Nigeria has unveiled its 2020 consumer products range. The launch which held in Victoria Island, Lagos showcased the latest in its revolutionary and innovative QLED and Crystal UHD Television Series  along with Wind Free Air Conditioners, Side by Side Refrigerators and Drum Washing Machines.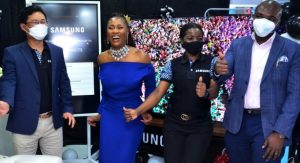 Keeping with its resolve to utilize its transformative ideas and technologies to shape the future and inspire the whole world, Samsung has once again demonstrated its determination to continuously redefine the living space and entertainment of its customers.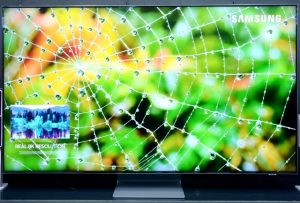 According to Mr. Caden Chiyeon Yu, Managing Director, Samsung Electronics Nigeria, "QLED uses exceptional and revolutionary technology which offers an unparalleled visual and auditory adventure from the comfort of your living room. QLED series is available in 4K or 8K and from 58″ to 98", and was designed with options to fit any space and budget". For Crystal UHD Television, Mr. Yu said, with cutting-edge Crystal Display, the new Crystal UHD TV will bring high-resolution content to life in a whole new way, delivering a viewing experience like never before in a mainstream UHD TV.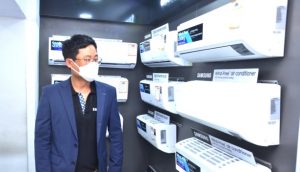 Also showcased at the launch were the new Windfree Air Conditioner, Drum Washing Machines and Side by Side refrigerators. The Windfree Air Conditioner is designed specially with the latest technology to provide coolness in quick time while ensuring that users don't experience any chills through out its use. It also has an in-built digital inverter which reduces energy consumption by 73 percent. .
The newly introduced drum washing machine of 2020 from Samsung is very efficient and is built with eco bubble technolgy which allows it to provide cleaning of very dirty garments or clothes without the use of water.  Futhermore, the new Side by Side Refrigetor was built with Spacemax technology which has enabled  Samsung to offer more spacious interior without increasing the external dimentions or compromising energy efficiency.
Also speaking at the event, Mrs. Oluwaremilekun Adesola-Ogunsan, Head, Consumer Electronics, Samsung Nigeria stated that "Samsung understands the economic diffulties currently being experienced in the country and has consistently produced pocket friendly premium consumer products. We are very consistent in our approach as we understand that our customers like the good things of life and we have provided that without compromising our standards". "So I can say boldy that there is a Samsung for everybody regardless of your income stream" She added.
In 2019, the Samsung consumer range of products received universal praise for its innovative quality and design and numerous pioneering features. This year Samsung has added even more beneficial features which its customers will appreciate in great deal.
CWG Plc Empowers Small Businesses in Nigeria with SME Solution
Pan-African Information and Communications Technology Company, CWG Plc has said the essence of its Enterprise Resource Planning Solution (SMERP) that runs on the cloud is to empower small and medium enterprises in Nigeria and offer them the required tools to manage their entire business.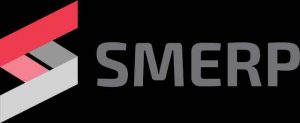 Mr. Dolapo Orogbemi, Product Manager for SMERP, who disclosed this recently to the media, noted that with SMEs contributing massively to Nigeria's economy and creating both direct and indirect jobs, SMERP was designed intentionally to help SMEs thrive.
"Since inception, it has been the number one goal for us here at CWG because we have always identified the potential for SMEs once they are provided with the right support.
Thus, SMERP was designed to make available enabling tools for all SMEs across Africa at a relatively affordable price and to also make their business operations lean where they can save more resources to increase profitability," he said.
Dolapo explained that in support of SMEs, SMERP has provided an effective ERP tailored to the SME market, providing services such as Inventory Management, E-commerce platform, Accounting, Point of Sale and Customer Relationship Management tool.
He argued that one of the major reasons SMEs don't survive beyond the early stage of their business is due to inadequate funding to scale the business and this has become a default gap in the SME sector.
But with the CWG's SMERP solution, SMEs can take proper records of their day-to-day business transactions to present to financial institutions as proof of profitability and project business growth for them.
According to him, SMERP's competitive edge is based on value to the SMEs where they can have access to a complete ERP solution at an affordable price, stressing that the solution enables each SME with special requirements to execute their business needs.
For more information on SMERP kindly visit www.smerp.ng to start a 14-days free trial.