JUMIA Emerges Best Retail Launch of the Year
JUMIA, Nigeria's leading online shopping destination, won "The Best Retail Launch of the Year" at the World Retail Congress in Paris on Wednesday.
Through this distinction, JUMIA is the first African company to have won the most important retail award worldwide.
They did this ahead of all other offline, online and developed market retailers of the world, other nominees in this category were Hedonism Wines, Presso, Quem disse, Berenice?, t.riciclo and Zalora.
The event is run by the publishing company EMAP and discusses issues affecting the international retail industry; covering core retail in all segments issues as well as social, economic, political and ethical concern.
Previous winners include top brands such as ASOS, Migros, NikeTown, Woolworths or Zappos.com. JUMIA offers their products online, via a mobile app or on cash delivery spots – leapfrogging traditional retail in Africa.
"We are delighted with the wide international reach of this year's winners and that for the first time, we are presenting an award to an African retailer," said Ian McGarrigle, chairman of the World Retail Congress.
According to World Retail Congress's jury, JUMIA sets the highest benchmark when it comes to retailing in Africa: their excellency in online marketing, IT and operations are key drivers for JUMIA's sharp growth rates and the company's rising brand awareness throughout the whole of Africa.
Tunde Kehinde and Raphael Afaedor, co-founders of Jumia: "We owe this landmark fete to the Nigerian market who since day one have supported us all the way through the very encouraging feedback and patronage; we clearly wouldn't be honored this way without them.
"This also shows that Jumia Nigeria has risen beyond the ranks and has gone far beyond a start-up company with even more greater heights yet to be achieved.
Amazingly, recently there was a poll by a notable organization for start-up's in Nigeria and Jumia clearly out of that list, some more proof to that the market and industry players have come to recognize our position and impact we have made in this market. There are bigger plans for the customer and this will remain our focus".
Jeremy Hodara, managing director African Internet Holdings: "This is a historic moment to us and I hope, also for the whole of Africa. When we started JUMIA last year we had the goal to enable safe, convenient and stress-free shopping experiences in Nigeria.
"Now one year later, we deliver products to hundred thousands of customers in over six countries every day. Only thanks to our incredible teams and partners, who made online shopping in Africa easy. This award makes us incredibly proud and reinforces us in what we do. We are number one in Nigeria now and we will continue to grow and deliver our products all across Africa."
The World Retail Congress, part of i2i Events Group portfolio, was launched in 2007, to be a platform for senior retail executives to meet and discuss the most important topics affecting retailers across the world. It has been held in Barcelona (2007-9), Berlin (2010-11) and London (2012).
This year's World Retail Congress was held in Paris from the 7th to the 9th of October and was attended by industry leaders from eBay, Tesco, Carrefour, Boots and many more.
On the other hand, and founded in June 2012 JUMIA is Nigeria's number one shopping destination. Within one year, the website enjoys more than 100,000 unique visits daily, being the leading and most trafficked e-commerce website in Nigeria, with a daily subscriber base of more than 400,000 people.
JUMIA operates in five countries: Nigeria, Morocco, Ivory Coast,Egypt and Kenya with more countries to come.
Samsung Unveils Technologically Advanced 2020 Consumer Products
Samsung Electronics Nigeria has unveiled its 2020 consumer products range. The launch which held in Victoria Island, Lagos showcased the latest in its revolutionary and innovative QLED and Crystal UHD Television Series  along with Wind Free Air Conditioners, Side by Side Refrigerators and Drum Washing Machines.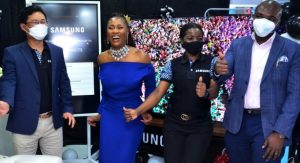 Keeping with its resolve to utilize its transformative ideas and technologies to shape the future and inspire the whole world, Samsung has once again demonstrated its determination to continuously redefine the living space and entertainment of its customers.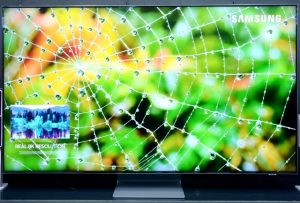 According to Mr. Caden Chiyeon Yu, Managing Director, Samsung Electronics Nigeria, "QLED uses exceptional and revolutionary technology which offers an unparalleled visual and auditory adventure from the comfort of your living room. QLED series is available in 4K or 8K and from 58″ to 98", and was designed with options to fit any space and budget". For Crystal UHD Television, Mr. Yu said, with cutting-edge Crystal Display, the new Crystal UHD TV will bring high-resolution content to life in a whole new way, delivering a viewing experience like never before in a mainstream UHD TV.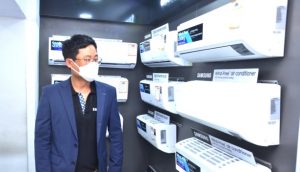 Also showcased at the launch were the new Windfree Air Conditioner, Drum Washing Machines and Side by Side refrigerators. The Windfree Air Conditioner is designed specially with the latest technology to provide coolness in quick time while ensuring that users don't experience any chills through out its use. It also has an in-built digital inverter which reduces energy consumption by 73 percent. .
The newly introduced drum washing machine of 2020 from Samsung is very efficient and is built with eco bubble technolgy which allows it to provide cleaning of very dirty garments or clothes without the use of water.  Futhermore, the new Side by Side Refrigetor was built with Spacemax technology which has enabled  Samsung to offer more spacious interior without increasing the external dimentions or compromising energy efficiency.
Also speaking at the event, Mrs. Oluwaremilekun Adesola-Ogunsan, Head, Consumer Electronics, Samsung Nigeria stated that "Samsung understands the economic diffulties currently being experienced in the country and has consistently produced pocket friendly premium consumer products. We are very consistent in our approach as we understand that our customers like the good things of life and we have provided that without compromising our standards". "So I can say boldy that there is a Samsung for everybody regardless of your income stream" She added.
In 2019, the Samsung consumer range of products received universal praise for its innovative quality and design and numerous pioneering features. This year Samsung has added even more beneficial features which its customers will appreciate in great deal.
CWG Plc Empowers Small Businesses in Nigeria with SME Solution
Pan-African Information and Communications Technology Company, CWG Plc has said the essence of its Enterprise Resource Planning Solution (SMERP) that runs on the cloud is to empower small and medium enterprises in Nigeria and offer them the required tools to manage their entire business.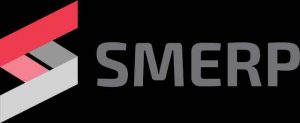 Mr. Dolapo Orogbemi, Product Manager for SMERP, who disclosed this recently to the media, noted that with SMEs contributing massively to Nigeria's economy and creating both direct and indirect jobs, SMERP was designed intentionally to help SMEs thrive.
"Since inception, it has been the number one goal for us here at CWG because we have always identified the potential for SMEs once they are provided with the right support.
Thus, SMERP was designed to make available enabling tools for all SMEs across Africa at a relatively affordable price and to also make their business operations lean where they can save more resources to increase profitability," he said.
Dolapo explained that in support of SMEs, SMERP has provided an effective ERP tailored to the SME market, providing services such as Inventory Management, E-commerce platform, Accounting, Point of Sale and Customer Relationship Management tool.
He argued that one of the major reasons SMEs don't survive beyond the early stage of their business is due to inadequate funding to scale the business and this has become a default gap in the SME sector.
But with the CWG's SMERP solution, SMEs can take proper records of their day-to-day business transactions to present to financial institutions as proof of profitability and project business growth for them.
According to him, SMERP's competitive edge is based on value to the SMEs where they can have access to a complete ERP solution at an affordable price, stressing that the solution enables each SME with special requirements to execute their business needs.
For more information on SMERP kindly visit www.smerp.ng to start a 14-days free trial.
Encomiums for TD Africa as Nigeria Prepares for Tech Experience Centre Launch
A number of globally renowned Original Equipment Manufacturers (OEMs) in the technology space have commended TD Africa, Sub-Saharan Africa's leading technology, lifestyle and solutions distributor for successfully birthing the continent's first Tech Experience Centre.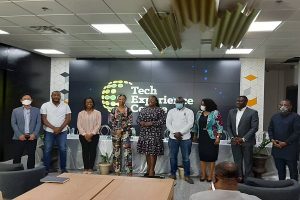 The commendations come ahead of the October 1st launch of the centre located in the high-rise Yudala Heights on 13 Idowu Martins, Victoria Island, Lagos.
Equally important, the Minister of Communications and Digital Economy, Dr. Isa Ali Pantami is expected in Lagos to commission the Centre, with the Lagos State Governor, BabajideSanwo-Olu, alongside a number of other high profile dignitaries, expected in attendance. The event will be streamed live to millions across the world from 5pm.
In a chat with newsmen, Chidalu Ekeh, head of the Tech Experience Centre, stated that aside reducing the decision making cycle for Chief Executive Officers (CEOs), Chief Information Officers (CIOs), Chief Technology Officers (CTOs), as well as other technology consumers, the Centre will also serve as a training centre for young Nigerians on latest technology.
"We are creating a path in this country where state-of-the-art technology will be accessible to CEOs, CIOs, CTOs and others technology consumers, so that they can make prompt decisions without leaving the country," Chidalu said.
"What we have on board is a tech genius area where our customers will be able to take advantage of the partnerships that we have with the various OEMs on board.
"The Centre will afford young Nigerians the opportunity to receive world-class training on the latest technology."
Also speaking on the reason for mobilising other tech giants to bring the massive project to life, Mrs. Gozy Ijogun, managing director (Sales) TD Africa, explained that the centre is aimed at adding value to the technology space in Nigeria in particular and Africa in general.
Ijogun said: "I am sure everyone is wondering what TD Africa is doing with the Tech Experience Centre. At TD Africa, we consider ourselves value added distributors.
"We are not just here to buy and sell. We add value to the economy. For that reason, we came up with the Tech Experience Centre so that Africans can experience technology the way it should be in this part of the world.
"No other distributor can do this. TD Africa is here to add value to the Information and Communication Technology (ICT) ecosystem."
The Centre, housed within an impressive eight-floor edifice, will play host to tech giants, such as Cisco, Microsoft, Dell Technologies, HP, Schneider Electric, Zinox, Philips, Samsung, Apple and Bosch, among others.
"The structure also houses a cutting-edge gaming arena, lifestyle and smart home area, café, training centre, conference rooms and expansive office spaces, among others.
Olakunle Oloruntimehin, general manager, Cisco, West Africa, expressed delight with the concept behind the Tech Experience Centre, adding that it would be a great opportunity to offer latest technologies to consumers under the same roof with other tech giants.
"It is a good opportunity to collaborate with TD Africa and other OEMs under one roof. Technology is being democratised and it is important that people come together to take this outcome forward.
"Cisco is excited not only to partner with TD Africa but also to work with other OEMs under one space to make this work," Oloruntimehin said.
Chioma Iwuchukwu-Nweke, country manager (Nigeria), Philips, also expressed excitement with the expected launch of the project. She revealed that Philips would delight tech customers at the Centre with latest health-driven home appliances.
Nweke said: "This is a dramatisation of the phrase 'think global, act local.' This is what TD Africa is doing with the Tech Experience Centre, by bringing lots of multinationals in the technology space in one place so that customers will experience latest technology.
"Before now, people always take technology to be something they have to travel outside the country to experience.
"We are sure that the Centre is going to change this narrative, especially at this time when the thought of travelling is a little bit scary for a lot of people. For us at Philips, customers should expect total innovative home appliances."
On her part, Vivian Mike-Eze, marketing communication manager, Schneider Electric, commended the vision behind the initiative.
She urged tech consumers to be ready for an immersive experience with smart home concepts at the Tech Experience Centre.
"There has not been such a centre that gathers all the tech giants together in one place here in Nigeria. So, TD Africa has really set a precedent.
"I believe that people visiting the Tech Experience Centre expect to experience technology. In Nigeria, there is really a market for advanced technology that has been ignored for too long.
"This vision by TD Africa to bring the latest technology and get customers to experience it live is a fantastic opportunity to tap into. Because of the Centre, customers do not need to travel to the US or UK to actually see latest technology.
"Schneider Electric promises customers home automation, using the smart phone concept, when they walk into the Tech Experience Centre.
"This involves having the ability to control the temperature and ambience in their homes, with just a voice command. It is easy to talk about it, but there is no better idea than experiencing it by testing the controls and seeing it live."
In addition, Microsoft Senior Partner, Specialist-Modern Work, Josh Adekeye, appreciated TD Africa, noting that the Centre will promote customer immersive experience. He promised that Microsoft would always support the Centre, which will reduce the burden for Microsoft to fly its customers to other countries to see its latest technological rollouts.
Adekeye said: "For us at Microsoft, when we heard about the Tech Experience Centre, we knew that it was something we needed to participate in. Before now, we usually fly our customers to Microsoft Technology Centre either in Dubai or in the US.
"However, when this opportunity came, we indicated interest and supported TD Africa to achieve it. We will always support the Centre. The beauty of technology is in seeing it.
"What Microsoft brings to the table is customer immersive experience. It means the customer will see the technology, feel the impact and make their decision easily and quickly."
Lending his voice, Managing Director, Samsung (Nigeria), CadenChiyeon Yu hailed TD Africa for galvanising other tech giants to bring the Tech Experience Centre to life, adding that the Centre will afford Samsung a great opportunity to expose customers to its latest offerings in Internet of Things (IOT), Artificial Intelligence (AI) and other innovations shaping the global tech ecosystem.
Meanwhile, Ayokunmi Solesi, Country Manager (Nigeria), Bosch, described the Centre as a huge landmark on the African continent, adding that Bosch was ready to bring modern kitchen appliances to the delight of customers at the Centre.
Solesi said: "This is live experience. When you see big OEMs like Bosch, Schneider Electric, Samsung, Cisco, Microsoft, among others coming under a platform, you will realise that something great is about to be born.
"This is a huge landmark, not just in Nigeria, but also in Africa. For us at Bosch, this is a very commendable initiative," Solesi said.
The Tech Experience Centre is an ambitious project, the first of its kind in Africa, to house global technology giants under one roof, with the aim of making latest and cutting-edge technology easily accessible to Nigerians and other nationals.
Experts and economic watchers have hailed the expected launch of the centre as a major development that will shore up Nigeria's relevance in the global technology space, while also boosting the nation's economy.