Jumia Nigeria Partners Unilever on New Closeup Variant
Global fast-moving consumer goods manufacturer, Unilever has entered a strategic partnership with Jumia Nigeria to make its latest toothpaste variant, Closeup Triple Fresh Formula, accessible and available to consumers across Nigeria at the best market prices.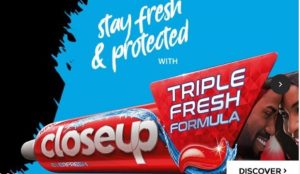 Speaking on the partnership, Ibidare Adegunle, the Field Sales Manager Unilever Nigeria, said the aim is to make the new product and its unique benefits available to millions of Nigerian customers through an online platform with the widest reach in the country.
"As Nigeria's leading ecommerce platform, the partnership with Jumia will let Closeup meet its millions of users across the country and give them the opportunity to get the new Closeup Triple Fresh. As the best brand that gives long-lasting freshness, the new Closeup with Triple Fresh cleans deeply, fights up to 90% of bacteria, and cools intensely.
"It gives superior cleaning, protection and cooling benefits which leaves customers fresh and protected. This partnership with Jumia will help drive awareness for Closeup Triple Fresh and increase purchase intent of customers," Adegunle said.
With the partnership, Unilever is also offering customers free delivery on its laundry, hygiene and seasoning products on Jumia Express which makes delivery within 24-48 hours possible.
Omolola Oladunjoye, Jumia Nigeria's Chief Commercial Officer, while commenting on the partnership said Jumia is committed to treating its customers to best innovative products with easy and convenient shopping experience.
"This partnership is part of our commitment to ensuring Jumia customers continue to have access to quality products with ease and comfort while keeping safety measures at this time.
Unilever is a household name in the FMCG sector with a track record of quality products that meet the daily needs of our customers. We are partnering with them to deepen consumers access to essential products at the best market prices and also enjoy the additional benefits such as free and speedy delivery on our Jumia Express platform," she said.
COVID-19: 9mobile Celebrates, Pledges Support for Health Workers at Yaba Isolation Centre
9mobile has paid glowing tribute to Dr. Ayodeji Falana and other health workers who have been outstanding in the fight against the COVID-19 pandemic in the last one year.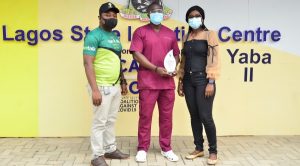 Dr. Falana was adjudged most outstanding health worker for his leadership and dedicated service. The commendation came as 9mobile visited health workers on Saturday February 27 at the Lagos State Government isolation centre of Mainland Hospital, Yaba otherwise known as Infectious Disease Hospital.
The 9mobile initiative is designed to appreciate the efforts of health workers who have been at the forefront of the fight against COVID-19 across the country. A minute silence was observed in honor of health workers and Nigerians who lost their lives to Covid-19.
Commending health workers nationwide, Chineze Amanfo, 9mobile's Public Relations Lead, who represented the Executive Director, Regulatory and Corporate Affairs, Abdulrahman Ado, recalled that it was exactly one year that the index case was recorded in Nigeria.
"She stated that "we decided to visit the isolation centre in Yaba to appreciate the health workers who have been at the forefront in this fight against Covid-19. 9mobile appreciates your commitment and dedication because you are the real heroes in the fight against Coronavirus. 9mobile applauds your dedicated service and reiterates that we are solidly you."
Amanfo, who presented a plaque of recognition to the recipient and other gift items to the health workers on behalf of 9mobile, also saluted the bravery of the health workers. She said that despite the disruption and loss caused by the coronavirus pandemic, health workers have continued to show exemplary commitment.
In his response, the Medical Director of Mainland Hospital, Yaba, Dr. Abimbola Bowale said that "I received the Covid-19 index patient on February 27, 2020, and it has been a very long journey since then. Unfortunately, we have reported some deaths and for the health workers, it has been very demanding for us.
"So, this is a very significant day. This facility is the largest facility where Covid-19 patients are treated. We are very proud of the enormous work and commitment of our staff in the fight against Covid-19. Our health workers have shown resilience. We appreciate 9mobile for their show of support. I am excited for what they have done today".
The recipient of the award, Dr. Ayodeji Falana appreciated 9mobile for shinning its spotlight on the selfless sacrifices of health workers in Nigeria.
He said that, "I have been involved in the fight against infectious diseases for a very long time. Hence, it feels good to be appreciated and it shows that when you work hard, you will eventually be recognized and appreciated.
"Covid-19 provided us with the opportunity to serve Nigeria with our capacities and capabilities. I heartily appreciate 9mobile for encouraging us to do more for the Nigerian healthcare system".
According to his official citation, Dr.  Ayodeji Falana, an alumnus of Obafemi Awolowo University, has played a pivotal role in transforming the clinical landscape of the Mainland Hospital in the past one year with his contribution to the fight against Covid-19.
As a clinician in the facility for over a decade, he was actively involved in the fight against Ebola in 2014, treating and managing infected patients.
This prepared him for the mantle of leadership in the fight against Covid-19 when he was posted by the Lagos State Covid-19 Case Management Pillar Lead to serve as the Medical Lead for Eti-Osa Isolation Centre in April 2020. He has shown commitment, drive, innovation, selflessness and has made enduring impact.
Okonjo-Iweala Assumes Duty as WTO DG
Dr. Ngozi Okonjo-Iweala, newly-elected director general of the World Trade Organisation (WTO), will assume duties today.
The former Nigeria's two-term Finance Minister was selected by the General Council of the WTO a fortnight ago, as the organisation's seventh director-general.
With her emergence as the first African and first female to be the Director-General of the WTO, Okonjo-Iweala had unveiled her agenda, which included working with other members of the organisation in reforming and rebranding the global trade body.
Okonjo-Iweala, in her acceptance speech, had also highlighted the need for procedural reforms so that the WTO would better serve its members.
Her term which is renewable, will expire on August 31, 2025.
According to her, the rule book of the Geneva-based organisation is outdated, while its rules lag behind those of some regional and bilateral trade agreements, which are incorporating many innovations.
Okonjo-Iweala had stated that the WTO's rulebook must be updated to take into account 21st century realities such as e-commerce and the digital economy.
She said: "It has been a long and tough road, full of uncertainty, but now it is the dawn of a new day and the real work can begin.
"Some WTO rules and procedures also need to be revisited, including the procedure for appointing director-general."
According to her, the WTO secretariat should be strengthened, to enable it to provide cutting-edge services to members.
She had explained: "An important change would be to move away from the current silo way of working, to a more team-based and task-based approach.
"The secretariat has to be fit-for-purpose to take account of the changing dynamics of the global economy and priorities of members.
"The challenges facing the WTO are numerous and tricky, but they are not insurmountable. There is hope, there is light at the end of the tunnel if we work together in a transparent manner that builds trust, build bridges and diffuses political tension and encourages convergence."
Dangote Refinery to Sell Refined Products to FG in Naira – Emefiele
Arrangement is being made to enable the Dangote Refinery to sell refined crude to Nigeria in naira when it commences production, Godwin Emefiele, governor of the Central Bank of Nigeria (CBN), has revealed.
It is expected that the take-off of the much anticipated $15 billion refinery will help Nigeria save about 41% of its foreign exchange that is being expended on the importation of refined petroleum products.
Emefiele, who was speaking during an inspection tour of the sites of Dangote Refinery, Petrochemicals Complex Fertiliser Plant and Subsea Gas Pipeline project at Ibeju Lekki, Lagos, also said that the first shipment of Urea from the Dangote Fertiliser Plant would begin in March to help boost agriculture in the country.
He said that "Based on agreement and discussions with the Nigerian National Petroleum Corporation and the oil companies, the Dangote Refinery can buy its crude in naira, refine it, and produce it for Nigerians' use in naira.
"That is the element where foreign exchange is saved for the country becomes very clear. We are also very optimistic that by refining this product here in Nigeria, all those costs associated with either demurrage from import, costs associated with the freight will be totally eliminated.
"This will make the price of our petroleum products cheaper in naira. If we are lucky that what the refinery produces is more than we need locally you will see Nigerian businessmen buying small vessels to take them to our West African neighbours to sell to them in naira.
"This will increase our volume in naira and help to push it into the Economic Community of West African States as a currency."
Emefiele, who expressed confidence that the refinery would be completed by the first quarter of 2022, said this would put an end to the issue of petrol subsidy in the country.
He said, "I am saying that by this time next year, our cost of import of petroleum products for petrochemicals or fertiliser will be able to save that which will save Nigeria's reserve. It will help us so that we can begin to focus on more important items that we cannot produce in Nigeria today.''
While pointing out that the CBN had given an N100 billion intervention to the projects, Emefiele added that the apex bank was ready to support Nigerian businesses set up to uplift the country economically.
Alhaji Aliko Dangote, president of Dangote Group, said that the fertiliser and petrochemicals plants were capable of generating $2.5 billion annually while the refinery would serve Nigeria and other countries across the world.
Dangote thanked President Muhammadu Buhari and the CBN governor for their support towards the completion of the projects, saying the projects would create jobs for Nigerians and build their capacity in critical areas of the oil and gas industry.