Kashifu Abdullahi Blazes the Trail at NITDA as Director General
National Information Technology Development Agency (NITDA) is a federal government agency saddled with the responsibility of developing and ensuring the growth of information technology in the country. The agency formulates policies and programmes to achieve this mandate which is supervised by its director general.
Over the years, the agency has witnessed several director generals who during their tenure have made impacts towards the growth and development of information technology. But, the current director general in the person of Mallam Inuwa Kashifu Abdullahi has distinguished himself with several accomplishments within the short period of taking over as the helmsman at the agency.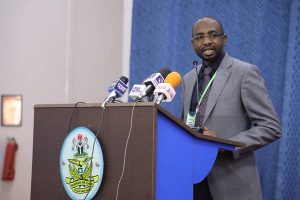 Come Wednesday August 20, 2020 will mark his first 365 days in office, having been appointed by President Muhammadu Buhari, GCFR  on August 20, 2019, Mallam Inuwa Kashifu Abdullahi has been able to implement notable regulatory instruments: like Nigeria e-Government Interoperability Framework (Ne-GIF); Nigeria Cloud Computing Policy (NCCP);Nigeria ICT Innovation and Entrepreneurship Vision (NIIEV);Framework and Guidelines for ICT adoption in Tertiary Institutions; Guidelines for Nigeria Content Development ICT as amended; and Data Protection Implementation Framework.
Mallam Kashifu Abdullahi is a Technology expert with over fourteen years of working experience in Information Technology operations, business transformation and solution architecture, across both private and public sectors.
He graduated with Bachelor of Technology degree in Computer Science from Abubakar Tafawa Balewa University Bauchi State, Nigeria and was Massachusetts Institute of Technology trained as MIT Sloan strategist.
As the world and Nigeria grapple with the effects of COVID-19 and its attendant dire economic impacts on the global economy, the agency under Mallam Kashifu Abdullahi leadership has embarked on strategic projects to ensure that our economy recover from the effects of the pandemic.
The landmark initiatives launched to cushion the effects of the pandemic and ensure that technology continues to enable business continuity were:
Tech4COVID19 Initiative – This initiative was launched to measure the impact of COVID-19 on the tech ecosystem and proffer solutions especially for startups. The Committee set-up by the agency came up with a Strategic Plan to ensure that the country retains about 100,000 ICT Jobs and create an additional 30,000 in the Post COVID-19 Era.
Virtual Startup Clinic – This initiative was setup to gather Startups, mostly young people to meet with mentors, successful entrepreneurs, investors, industry specialists, business consultants and hub operators with the goal of solving problems and challenges they were facing.
Nigeria COVID-19 Innovation Challenge– This is an online innovation challenge held to meet the challenges the country is facing as a result of the COVID-19 pandemic. At the inaugural challenge 5 startups with highly innovative ideas were selected for the final challenge and 3 of them were selected for further incubation. A support of ₦1 000,000, ₦750,000 and ₦500,000 were won by the 1st, 2nd and 3rd winners respectively.
NITDA Technology Innovation & Entrepreneurship Support Scheme– This is a scheme to support startups and hubs across the country. With over 120 hubs in Nigeria, NITDA is finalizing plans to ensure rapid intervention is provided for hubs and startups based on competence and carefully selected criteria.
SMART Agric Project- This is an initiative by the agency which aims to engage farmers and focus on using precision/smart farming to ensure significant improvement in crop yield, quality of farm produce, efficiency and productivity; increased profit margin, harvest forecast, sales of farm produce and eco-friendly agriculture practice. During this pandemic, we have engaged 130 farmers on this Project.
NITDA Academy– This is a platform for virtual learning where thousands of young Nigerians can have access to a wide range of educational courses and tools online, this basically addresses challenges students face in assessing educational materials.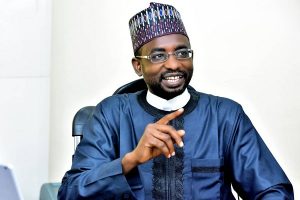 Mallam Kashifu Abdullahi at recent event said that his administration will focus on implementing a strategic roadmap for the development of Nigeria's IT sector, which consists of 7 pillars that are in alignment with the 8 pillars of the National Digital Economy Policy & Strategy.
According to him, "The 7 key pillars of our Roadmap are IT Regulation, Capacity Building, Digital Inclusion, Digital Job Creation, Government Digital Service Promotion, Local Content Development, and Cybersecurity.
"We have rolled out several policies, regulations, and programmes, focusing on those areas.
"However, as the roadmap is set to expire this year as the Nigeria Economic Recovery and Growth Plan (ERGP) which it draws from.
"We have already commenced reviewing it as well as developing the next plan, which will soon be launched.
"It is in alignment with and takes cognizance of the National Digital Economy Policy and Strategy (NDEPS), the Nigeria Economic Sustainability Plan (NESP) and other important plans and policies of this administration".
Mallam Kashifu Abdullahi will no doubt leave an indelible footprint at NITDA and the Nigeria IT space. His unprecedented records of achievements within first one year in office are a testament of his contribution and support to the growth and development of the ICT Sector in Nigeria.
Satellite Operators Push New Signal across Africa, Indian Ocean Regions
The Agency for Air Navigation Safety in Africa and Madagascar (ASECNA), has started to broadcast a Satellite-Based Augmentation System (SBAS) signal over Africa and Indian Ocean (AFI), providing its first open service in the region via NIGCOMSAT-1R Satellite managed and operated the by Nigerian Communications Satellite Ltd., under the Federal Ministry of Communications and Digital Economy.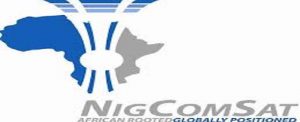 This early open service is provided as part of the programme, which pursues the autonomous provision SBAS services in Africa, to augment the performances of the satellite navigation constellations GPS and Galileo.
With improved accuracy to within a meter, and boosted integrity, availability, and continuity of safety-related applications, these SBAS services will improve flight safety and efficiency in Africa, and also benefit the economy in many areas as land, sea, and rail transport, as well as mass-market applications, supporting user safety, cost-effectiveness, and sustainable development.
The launched open service essentially aims to carry-out technical trials, and to undertake partner airlines field demonstrations for aircraft and rotorcraft, to demonstrate the benefits of the future operational safety-of-life SBAS services, expected from 2024. It will also include early Precise Point Positioning (PPP), and emergency warning service to populations, which performance will be proven through other demonstrations.
The signal-in-space is generated by a dedicated system tested, developed as part of the "SBAS for Africa and Indian Ocean" preliminary design phase, financed by the European Union, and awarded to Thales Alenia Space, Joint Venture between Thales (67 per cent), and Leonardo (33 per cent).
The "SBAS for Africa and Indian Ocean" is based on the European EGNOS (1) developed by the European Space Agency (ESA), acting under the delegation of the European Commission and operated by the European GNSS Agency GSA.
The system prototype uses as reference stations the SAGAIE network deployed by CNES and ASECNA with the support of Thales Alenia Space.
The signal is broadcasted via the SBAS payload on NigComSat 1R GEO satellite of the Nigerian Communications Satellite, and an uplink station deployed in Abuja, Nigeria.
It is compliant to the standards and recommended practices of the International Civil Aviation Organisation (ICAO), and the minimum operational performance standard developed by the Radio Technical Commission for Aeronautics (RTCA) organisation.
It will be visible in the whole of Africa and the Indian Ocean, up to the West Australian coast, and also in Europe.
Dr. Abimbola Alale, managing director/chief executive officer of NIGCOMSAT, said: "we are proud to be part of this ambitious program to provide satellite navigation services in the Africa and Indian Ocean region. The use of our geostationary communication satellite NIGCOMSAT-1R navigation payload to broadcast the first signal will be Africa's premier contribution to SBAS as a regional satellite-based augmentation system for the continent."
On his part, Benoit Broudy, vice president, Navigation Business at Thales Alenia Space in France, said the longstanding expertise acquired with the development of EGNOS1 SBAS in Europe, and KASS SBAS in Korea, combined with the new leading-edge satellite positioning technologies make Thales Alenia the ideal partner to best support countries to implement their own SBAS efficiently.
"The equatorial region represents also a key engineering challenge for such a system due to difficult ionosphere conditions, for which Thales Alenia Space has developed a proven solution," he stated.
Mohamed Moussa, director-general of ASECNA, said the provision of the first African SBAS early service is a crucial major step forward in the development of satellite navigation in the AFI region, and in the deployment of the "SBAS for Africa and Indian Ocean" system, the navigation solution for Africa by Africa.
He said: "It demonstrates the ambition and commitment of ASECNA to enhance air navigation safety for the benefit of the whole continent, in line with my vision for the unification of the African Sky."
ipNX, USTDA Ink Partnership Deal to Develop Nigeria's ICT Infrastructure
ipNX, Nigeria's pioneering and leading information, communications and technology (ICT) company and the United States Trade and Development Agency (USTDA) have signed a partnership deal that will further support the development of Nigeria's ICT and broadband infrastructure and help ipNX expand its fibre-optic network to more than 200,000 residences in Lagos and other locations, including Abuja and Port Harcourt.
A virtual signing ceremony that signalled the beginning of this far reaching relationship between the two parties was held on Thursday, September 17, 2020.
Through this innovative initiative, the USTDA is supporting ipNX to promote inclusive, secure and sustainable connectivity across the nation.
The agreements were made possible as a result of several engagements between the USTDA delegation to Nigeria and the leadership of ipNX; and will advance the goals of the recently updated Nigerian Broadband Plan.
At the Signing Ceremony, Ejovi Aror, group managing director of ipNX, said: "We believe that world-class connectivity and broadband internet access will be pivotal to the digital transformation and socio-economic development of Nigeria.
'We are very positive that this project will play a crucial role in making our belief a reality."
Aror added that with the emergence of the COVID-19 pandemic, the case for a vibrant ICT sector has never been stronger and the new partnership will bring ipNX a step closer to achieving its mission to continually leverage technology to create innovative solutions that help mankind thrive, while making a crucial impact to the lives of Nigerians across the country.
Mary Beth Leonard, U.S. Ambassador to Nigeria, said' "These projects will support the development of Nigeria's telecoms infrastructure and help to achieve the goals of the National Broadband Plan.
"The U.S. Government has committed significant resources to improving telecoms infrastructure in Nigeria and this support is crucial as we believe that investment in critical ICT projects will strengthen the resiliency outlined in Nigeria's economic sustainability plan."
Also present at the virtual event, the Director, Technical Standards and Network Integrity of the Nigerian Communications Commission (NCC), Engr. Bako Wakil, who spoke on behalf of the Executive Vice Chairman of NCC, said: "The support this grant will provide to the telecommunications sector, in particular broadband, is in line with the National Digital Strategy and the National Broadband Plan.
"The NCC would like to congratulate ipNX as it shows the company's integrity and commitment to be selected for this grant".
ipNX also revealed that it intends to continue to work with USTDA beyond the preliminary stage, to execute many more projects into the future that will bring about the digital transformation and socio-economic development of major cities in Nigeria in alignment with the National Digital Economy Policy and Strategy.
With their partnership, both parties fully agree that further development of the nation's broadband infrastructure is key to unlocking the potential promised by Nigeria's digital economy.
According to the World Bank's 'Nigeria Digital Economy Diagnostic Report' released in 2019, Broadband is a key enabler to harness the digital economy transformation and high-speed broadband has the potential to accelerate Nigeria's socio-economic development.
Manfa, ANSICTA Boss Pledges to Collaborate with NITDA for Establishment of Zonal Office in Anambra State
Mr Theo Manfa, managing director/chief executive officer, Anambra State Information and Communication Technology Agency, (ANSICTA) has hinted that they are ready to collaborate with National Information Technology Development Agency, (NITDA) for the establishment of the agency's South-East Zonal office in the State.
He stated this when he led ANSICTA delegation to NITDA's head office in Abuja recently.
Mr Manfa explained that the call for special requests by the state is necessitated by the fact that the state "has long been known as a home of innovation and entrepreneurship, through the various markets like Onitsha and Nnewi and the plethora of locally produced goods they spawned over time."
He said that innovation and entrepreneurship are important elements to drive the digital economy which the nation is striving to create adding that the state has been watching with keen interest the activities of Federal Ministry of Communications and Digital Economy and NITDA which necessitated the intended partnership.
He requested NITDA's partnership with ANSICTA in building an ICT Hub in Anambra State; hosting a NITDA regional office; hosting NITDA events and programs as a State and region; trainings and Skills development programs of NITDA where the State hopes to train 40,000 residents in the next 2 years in Digital skills; establishment of cooperation on the Nigeria Government Enterprise Architecture (NGEA) and the provision of the Unity Board where 150 units were requested for a program for secondary schools in Anambra.
ANSICTA also presented an award to the Director General for his "Outstanding Achievements in Driving theDigital Economy" which was received by Dr. Vincent Olatunji on behalf of the DG.
Dr. Olatunji responded along with comments from some of the Directors and said NITDA would be glad to cooperate with the State.
He said it was gratifying to note that Anambra State now has an ICT Agency as Gov Willie Obiano had visited NITDA 6 years ago and the agency had worked with the State in developing an ICT policy for Anambra.
The success of that exercise is the take off of the agency (ANSICTA) which is the execution arm of the policy developed by NITDA.
He further said ANSICTA was by the speech of its MD really in tune with the affairs and mandates of NITDA and stated that ANSICTA should make a formal application for the things requested at this meeting will be looked into by Management for approval by the Director General.
He also thanked ANSICTA for recognizing the hard work of the DG through the award they presented, which he said was most encouraging.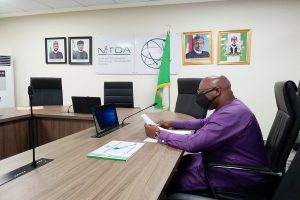 Michael Orekyeh; chief operating officer of ANSICTA was part of the delegation from Anambra State. while the Director General of NITDA, Malam Kashifu Inuwa Abdullahi was represented by the Director E-Government and Regulation, Dr. Vincent Olatunji; Director Office of ICT Innovation and Entrepreneurship – OIIE, Dr. (Mrs.) Amina Sambo Magaji; Deputy Director of IT Infrastructure, Dr. Saidu Kumo; SA Technical to the DG, Dr. Mohammed Yahaya; Corporate Strategy Department, Dr. Taofik Yekini and other Directors and Key Management Staff.