LASG is Pursuing Seamless IM System- Uthman
Rafiu Bolaji Uthman , director general, Lagos State Records and Archives Bureau (LASRAB) is a distinguished information officer, career journalist and Civil Servant par excellence.
Uthman was part of the State Information and Economic Teams researching, documenting and preserving enduring records of the processes and impacts of plans, policies and programmes on the State development and cultural patrimony.
He also served as member of various Government Committees and engaged with development partners bringing to bear his experience and vast knowledge cum understanding of the State development milestone and heritage mosaic to achieve a brighter rewarding future for Lagos State.
Uthman spoke to peter ugwu on what the significances of proper records and information management in governance.
An Overview of LASRAB
LASRAB formally came into legal existence as a Lagos State Government agency pursuant to Law 22 of 2007; the Bureau is under the supervision of the Ministry of Information and Strategy. Administratively, LASRAB took-off on 1st August, 2008 but effective operation began on 1st December, 2008.
It is a public Institution or Agency established by law and mandated to regulate, preserve and disseminate accurate records of enduring value on Lagos state in a professional manner, employing best practices in information and knowledge management.
Our functions extend to regulating, controlling and management of records and archives of Institutions and Establishments operating within Lagos State.
We also concerned with the role of collecting and preservation of historical identities of Lagos State.
LASRAB shoulders the strategic maintenance of modern and credible information warehouse (records and archives institution) that captures full and accurate records on Lagos State that meet the needs and interests of clients.
We also secure global innovative solutions and best practices for continuing management of records/archives; enriching and using records and archives as valuable assets for preserving Lagos State heritage and provide a database for planning and access to information for good governance and research in Lagos State.
LASRAB has also provided the schedule for records management in Lagos State civil service.
We have successfully carried out our statutory responsibilities as aforementioned including undertaking research and disseminate knowledge on the preservation and management of public, private, and historical records and established and implemented procedures for the transfer of public records of enduring value, for preservation and management in the State Archives or such archival repository.
Today, LASRAB is a model on records and information management in Nigeria.
Records Management in Pre-LASRAB Era
Prior to LASRAB establishment, records were managed in a haphazard manner.
There was actually no institution, unit or office so designated as archives within the State and even with Institutions.
In other words, there was no regulatory body to streamline how things should be organized in that sector.
There were evidences of certain valuable documents dumped in cartoons, containers and sometimes in saves that were exposed to rain.
In fact, records were stocked in toilets and staircases. Things were in a disorganized manner.
Proper Records Management and Economic Planning
Of course, the nexus between the two is same with information and proper management.
Information and data are critical resources for planning and management, particularly for allocating or scheduling of resources; for protecting and claiming rights, obligations and for value sharing and cultural collation.
Before now, people did not know much about history of Lagos State. Many said it is a no man's land; everybody owns Lagos and there are no indigenous Lagosians.

But LASRAB coming into be, harnessing of the facts and making them available, the public are now better informed. Apart from that, Lagos State Government so much relies on data and information to pursue numerous projects we see in places.
The sector is very paramount in development of Lagos State.
One thing we proud ourselves in the State is about proper documentation.
Our documentation process is inclusive-governance-process, where stakeholders' opinions are sort and conclusions of such engagement are contained in a report which forms part of inputs into budget and programmes.
LASRAB is the stakes custodian of these very important documentations.
They assist government to know what the situation was yesterday and updated version are basically on issues of the moment.
And with the benefits of doubts you can make clear projects about the future.
Nigeria in the Comity of Archive Nations
Well, archives and archives management is endangered and in precarious situation in Nigeria, particularly at the national level.
You find that in Nigeria we have a very low culture as far as preservation of documents is concerned.
Nigerians read very poorly; they read mainly to pass examinations, after that, they throw away the books.
People also read newspapers just to catch time.
\
People don't actually read in-depth or in-between the lines.
In other countries, people read, especially those who occupy the policy making realms to ask themselves, what was the policy like in the past?
That is why archives provide a filling, framework to judge opinions and to drink from the experiences-the perfections and imperfections in the past.
Archive is a societal memory; a warehouse of accumulated experience for the civilization of the people.
Although archives in Nigeria is in a precarious situation, but then Lagos State Government is charting a new course to see that archives is a critical element in governance and development through this formalized structure; the first of it kind, with its grandeur and opulence.
Today, LASRAB functions not just as media resource, but as a historical site. In a accordance with our vision, LASRAB in the shortest time will be a first class global information repository and data bank on Lagos State.

Employment Generation
There are so many ways we can grow the sector for employment generation.
Through voluntarism people can get to know more about the sector and professionals putting their thoughts on records and information management can lift the industry to an enviable height.
And our undergraduates and graduates alike should develop research skills.
A hallmark of an archive is its ability to create and warehouse as many records as possible.
The current level of students and graduates alike, particularly those in the Social Humanities discipline should take it upon themselves to conduct research on subjects of significant interest to the society.
For instance, today the country is in a very serious security risk. It is affecting the social fabrics and cohesion of the society. So, we need to find out who we are, the things that unite us.
Place of ICT in Archives and Records Management
ICT is a platform for provision of archival services.
It is an instrument for achieving a global information repository. ICT is a critical resort; we are in the world of information.
Such information must be available to the people in the way and manner that are desirable at a reasonable cost effective and efficient manner.
These can be enhanced through the deployment of ICT. For example in Lagos State Government under His Excellence, Mr. Babatunde Fashola is apt in the deployment of ICT for e-governance. At the point of its commissioning, we were provided with a Server that enables us to stand on our own.
Ad progressively we are going to develop our electronic management system. The server has enabled us to do internet service; that is the automation of our work processes.
Government has also procured State-of-the-Art equipment that enables us produce documents in a digital format and convert hard copy records into microfilms called e-archives write-ups.
All strategic sections in the Bureau have ICT elements. These allow for knowledge exchanges.
These are because we function as a knowledge management agency; we try to share knowledge contained in the archives with the public.
In lieu of that, students from Universities, Polytechnics and Collages of Education do come here to reinforce their knowledge on civics studies.
Synergy with Public and Private Institutions
We have been enjoying goodwill from other older archiving institutions, particularly the National Archives of Nigeria (NAN), Ibadan.
They provided us with necessary leverage for us to come into the scene. Meanwhile, we have been able to also influence the National Archives in terms of modernity and transformation.
Organizations like Records and Information Awareness (RIMA) Foundation has been our partner since our take off.
The foundation is a critical stakeholder to us, even as an NGO. For instance with the synergy we were able to host the very first archives day in the annals of Nigeria. And arising out of our modest reforms and innovative sector, other emerging archives have been coming around.
The Nigerian Ports Authority (NPA) team recently visited asking for our assistant for them to get their footings. And we are very ready to share knowledge and expertise with whoever cares. University of Ilorin also visited us in view of their quest to establish an archive centre.
Other states are also paying us visit to borrow a leaf; Lagos remains the first in information management in Nigeria; there is no archives that can compete with us presently in terms of facilities.
Our repository is outstanding. It can compete with any archive in any emerging economy.
Legislation on Retention Period
Talking about legislation, especially the retention period as widely craved for among some practitioners is not such that demands legislation. I think it is a mere legislation that should flow from enabling environment.
Under the law that established LASRAB, we are empowered to make legislation regulating records management in the state and sequel to that we have made concerted effort in that aspect.
Ours in Lagos is working; however, we expect them at the national level to see to the national retention period legislation.
In our public service whenever they have any change, they invite us to do records appraisal, which is the best practice; to determine what to do with disposition or otherwise.
I must also said that there is a need for the national to quickly review the law establishing the national archives to let it be in-tune with modern realities. It has seemed to have become a national archive of old order.
I think that is why they have been trying to add records management to their own too. That will make it a 'living organism' and not a backyard of wasted records.
CBN Pulls Rate Cut Trigger, King Dollar Returns
By Lukman Otunuga, Senior Research Analyst at FXTM,
In a move that caught investors off-guard this week, the Central Bank of Nigeria (CBN) slashed interest rates by 100 basis points bringing the MPR to 11.5%. Given how inflation has been above target since 2015, rates were expected to remain unchanged for the rest of 2020 and possibly early 2021.
The question on the mind of many is whether the rate cut will achieve the desired effect by stimulating consumption and economic growth? Ongoing border closures and disruptions created by COVID-19 have pushed inflation to levels not seen since March 2018 above 13.20% while a drop in the production and price of Oil continues to rub salt into the wound. While looser monetary policy could support growth, it may come at the cost of rising inflation and weaker Naira.
Over the past few months, central banks across the globe have deployed unprecedented measures to defend their respective economies against the coronavirus menace. However, fiscal policy has been identified as the sharper tool with governments across the world providing a critical lifeline to keep the wheels of their respective economies rolling.
Outside of Nigeria, King Dollar made a return by appreciating against every single G10 currency. In times of uncertainty, everyone wants a juicy piece of the world's most liquid currency. As coronavirus cases rise in Europe and other parts of the world, the flight to safety is likely to boost appetite for the Dollar. This is bad news for many emerging markets currencies, especially those with high Dollar-denominated debt.
On the commodity side, Oil prices remain heavily influenced by demand-side factors and the state of the global economy. Prices are likely to remain stuck around the $40 regions in the near term, especially If another round of possible lockdowns hit Oil demand. Looking at the technicals, WTI Crude is under pressure on the daily charts. If prices are unable to break away from the sticky $40 regions, the next key point of interest remains around $38. A weekly close above $41.50 could pave a path towards $43.
NCC Arrests Man for Hacking into DSTV System
Nigeria Copyright Commission (NCC), has arrested one Mr Aliu Olalekan, for allegedly hacking into DSTV system and watching the channels free without subscription.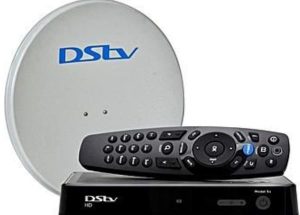 Mr Matthew Ojo, NCC Director in the Lagos Directorate Office said this while speaking with newsmen in Lagos, on Tuesday.
He said that the suspect used to watch DSTV channels free without subscription on his Android phone via an app which he downloaded on google play store.
"This suspect distributed the know-how to his telegram followers and on his blog with the aim of gaining more followers and viewership on his blog and makes more money through google ad-sense.
"The operation was based on surveillance which had earlier been carried out by the Multi-choice team and verified by a copyright inspector, " he said.
He added that the arrest was made in collaboration with a team of copyright inspectors led by the Head of Enforcement Department, Mr Charles Amudipe.
Others included; a team from Multichoice Nigeria led by Mr Umar Ibrahim and policemen from Lagos Command Headquarters, Ikeja.
Ojo said that the joint team conducted an anti-piracy operation at the premises of the culprit in Amukoko, Lagos.
According to him, the suspect was contacted on phone by a member of the operation team on the disguise of patronising him. "The suspect came out to meet the caller and in the process of discussion, he was apprehended.
"The suspect took the team to his resident. The squad paraded his one-room apartment and recovered his laptop and phones used in perpetrating the ungodly act. "He was arrested and brought to the copyright commission office for further investigation, " he said.
Ojo said that, on getting to the commission's office, the statement of the suspect was taken and the inventory of items seized from him taken. He said that investigation on the matter was still ongoing and if found guilty the suspect will be charged to court.
NCC, Digital Encode Support NITRA Innovative Tech Forum On Post-COVID-19 Strategies
The Nigerian Communications Commission (NCC), Nigeria's telecommunications regulator and Digital Encode, Cybersecurity and Compliance advisory company, have indicated interest to partner with the Nigeria Information Technology Reporters Association (NITRA), the national umbrella body of ICT reporters, as it organizes a forum that will x-ray the industry's future plans for ICT growth post pandemic era.
The event, slated to hold on October 15, 2020, will seek to discuss the needs for a fortified ICT sector after the COVID-19 era, and the level of preparedness of ICT stakeholders to embrace the challenge of being pivotal to the stability and growth of all other sectors.
A statement from NITRA National Secretariat in Lagos indicates that due to the pandemic and need to observe the COVID-19 protocol on social distancing, the event will be held via a Webinar.
This year's theme, "Multi-stakeholder Approach To National Recovery Post-Pandemic", is in line with the annual event's generic theme, 'NITRA Innovative Tech Forum', a contribution by NITRA to the development of Information and Communication Technologies (ICTs) innovations and policies in Nigeria.
Prof. Umar Danbatta, executive vice chairman, NCC is expected to deliver the keynote speech at the event and will throw more light on Federal Government's plans, programmes and policies on post-pandemic strategies using ICT.
Dr. Adewale Obadare and Dr. Seyi Akindeinde, founders of Digital Encode, while accepting to support the event expressed their readiness to offer their expertise in Cybersecurity for organisations to prepare against cyber- attacks with the new normal.
They will also highlight areas that are high risks that need fortification in terms of cybersecurity.
Speaking on the event, Mr. Chike Onwuegbuchi, national chairman, NITRA, noted that as the COVID-19 pandemic continues to leave its negative trails across the globe, economic reboot for countries will not only depend on how well they readapt to the new normal, but also more on their recovery plans.
According to him: "While the federal government has consistently expressed its willingness to set all policies in place to engender growth, and accelerated implementation of these policies, private sector firms have also shown great hunger for the task ahead in post-COVID-19 era.
However, the question that needs to be answered is whether all stakeholders are ready for the required task ahead."
The event will also offer participating companies opportunities to publicize some of their individual efforts at contributing to reacting a soft landing or lifeline for SMEs and other ancillary companies as the pandemic threatens their survival.
Digital Encode is a multi-award winning and leading consulting and integration firm that specializes in the design, management, and security of business-critical networks, telecommunications environments and other Information Technology (IT) infrastructures.