LASUTH Plays Host to British Deputy High Commissioner
The Management of Mirabel Centre, in collaboration with the Lagos State University Teaching Hospital (LASUTH), have hosted the British Deputy High Commissioner in Nigeria, Mr. Ben Llewelyn-Jones, who represented Camilla, the Royal Duchess of Cornwall, in celebration of her acceptance of patronage for Mirabel Centre, Nigeria's First Sexual Assault Referral Centre.
In her welcome address, Prof. Ayo Atsenuwa, Chairman of the Advisory Board of Mirabel Centre, stated the Centre had been in existence for the past eight years, providing a safe haven for sexual assault and gender violence victims in the country.
She informed that Mirabel started out as a collaboration with Partnership for Justice, another human rights organisation, adding that the Centre's mandate is to provide medical treatment to the victims of sexual assault and assist them in getting justice.
Prof. Atsenuwa averred that the Centre was established in view of the need to provide specialised care for sexual assault victims, stressing that it has also necessitated the partnership with LASUTH for eight years running.
Speaking on behalf of the Royal Duchess Camilia, the British Depty High Commissioner expressed her delight to sponsor and support Mirabel Centre in combating domestic abuse and sexual assault.
"The Royal Duchess expressly stated that she was delighted to become Patron of the Mirabel Centre in Lagos, Nigeria. It is truly a trailblazing organisation supporting survivors of rape and sexual assault as they seek healing and justice", he said.
Prof. Adetokunbo O. Fabamwo, the Chief Medical Director of LASUTH, mentioned that LASUTH's association with Mirabel Centre is long standing and acknowledged that the centre had been rendering services to the underprivileged, the oppressed and the assaulted in society.
"LASUTH has been providing medical support for Mirabel Centre and the hospital is delighted with its proposed infrastructural expansion", he stated,
The Medical Director observed that gender and sexual violence are issues that gynaecologists in Nigeria address, in partnership with organisations like Mirabel Centre, to provide a safety net for victims and secure justice for them.
On her part, the Mirabel Goodwill Ambassador, Queen Uba, stated that the Centre provides medical services to victims of sexual violence and works hand-in-hand with the Police for the provision of post-traumatic treatments.
The Founder of Mirabel Centre, Mrs. Itoro Eze-Anaba, said the British High Commission has been supporting the Centre since 2013, adding that the organisation has over the years attended to more than 6000 clients.
She expressed her gratitude to the High Commission and the Lagos State Government for all their support and assistance to the Centre.
Glo-sponsored African Voices on CNN Features Olamide, Motha
Fresh episode of the weekly African Voices, sponsored by Nigeria's telecom giant, Globacom, will feature one of Nigeria's most famous singers, Olamide popularly known as Badoo, alongside Musa Motha, a South African dancer and choreographer.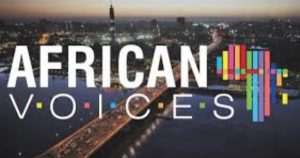 Viewers will, on the 30-minute magazine programme,  be treated to the  trajectories of the two stars who have made their marks in  music and dance in their respective countries.
Bariga, Lagos-born Olamide is the second of the three children of Pa Adedeji and his second wife, Ronke Osisanya Adedeji. He started his career when he released the debut single, "Eni Duro," in 2010. In the same year, he performed at The Hip Hop World Awards.
In 2011 he released his first album named Rapsodi and subsequently established his own record label, YBNL Nation.  By 2013, Olamide was adjudged Best Indigenous Artiste at the Nigeria Entertainment Awards. This was followed by other awards, including Most Gifted Rap Artiste from West Africa by Channel O Music Video Awards in 2014.
He music career continued to record successes with his Baddest Guy Ever Liveth emerging the Album of The Year at the 2014 Entertainment Awards. Also it emerged as the best Rap Album and Album of the Year at 2014 Headies  Awards, while  Shakiti Bobo was Certified Banger of The Year in 2015.
The second guest, Johannesburg –based Musa Motha rose to stardom after his left leg was amputated below the knee 12 years ago. This was due to his struggle against osteosarcoma; a cancer that is prevalent among children and attacks the bones of the arms and legs.
Motha's life was turned around by the Reach For A Dream Foundation which inspires children to use their dreams to fight life –threatening illnesses. Motha subsequently become a celebrated professional dancer and an inspiration to people living with disability.
The duo of Olamide and Motha will delight viewers with their stories on DSTV channel 401 on Saturday at 9.30a.m with repeats on Sunday at 4.30a.m, 7.30a.m, 12.30p.m, and 7.30p.m. Another repeat comes up on Monday at 4.00a.m while a two-part, 15-minute rebroadcast holds on Tuesday and Wednesday at 6.45p.m.
Nigeria-South Africa Chamber Harps on Adopting Digital Solutions
Accelerating digital transformation for the Nigerian SME was the central focus of discourse at the August edition of the Nigeria-South African Chamber of Commerce breakfast meeting.
In her presentation titled "Digital Transformation and the Nigerian SME" Keynote speaker, Lynda Saint-Nwafor, Chief Enterprise Business Officer, MTN Nigeria, stated that Nigerian SMEs are important contributors to job creation and global economic development, with a 49.8% contribution to GDP and 86.3% contribution to the workforce.
According to her, digital transformation integrates all aspects of the business and involves a complete rethink and redesign.
"SMEs are the engine of the economy; they start small, but with the right direction, can grow to impact the economy. SMEs' adoption of digital technology to drive business models will lead to an overall improvement in business performance, expanded markets, and superior customer service. driving innovation, increased revenue, and reducing poverty."
She further highlighted the critical issues in the sector such as access to markets, funding, knowledge, and skills, as well as infrastructure deficit.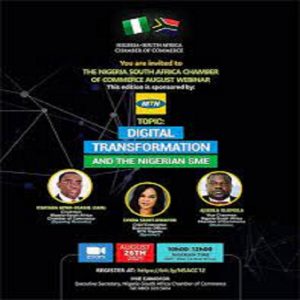 Lynda called for a digital transformation, which integrates all areas of business, people, processes, systems, and tools. This includes an understanding of customer needs and market insights, developing digital value propositions, increasing access to markets, upskill resources, leveraging digital and social media channels amongst others. These, she advised will help drive digital transformation.
On the government side, she stressed the need to promote digital infrastructure development by encouraging business innovation, developing locally relevant digital solutions, and leveraging the right partnerships.
The chairman, Nigeria-South Africa Chamber of Commerce, Osayaba Giwa-Osagie (SAN) who gave the opening remarks, and the moderator of the session, vice-chairman, Ajibola Olomola agreed, stating that the time is ripe to re-prioritise to drive growth and scale.
Travellers in for Biggest Discount, Amazing Freebies on Konga Travel
Konga Travel and Tours, Nigeria's frontline travel booking agency, has rolled out the biggest discount for prospective travellers this season, with the company offering flyers zero profit ticketing for flights to a number of destinations along with a number of juicy freebies.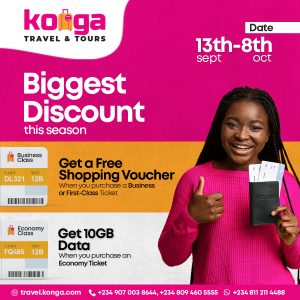 The Konga Travel offer, which commenced on Monday, September 13 will run until Friday, October 8, 2021.
Prospective flyers can take advantage of the deals online at www.travel.konga.com. The offer covers unbelievable discounts, flight deals and tour packages to a host of exotic destinations including Dubai, London, Zanzibar, the Maldives, Nairobi and New York, among many others.
Equally important, Konga Travel is putting money back into the pockets of its growing customer base with the ongoing promotion, with an unprecedented offer of zero margins on its flight tickets.
In addition, prospective travellers who book their flights via Konga Travel this period are set to enjoy other amazing benefits.
For flyers who book First Class or Business Class tickets with the company, Konga Travel is giving back a mouth-watering shopping voucher which beneficiaries can use to shop to their heart's content on Konga.com, alongside the offer of swift deliveries, irrespective of their location across Nigeria.
Furthermore, prospective travellers who book an Economy Class ticket with Konga Travel also get to enjoy an instant offer of 10GB data, free of charge.
According to the Management of Konga Travel, the unprecedented offer is targeted at offering customers unmatched value in line with the status of the company as a pace-setter in the industry.
''This offer is one we have put together to deliver unmatched value to our customers and to put money back in their pockets, especially in consideration of the current economic realities,'' disclosed Eric Nana, VP, Konga Travel.
''Through this promotion, we are not only giving customers the biggest discount on offer this season, we are also saving them huge sums in ticketing fees, while also making available some exciting freebies.
''For every traveller who books a ticket with Konga Travel, you enjoy the guarantee of best pricing.
"But on top of that, there are additional giveaway such as free shopping vouchers for First Class and Business Class tickets and 10GB data for every Economic Class ticket.
''This offer cannot be accessed anywhere else and it is line with our determination to continue to raise the bar of service delivery in the travel and tours industry, as we have done since inception,'' he stated.
Having emerged on the scene barely three years ago, Konga Travel – which was recently named the Most Innovative Agency by global airline, Virgin Atlantic, as well as Travel Agency of the Year at the 2020 Beacon of ICT (BoICT) Awards – has distinguished itself.
Within a short space of its existence, the company has grown more than 25% on a month-on-month basis, acquired all the requisite and major travel certifications and rolled out multiple physical store locations nationwide.