MTN Foundation Donates Musical Studio and Instruments to the MUSON School of Music
MTN Foundation has officially commissioned a music studio and musical instruments donated to the MUSON School of Music, as part of its support for creative arts in Nigeria.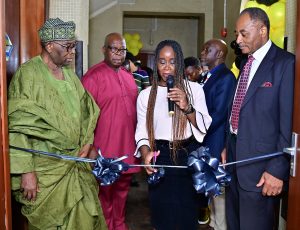 Speaking at the commissioning event, Odunayo Sanya, executive secretary, MTN Foundation, said: "Talent is one thing. But when you have a conducive environment, it enables talent.
"We want you to wake up every morning and ask yourself the question: what are you doing today? And when you do that, you become more intentional. We're doing this because we believe in you and we believe you have what it takes to brace global stages and showcase your talent."
"As we bring this gift to MUSON, we want it to be a gift that keeps on giving. We don't want it to end with us. We want it to be a gift that enables and changes narratives in Nigeria,"  said Sanya.
The items donated by the MTN Foundation include; a fully equipped digital music studio, 30 laptops, one unit of Professional 4 and a half Octaves Marimba, custom series, one unit of Malltech 4.0 Octave Bob Becker Ragtime Xylophone, one unit of Viscount Unico 400 Organ – A 3 manual organ with 32 notes pedalboard, 56 Register Tabs plus 7 Orchestral Registers, four Units of Stentor Conservatoire Violin, 3 Units of Armstrong USA Trumpets and 3 units of Essex EUP-116 Upright Piano.
Commenting on MTN Foundation's support, theMr. Louis Mbanefo (SAN), said: "The MUSON School of Music is a primary focus centre, and we are extremely fortunate that the MTN Foundation decided to partner with us in this exciting venture.
"We can't thank them enough for their support. No other donor has continued as much as the MTN Foundation. Asides the scholarships for our students, they went further to donate new instruments. This is only a testament to their generosity."
Since 2006, the MTN Foundation, in partnership with MUSON, has fully funded and developed over 350 music scholars, providing scholarship awards for a two-year diploma.
The awards cover tuition, transportation and resource materials among others, after which students are awarded an internationally recognised Diploma in Music on graduation.
Itel Launches Most Affordable Fast Charging Smartphone P38 Series in Africa
itel, smart life brand committed to providing affordable and good quality consumer electronic products boasting excellent user experience, has announced to introduce its latest flagship fast charging smartphones – P38 Series in Africa.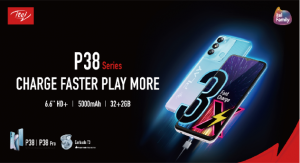 The First-Ever Fast Charging Smartphone of itel
Fast Charging makes everything faster and easier! P38 series are the first-ever smartphones which supports 15W fast charging function! The charging time is way faster compare to the last generation, support 3 hours talk in just 10 minutes charging time! The mega battery (P38 – 5000mAh, P38 Pro – 6000mAh) with the intelligent AI Power Master management system ensure the power in control and at the same time to enjoy maximum 230 hours music playback time, 22 hours for video and 7 hours gaming time.
Outstanding and Powerful Performance
P38 Pro powered by the powerful 64GB ROM+2GB RAM (P38 – 32GB ROM+2GB RAM) and 1.3GHz processor to bring users a smoothest-ever operating experience and the largest-ever storage capacity of itel smartphones.
Both devices pre-embedded with the Darwin Engine, which improved the smoothness and enhance the screen saturation, gives users a full-frame gaming experience, and the same time it helps to reduce power consumption, improve battery life, and offer a smoother gaming experience by the smart setting like hiding the notification during gaming time.
Large Display with Stylish Flagship Design
P38 and P38 Pro comes with the large and HD+ high resolution Waterdrop display (P38 – 6.6, P38 Pro – 6.82"), aim to provides users a ultra-large and immersive viewing experience. It also brings a premium look and feel, thanks to the super double camera and stylish metal stripe design. For the 2.5D glass covering, its slight curvature at the edge of the glass display makes the screen more exquisite and guarantees to provide  a comfortable grip for effortless streaming on the move.
Clearer Rear Camera to Capture All Important Moments
P38 packed with a8MP AF rear camera and 13MP AF rear camera of P38 Pro are created to provide users an upgraded and all-rounded photo-shooting experience. Allow users to capture their precious moments with clear and vivid photos.
Dual Unlock Mode to Further Protect User Privacy
In order to further protect user's privacy,  P38 Series has been upgraded and will come with face unlock and 8 functions fingerprint unlock. The face unlock & fingerprint dual unlock modes make P38 handy while keep user's data safe and sound!
There are 6 different colours available for P38 and P38 Pro respectively –P38 – Stellar Purple, Nebula Black and Spruce Green, P38 Pro – Night Black, Mint Green and Ocean Blue.
NCC Assures Underserved Communities of Ubiquitous Broadband Penetration
Nigeria's grass root communities and the underserved population of the country will not be left out of the national broadband plan when the implementation comes to fruition.
Speaking in Lagos at a session which discussed the critical issue of financial inclusion expected to be facilitated by a robust infrastructure deployment for broadband availability, Prof. Umar Garba Danbatta, executive vice chairman of the Nigerian Communications Commission, said the Commission is mindful of the infrastructure gaps in the country and therefore, committed to driving national digital economy to the grassroots.
"As a Commission, we have a mandate to ensure availability of universal access to telecom services irrespective of circumstances and location of Nigerians and other users in Nigeria," said Bruce-Bennet, who also informed the audience that voice communications enjoys over 100 per cent penetration.
The EVC of NCC who spoke through Freda Bruce-Bennet of the Digital Economy Department, reiterated the Commission's focus in supporting the quest for financial inclusion through provision of robust infrastructure such as broadband.
At the event hosted by Oriental News Nigeria, an online news organisation, at the Sheraton Hotels, Ikeja, Lagos, which focused on: "Engaging with Critical Grassroots Groups to Develop Effective Financial Inclusion Initiatives", Bruce-Bennet, said the Commission has been at the forefront of driving technology platforms required to drive increased access to financial services by all and sundry.
She cited the current implementation of an open access model (Infraco licensing) for deployment of broadband infrastructure in the six geopolitical zones, as well as Lagos (which enjoys a special status within telecom ecosystem), as one of the strategies adopted by the Commission to ensure a robust infrastructure deployments that will support many platforms that can accelerate financial inclusion.
Bruce-Bennet said that the Commission had facilitated strategic partnerships with the Central Bank of Nigeria (CBN), the Fintech Association of Nigeria (FintechNGR), the International Telecommunications Union (ITU), Rockefeller Partnership Agreement (RPA), and other government agencies, to promote Digital Financial Services (DFS) and Digital Financial Inclusion (DFI) in Nigeria.
Bruce-Bennet also stated that the NCC, through its Digital Economy Department, is fostering the development of a portal for the Association of Skilled Vocational Artisans of Nigeria (ASVAN) for information and digital training purposes.
At the event, the Chairman, Bank Customers Association of Nigeria, Dr. Uju Ogubunka, applauded the Commission for its regulatory efforts in creating an enabling environment for digitized financial inclusion, and charged the participants and other government agencies present to take advantage of the information portal of the Commission to glean necessary information because robust digital economy will, amongst other things, improve the standard of living of the people who are willing to harvest the benefits.
Blockchain: FG to Fast-Track Development of Healthy ICT Ecosystem for Emerging Technologies
Prof. Isa Ali Ibrahim (Pantami), minister of Communications and Digital Economy, has assured key industry players and indeed Nigerians of the Federal Government's commitment to create and enforce regulations that will Fast-track effective utilisation of Blockchain technology for the development of the Nigerian digital economy.
Prof. Pantami said this while delivering a keynote address on the Applications of Blockchain Technology for Intellectual Property (IP) Enforcement at the American Business Council event, in partnership with the United States Patent and Trademark Office.
The Minister who was represented by Dr Salihu Abdulkareem Arsh of the National Centre for Artificial Intelligence and Robotics (NCAIR), alluded to the fact that the theme of the event: "Blockchain for IP Enforcement; More than Crypto and NFTs" is apt and timely especially at a time when crypto currency is presently the headlines of financial losses.
The Minister noted that in today's knowledge based economy, an increasing share of business value is derived via intangible assets, which means success often depends upon the ability to manage and exploit IP.
He stressed that for that reason, businesses require managers to effectively acquire, govern and commercialize copyright-and patent-protected content.
"You would all agree that, traditional businesses that rely on IP-protected material are confronting internal and external factors that pose several key challenges. Internally, unsynchronized IT systems do not enable data to flow, creating friction to locate and comply with copyrights under control.
"Externally, firms are recently operating in more complex, and diverse business networks with the need to validate multiple IPs within a single transactions model", he said.
Prof. Pantami highlighted the benefits of Blockchain technology which he said represent a paradigm shift in how various companies protect their information exchange, adding that emerging technology provides a secure and fault-tolerant distributed ledger platform for transactions.
"No doubt, Blockchain technology has evolved greatly since the introduction of Bitcoin in 2008, the first decentralized peer-to-peer electronic cash system.
"Today, innovators in various fields are realizing the benefits behind this great technology. From medicine to agriculture, finance to governance, education to transport and across global supply chain; many sectors are looking for ways to integrate Blockchain into their infrastructures", he added.
While observing that governments and businesses all over the world are realizing the powerful usability of Blockchain, Prof. Pantami affirmed that the Federal Ministry of Communications and Digital Economy as well as its parastatals are not left behind, as they are inclined to employ the statutory responsibility towards innovative technologies, to develop corresponding strategies for a healthy ICT ecosystem that encapsulate emerging technology such as Blockchain.
He said, "It may interest you to know that one of the Agency's under my supervision, the National Information Technology Development Agency (NITDA), has developed a National Blockchain Adoption Strategy that seeks to facilitate effective utilisation of Blockchain technology for the development of the Nigerian digital economy.
"The strategy outlines the roadmap and schemes for the adoption of the Blockchain technology by government in its digital transformation agenda in a way that supports efficiency, transparency, and productivity".
Although, it is an established fact that the technology drives new businesses and service models, the Communications and Digital Economy Boss made it known that there is need to equally create and enforce regulations to protect citizens and ensure fair markets while letting innovation and business flourish.
He went on to register the Federal Government's concern on how the technology can be used to foster healthy growth of the nation's digital economy and safety through the right regulatory instruments and implementation strategy that drive the adoption of the technology by both public and private sectors.
"In this regard, we directed NITDA to develop a national infrastructure for the deployment of Blockchain solutions that integrate identity and incentive platforms, promote research and development, in addition, to focus on the skilling of the workforce, and create a procurement process to enable government agencies to adopt Blockchain solutions", he noted.
As a way of exploring ways to develop regulatory actions that would strike the right balance between facilitating innovation and mitigating new risks, the Minister confirmed that the ministry has further directed NITDA to introduce regulatory sandboxes that enable participants to test products and services on a small scale in a controlled environment, reducing innovation costs and barriers to entry.
These sandboxes, Pantami emphasized will also allow regulators to collect important information about innovative products before deciding which regulatory action to take.
"Through sustained engagement with stakeholders like you and many others, implementation of these regulatory guidelines would be enhanced and in turn, would engender a conducive regulatory environment for all players in the digital economy to thrive and fulfill their potential for prosperity and national development," he added.
Meanwhile, Prof Pantami enumerated that many IT issues still remain unresolved, such as "the interoperability of different Blockchain platforms, and legal issues such as data ownership, privacy, liability, and jurisdiction".
However, Pantami expressed his belief that with engagements such as the event, all business stakeholders and IP communities would reap the full benefits of Blockchain technology to promote innovations, support anti-counterfeit and anti-piracy operations; grow businesses, create jobs; entrench security, reliability, and transparency in all processes models.