MTN Plans to be Africa's Biggest Bank with Mobile Money Service
MTN, Africa's biggest mobile operator, is gunning to become Africa's biggest bank.
The ambitious business strategy was revealed by Rob Shuter MTN CEO during the Deloitte Africa in 2018 Outlook conference in Woodmead.
The company is encouraged by the progress made by its Mobile Money offering in other geographies that it operates in. This is despite MTN Mobile Money failing to gain traction in the South African market, with the telco eventually killing it off in 2016 due to lack of commercial viability.
MTN Mobile Money allows anyone with a mobile phone to send and receive money quickly, safely, affordably and conveniently.
"The core digital service that we have decided to put our money on is Mobile Money," said Shuter. "Mobile Money is really about leveraging the strength of the brand and leveraging the strength of the distribution because we have built a huge informal distribution network for prepaid airtime to bring customers into a transactional banking system."
He pointed out that MTN has deployed Mobile Money across 14 markets and "if we look at our 30-day active users, which is the most important matric, we are growing by half a million customers a month. I think that's pretty cool and today we are sitting at 21 million subscribers.
"We are a new age transactional banking provider and it's a very big imperative for us, and the key thing we want to do is to scale it rapidly."
According to Shuter, MTN wants to build Mobile Money into a 60 million customer business in the next three to four years.
"We will be the largest bank in Africa, leveraging scale, network, brand, infrastructure and distribution," he noted.
ICTEL EXPO 2020: Stakeholders Urge Nigerians to Seize Opportunities Provided by Digital Economy
Nigerians have been urged to seize the opportunities provided by the digital economy especially now, that the nation is seeking ways to overcome the restrictions imposed by the COVID-19 pandemic and are deploying technology needed for economic recovery and sustainability.
The Information and Communications Technology ICT, Stakeholders disclosed this at the virtual Information Communication Technology and Telecommunications Conference and Exhibition, ICTEL EXPO 2020 with theme: 'Exploring Opportunity in the Digital Economy', organized by Lagos Chambers of Commerce and Industry.
Mrs. Toki Mabogunje, president, Lagos Chamber of Commerce & Industry LCCI, speaking at the conference, said: "there is no better time to explore the opportunities provided by the digital economy than now when every nation is seeking ways to overcome the restrictions imposed by the COVID-19 pandemic. And as nations face dwindling growth, deployment of technology is key to economic recovery and sustainability."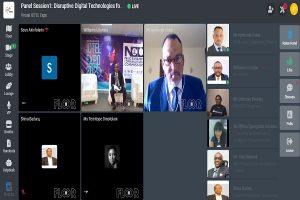 She explained that the new normal brought about by the Covid-19 pandemic has ensured that virtually all sectors have now leveraged ICT for optimal performance.
According to her, "This is evident in the financial services sector, where almost all banking transactions are conducted through digital channels, the agriculture sector, where sophisticated technologies, such as robots, temperature and moisture sensors, aerial images and global positioning systems, the GPS technologies, are largely employed.
"Nigeria has witnessed a phenomenal growth in its ICT sector over the past decade.
"The ICT sector remains one of the most resilient sectors of the Nigerian economy, even in the face of the COVID-19 pandemic.
"As a foremost private sector body in Nigeria today, established since 1888, the Lagos Chamber is providing, through this expo, an incredible platform, to advance the opportunities and linkages in the world of ICT", she concluded.
Dr. Isa Ali Ibrahim Pantami, minister of Communications and Digital Economy, while declaring the conference and exhibition open, said that globally, digital revolution is changing lives and societies, with unprecedented speed and scale, delivering immense opportunities, as well as associated challenges.
"As predicted by the World Economic Forum, over 60% of global Gross Domestic Product, (GDP), will be digitized, by 2022 and that, over the next decade, digital platforms, will be used to create, close to 70% of new value", Pantami noted.
The Minister, who was represented by the Executive Secretary, Universal Service Provision Fund (USPF), Mr. Ayuba Shuaibu, stressed that: "globally, businesses are shifting from brick and mortar form, to innovative enterprises driven by digital technologies and now is the time for business, enterprises and organisations, to reinvent and automate, to fit into the global digital economy.
"I want to congratulate the Director General and members of the Lagos Chambers of Commerce and Industry for organising this Information Communication Technology and Telecommunications Conference and Exhibition, ICTEL EXPO 2020, to spotlight this national discourse, on how we can take advantage of digital technology for accelerating our economy", he concluded.
Delivering her keynote address, Ms Funke Opeke, CEO/Managing Director, MainOne and Chairmperson, Presidential Committee on National Broadband Plan, identified three activities that will enable digital economy to work well in our clime. These include connectivity, a device and a platform that enables one to connect with parties at the other end.
"When we look at private sector participation in Nigeria and the challenges we face as an economy, especially with the recession, with the dip growth rate and high inflation economy that we have and I think the recognition, globally, that growth across the world can only be fuelled by digital adoption in the years to come. I think it is important that our government provide more support to the ICT industry", she concluded.
Some panel discussions also took place on the first day of the event, while some companies exhibited their products and solutions to the general populace, via the online virtual platform.
Ten Top Tips for Getting the Most Out of YouTube Music
YouTube Music offers a music streaming service that is personalised to you. For example, the same playlist will play in a different order for different people, based on your listening history, so the playlist hits the right note for you when you hit 'play'. And that's not the coolest thing it can do. Below we've outlined 10 things you need to know to get the best out of your YouTube Music.
It's all here. YouTube Music includes not just music videos, but official albums, singles, remixes, live performances, covers, artist radio, and hard to find the music you can only get on YouTube. YouTube Music Premium subscribers (N900 per month) can flip between audio-only and video by selecting the toggle in the upper right-hand corner of the app.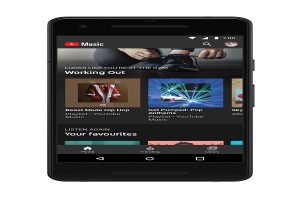 Completely customised for you. The Home screen dynamically adapts to provide recommendations based on what you've played before, where you are and what you're doing. From Sunshine Soul in the morning and Electronic Mind Focus at work to Elegant Dinner or Ultimate Hip-Hop Party at night. Plus if you have Location Services enabled, you'll see even more customised recommendations like 90s Pop Workout when you're at the gym.
The smartest search. We'll find the song, even if you can't remember what it's called. 'zig a zig ah'? Duh. "That rap song with flute"? We got you. You can also search by lyrics (even if they're wrong): it's "Starbucks lovers", right? Take YouTube Music search for a test-drive and see how far it goes!
Pro-tip: You can even search for the type of mood you're in or for what you're up to and get the right playlist for that vibe, whether that's music for a rainy day or a girls night out.
Go small screen or big screen. Hosting a party? Or just want to see the latest video dropped from Burna Boy? Push YouTube Music to your TV via Chromecast by tapping the 'cast' icon in the upper right-hand corner of the app.
Double-tap & hold it. Double-tap an item on your Home screen to play it right away if you don't want to see its detail page first. Long-pressing an item on Home is a quick way to see all the overflow menu items like Start Radio, Download, Share, and Add to Library.
Stay on top of culture with the Hotlist. For the hottest videos trending in your region, check out the Hotlist page. And after watching some videos, check back on the Home tab to see a personalised music video shelf and recommended live performance videos based on your history.
Endless personalised music in Your Mixtape. For a playlist made just for you based on everything we know about your musical tastes, hit play on Your Mixtape – found on your Home page – for a spot-on mix of your favourites plus some tracks for you to discover layered in.
No internet? No problem. For members of YouTube Music Premium, your Offline Mixtape automatically downloads on your mobile device. Perfect for commutes, flights, and all the other times you forget to download music in advance. And yes, paid members can also download songs, videos, albums or playlists too. Visit the Library tab to find it!
Pro-tip: Go to Settings → Downloads to customise the length of your Offline Mixtape. Plus you can ensure that downloads happen over Wi-Fi only and update the offline audio and video quality settings.
Save on data & bandwidth. To reduce mobile data charges, head to Settings where you can indicate streaming audio and/or HD video via Wi-Fi only and change audio quality while on mobile networks.
Is it Friday yet? On new release Fridays, check out the New Releases shelf on your Home page for a personalised selection of new singles and albums whether you're a metalhead, rap fanatic or classical music devotee.
If you haven't yet, you can get YouTube Music from the Play Store and App Store or check out the web player at music.youtube.com.
Mastercard Announces Fintech Express to Empower MEA Fintechs to Launch and Expand Rapidly
Mastercard has launched Fintech Express in the Middle East and Africa (MEA), a program designed to facilitate emerging fintechs' launch and expansion. Leveraging the power of partnerships and Mastercard's expertise, technology, and global network, startups will now be able to focus on innovation that drives the digital economy.
Mastercard Fintech Express is designed for all types of fintechs: established fintechs wanting a direct license from Mastercard; as well as fintechs with the ambition to innovate through collaborating with ready-to-go Mastercard Engage partners. As such, the program is split into three core modules: Access, Build, Connect.
• Access: Enabling regulated entities to obtain a Mastercard License and access Mastercard's network through a streamlined onboarding process
• Build: Fintechs as Processors/Enablers can become an Express Partner by building unique tech alliances and benefitting from all the advantages that Mastercard provides
• Connect: Fintechs/Start-ups, looking to add payment solutions to their suite of products, can easily connect with qualified Express Partners available on the Mastercard Engage web portal, and go live with Mastercard in a matter of days
The program supports digital payment innovators by making it simple to collaborate with Mastercard and its partners to launch new fintech products.
It is designed for fintechs looking to add payment solutions to their suite of products, tech-savvy startups looking at serving a new segment as well as established players with ambitions to innovate through partnerships.
Becoming an Express Partner helps brands simplify the launch of payment solutions, shortening the process from a few months to a matter of days. Express Partners will also enjoy all the benefits of becoming a Qualified Mastercard Engage Partner.
Gaurang Shah, senior vice president, Digital Payments & Labs, Middle East and Africa, Mastercard, said "Startups are forming diverse collaborations with traditional financial institutions, and in the process manage to enhance competitiveness, while also bringing services and products to market that can have a real impact on consumers.
"Mastercard is playing a central role in making fintech partnerships a reality as a single technology provider. Technological advancement and innovation are steering the digital financial services industry, where fintech players are becoming globally mainstream and an increasing influx of fintech players are competing with large traditional players.
"With today's announcement we are taking the next step in further empowering them to fulfil their ambitions of scale and speed".
In Africa, fintech startup funding is one of the most active business investments and Nigeria, South Africa, and Kenya represent the lion's share of investment.
The MEA region also currently has over 1,200 fintech players, covering everything from credit to insurance to wealth management offered through a centralized cloud-based platform.
Some of the early players to have joined forces and created alliances under the new Express Partner program across Sub-Saharan Africa are Diamond Trust Bank, DPO Group, Selcom and Tutuka.
"We are excited to partner with Mastercard under the Fintech Express program. The world has changed dramatically over the last few months and we are fast embracing a fully digital economy.
"As a bank driven by innovation, DTB is looking forward to collaborating with emerging fintechs in the region and providing them with the necessary support on their payment solutions," said Farouk Khimji, Head of Products & Innovation at Diamond Trust Bank Kenya.
"We are delighted to be Mastercard's preferred payments partner of choice on this exciting new initiative. Fintech Express will accelerate the ability of fintech firms to commercialize their operations and payments processes, driving financial inclusion and boosting business growth in Africa.
"We work with more merchants across more markets than any other payment service provider on the continent. The DPO Store, our e-commerce solution which is powered by Mastercard, enables merchants to set up integrated payments and a free e-commerce business website within 72 hours.
"The demand we have seen for the DPO Store demonstrates the appetite from business owners for effective, fast technological solutions," commented Eran Feinstein, CEO and co-founder of DPO Group, a leading African payment service provider operating in 19 African countries.
"Our seven-year partnership with Mastercard has enabled us to go the extra mile and achieve unmatched scale in key African markets, while focusing on product-market fit for our innovative payment offerings.
"The strategic partnership has helped us to not only share our learnings with other Mastercard partners, but also to enable Mastercard to attain local expectations and needs with our brand association and presence.
"During our three-year run in this programme, we've discovered that such partnerships are critical in order to deliver products that enhance customers' lives," stated Sameer Hirji, Executive Director, Selcom, the largest payment service provider in East Africa.
"Tutuka and Mastercard share a common goal – to allow fintechs to easily issue Mastercard payment tools whether virtual, physical or mobile.
"Through those fintechs, customers across Africa and the Middle East will have a simple route to use Mastercard, often for the very first time. This is true financial inclusion," said Rowan Brewer, CEO, Tutuka, a global payments enabler that powers millions of transactions every day.
Other players across Middle East and Africa are:
• Middle East & North Africa (MENA): Network International and First Abu Dhabi Bank
• South Africa (SA): Ukheshe and Nedbank
Mastercard Fintech Express falls under the umbrella of Mastercard Accelerate – Mastercard's overarching fintech platform that gives start-ups and emerging brands support and assistance for every stage of their growth and transformation, from market entry to global expansion. Mastercard Accelerate is comprised of four main programs: Fintech Express, Start Path, Engage and Developers.