National Addressing System is Key to Development – Musa
Umaru Musa, general manager Bulkpost, an arm of the Nigerian Postal Service has explained the whole idea behind the Postcode saying it is part of the Nipost management effort at repositioning Nipost. He said that Ibrahim Mori Baba, postmaster general of the federation's consciousness on the need for Nigerians to be able to get their items delivered safely and in tact ignited the recent effort to have a working postcode which Nigeria launched since 2000. He said the postmaster general is determined to ensure that all the salient and important national indicators that the Post ought to develop are put in place. Musa said that over the years Nipost had been trying to improve on the postcode system until this year the postmaster is more determined than ever to have an effective postcode system for the country.
By postcode, Umaru said we are simply talking about our identifiers, the indices through which one can be located within the country. In United Kingdom, Germany and Nigeria such a system is known as postcode while in other parts of the world they call it other names. In the United States for instance it is called zip code, pin code in India, all meaning the same thing. According to Umaru, what happens is that a country is divided into postcode zones for easy identification and basically postcode is of two types. It can be numeric or alpha-numeric. Musa explained that you can have postcodes that end in some word while you have others that are only numeric.
In the case of Nigeria, the whole country is divided into nine postal zones and the way it is zoned Musa explained is to create some level of historical contiguity. If we say 9 for instance, it means the whole of the north central area including the Federal Capital Territory, Niger, Plateau, Nassarawa and Benue states, while 1 is for Lagos and Ogun. 2 represents Oyo, Osun, Kwara and Kogi while Edo, Delta, Ondo and Ekiti share 3. Enugu, Anambra, Abia, Imo and Ebonyi have 4 whereas Rivers, Akwa Ibom, Cross River and Bayelsa have 5 as their postal code. Other remaining states are also constituted into their postal zones contiguously. Nigeria's postal code is 100000 and if you are in Lagos for example you have 100001 depending on the area of Lagos you are. In all cases the main general post offices in each state have to end in 1. Musa enlightened that postcode is normally made in such a way that one can identify delivery and originating office of every mail item the way it is used globally by building it into the National Addressing System. With the addressing system, it solves the issue of how you can identify a postcode zone to the street, also to the location and to the building.
Musa said the aspiration of getting a standardized national addressing system was responsible for the recent conference held late last month titled "Developing the Nigerian Addressing System as an Important Strategic Infrastructure for National Development" which was part of Nipost and Ministry of Information and Communications effort at moving Nigeria forward. He lamented that quite a number of Nigerians don't know their postcode even when the need for one to know his postcode is staring one in the face. Musa said to overcome some of these challenges of not knowing one's postcode informed some of the reasons for the recent effort to have a formidable postcode for the country. He informed that in the next few months that government will constitute a National Addressing Project Committee which Nipost is the prime mover to work towards realizing not only efficient postcode system but also an efficient National Addressing System for Nigeria. "Part of the effort of the present Nipost management is to ensure that a lot of issues as regards delivery and handling of mails are addressed. In a lot of cities and towns in Nigeria you can hardly get proper addressing system in terms of house numbering, street naming and in some cases street names are changed quite often. We need to have a steady and standardized system of addressing and numbering of our houses", Musa said.
On the implementation of the National Addressing Project, Musa said though the present postmaster general is desirous of implementing the project, it is not a project Nipost can finance alone. He said that as the PMG rightly pointed out, what we need in Nigeria is partnership among the various stakeholders to ensure that streets in this country are properly numbered. Since it is a national project Musa said Nipost is looking at a situation whereby there will be a national project team that will work in collaboration with state governments and local governments to ensure that we have even small towns and villages having this outlay to quicken development.
Moving beyond that, the system will provide a platform for tracking and can be used to deliver social services having a data base of organized information. Musa reiterated the objective of the just concluded workshop and said it was to bring together private stakeholders, ICT companies, banks, large mailers and various parastatals like the National Population Commission, e-Governance and others to explore areas of partnership considering that Addressing System is an important infrastructure for national development. He said even the banks today don't give out loan facility unless a third party is involved whereas in other parts of the world disclosing your postcode reveals every information about you such that it can be used to track one to his house.
Musa said that addressing system will help to move the country forward especially in the seven- point agenda of the federal government. With the addressing system he said you will be able to know the population of different areas in the country and the challenges in the general election in the country can be addressed.
On some of the challenges facing the delivery sector, Musa condemned what he called criminality in the capital market and said people will take people's dividend warrant and open an open with it and within a week or so the account is used to clear hundreds of thousands of naira. He wondered how banks could allow such a development when in the real sense of it a prospective customer is supposed to open account with his forms endorsed by referees. He said it is important that this criminality be stamped out for the development of the industry.
CBN Investigates 55 Companies over Forex Infractions
Amidst sustained pressures on Nigeria's official foreign exchange resources, the Central Bank of Nigeria (CBN), has opened investigations into foreign exchange transactions of 55 companies and individuals.
The apex bank linked them to foreign exchange deals outside the official Investors & Exporters (I&E) window.
The I&E window was created by the CBN as the legitimate platform for buying and selling of foreign currencies.
Some of the major corporate organisations in the list include Stallion Nigeria Limited, a conglomerate involved in several sectors of the Nigerian economy.
The list also includes Nigeria's leading electronic payment company, Interswitch Nigeria Limited, as well as a leading global shipping line, CMA CGM Nigeria Shipping Limited.
Other big names in the list include Petro-Afrique Energy Services Limited, Steel Force Far East Limited, Auto Petroleum Company Limited, Cavendish Mechanicals Limited, Aquashield Oil & Marine Limited, Haitch & Elf Integrated Services Limited, Fenog Nigeria Limited, and Promasidor Nigeria Limited.
OurTv Secures LaLiga Broadcasting Rights for Nigeria
OurTV, a DTH free TV broadcast satellite service provider, has secured broadcast rights for Laliga matches in Nigeria.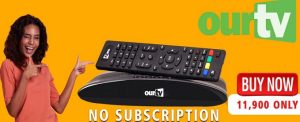 OurTV will broadcast Laliga Santander matches live on its Sports Channel 120.
Commenting on the development, Olushola Peters, Head of Marketing of OurTV, said: "This is one major milestone for OurTv and we want to thank our esteemed users, who have always believed and supported us. We value your input and suggestions as it is a core culture in OurTv to listen and please our viewers as much as we can."
OurTv is a Direct-To-Home (DTH) TV broadcast satellite service with onetime payment of set-up boxes that offers over 18 unique and exciting channels with the use of homegrown services.
NAVSA: NITDA Changes Existing Reality in Agricultural  Sector
By Lukman Oladokun
"You never change things by fighting the existing reality. To change something, build a new model that makes the existing model obsolete" —Buckminster Fuller
We live in a time of digital transformation and it is driving change in all areas. The ubiquitous nature of ICT in revolutionising every human endeavour has made its adaptation also in agriculture universally popular. Developed nations are achieving food sustainability due to early adoption of ICT in their farming processes.
In a report to the G20 Agricultural Deputies in 2017 on Information and Communication Technology in Agriculture by the Food and Agricultural Organisation, (FAO), by 2050, the world population is expected to surpass 9 billion and for the world to meet the attendant increase in food demand, agricultural production will need to increase by 60 percent from its current level in order to meet the additional global food need. Application of ICT to collect and share timely and accurate information on weather, inputs, markets and prices to the stakeholders in agricultural value chain would play a significant role to meet the global food demand.
In Nigeria, with a population of about 200 million and 48.84 percent of the population in agricultural sector which provides employment for about 30 percent of the population, the importance of adoption of ICT to farming techniques cannot be over-emphasized. It is in recognition of the importance of sustainable food systems for food security and growth and the need to provide targeted information to every farmer that necessitated the federal government of Nigeria to mandate NITDA "to improve food production and security" and also "to ensure that the entire citizenry is empowered with Information Technologies through the development of critical mass of IT proficient and globally competitive manpower".
The Agency has swung into action to actualize these mandates through many initiatives. As far back as the beginning of the millennium, the Agency entered into partnership with the United Nations Economic Commission for Africa, (UNECA) to produce the Nigeria ICT4D document which details the roles ICT could play in rejuvenating 12 critical sectors of the economy, with agriculture taking a prime of place.
As part of the efforts to help farmers in Nigeria adopt more efficient and sustainable production methods and reduce the burden of labour-intensive tasks and manage their farms better to help build a more resilient, sustainable and productive food system, the Agency in 2019 initiated a value addition process for agriculture named National Adopted Village for Smart Agriculture (NAVSA), an ecosystem-driven digital platform envisioned for the transformation of the agricultural sector in Nigeria. It is envisaged that the programme would assist the farmers and other stakeholders in agricultural ecosystem to navigate the journey across sector value-chain which involves farm production and management of their produce.
The main thrust of the programme is the integration of digital technologies and innovations to improve productivity and income of farmers and other ecosystem players in a bid to reposition agriculture as a viable business that has the potential of attracting the youthful population in the country.
At the launch of the pilot phase of the program in Jigawa State, one of the states that have comparative advantage in agriculture, the Minister of Communications and Digital Economy, Dr Isa Ali Ibrahim Pantami observed that "the way agriculture is practiced needs to be modernised and transformed in such a manner as to encourage young talents to set up agriculture enterprises and position agriculture as a major means of economic diversification and growth, thereby increasing its contributions to the nation's GDP."
An in-depth analysis of the programme reveals it is aimed at helping the administration of President MuhammaduBuhari achieve  two of the three cardinal objectives of the administration by transforming the economy and fighting insecurity.
The pilot started with 130 farmers who were "adopted" into the programme. Expectedly, the initiative would give rise to new agricultural business models and opportunities that would stimulate huge potential in job and wealth creations with attendant effect of playing a major role in the diversification and shift from monolithic economy the nation is known for.
Arguably, previous government's initiatives aimed at putting the agricultural sector on a pedestal to ensure food sufficiency could not be said to have been successful largely due to dispassionate mind-set of Nigerian youths who do not see a viable future in venturing into agricultural businesses.
This is occasioned by the retention of the old-fashion agricultural practices; inadequate provision of credit facilities, market to sell farm produce and other challenges.
Nowadays, with digital technologies making incursion into every human endeavour, coupled with relatively-large technological-savvy youths, a good articulated programme like NAVSA would proffer solutions to those challenges.
In his remarks at the closing of the two weeks long training on how the youths can use digital tools for agricultural purposes, the DG NITDA Mallam Kashifu InuwaAbdullahi maintained that the agricultural sector remains one of the critical sectors of the economy that can leverage digital innovations to create jobs, wealth and build a vibrant digital economy for Nigerians.
He however, decried the position of the sector in the usage of technological tools as dismal, adding that "agriculture remains one of the least digitised sectors in Nigeria despite its potential as one of the most veritable sectors for economic diversification."
The twin challenge of meeting the domestic food requirement for attainment of a food sufficient nation and production of quality produce required for domestic and international market which are occasioned by inadequate access to appropriate information almost in real-time; inadequate entrepreneurship ideas and poor knowledge of agricultural value chain opportunities for existing and emerging Agricprenuers would eventually be  things of the past with the proper implementation and adoption of the programme. These will be achieved by providing information to stakeholders through the introduction of digital technologies and innovation across agriculture value chain in transformative manner.
In mitigating these challenges, the project focuses on adoption of "radical rethink" and collaborative approach between the public and private sectors that operate across the value chain. To achieve this, a proposed strategy which requires consensus building and connecting ecosystem players towards a shared vision has been identified.  NITDA, using NAVSA, intends to collaborate with 22 industry players, with each player entering into agreement or signing a Memorandum of Understanding (MoU) on expected roles it will perform.
The ecosystem includes farmers; Federal, State and Local Governments; input suppliers and produce off-takers; mobile/telecommunications service providers; Banks; FinTech; smart solutions service providers; renewable energy service providers; investors; development partners; agriculture platforms; startup businesses, agriculture experts and extension workers among others. The values these partners would bring to the success of the programme is alluded to at the closing ceremony of the training at Dutse,Jigawa State by the State Governor, His Excellency Mohammed Badaru. He confirmed that NITDA has partnered with telecoms operator, (MTN) and has developed a special package for smart farmers which comes with 4G SIM cards with a one year internet data subscription. Other add-ons to the digital tools include certified seeds, smart water pumps machines, fertilizers and other items.
He stated further that "NAVSA created a wallet scheme with seed capital of N200,000 for each smart farmer. Both the state government and NITDA contributed half of the amount each. The wallet scheme is designed to domicile money for proper projects execution whereas JASCO will serve as farm inputs service provider.
In ensuring that funds for the project are not used for other purposes rather than what it meant for, the project is designed in a way that all transactions are required to go through the platform with the aid of the digital wallet. Funds are not allowed to exchange hands and the only way a farmer could access the fund is through request on the platform to a NAVSA-registered input supplier.  In making it a self-sustaining venture, it is also designed in such a manner that allows smart farmers to plough 75 percent of their profits back to the open wallet where it can be cashed out and the remaining balance of 25 percent goes into a restricted wallet to increase the investment capital.
This laudable initiative intends to create 6 million jobs in the next 10 years. This may look so ambitious but the strategies put in place to accomplish the aspiration are well tailored with articulated Key Performance Indicators that provide clear guidelines for it. The strategy is targeted at adopting farmers in all 36 States and 774 LGAs in the country, support and equip them with skills and resources that will make Nigeria one of the leading nations in food sufficiency, security and exportation.
It has now become imperative more than ever before to adopt the use of technology to combat hunger and promote sustainable agricultural practices that are attractive to youths. Digital technologies and innovations are at the heart of managing agriculture value chain from seedling to off-take. And these are that targets of NAVSA going forward.