Ndukwe leads Speakers to Wafict Congress 2009
Ernest Ndukwe, executive vice chairman, Nigerian Communications Commission (NCC) is to lead an intimidating list of experts to fashion out how best to deploy new technologies to sustain the growth in West Africa's Information and Communications Technology industry at West African ICT Congress.
Engr Ndukwe will be delivering the keynote address at the congress, taking place alongside the ninth edition of the West African International Telecommunications and Information Communications Technology exhibition (W.Afri.Tel) in Lagos.
Ndukwe's profile as a key and prime mover in Africa and global telecom arena has since soared to an all-time high beginning from 2001, when, as Executive Vice Chairman of the Nigerian Communications Commission, he organized the most transparent auction exercise yet in Africa, which was also internationally applauded.
That singular step immediately put Nigeria on the world map; and ever since the attendant introduction of GSM in Blackman's most populous country, the growth in mobile telephony as well as telecom generally, has continued to beat all known expert projections, with high promises of the growth curve remaining positive for many years more to come.
Ndukwe has gained recognitions both nationally and internationally. He has been Man of Year on at least two occasions at the highly respected Nigerian Information Technology and Telecom Awards, and has been honoured with the Member of the Order of the Niger (MON), and was recently crowned Africa's Best Telecom Regulator in far away Johannesburg, South Africa, a feat he first achieved last year.
But for the unassuming Engr. Ndukwe, Wafict Congress 2009 will be an opportunity to explore more opportunities and technologies that help in pushing the benefits of the telecom revolution in the sub-region to not just more people, but more places, especially the rural areas.
Other speakers for the congress also include Mr. Mohamed Jameel, the group chief operating officer of Globacom. In his capacity as group COO, Mr. Jameel oversees Nigeria's Second National Operator's activities across Africa. It is on record that Globacom has since become an exporter of both services and knowledge from Nigeria. To date, Globacom has operations in the Republic of Benin while its operation in Ghana, which it already has a licence, is scheduled to commence any time soon.
Indeed, Globacom, which is the platinum sponsor for Wafict Congress 2009, has an ambitious vision of building Africa's biggest and best telecommunications network. The company is working to achieve this vision, through various products and services, as well as an aggressive rollout programme across Nigeria and Africa. Its undersea fibre cable, the Glo One, for instance, is at an advanced stage nearing landing in vital countries of the sub-region.
More so, Wale Goodluck, corporate services executive of MTN Nigeria; MTN Nigeria, which is the gold sponsor for Wafict Congress 2009, is the country's leading mobile phone operator, a position it has held since commencing operations in 2001. MTN Nigeria has since become the leading subsidiary in the MTN Group's operations across Africa and the Middle East.
Another key speaker is Thami Msimango, a man with double responsibilities: he is the managing director of Multi-Links Telkom as well as the MD of Telkom International Business Unit. Msimango, who took over the affairs at Multi-Links a couple of months ago, is bubbling with ideas and the plans that his company has lined up for the Nigerian telecom industry. He will be sharing these ideas during the three-day event, which Multi-Links Telkom is sponsoring also as silver sponsor.
"We are assembling the best brains from across the world so that they can bring to West Africa what the sub-region needs to continue to be on the front burner of global telecom growth," says Mkpe Abang, editor-in-chief of IT & Telecom Digest, adding that the list of speakers given so far is not exhaustive, as there are many more others that will be lending their expertise and experience to participants at the Wafict Congress 2009.
MTN Launches 'Visitor SIM', Designed for Guests Coming into the Country
MTN Nigeria has announced the introduction of its new Visitor SIM specially designed for guests travelling into the country.
The Visitor SIM comes pre-loaded with an appealing package that includes local and international call and data bundles.
This package will enable people visiting from other countries to stay connected with their friends, family and business associates on MTN's super-fast network.
MTN VisitorSIMs are easy for inbound international visitors to acquire, activate and use, in addition to which they offer far better value than any roaming tariff.
Not available from any other operator, the service is poised to deliver convenience and the best-in-class customer experience in line with MTN's brand promise.
According to Adekunle Adebiyi, chief sales and distribution Officer, MTN Nigeria, "The new Visitor SIMs will ensure that before setting foot outside the airport, people visiting Nigeria can plug in, reconnect – to loved ones, associates, tools and information, and begin sharing their remarkable experiences, with no concern about roaming charges."
MTN Visitor SIMs are available in the arrival halls of international airports and other ports of entry.
They are valid for 14 days, which can be extended up to 30 days via MTN's self-service menus or USSD.
Nigeria COVID-19 Response: UNICEF, IHS Nigeria Collaborate to Contribute Medical Supplies
United Nations Children's Fund (UNICEF) received the delivery of 115,800 COVID-19 test kits to support the fight against the COVID-19 pandemic in Nigeria. These supplies were funded by IHS Nigeria, the Nigerian subsidiary of IHS Towers.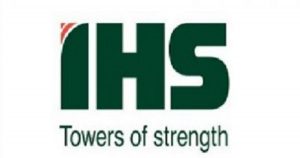 Testing remains the mainstay of the response led by the Presidential Task Force and Nigeria Centre for Disease Control (NCDC) and the first step towards diagnosing the infection. Tests enable health officials to understand the COVID-19 status of an individual and link that person to care, support and treatment while contributing to the protection of families and communities.
"Testing remains a core strategy of Nigeria's response to COVID-19. This is critical for understanding the burden of the disease on our population and targeting our response activities accordingly. The primary goal of the Nigerian Government is to control the spread of this disease.
"This donation from IHS Nigeria through UNICEF will contribute to the national stockpile of test kits managed by NCDC, and support efforts of the growing network of accredited laboratories across the country for the testing of COVID-19. We are grateful for the continued support from UNICEF, IHS Towers and other partners." said Dr. Chikwe Ihekweazu, Director General, NCDC.
IHS Towers has been a strong and continuing partner of UNICEF. At the onset of the coronavirus in Nigeria in late February, IHS Nigeria provided funding to UNICEF to urgently procure essential supplies and equipment with which UNICEF supported the Government of Nigeria in its COVID-19 response.
"UNICEF is deeply appreciative of IHS Towers' commitment to being a partner in UNICEF's work in Nigeria. Once more, IHS has shown great generosity in supporting UNICEF's ongoing efforts to work closely with the Government of Nigeria in the fight against COVID-19.
"I am very delighted to receive this huge contribution from IHS Towers, the benefit of which will reach many more children and their families", said Peter Hawkins, UNICEF Country Representative.
"We are proud to have played an important role in supporting the Government and our communities where we operate to provide crucial tools needed to fight this pandemic. We understand this virus is here to stay for the foreseeable future, but are confident that with our support, and that of our other private sector colleagues, we are helping to manage and mitigate the impact of the virus in our country" said Mohamad Darwish, Chief Executive Officer of IHS Nigeria.
This recent support of essential tests makes IHS Towers the biggest private sector donor for UNICEF Nigeria's emergency response to the COVID-19 pandemic.
Coca-Cola, Red Cross Society Expand Fight Against COVID-19 In Nigeria
In a bid to support the fight against the Coronavirus disease, the International Federation of Red Cross and Red Crescent Societies (IFRC) along with its national society Nigerian Red Cross (NRC) has started the distribution of PPEs and risk communications efforts to the tune of N228 Million to support its COVID-19 interventions in Nigeria.
This is part of The Coca-Cola Foundation's $2.5million grant to the International Federation of Red Cross and Red Crescent Societies (IFRC) to support the COVID-19 pandemic within the West and Central Africa sub-regions.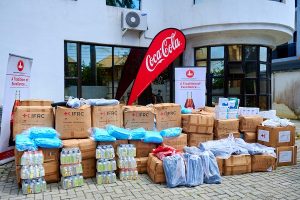 The grant, which leverages the long-standing partnership between The Coca-Cola Company and the International Federation of Red Cross and Red Crescent Societies (IFRC), seeks to support national efforts in the fight against the Coronavirus disease through the provision of essential medical supplies, personal protective equipment (PPE) and risk communications to impacted communities, healthcare personnel on the frontlines and treatment centres across the country.
Speaking on the donation, Yebeltal Getachew, managing director, Coca-Cola Nigeria Limited, explained, "The Coca-Cola System (Coca-Cola Nigeria, Nigeria Bottling Company and Chi Limited) remains committed to providing support to the communities we serve during these challenging times.
"By providing healthcare workers with much-needed PPEs, we are confident that this will go a long way in ensuring their safety as they remain on the frontlines of the fight against COVID-19.
"Coca-Cola is proud to support the Red Cross as we deliver on our purpose of making a difference across the world". 
Medical supplies being donated comprise N95 respirators, surgical masks, examination gloves, face shields, medical gowns, no-touch thermometers, disposable aprons, heavy-duty rubber gloves, rubber boots, basic masks, disposable gloves, and hand sanitizers.
Expressing his gratitude for the donation, Abubakar Kende, secretary-general for the Nigerian Red Cross Society explained, "We have identified the facilities in urgent need of these PPEs in consultation with NCDC and the Federal Ministry of Health and will subsequently be distributed to these centres.
"This will ensure that treatment centres across the country are properly equipped with necessary PPEs as we continue to fight the disease".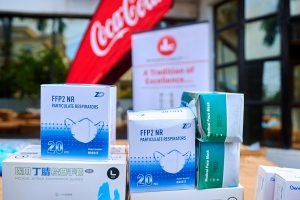 IFRC seeks to directly impact the lives of over 1.4 million people in Nigeria and across other countries in West and Central Africa under this partnership. For over a century, The Coca-Cola Company and the International Federation of Red Cross and Red Crescent Societies (IFRC) have sustained a rewarding partnership that has seen the rehabilitation and preservation of human lives across the world through the delivery of humanitarian aid and emergency response to communities affected by disasters.