Nigerians Abandon 9.1m BVNs in Banks- NIBSS
Nigeria Inter-Bank Settlement System Plc (NIBSS) has reported that 9.1 million Bank Verification Numbers (BVN) are inactive in various banks nationwide as at December 31, 2019.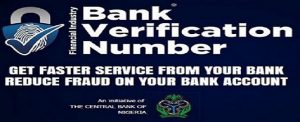 The report just published by the NIBSS indicated that out of the 40.4 million total BVN enrolments, only 31.3 million BVNs remained in all banks as the end of last year.
The NIBSS report also showed that Nigerians abandoned 300,000 bank accounts in the first quarter of 2020 (Q1'20).
data showed that the number of inactive bank accounts rose by 0.7 percent or 300,000 to 45.87 million in Q1'20 from 45.57 million in Q4'19.
The number of current accounts operated by bank customers also declined by 1 million during the period. This represents a deceleration in the rate of bank account exits as compared to the 2.2 percent decline recorded in Q1'19.
The data also showed that the number of savings account in Q1'20 grew QoQ by 19 percent to 113.95 million from 95.92 million in Q4'19 and up YoY by 28 percent from 89.1 million in Q1'19
Quarter-on-quarter (QoQ), the number of bank accounts rose by 15 percent to 143.19 million in Q1'20 from 124.85 million in Q4'19 and up year-on-year (YoY) by 18 percent from 120.92 million recorded in Q1'19.
Further analysis showed that the number of current accounts QoQ dropped by 4 percent or one million to 24.28 million in Q1'20 from 25.28 million in Q4'19 and down by 15 percent or 4.3 million from 28.56 million in Q1'19.
The data on ATM operations showed a total number of 17,518 ATMs as at December 2019, with a total transaction volume of 839.8 million valued at N6.5 trillion between January to December 2019.
Jaiz Bank Posts N2.4bn Profit
Jaiz Bank Plc, Nigeria's premier non-interest (Islamic) bank has released its 2019 audited results for the period ended December 31st, 2019, declaring a Profit After Tax (PAT) of N2.4 billion.
The figure, according to a statement from the bank, represents a remarkable leap of 193% from N834.4m realized in the corresponding period of 2018.
In the report submitted to the Nigerian Stock Exchange (NSE), the bank declared a 135% growth in Profit Before Tax (PBT) for the period under review from N879.7m as at December 31st 2018 to N2.1bn as at December 31st 2019.
Key extracts of the report showed that Gross Income grew by 80% to N13.5bn as at December 31st 2019 from N7.5bn in the previous year, while the Bank's Total Assets also grew by 54% to N167.27bn from N108.46bn.
Attesting to the increasing public interest in Islamic finance products, the earning per share of the Bank surged up to 8.30 kobo per share as against 2.83 kobo per share in 2018, signifying an increase of 193%.
Commenting on the impressive performance, Hassan Usman, Managing Director/Chief Executive, said: "the major driving force was the deliberate efforts to satisfy our customers, which was evident in the significant growth in the deposit base and risk asset portfolio."
During the year under review, the Bank deepened its support for the MSME sector with targeted intervention to meet diverse needs of small-scale bourgeoning entrepreneurs.
The Bank also invested more on IT infrastructures, improved its E-banking channels that made it easier for customers who prefer to bank on the move than through the mundane visitations to banking halls.
NAICOM Extends Insurance Firms Recapitalization
The National Insurance Commission (NAICOM) has split the industry recapitalization process into two, extending the recapitalization deadline to September, 2021.
The segmentation was contained in a circular issued by the commission Wednesday, June 3 with title "Segmentation of minimum paid up share capital requirement for insurance companies in Nigerian," referenced: NAICOM/DPR/CIR/25-04/2020, signed by the Director Policy &Regulation, Mr. Pius Agboola, for the Commissioner for Insurance, Mr Sunday Thomas.
According to the circular, insurance companies in the first phase are required to pay 50 per cent of their minimum paid up capital by 31st December 2020 and the remaining 50 per cent in the second phase by 30th September 2021.
Reinsurance firms are also expected in the first phase to pay 60% of their minimum paid up capital and 40 per cent in the second phase.
The circular states, "the incidences of COVID-19 pandemic has made it difficult to proceed with the 31st December, 2020 recapitalization deadline. A review of the recapitalization deadline therefore became imperative in order to mitigate likely negative consequences of the pandemic on the exercise
"The Commission hereby extend and segment the recapitalization process into two phases as follows: 50 per cent minimum paid up capital for insurance and 60 per cent for reinsurance shall be met by 31st December, 2020; insurance companies are required to fully comply with the approved minimum paid up share capital not later than 30th September, 2021."
The commission also urged insurers to comply fully with the required minimum paid up capital at the end of the recapitalization exercise on 30th September, 2021.
"Any insurance company that fails to satisfy the required minimum paid up capital by the end of 31st December, 2020 may be restricted on the scope of businesses they will transact" NAICOM warns.
It would be recalled that the commission had issued circulars referenced NAICOM/DPR/CIR/25/2019 dated May 20, 2019 which introduced the new capital requirement for insurance companies in Nigeria and NAICOM/DPR/CIR/25-03/2019 dated December 30, 2019 which extended the deadline for recapitalization.
Uzoma Dozie's Sparkle Gets Banking License, Launches Services
Sparkle, a digital ecosystem providing financial, lifestyle and business support services to Nigerians across the globe, has launched services after being granted a banking license by the Central Bank of Nigeria (CBN).
Sparkle offers comprehensive support for individuals, including flexible payments, savings and analytics to provide greater freedom, flexibility and control over finances and lifestyle once and for all.
Powered by data and technology, Sparkle is launching a mobile app – available for iOS and Android – giving customers full and free access to one account that offers multiple services and different wallets.
Sparkle's users will be provided with visibility over spending patterns, with a detailed breakdown of payments by category.
Tools such as Sparkle Stash, a savings tool aimed towards specific goals, are included.
Users will also have the ability to split payments and bills, make utilities and bill payments, as well as send and receive money in the Sparkle network and with other local banks. Customers will also have access to Indy – a 24/7 financial buddy and customer services chatbot.
Sparkle has been founded by tech investor and financial inclusion advocate Uzoma Dozie, the former chief executive officer of Diamond Bank.
Dozie, commented: "Sparkle will be transformational for Nigerians across the globe and I am hugely excited to be launching it today. Sparkle is redefining Nigerian commerce by merging financial services with a seamless lifestyle solution. We are removing barriers using technology and data, driving inclusion at scale. In doing so, we are empowering Nigerians to fulfil their potential, democratizing access to valuable solutions for both business and personal needs."
Sparkle is partnering with VISA, Microsoft and PwC Nigeria to achieve its vision of redefining Nigerian commerce. The partnerships will provide industry leading expertise in APIs, cloud computing, data science, machine learning, tax and financial advisory services for the benefit of Sparkle's customers. The services offered by Sparkle are all licensed by the CBN.
The launch of Sparkle comes at a time when most of Nigeria's population (79%) have mobile connectivity, with 39% having access to mobile broadband connections1.
This young and growing population – currently over 195 million people2 – are also digital natives, with social networks forming part of everyday life.
The impact of Covid-19 continues to be felt across Nigeria, accelerating the transition to more digitally enabled lifestyles. As such, there is a real opportunity for digital-only propositions like Sparkle to meet Nigeria's needs, for individuals and small businesses to remain connected and thrive, both now and in the future.
Dozie continued: "We are working with global partners to unleash freedom, flexibility and transparency in Nigeria. We are helping to drive forward the growth of Nigeria's budding entrepreneurs and individuals. Join us to make history as we enter the future of commerce and look towards this exciting phase of growth."
Sparkle has recently joined Women's World Banking, working to ensure greater financial inclusion for women, their families and communities in emerging markets, where Dozie was previously a Board member.
Sparkle has also joined Open Banking Nigeria, collaborating with Nigeria's financial services industry to transform and advocate open banking in Nigeria, and to lead the way in Africa too.
Sparkle was founded on the values of trust, transparency, freedom, inclusivity, simplicity and personalization.