NIMC, Identity Management Crisis in Nigeria and the Way Forward
By Gbenga Odegbami
Identity management is important and cannot be overemphasized. It is so strategic that almost all the past government administrations in Nigeria since 1976 have considered it a critical space for development.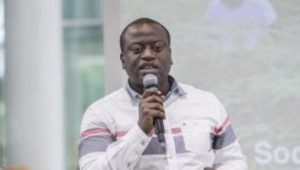 Recently, the Presidency, via the Office of the Secretary to the Government of the Federation (OSGF), inaugurated a Steering Committee for the Nigeria Digital Identity, to develop the Ecosystem Project to ensure that issues of identity management stay at the forefront and ensure that the government achieves its objectives.
Considering that my company, Youverify, is a key player in the Nigerian identity management ecosystem, some stakeholders have repeatedly sought my opinion on developments in this industry. Here are my thoughts on how Nigeria arrived at where we are presently, lessons learned from history and steps to achieve the nation's identity management objectives.
So far, we have spent some much, with little results
The World Bank has estimates that Nigeria is on the track to spend about $4.3b on identification and addressing programmes. This figure seems realistic when you consider the fact that Nigeria spends an average of over $500m on each voter registration cycle before an election.
To ensure that the thrust of this article is not missed, I will refrain from focusing on the two major factors that affect every public initiative in Nigeria;  the first being corruption (the bogeyman of all problems in Nigeria, according to popular perception), while the second is lack of continuity after the change of regime.
So let's examine the issues that really count.
Citizens' identity management is beyond the BVN
A review of the Biometric Verification Number (BVN) exercise conducted within 18 months less that the time frame prescribed by the Banker's Committee (lead by the CBN) agreed to shows it was successful a successful initiative. However, some stakeholders believe that it is focused only on the financially included, thus, excluding more than 60% of the population. For this reason, the BVN cannot be used for voter registration or economic intervention in Nigeria i.e. National Social Register (NSR).
Nevertheless, we cannot ignore the gains from adopting the BVN, especially within the Fintech space and the resultant economic value and security we enjoy today. I believe that if we galvanize the identity system to cover for almost all Nigerians, the economic impact will be widespread.
NIMC Has its Challenges
As human in a democratic society, we are quick to blame the government agencies for failed systems without really considering the requirements and realities of operating such systems in our polity.
Perhaps you are among those who applied for the National ID 4 years ago and have not received it. Statistically, transformational projects such as a National ID scheme have an average of 30% success rate of meeting their objectives across the globe. Nigeria is not an exception. I have analysed four factors, from my perspective, responsible for the failure of the National ID scheme.
Value to Citizens
The bottom line is ID compliance is largely driven by the perceived value to citizens. For many years, we have repeatedly failed to emphasize this point, and people only wilfully submit to an identification process when they appreciate the benefit or need for them.
For instance, the success attributable to the adoption of the Permanent Voters Card is largely due to the desire of people to vote during elections. Even still, INEC has registered just above 80m Nigerians in 2 years.  For the BVN, you cannot partake in the financial ecosystem without one, therefore you must enrol to participate.
The success of all National identification efforts in other countries is because the citizens are required to use it to access social intervention/ insurance/retirement packages and to file personal income taxes.
In Nigeria, this never existed until the creation of the National Social Investment Office (NSIO) (now Federal Ministry of Humanitarian Affairs). However, this ministry is focused on the vulnerable and poor for now and it therefore excludes some section of the populace.  I believe we don't have enrolment problem but a value one.
Funding
Like all non-revenue generating agencies, NIMC struggles with obtaining timely funding to achieving its stated objectives. We perpetually run a budget deficit, and the focus seems to be on capital-intensive infrastructure project for the real sector, while other projects, like citizen identification, are neglected and pushed to compete with other the projects designed to provide basic services like food, jobs etc. The balance is grossly uneven and agencies like NIMC are forced to halt or delay in delivering on their objectives.
I doubt if NIMC has gotten $200m combined from inception and they have enrolled more than 40m Nigerians, which is significantly productive based on the data from other climes. As important as NIMC's mandate is, it has struggled to get the funding it required because we have so many competing priorities.
Silos in Government
Although we have had presidential committee(s) to ensure harmonization of identity management efforts, often such committees stymie the effort on the long run. This issue is not unique to Nigeria. Government agencies led by political appointees and career civil servants naturally protect their empire or try to increase it.
Considering that political powers and organizational influence are at play here, the silos in Nigeria can be as complex as it gets. Even though NIMC operates an open-door policy with other agencies, it takes more than open-door policy to tango in government even with direct presidential oversight.
Technology appropriateness
The technology deployed for identity biometrics has evolved significantly over the years, making this the process more accessible, efficient and affordable. NIMC ought to stay updated with developments in technology. Considerable time is required to identify the technology and complete the procurement process, which is be hampered by government bureaucracies.
I will illustrate this malaise When the project commenced execution, there were cheaper alternatives in the market. For instance, the NIMC smart card was ahead of the game and probably the most forward-thinking ID approach. Today, the tech space has moved on to digital identity apps on smartphones and blockchain-based platforms.
In the same vein, not too long ago, you needed: a physical location with an agent, a digital camera with specific background, a desktop computer, 4-4-2 fingerprint scanner, a printer, electrical power and internet connection, to conduct an enrolment exercise. Presently, these processes can be replaced with an app on a smartphone and executed at the fraction of the cost and with the same or higher data quality.
Comparison with the BVN Exercise
Let us consider the challenges listed for NIMC ID-ing in comparison to the BVN project:
The value proposition and narrative for the BVN exercise were easy and simple for all citizens to understand. Furthermore, the use and access of bank accounts was tied to the BVN thus making it mandatory.
The BVN was well funded from commencement and it is still funded through a sustainable model that doesn't require government grants.
It does not have to deal with government silos because executed within financial industry where government plays a regulatory function mostly.
The timeline between planning and execution was very short so technological changes in the landscape did not affect the execution of the project.
The INEC registration exercise enjoyed similar circumstances with the BVN.
Speaking objectively, the OSGF and NIMC comprise of erudite individuals with relevant experience, who have consistently tried to address these factors within the legal and procedural frameworks available to them.
Suggestions on the way forward
Based on the existing roadmap, NIMC secured funding approval from the World Bank, as part of Africa ID4D, to accelerate enrolment and create the infrastructure to achieve becoming the foundational IDs for all other programs. The cost is pegged at $4-7 per person. For NIN to be a viable foundational ID, enrolment must be done for at least 51% of the population.
Considering that our population is forecasted to grow exponentially to 450m people by 2050, NIMC needs more funds to successfully deliver on its mandate. Based on World Bank estimates, it  should cost between $400m – $700m to complete. Assuming funding issues are resolved, we have 3 more factors to consider.
The first and arguably most unpredictable factor is the risk associated with change of power, post-election. Every new administration seeks to change the social order, whether or not such change is necessary or relevant. This disrupts the execution of time bound deliverables. I recommend that shorter time frames be implemented to ensure NIMC closes the project at least 10 months before the next election.
The second factor is creating a value-rhetoric among the citizens. The existing approach is to basically forces people to use NIN by making the certain agencies to require it before rendering services. While this is a brilliant approach by NIMC, we will probably not capture 50% of Nigerians this way because the majority of the citizenry do not interact with these agencies requiring the national ID.
We need a more aggressive and all-encompassing social net and rhetoric for all Nigerians to help prepare Nigerians for the realities of Nigeria post-identification, and to  accelerate universal ID enrolment. In addition, social net helps government agencies at levels increase tax coverage and compliance, thereby increasing revenue.
The third factor is the influence of government silos. The bid to solve this problem was the reason NIMC has been domiciled under the presidency, and not the ministry of interior. That was why we have had data harmonization committees and the reason the president has formed the new digital identity committee. Our best bet is to understand their challenges, support the incumbent process and hopes we make sizable progress before a new administration comes in 2023.
Is a Private Sector Partnership the Answer?
Stated plainly, yes! The final factor and most crucial factor in expediting this exercise is understanding technology appropriateness  and responding to the changes by implementing suitable and relevant technology to ID citizens. It is not hidden that suitability and speed are extremely important to the success completion of this exercise, thus the best approach is to leverage on the private sector.
INEC used an overwhelming amount of its funding and private sector ingenuity to achieve their enrolment numbers. CBN and Bankers' committee used the technological advancements and financial industry structure and efficiency to make BVN compliance a success.
NIMC and OSGF need to engage with the private sector to work towards achieving the mandate. Presently, there is a thriving, robust and internationally-recognized identity industry that can mitigate against the issues faced in our ID projects.
For example, the traditional industry watchers typically focus on fingerprint standards and operational environment required for enrolment, i.e. electrical power, physical space, training etc. Today's leading identity players do not need a computer, physical space, electrical power at the location, or a dedicated device for fingerprinting to achieve the desired quality.
Moore's law, artificial intelligence (AI) and other disruptive technologies have ensured processes like identity enrolment keep improving and getting more affordable and accessible to all with little effort. Locally, we have indigenous platforms like Youverify that enjoy a reputation for having tested experience in executing efficient and fast ID processes, using the best and most current available technology.
The present technology employed in the identification industry results in a reduction in the need for space, internet connectivity and power across the nation. These will also create new opportunities for self-enrolment and enable anyone with a smartphone to become an enrolment agent. That's millions of jobs in the offing!
If we are worried about the possibilities of impersonation, AI will help solve that concern. AI has created so many possibilities in the imaging space that can help uniquely identify millions of people. The best part is that the chances for human errors are largely minimized.
Technology will also foster global usability especially now that the government is pushing for e-services as an aftermath of the COVID-19 pandemic. Nigeria does have a huge talent base, a ready ecosystem, data privacy framework and digital economy focus to drive this pending transformation. The big question is, are we willing to align our ID structures to these new realities?
If we are willing, NIN can drive a new national digital economy in the same manner BVN drove a digital revolution in the banking space.
The question is when.
Dr. Gbenga Odegbami is a co-founder and the CEO at Youverify Inc. Youverify is a Lagos-based digital identity firm that facilitates the automation due diligence and compliance by using data-driven initiatives and related-technology. 
Verve Rewards 600 Customers in Good Life Promo
Africa's leading payment technology and card brand, Verve International, has rewarded 600 customers so far after the third weekly draws in the ongoing Verve 'Good Life' Promo.
Verve rewarded the lucky cardholders at prize presentation ceremonies held in various locations across the country recently.
Amongst the 300 lucky cardholders that emerged winners of the N10,000 cash prize in the weekly raffle draws that have held three times were: Adeleke Moshood, a student from Oyo State; Adeogun Shakiru, an automobile specialist and Rashidat Abolaji, a businesswoman, both from Lagos State.
Another set of 300 Verve cardholders emerged winners of airtime worth N5,000, bringing the total amount won so far to N4.5 million Naira.
Speaking during the draws, Cherry Eromosele, Group Chief Marketing and Communications Officer, Interswitch Group, expressed her delight about the number of cardholders that have been rewarded lately.
Eromosele reiterated Verve's resolve to continue to provide secure, convenient and reliable payment solutions for its cardholders.
She said: "Because our cardholders are of priority to us at Verve, beyond providing them brilliant payment solutions, we are rewarding them for their loyalty with the expectation that the reward helps them achieve the good life, whatever the good life means to them".
Verve recently launched a nationwide promo tagged The Verve 'Good Life' Promo which kicked off on September 1, 2020 and will run till November 29, 2020.
The promo seeks to enable Verve's loyal cardholders to live the good life, whatever the 'good life' means to them.
The promo is targeted at rewarding over 2,500 Verve cardholders nationwide, with over N27million Naira in cash and airtime, during the course of 12 weeks duration of the promo.
With three weeks concluded out of the twelve weeks of the promo, Verve cardholders have eight more weeks to keep transacting with their cards and standing the chance to win.
Other Nigerians presently without Verve cards but have the desire to enjoy the good life, can take advantage of this eight-week window to ask their respective banks for a Verve card in order to start transacting, to qualify to win from an array of exciting prizes.
The prizes have been categorized into four segments, with their respective qualification requirements as follows:
Weekly Prize category 1 – N10,000 cash for 100 winners weekly, requires at least 3 transactions weekly. Weekly Prize category 2 – N5,000 for 100 airtime every week, requires at least 3 transactions weekly.
Monthly Prize category – N50,000 cash for 50 winners every month, requires at least 12 times monthly Grand Prize category – N1,000,000 cash for 2 winners, requires at least 36 transactions from now till the end of the promo.
Prospective winners of the Verve 'Good Life' promo should consistently use their Verve cards within the next eight weeks, across payment channels such as Point of Sale (POS) terminals, Automated Teller Machines (ATMs), Web and agent banking centers.
World Cleanup Day: Coca-Cola Partners NGOs, Recovers Over 900kg of Plastic Waste
World Cleanup Day, celebrated globally on September 19, 2020, saw diverse people come together to combat the solid waste problem through numerous community cleanup activities.
To mark this day, Coca-Cola Nigeria Limited partnered with two local NGOs – African Cleanup Initiative and Mental and Environmental Development Initiative for Children (MEDIC), on cleanup activities across Lagos and Ibadan.
African Cleanup Initiative held cleanup activities across numerous locations in Lagos, Ogun and Oyo states. This outreach saw more than 200 volunteers gather to collect over 1,500kg of solid waste materials and about 300kg of recyclable waste materials.
At the Lagos event, the Permanent Secretary, Lagos State Ministry of Environment and Water Resources, Mrs Belinda Aderonke Odeneye, applauded the programme.
She expressed the Lagos State Government's delight at being part of the cleanup activity. Odeneye, who was represented by the Assistant Director, Sanitation Services Department of the Ministry, Mrs Toyin Oguntola, went further to encourage citizens to be environmentally responsible.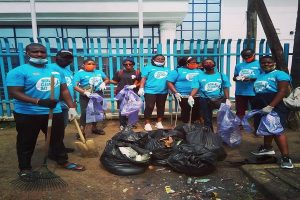 She stated, "The government can only perform excellently with law-abiding citizens. We all have a role to play in waste management and ignoring those responsibilities will make all the efforts of the government futile". 
Similarly, the International Coastal Cleanup held at Bonny Camp Coastline by Mental and Environmental Development Initiative for Children (MEDIC) also produced outstanding results with about 600kg of marine plastic waste materials recovered and over 250kg of marine debris sent to the landfill. The outreach saw participation from over 100 volunteers.
These activities are in line with Coca-Cola's vision for a World Without Waste and the company's commitment to doing business sustainably.
Speaking on its World Without Waste initiatives, Nwamaka Onyemelukwe, Public Affairs, Communications & Sustainability Manager, Coca-Cola Nigeria Limited, explained, "We all have a responsibility to keep our environment clean and Coca-Cola is not left out as we remain committed to promoting a sustainable environment through our plastic recycling and recovery activities, as well as other environmental initiatives".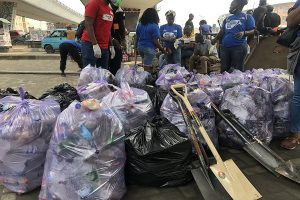 With the award of grants of over $800,000 by The Coca-Cola Foundation to multiple local NGOs, several recycling and women empowerment programs are being implemented to help address the issue of environmental protection while simultaneously empowering women who remain significant pillars of the environment.
TETFund Seeks Increased Annual Research Funding of $1bn
The Tertiary Education Trust Fund, TETFund, Thursday, urged the federal to increase its yearly funding for Research and Development (R&D) to $1 billion. This was as it hailed President Muhammadu Buhari for his recent increase of the research grant from N5 billion to N7.5 billion.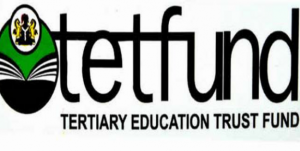 Prof. Suleiman Bogoro, executive secretary of TETFund, speaking at the inauguration of TETFund's R&D Standing Committee in Abuja, said massive investment in research would bring about the much-needed development in the country.
Bogoro also said it was time for the promulgation of a law that will bring into full place what he referred to as the "National R&D Foundation (NRDF)" to deepen research in the country.
Hear him:"To galvanize our vision towards making R&D the ace and game changer in our national development agenda, the need for an appropriate law to support the establishment of a National R&D Foundation (NRDF) cannot be overstated.
"We need a robust institutional framework and arrangement for the NRDF. I am recommending a minimum annual budgetary threshold of 1billion dollars as the funding portfolio for this Foundation.
"When we consider the inevitable benefits of R&D and the inevitable benefits of R&D and the socio-economic challenges in Nigeria, this amount begins to look like a drop of water in the ocean-population of 200 million people in 2020 and projected to become double in 10 years for now."
Prof. Bogoro, who said the TETFund's R&D Standing Committee is expected to come up with its own recommendation on the required amount that is suitable for efficient research activities in the country, called for a robust collaboration between researchers and the private sector to bring about all-round development in the country.
"It is envisaged that the private sector of the economy should pick the gauntlet to steamroll the lofty initiative by taking ownership of it," he said.
Prof. Bogoro lauded the recent performance of Nigerian universities in the world's ranking, saying TETFund intervention projects have continued to encourage such feats.
On his side, Minister of Education, Malam Adamu Adamu, while inaugurating the committee, called on members to put their best to the work he described as 'national assignment.'
Represented by the Minister of State for Education, Hon. Chukuemeka Nwajuiba, Adamu said that continued investment in research would herald a rebirth of Nigeria.
"Nigeria voted us into power predicated on our being able to transform our national aspirations and make them a national achievement.
"It is in recognition of this direction that the Executive Secretary, TETFund, presented his vision of a research-driven nation and how to finance that ambition through the Board of Trustees (BOT).
"To a large extent, Nigeria's future depends on you. You have been summoned to a national service that is not available to the rest of the 200 million population. It is a national calling that requires almost all of you," he said.
On his part, the Chairman, House Committee on Tertiary Education and Services, Hon. Aminu Suleiman said the work of the committee would open the windows of opportunities to tackle various developmental challenges confronting the country.
Suleiman, represented by Hon. Ikenna Elezieanya, lamented the way Nigeria has shown less concern to research, saying that many developed countries invested in research and development and thus helped to improve on their economy.
He said, "Research is the gateway of innovation. It is said that while countries like the USA, Korea, and the like have been investing in research and development, we seem to show less concern."
He encouraged beneficiaries to take good advantage of the initiative to solve problems for the betterment of the country.
Responding, the Chairman of the over 160-member TETFund's R & D Committee, Prof. Njidda M. Gadzama, said the epoch-making event will transform the socio-economic sector by ensuring the robust promotion of cutting-edge innovations.
"We promise to carry out our assignment with commitment and diligence and this will result in the R & D Culture and R&D Foundation to drive industrialization of the country," he said.
The standing committee whose membership is drawn from the academic, industry, and private sector, has the President of the Manufacturers Association of Nigeria, MAN, Mansur Ahmed, as one of the three Vice Presidents.