Operators Face 'Perfect Storm' of Commercial and Tech Challenges in 2014
Mobile operators are facing a 'perfect storm' of challenges in 2014 according to wireless experts Real Wireless.
The independent consultancy is warning that carriers have yet to grasp the scale of technological and commercial challenges that will start to hit in 2014, with many completely lacking a strategy to cope.
The analysis was taken from a landmark manifesto, launched yesterday, looking at every aspect of the wireless industry in 2014 and beyond, from 5G to small cells, spectrum, backhaul, M2M and more. These issues affect not just operators but regulators, vendors – and all of those that use wireless technology, from consumers to transport operators, stadium owners or enterprises.
With the wireless industry under unprecedented financial pressure and subscribers demanding ever more from their wireless service in terms of better coverage and more capacity, while technology complexity continues to accelerate, Real Wireless has found that 2014 will see a multitude of issues and challenges come to a head.
"We've taken a look at every aspect of the wireless industry, from spectrum to technology, the economics, the locations people are using wireless and the commercial opportunities. All included we've found that mobile operators are facing a perfect storm of challenges starting from this year. The next few years pose an unprecedented challenge, and few operators are preparing for it," said Professor Simon Saunders, Director of Technology and co-founder of Real Wireless.
"While there's never an easy time to be an operator, technology challenges are increasing in complexity at the same time as financial pressures bite. More CapEx is needed to support data traffic growth, improve coverage and build out 4G, but revenue & ARPU are under strain – indeed, in Europe the industry has moved ex-growth."
Some of the challenges include: Small Cells. Sophisticated operators have developed plans for seizing the opportunities of small cells, and see them as an important source of competitive advantage.
Crucially, the technology enables them to re-engineer processes and human capital. They also involve partnering and outsourcing more operations, often to landline operators and MSOs. Other operators risk being commercially blind-sided.
5G is coming faster than many appreciate, with vendors demonstrating technology and standards activity progressing. However, as complex as spectrum has been for LTE, with UEs having multiple product SCUs to complicate roaming, it will be even harder for 5G.
There will be increasing tension between mobile operators, satellite operators, broadcast TV and other spectrum users. Few operators or regulators are prepared for these issues, which will come to the fore at WRC15.
Having 2G, 3G, 4G and 5G all running, all interacting and all needing spectrum will be a technical nightmare and financially insupportable – yet few carriers have planned for how to switch off any of their technologies – while growing use of M2M on 2G complicates this.
2G will be largely unaffected this year, but pressures to eventually phase it out will grow progressively. Meanwhile, other operators will make serious plans to phase out 3G in favour of 4G.

Wireless consumers and users are becoming more demanding. The remorseless growth in traffic poses its own challenges, but they are also increasingly unwilling to accept poor coverage.
Enterprises, stadium owners, retailers are increasingly aware of this, and see good wireless service as business critical.
Some operators have developed strategies for how to serve this demand in a responsive and cost-efficient way. Others are in jeopardy of falling behind.
2014 will see change at both ends of the technology scale. It is difficult to phase-out 2G with concerns from rural users and the growing M2M market, but operators need to develop plans quickly. At the same time, Real Wireless warns that 5G is appearing on the horizon and operators need to plan for the next wave of generation upgrades, migrations, devices and service shifts.
Operators will also need to manage increasingly complex spectrum-sharing arrangements and roaming agreements.
"What will make 2014 different from any other year is that there are so many big challenges across such a wide range of areas all at the same time," added Saunders.
"We're anticipating further consolidation of both networks and operators as demanding consumers and new market entrants put pressure on an industry that is already seeing its growth slow."
The Real Wireless manifesto, 'How wireless will – or should – evolve', is available to download free of charge here. Bringing together the views of experts across the wireless industry, it highlights the challenges and opportunities for the sector over the next 12 months, with insights from the Real Wireless on how to best shape mobile and wireless strategies.
NCC Moves to Review International Termination Rate for Voice Services
The Nigerian Communications Commission (NCC) has embarked on a cost-based study to set the new pricing regime for mobile international termination rate (ITR) for inbound international voice calls in the country.
The ITR is the rate paid to local operators by international operators to terminate calls in Nigeria.
As part of the process for the rate determination, the Commission has organised a virtual stakeholder engagement forum with relevant industry stakeholders to intimate them with the ongoing cost-based study and the need to cooperate with Messrs Payday Advance and Support Services Limited, the consultants engaged to carry out the study
Addressing the stakeholders in Abuja recently, Prof. Umar Danbatta, executive vice chairman of NCC, said the study has become imperative following the various implementation constraints arising from contending industry and market dynamics that met previous efforts at finding an optimum price for the termination of international voice services in Nigeria.
Danbatta, who was represented at the forum by Adeleke Adewolu, executive commissioner, Stakeholder Management, NCC, said through the new ITR pricing, the Commission will be able to balance the competing objectives of economic efficiency and allowing operators the latitude to generate reasonable revenue.
The EVC, however, explained that in 2013, the Commission issued a determination stating that mobile termination rate (MTR) rates were the same irrespective of where the call originated, a clause he said was largely misconstrued by operators at that time to mean that ITR should be the same rate as the MTR.
He said this led to operators ignoring the international cost portion, where ITRs were agreed at MTR level without a positive residual to cover the costs of the international leg for local operators.
"As a result of this, the ITRs continued to decline, in line with the MTR glide path and as the ITR was set in Naira, it suffered a further downward slide in dollar terms following the currency devaluation.
"Ironically, the Nigerian operators paid the international operators in dollars to deliver international calls which created an imbalance of payments as the ITR in Nigeria declined," he said.
As a result, Danbatta said Nigerian operators' profitability and commercial results were negatively affected putting Nigeria's ITR below that of most countries with which it makes and receives the most calls, thereby making Nigerian operators perpetual net payers.
"This has, therefore, led to undue pressure on the nation's foreign reserves, which continue to get depleted by associated net transfers to foreign operators on account of this lop-sidedness, hence the need for Nigeria, with volatile currencies, to regulate the ITR to prevent or mitigate the imbalance of payments with international operators," the EVC said.
According to Danbatta, where ITR is not properly regulated, it tends to have a negative effect on a market like Nigeria with major supply-side challenges and associated socio-economic implications.
"So, setting a rate substantially above the MTR has resulted in a number of repercussions. One of such is the consumer shift to online channels as calls are increasingly made through Internet Protocol (IP)-based technologies such as Skype and WhatsApp because of high international call prices.
"To this end, an economically-efficient ITR that is cost-based will maximise economic benefits to all stakeholders," Danbatta told the stakeholders.
Earlier in her remarks, Director, Policy, Competition & Economic Analysis, Yetunde Akinloye, said the forum is aimed at formally engaging with and sharing the perspectives and insights of industry stakeholders and ultimately enlisting their collective support in relation to the inputs and requirements towards the determination of a mutually- realistic ITR in Nigeria.
She noted that the project commenced on March 10, 2020 with a kick-off meeting but was stalled by the challenges associated with the COVID-19 pandemic, necessitating the need to explore emerging channels of engagement to move forward and ensure the completion of the project.
Akinloye reiterated the Commission's commitment to continuously provide a conducive environment and level-playing field for the effective interplay of factors that would sustain market development and growth, while ensuring the provision of qualitative and efficient telecommunications regulatory services for the benefit of consumers and licensees.
Ericsson Accelerates 5G for Enterprise with Acquisition of Cradlepoint
Ericsson has agreed to acquire Cradlepoint, the US-based market leader in Wireless Edge WAN 4G and 5G Enterprise solutions. The investment is key to Ericsson's ongoing strategy of capturing market share in the rapidly expanding 5G Enterprise space.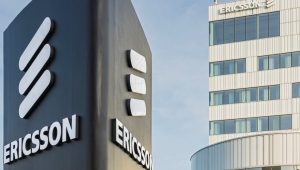 Cradlepoint complements Ericsson's existing 5G Enterprise portfolio which includes Dedicated Networks and a global IoT platform.
The combined offering will create valuable new revenue streams for customers by supporting full 5G-enabled services for enterprise, and boost returns on investments in the network.
Cradlepoint will become a fully owned subsidiary of Ericsson while continuing to operate under its existing brand. Cradlepoint employees will remain within the company, headquartered in Boise, Idaho. It will be part of Ericsson's Business Area Technologies & New Businesses.
The acquisition price amounts to an enterprise value of USD 1.1 b. with the transaction expected to close before the end of Q4 2020, subject to closing conditions. The purchase price, which is funded from Ericsson's cash-in-hand, is paid in full on closing.
Cradlepoint's sales for 2019 were SEK 1.2 b. with a gross margin of 61%. Ericsson's operating margins are expected to be negatively impacted by approximately 1% in 2021 and 2022 – where half is related to amortization of intangible assets which arise from the acquisition. Cradlepoint is expected to contribute to operating cash-flow starting in 2022. Ericsson's 2022 group financial targets remain unchanged.
Wireless wide area network (wireless WAN) Edge solutions connect through 4G and 5G to deliver fast, secure, and flexible connectivity wherever and whenever it is needed for businesses, mobility and critical frontline emergency services. Cradlepoint is strongly positioned in a market with underlying growth of 25-30%.
Börje Ekholm, President and CEO Ericsson, says: "Portfolio-near acquisitions are an integral part of our earlier communicated strategy. The acquisition of Cradlepoint complements our existing offerings and is key to our strategy of helping customers grow the value of their 5G network investments. Ericsson is uniquely positioned to build on Cradlepoint's leadership position in Wireless Edge and the wireless WAN market.
Combining the scale of our market access and established relationships with the world's biggest mobile operators we are making a strong investment to support our customers to grow in this exciting market. I would like to extend a very warm welcome to all Cradlepoint employees."
George Mulhern, CEO and Chairman, Cradlepoint says: "We have led the way in bringing the power of cellular networks and technologies to enterprise and public sector customers – helping them connect beyond the limits of traditional wired WANs. Ericsson with its global 5G leadership is a great match for us and I am very excited to continue to scale and expand our business together."
Founded in 2006, Cradlepoint has more than 650 employees, providing wireless WAN solutions that deliver enterprise-grade connectivity. In addition to the company headquarters in Boise, Idaho, USA, the company operates a research and development center in Silicon Valley, California, and new market offices in the United Kingdom and Australia.
Cradlepoint's subscription model combines cloud-delivered software with hardware endpoints, support and training.
Ericsson's long-standing collaboration with Cradlepoint dates back to the launch of 4G in the U.S. market more than a decade ago.
Startups & Investors Set to Meet Virtually at the ISN Hubs Annual Gathering & Demo Day
Innovation Support Network, Nigeria's largest Hub network, is giving ten startups from across the country the opportunity to pitch before local and foreign investors at its inaugural Demo Day on September 24.
The ISN Demo Day is part of the two-day ISN Annual Gathering 2020 which would be holding virtually from 23 – 24 September, 2020.
The ISN Annual Gathering is the biggest convention of Hub founders, administrators, key partners and stakeholders and is targeted at growing visibility, building sustainable models and driving collaborations for the growth of Hubs as Entrepreneur Support Organisations in the country.
This year's Annual Gathering "Stronger together – developing frameworks for collaboration" is very relevant at this time when Hubs and other members of the tech and innovation ecosystem need to become more collaborative.
In addition to the Annual Gathering, ISN Hubs would be hosting the ISN Hubs Demo Day on 24 September 2020.
Selected startups from within the ISN Hubs network would pitch virtually to an audience of investors, Corporates as well as members of the Development & Impact Community.
According to the Chairman of ISN Hubs, Tomi Davies, the ISN Demo Day is an opportunity for Angel investors to get a front-row view of some of the startups including a few outside of Lagos and Abuja, which they previously may not have had access to.
"This is a great opportunity for Hubs to showcase the startups that they are supporting, for startups to show what they are working on and the solutions that they are creating and for investors to get a better understanding of what is happening in the Nigerian tech and innovation ecosystem. It's a win-win-win for everyone". He concluded.
The first ISN Annual Gathering was held on 23 and 24 October 2019 at the Civic Center, Lagos. This year, due to the prevalence of post-COVID limitations on public events, the Annual Gathering would be held virtually on 23 and 24 September 2020.
Fayo Williams, partnership director, ISN, stated that "moving the event online has actually created an opportunity for us to reach a larger audience – not just across Nigeria but indeed, across the World."
The event would hold for two days via Zoom and would feature two-panel sessions on Understanding the Innovation Support Ecosystem as well as Stimulating demand for homegrown solutions on September 23.
As a follow on to the second session on Day 1, the ISN Demo Day would hold on September 24. Register here to attend.
Innovation Support Network (ISN Hubs) is a not-for-profit Business Member Organisation made up of over 100 entrepreneurship, impact, innovation and technology Hubs across Nigeria.
ISN Hubs champion policy, drive collaborations and promote structures that help grow Nigeria's innovation ecosystem. A Hub is an environment which provides Entrepreneur Support Services to startups by providing access to four critical resources: skills, infrastructure, funding and network. Hubs include business incubators, startup (or seed) accelerators, co-working spaces, makerspaces, hackerspaces and other structured innovation environments.