Operators Fret over NP, Loss of Subscribers
Number portability, a landmark initiative which allows subscribers to move freely from one network to another, whilst still retaining their original number, is causing disquiet as operators weigh the impact of the implementation, Nigeria CommunicationsWeek can now reveal.
Already hailed as the next big thing, number portability service will only be available to global system for mobile communications (GSM) subscribers and not the ones using code division multiple access (CDMA) technology for now.
It comes with many benefits including lower tariff, increased competition and improved network while allowing new operators to gain market share.
Nigeria CommunicationsWeek gathered that number portability will be available in the second half of this year subject to the recommendation of the committee set up by the Nigerian Communications Commission (NCC) to work out the modalities.
But telcos are weighing the impact of the initiative from two different angles as capable of making or marring their operations.
While some operators see number portability as a cash cow and incentive to improve quality of service and customer care options, others fret over erosion of subscribers because of their record of poor service and inexcusable customer care.
Nigeria CommunicationsWeek gathered that early beneficiaries of number portability will be the subscribers especially those particular about service quality, friendly tariff regimes, extensive network coverage and superior customer care service.
For operators, it is an opportunity to shore up the rapidly declining average revenue per user (ARPU) on the long run because they can then actually provide a breakdown of factors driving revenue growth.
In simple terms, number portability can help operators measure the success of their service quality, tariff regimes, network coverage and customer care service.
Nigeria CommunicationsWeek also gathered that transition to number portability is expected to be less stressful for operators as most have switches built in 2000, which are number portability compliant.
Just as number portability presents some immense benefits; it also comes with challenges including cost and sometimes, reluctance of subscribers to embrace the initiative.
Some people opposed to number portability say that the programme is costly and cumbersome in respect of length of time to execute porting, the frequency a customer could port and the allocation of costs associated with number porting versus the current cost of new starter packs.
Also, experience in other countries where number portability has taken off show the reluctance of subscribers to port their numbers.
In South Africa where MNP has been in place since November 2006, only 280,000 subscribers out of 48 million subscribers had ported their numbers in the first two years of operation..
Beware of Fake Recruitment Form on Social Media- EFCC
Economic and Financial Crimes Commission (EFCC) has urged members of the public to be beware of a fake recruitment form on social media.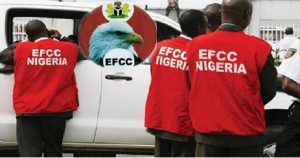 The anti-graft agency, in a statement at the weekend, disclosed that it was not recruiting at the moment as being claimed by those behind the fake recruitment form.
According to the EFCC, some fraudsters are also circulating forged Offer of Employment Letters, purporting same to be from the agency and extorting members of the public.
Jobseekers have, therefore, been advised to ignore the scheme because as a structured organisation, recruitment into the EFCC is done transparently through a merit-driven process.
It further said when more hands are needed in the agency, such vacant positions are always heavily advertised through the mass media and on its social media platforms.
The statement, which further noted that its recruitment process is highly automated and has no place for the so-called Employment Form, disclosed that those perpetrators of this scheme would be hunted and prosecuted.
"The EFCC wishes to alert the public about fake EFCC Recruitment Form 2021 circulating in the social media and to warn that the Commission is currently not recruiting.
"Bent on defrauding hapless job seekers, [some fraudsters] have been active in the social media, providing a link for unsuspecting members of the public seeking employment into the EFCC, to obtain EFCC Recruitment Form 2021/2022 and Guidelines Form and apply for the ongoing EFCC recruitment 2021".
"Fraudsters are also circulating forged Offer of Employment Letters, purporting same to be from the EFCC, and extorting members of the public.
"The public should note that, there is no ongoing recruitment in the EFCC. The purported 'EFCC Recruitment Form 2021', as well as the official recruitment portal and Offer of Employment Letters, are non-existent.
"For the avoidance of doubt, recruitment into the EFCC is a structured, transparent and merit-driven process which is always heavily advertised through the mass media and the Commission's social media platforms. It is highly automated, with no place for the so-called Employment Form.
"The EFCC is on the trail of the scammers behind this devious scheme as no efforts will be spared to bring them to justice.
"The commission urges the public to cross-check any doubtful information with the agency through [email protected]," the statement read.
Heirs Holdings Acquires 45% Per Cent of OML 17 from Shell, Total and ENI
Heirs Holdings ("HH"), the leading African strategic investor, in partnership with affiliated company Transnational Corporation of Nigeria Plc ("Transcorp"), Nigeria's largest publicly listed conglomerate, announced the unconditional acquisition of a 45% participating interest in Nigerian oil licence OML 17 and related assets, through TNOG Oil and Gas Limited (a related company of Heirs Holdings and Transcorp), from the Shell Petroleum Development Company of Nigeria Limited, Total E&P Nigeria Limited and ENI.
In addition, TNOG Oil and Gas Limited will have sole operatorship of the asset.
The transaction is one of the largest oil and gas financings in Africa in more than a decade, with a financing component of $1.1 billion, provided by a consortium of global and regional banks and investors.
OML 17 has a current production capacity of 27,000 barrels of oil equivalent per day and, according to our estimates, 2P reserves of 1.2 billion barrels of oil equivalent, with an additional 1 billion barrels of oil equivalent resources of further exploration potential.
The investment demonstrates a further important advance in the execution of Heirs Holdings' integrated energy strategy and the Group's commitment to Africa's development, through long term investments that create economic prosperity and social wealth.
Heirs Holdings' heritage and approach to business fundamentally underscores its commitment to inclusive development and shared prosperity with its host communities. Heirs Holdings is fully invested in the development of the Niger Delta region.
Heirs Holdings' strategy of creating the leading integrated energy business in Africa is executed through a series of strategic portfolio holdings.
Transcorp is one of the largest power producers in Nigeria, with 2,000 MW of installed capacity, through ownership of Transcorp Power Plant and the recent acquisition of Afam Power Plc and Afam Three Fast Power Limited. Transcorp closed the US$300 million Afam acquisitions in November 2020.
Transcorp supplies electricity to the Republic of Benin, as part of an emphasis on promoting regional integration and delivering robust power supply to catalyse development in Africa.
Transcorp also operates OPL281, under a production sharing contract with the Nigerian National Petroleum Corporation ("NNPC").
Similarly, Heirs Holdings' subsidiary, Tenoil is the operator of OPL 2008, under a production sharing contract with NNPC. Tenoil also owns the Ata Marginal Field, which will commence production in Q2, 2021, with 3,500 barrels of oil per day.
Tony Elumelu, chairman of Heirs Holdings, stated: "We have a very clear vision: creating Africa's first integrated energy multinational, a global quality business, uniquely focused on Africa and Africa's energy needs. The acquisition of such a high-quality asset, with significant potential for further growth, is a strong statement of our confidence in Nigeria, the Nigerian oil and gas sector and a tribute to the extremely high-quality management team that we have assembled.
"As a Nigerian, and more particularly an indigene of the Niger Delta region, I understand well our responsibilities that come with stewardship of the asset, our engagement with communities and the strategic importance of the oil and gas sector in Nigeria. We see significant benefits from integrating our production, with our ability to power Nigeria, through Transcorp, and deliver value across the energy value chain."
Speaking further, he said "I would like to thank Shell, Total and ENI, for the professionalism of the process, the Federal Government of Nigeria, the Ministry of Petroleum Resources, and the NNPC for the confidence they have placed in us."
Speaking on the investment, Owen Omogiafo, president/GCEO of Transcorp, said "This deal further demonstrates Transcorp's integrated energy strategy and our determination to power Africa."
Heirs Holdings was advised by Standard Chartered Plc, as Global Coordinator, and United Capital Plc, with a syndicate of lending institutions including Afreximbank, ABSA, Africa Finance Corporation, Union Bank of Nigeria, Hybrid Capital, and global asset management firm Amundi. The deal also involves Schlumberger as a technical partner, as well as the trading arm of Shell as an offtaker.
Heirs Holdings has created one of Africa's largest, indigenous owned, oil and gas businesses, headquartered in Lagos, Nigeria and led by a board and management team with significant regional and global experience in production, exploration, and value creation in the resources sector.
The HH Group is committed to the highest standards of safety, health, and community relations, together with best practice in governance and accountability.
Insight Redefini Appoints Sinmisola Hughes-Obisesan Group Creative Director
Insight Redefini Group, a member of Troyka Holdings has deployed Sinmisola Hughes-Obisesan to the role of Group Creative Director Insight Redefini, in furtherance of its Power of One initiative.
Formerly playing the role of Creative Director of Leo Burnett Lagos, this new redeployment will see Sinmisola Hughes-Obisesan steer the creative operations of the group.
With her vast knowledge across an array of sectors and over 14 years' experience on a plethora of global and local brands, she has led teams across both agencies to deliver award-winning work in Nigeria and across other international markets for brands such as Pepsi, Heineken, Nivea, Amstel Malta, Cadbury, P&G, Nestlé, Tecno Mobile, AXA Mansard, FCMB, Leadway Assurance and others.
Speaking on her new redeployment, Group Creative Director, Insight Redefini Group, Sinmisola Hughes-Obisesan said, "as a creative storyteller, well known for my ability to create deep experiences between brands and consumers, my goal continues to be to create clutter-breaking, impactful content that resonates with today's digital consumer."
As a firm believer in co-creation and collaboration in order to produce 'creative magic' she went on to speak about her philosophy.
"My driving philosophy is to win consumers, not just to sell or tell, but to build meaningful relationships" she said.
In her new position, she joins the group leadership team to drive the 'Power of One' and 'Humankind' way of working and winning for Clients.
Dr. Ken OnyealiIkpe, Group CEO, Insight Redefini, expressed optimism for the new chapter of the group, as it just recently celebrated its 41st anniversary.
"With this new redeployment, we will be elevating our reverence, agility, deep thinking, and magic with the aim of continuing to lead the existing marketing communications landscape and drive continuous innovation." he said.
He went on to highlight the Power of One approach as "a strategic concept that is driven by a common purpose, a powerful spirit, shared behavior, great character and a relentless focus on clients."
As a regular judge on international and local award shows and advertising festivals, Sinmisola Hughes-Obisesan is one of the most admired and decorated Creative Directors in Nigeria.
Some of her achievements include breaking steel barriers and having led agency teams to achieve several feats such as the first Nigerian agency to win highly coveted international awards such as Epica, WARC and in 2019, the highest Publicis Africa Groupe network award, the Black Giraffe.
Being an eternal student of human behaviour, she places diversity and inclusion at the forefront which saw her Leo Burnett Lagos team of vibrant and passionate creatives win 'Young Agency of the Year' in 2019.
Insight Redefini Group consists of five integrated marketing communication companies which also includes; Quadrant MSL, Starcomms Media Perspectives and All Seasons Zenith.