Operators Should be Transparent on Call Charges — Nwokike
Nnamdi Nwokike is executive secretary, West Africa Telecommunication Regulators Assembly (Watra), an assembly of the sub–regional regulators.
A multi-tasker and a start up expert, he has varied experiences traversing economic consultancies, marketing and customer relationship management and has worked in various capacities in various places including Multiver Systems Limited, the consulting outfit that worked on the setting up of the National Planning Commission.
Nwokike made significant contribution in the fast moving consumer group industry (FMCG) while working with AG Leventis Group and Seven Up Bottling Co PLC.
Between 1987 and 2001, Nwokike worked with Nigerian Breweries Plc, first as a district sales manger, then, appointed pioneer customer service training manager in 1994.
In 1996 promoted to area sales manger Lagos, supervising a turnover of over N4billion which represented the highest contribution to the company's performance.
He joined Nigeria Communication Commission (NCC) as a unit head officer, Consumer Affairs Bureau in 2001 and created consumer education and protection that culminated in the setting up of Telecoms Consumer Parliament in Nigeria.
With over 15 years experience in the industry, he became the head of business development in 2005, where he managed the implementation of various telecommunication projects including Nettel @ Africa, spectrum monitoring and management system.
He told Chris Alu in Abuja of efforts of the assembly in harmonizing policies in the sub-region
Watra in the Sub-Region
Watra), is an assembly of the sub–regional regulators, I mean all the ICT regulators in West Africa are members of the assembly. They came together in 2002 to form the assembly as a regional regulatory platform, where regulators can meet and discuss issues bordering on harmonization of policies. We also work towards harmonizing regulatory policies and services such as issues of roaming, seamless connectivity within the West African sub- region as well as working as at sub-regional level towards having effective and affordable ICT services.
Cross Border Connectivity
It is worthwhile calling to have cross border connectivity. I must say that the West African sub-region is not as big as United State of America including Canada in North America, if you are calling anywhere in Florida from Canada, its like a trunk call. Having such is our desire. It is our desire is to have fibre running from Nigeria all the way to Senegal down to Mauritania, so that we can have similar activities, it is a double opportunity and as I speak, there is connectivity from Nigeria running all the way to Ghana and there are different initiatives. We have several initiatives, there is one by Ecowas in the sub-region and there are other private initiatives being undertaken, so it is a laudable project even Nigerian regulator, Nigerian Communications Commission (NCC) is also advocating for fibre across borders so that we can have a borderless ICT environment.
Consumer Advocacy
Well, to start with in my personal capacity, I started working in telecommunication through management of consumer affairs of the regulator in Nigeria. So, I have that passion, there is this in-depth passion for me to ensure that consumer has a voice in the skim of things. Having said that, I know that there is an advocacy group that is based in Cotonou, the Open Society Initiative in West Africa (Osiwa) that is trying to coordinate all the consumer activity groups within the Africa region so that they can come together and address consumer issues. I must say that it has not really been as robust as it ought to be, one of the problems or challenges they face in consumer advocacy is the issue of funding, most of these groups do not have direct funding to be able to galvanize and harness all the opportunities, but they are doing their best. We haven't really been able to see them come up with platform where consumer interest would become a key issue within the sub region but individually, all the regulators within the sub-region have one form of consumer advocacy programme or the other, of course you know that Nigeria have a very robust one. We have facilitated such in some countries like Gambia, Sierra Leone and Cote'd Voire to come and learn the Nigerian experience, and they are trying to replicate it which is a good development.
Regulatory Standard in West Africa
The regulatory environment in Nigeria is bright; Nigeria regulator is the foremost regulator in Africa not just in West Africa. Nigeria regulator has done well, within the last 10 years, they have set a pace in a way that if you compare the Nigeria regulator with European or American regulators, it would be at par. NCC is almost ahead of many regulators in the world, and we have also a very good regulatory environment in the sub- region, one thing we are very happy about is that all the fifteen countries in the sub- region today have independent regulators agency. The last to come up was Guinea and Benin Republic, we are very happy about that, therefore it is going to make a more pro active regulatory environment in this sub- region and Watra is very happy about it. Having said that, there are other challenges facing all the regulators, one key issues is the issues of quality of services, we haven't been really able to achieve quality of service to the point that consumer can go to sleep and boast of getting value for their money. We are not really happy about it and its something that we are battling with, and we are hopping that, with all the infrastructural challenges, if we are able to over come that, we will beat our chest to have a very good ICT environment comparable to anywhere in the world.
Low Broadband Penetration
Yes, internet penetration is low in the whole of the African continent and even more pathetic for us in West Africa. One reason why internet penetration is low is basically because of the high cost of bandwidth, and that has been a very big problem, but we are seeing some light in the horizon. I predict that in the next 18 months, West Africa is going to see a revolution in internet access and penetration, in the sense that there are several initiative been put by operators to ensure that we have internet connectivity that would be seamless and affordable. Initiatives such as on the sub marine level, MainOne cable, Glo1cable, WACS, are on ground right now and as soon as they take off, we would have cheaper access towards getting enough and cheaper bandwidth, because bandwidth is like petrol for internet, if the bandwidth is affordable then internet penetration will be increased as well as telephony. Nigeria has implemented a technological neutral regulation that has resulted in huge growth of GSM and CDMA based services and made diverse services available, with operators providing services from different points thereby providing choices for Nigeria consumer and wireless services delivery. Not only in mobile sector, but also in fixed wireless space.
NCC is making effort to improve on connectivity through programmes such as the Wire Nigeria Initiative, to ensure that the country is fully connected with optics fiber cable an initiative said to have become very successful and the operators have made substantial inroad progress in connecting several cities across the country with fiber cable facilities.
Nigeria is shifting regulatory emphasis from licensing of operators to monitoring and improving quality of services and also attending to the needs of the consumers on issues of quality of services, affordability and other necessities that will become the focus of regulation in line with the dynamics of the market. We are also trying to refocus on this, in terms of structural repositioning of the regulators to delivers a good result within the ambit of time.
Current Undersea Cable Initiatives
The issued of Infrastructure and services are different and in terms of infrastructure, I am happy with the initiatives of Glo 1 and MainOne. If these projects become live then it would facilitate a lot of services in the sub-region such that internet and telephony services will be affordable and of good quality. I wish that they move faster in their operation because the market is there, people have identified that the west African sub region is a buoyant place that has the market for such business. I want to use this opportunity to emphasis that roaming services is a lucrative business, it is not a P.R. service to consumers, when you roam it would increase the number of sub-services that would go on to your network.
Zain came up with one network but I still have issues on how the network work, because the charges are not clearly transparent as they should be, MTN also has there regional collective network, which they are working on, Orange is another group that is also doing something about that. But it is something that they must do transparently, for instance, if I am using a Zain network and I move from here to Ghana, the charges are different and not really commensurable in the advertisement that we see they carry out. I expect them to come out transparently, so that consumers would know exactly how the one network works and believe in it, so that it would have the kind of integrity desirous of such level of services.
The business of telecom in Cape Verde a small country is worthy of emulation, they have invested a lot in infrastructure. It is one country with seamless network, there infrastructure is quite robust, but beside that every other country has there own challenges, the issue of quality services is general.
Challenges Facing Watra
For us in Watra, we don't have all the enablement to pursue our objective, one of our key objectives is harmonization, another one is capacity building, these issues are things that borders on funding. Watra is not funded the way it should be, that would give us the edge to propagate and promote all our activities, but we are working toward that and we are working on several collaborations. A Memorandum of Understanding is set to be signed between Watra and Ecowas, the MoU would involve some level of funding and partnership between the two agencies. We are also collaborating with the German technical corporation, USAid, and these are our international partners, who are assisting us in one way or the other to help us promote the projects that we have in Watra. But, by and large we are forging ahead and the feature is quite bright for the assembly.
CBN Pulls Rate Cut Trigger, King Dollar Returns
By Lukman Otunuga, Senior Research Analyst at FXTM,
In a move that caught investors off-guard this week, the Central Bank of Nigeria (CBN) slashed interest rates by 100 basis points bringing the MPR to 11.5%. Given how inflation has been above target since 2015, rates were expected to remain unchanged for the rest of 2020 and possibly early 2021.
The question on the mind of many is whether the rate cut will achieve the desired effect by stimulating consumption and economic growth? Ongoing border closures and disruptions created by COVID-19 have pushed inflation to levels not seen since March 2018 above 13.20% while a drop in the production and price of Oil continues to rub salt into the wound. While looser monetary policy could support growth, it may come at the cost of rising inflation and weaker Naira.
Over the past few months, central banks across the globe have deployed unprecedented measures to defend their respective economies against the coronavirus menace. However, fiscal policy has been identified as the sharper tool with governments across the world providing a critical lifeline to keep the wheels of their respective economies rolling.
Outside of Nigeria, King Dollar made a return by appreciating against every single G10 currency. In times of uncertainty, everyone wants a juicy piece of the world's most liquid currency. As coronavirus cases rise in Europe and other parts of the world, the flight to safety is likely to boost appetite for the Dollar. This is bad news for many emerging markets currencies, especially those with high Dollar-denominated debt.
On the commodity side, Oil prices remain heavily influenced by demand-side factors and the state of the global economy. Prices are likely to remain stuck around the $40 regions in the near term, especially If another round of possible lockdowns hit Oil demand. Looking at the technicals, WTI Crude is under pressure on the daily charts. If prices are unable to break away from the sticky $40 regions, the next key point of interest remains around $38. A weekly close above $41.50 could pave a path towards $43.
NCC Arrests Man for Hacking into DSTV System
Nigeria Copyright Commission (NCC), has arrested one Mr Aliu Olalekan, for allegedly hacking into DSTV system and watching the channels free without subscription.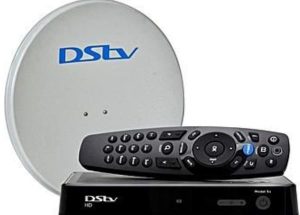 Mr Matthew Ojo, NCC Director in the Lagos Directorate Office said this while speaking with newsmen in Lagos, on Tuesday.
He said that the suspect used to watch DSTV channels free without subscription on his Android phone via an app which he downloaded on google play store.
"This suspect distributed the know-how to his telegram followers and on his blog with the aim of gaining more followers and viewership on his blog and makes more money through google ad-sense.
"The operation was based on surveillance which had earlier been carried out by the Multi-choice team and verified by a copyright inspector, " he said.
He added that the arrest was made in collaboration with a team of copyright inspectors led by the Head of Enforcement Department, Mr Charles Amudipe.
Others included; a team from Multichoice Nigeria led by Mr Umar Ibrahim and policemen from Lagos Command Headquarters, Ikeja.
Ojo said that the joint team conducted an anti-piracy operation at the premises of the culprit in Amukoko, Lagos.
According to him, the suspect was contacted on phone by a member of the operation team on the disguise of patronising him. "The suspect came out to meet the caller and in the process of discussion, he was apprehended.
"The suspect took the team to his resident. The squad paraded his one-room apartment and recovered his laptop and phones used in perpetrating the ungodly act. "He was arrested and brought to the copyright commission office for further investigation, " he said.
Ojo said that, on getting to the commission's office, the statement of the suspect was taken and the inventory of items seized from him taken. He said that investigation on the matter was still ongoing and if found guilty the suspect will be charged to court.
NCC, Digital Encode Support NITRA Innovative Tech Forum On Post-COVID-19 Strategies
The Nigerian Communications Commission (NCC), Nigeria's telecommunications regulator and Digital Encode, Cybersecurity and Compliance advisory company, have indicated interest to partner with the Nigeria Information Technology Reporters Association (NITRA), the national umbrella body of ICT reporters, as it organizes a forum that will x-ray the industry's future plans for ICT growth post pandemic era.
The event, slated to hold on October 15, 2020, will seek to discuss the needs for a fortified ICT sector after the COVID-19 era, and the level of preparedness of ICT stakeholders to embrace the challenge of being pivotal to the stability and growth of all other sectors.
A statement from NITRA National Secretariat in Lagos indicates that due to the pandemic and need to observe the COVID-19 protocol on social distancing, the event will be held via a Webinar.
This year's theme, "Multi-stakeholder Approach To National Recovery Post-Pandemic", is in line with the annual event's generic theme, 'NITRA Innovative Tech Forum', a contribution by NITRA to the development of Information and Communication Technologies (ICTs) innovations and policies in Nigeria.
Prof. Umar Danbatta, executive vice chairman, NCC is expected to deliver the keynote speech at the event and will throw more light on Federal Government's plans, programmes and policies on post-pandemic strategies using ICT.
Dr. Adewale Obadare and Dr. Seyi Akindeinde, founders of Digital Encode, while accepting to support the event expressed their readiness to offer their expertise in Cybersecurity for organisations to prepare against cyber- attacks with the new normal.
They will also highlight areas that are high risks that need fortification in terms of cybersecurity.
Speaking on the event, Mr. Chike Onwuegbuchi, national chairman, NITRA, noted that as the COVID-19 pandemic continues to leave its negative trails across the globe, economic reboot for countries will not only depend on how well they readapt to the new normal, but also more on their recovery plans.
According to him: "While the federal government has consistently expressed its willingness to set all policies in place to engender growth, and accelerated implementation of these policies, private sector firms have also shown great hunger for the task ahead in post-COVID-19 era.
However, the question that needs to be answered is whether all stakeholders are ready for the required task ahead."
The event will also offer participating companies opportunities to publicize some of their individual efforts at contributing to reacting a soft landing or lifeline for SMEs and other ancillary companies as the pandemic threatens their survival.
Digital Encode is a multi-award winning and leading consulting and integration firm that specializes in the design, management, and security of business-critical networks, telecommunications environments and other Information Technology (IT) infrastructures.