Phase3 Harps on New Market, Industry Growth Opportunities
Following the recent elevation of its founder, Mr. Stanley Jegede, to the position of Board Chairman, Phase3 Telecom has appointed Mr. Olusola Teniola as the new Chief Executive Officer.
The West African largest independent fibre optic infrastructure and telecommunications service provider has also embarked on a strategic repositioning drive for new market and industry growth opportunities.
Jegede, who has for almost two decades driven the Phase3 vision by fostering creativity, high-performance and a legacy of positive impacts, said: "He is confident that this new and exciting chapter in Phase3's corporate existence will amplify the company's role as a dominant industry player, infrastructure spinal cord and an enabler for the ever-changing technologies."
Teniola, who emerged the new CEO after a thorough and careful screening and selection process, according to Jegede, "brings a wealth of proven knowledge in engendering digital transformation; to effectively drive its robust strategic vision and goals."
Phase3, Jegede said further, would continue to broaden its business expanse and network operation capabilities to cushion future market changes while ensuring the full compatibility of its renewed enterprise and retail services segments with focal industry trends such as artificial intelligence (AI), Internet of Things (IoT) connectivity solutions and fifth generation (5G) wide area wireless networks.
While thanking the Phase3 board, Teniola, a former Chief Operating Officer and Director of Engineering at Phase3 Telecom, said his appointment would offer a great opportunity for him to work with a vibrant team to ensure the company's focus for the future.
He added that "engagement with every client and stakeholder that Phase3 encounters must always be uniquely enriching. Thus the team will continue to work towards a digital transformation journey that is nimble, agile and responsive as well as charted to make certain that the way and manner Phase3 conducts its business and delivers its solutions, truly amplify the company's growth trajectory, vision for West Africa, global pursuits and portfolio of extraordinary accomplishments."
MTN Nigeria Appoints Karl Toriola as New CEO
MTN Nigeria has announced the appointment of Mr. Karl Toriola as the CEO designate. His appointment is effective March 1, 2021, providing enough time for an orderly handover.
Mr. Toriola is currently the Vice President: West and Central Africa (WECA), excluding Nigeria and Ghana, a position he assumed in 2016.
During that period, he has overseen the steady progress of the operating companies in the region, notably the turnaround of MTN Ivory Coast and MTN Cameroon.
During his tenure, the WECA markets have made significant commercial and strategic strides. These include the improvement of market shares within the region and the development of mobile financial services..
Since joining the Group in 2006, Mr. Toriola has also held a number of senior operational roles including Chief Technical Officer of MTN Nigeria, CEO of MTN Cameroon and MTN Group Operations Executive.
Mr. Toriola has at various times in his career in MTN Group had oversight responsibility of 16 of the Group subsidiaries and serves on various MTN boards, including MTN Nigeria.
Prior to joining MTN Nigeria, he was the Chief Operations/Regional Officer for Vmobile Nigeria (now Airtel Nigeria) where he was responsible for operations.
Mr. Toriola obtained a Bachelor of Science in Electronic and Electrical Engineering from the University of Ife, a Master of Science degree in Communication Systems from the University of Wales, and attended the General Management Program in Harvard Business School.
In addition, he has attended several executive development courses at various institutions including Wharton Business School, Harvard Business School, Institute of Management Development and London Business School.
He is a Fellow, Nigerian Society of Engineers (FNSE) and Council of Registered Engineers of Nigeria (COREN) as well as a Member, Institute of Directors.
Commenting about the appointment, Ernest Ndukwe, chairman of MTN Nigeria, said "After a thorough and rigorous selection process, we are delighted to welcome Karl back to MTN Nigeria.
"Recognised throughout the industry as a highly experienced and well regarded business leader, Karl has been a member of the MTN family for over 14 years and has an intimate understanding of the telco business. 
"His appointment further reaffirms the Company's commitment to succession planning as well as retaining and developing identified high performing executives.
"With his rich credentials, I am personally pleased that Mr. Karl Toriola is well-suited to lead MTN Nigeria's Executive Management team through the next stages of growth in the years ahead"
The current CEO of MTN Nigeria, Mr. Ferdinand Moolman, will exit this role with effect from 1st March 2021 and assume a new role as MTN Group Chief Risk Officer.
Mr. Moolman joined MTN in 2002 and has held several senior positions within the Group, in Nigeria and Iran.
He joined the Board of MTN Nigeria in 2014 as Chief Financial Officer (CFO) and became CEO in 2015.
Under his leadership, significant progress has been made in stabilising the business and setting it on a sustainable growth path.
He will remain on the Board of MTN Nigeria in his new role as the MTN Group Chief Risk Officer.
"The Board of MTN Nigeria wishes to express its gratitude to Ferdi for his exemplary leadership.
"He has played a critical role in the Company's development and success, and while we will miss him, we wish him the best in his new role at MTN Group" said Dr. Ndukwe. 
In response, Ferdi Moolman said, "I wish to thank the Board of Directors, Management, our dedicated shareholders and my amazing team, for all of the support you have given me through the years.
"I am proud of the people of MTN Nigeria and the Company we are building; and while this is a time of great challenge and opportunity, I remain steadfastly confident in the greater potential and future of this nation and the significance of our role within it.
"It has been my honour and privilege to serve this great Company. I am grateful for my time here and the supportive relationships built over time."
Commenting on his new appointment, Karl Toriola said, "I am delighted to be returning to serve in my country at such a critical point in history when the services we provide are so important to our national development.
"MTN Nigeria is a great company with exceptional people and extraordinary customers, who place a high value on those services.
"I have a clear focus on delivering a stellar network experience and enhanced customer service; and look forward to working with an outstanding group of leaders, in and out of government, over the coming years to continue harnessing our capabilities, transforming our relationships and delivering even greater value to our nation and her people."
FG Moves to Stem $2.16Bn Annual Capital Flight in Telcoms Sector
As much as $2.16billion leaves the Nigeria's telecommunications sector annually as capital flight and the federal government is worried about it, according to Isa Pantami, minister of Communications and Digital Economy.
Pantami, quoting a report of the Association of Telecommunication Companies of Nigeria (ATCON) at the Digital Nigeria Day, stated that to stem the trend of capital flight, the government had developed a policy to promote indigenous content.
The minister said the Indigenous Content Development and Adoption, under Pillar #8 of the National Digital Economy Policy and Strategy (2020 – 2030), would tackle the issue.
The Digital Nigeria Day was marked on Saturday in Abuja by the communications ministry, its agencies and other stakeholders in the sector.
Pantami said, "As part of our efforts to promote indigenous content, we have developed a policy for promoting indigenous content in the telecom sector to complement similar efforts that focus on the information technology sector.
"This is important to stem the tide of capital flight, among other things. A report of the Association of Telecommunication Companies of Nigeria suggests that such capital flight in the telecom sector is as high as $2.16bn annually.
"A healthy digital economy requires a robust indigenous content policy to significantly reduce this."
The minister explained that there was an urgent need to promote the development of indigenous content in every sector of the economy.
He said the Indigenous Content Development and Adoption pillar was addressing this for the digital economy.
"This pillar aligns with Executive Orders 003 of May 2017 and 005 of February 2018, on 'Support for Local Content Procurements by Ministries, Department and Agencies of the Federal Government of Nigeria," he said.
Pantami said it aligned with the order on Planning and Execution of Projects, Promotion of Nigerian Content in Contracts and Science, Engineering and Technology.
The minister also noted that the solid infrastructure arm of the digital economy policy would address the need to provide broadband access and data centres required to enable citizens to access the digital solutions.
He said the Nigerian National Broadband Plan (2020-2025) was developed to accelerate the growth of broadband connectivity across the country.
Pantami said, "The plan is designed to deliver data download speeds across Nigeria of a minimum 25Mbps in urban areas, and 10Mbps in rural areas, with effective coverage available to at least 90 per cent of the population by 2025.
"This will be at a price not more than N390 per 1GB of data (two per cent of median income or one per cent of minimum wage)."
He said the government also approved the designation and protection of relevant telecommunications infrastructure across the country as critical national infrastructure.
NCC Worries as Kano Becomes Breeding Ground for Pre-Registered SIM Cards
Prof. Umar Danbatta, executive vice chairman of the Nigerian Communications Commission (NCC), has expressed concern over the activities of a syndicate that specialises in selling 'active registered SIM cards' in Kano, saying the state has now become a breeding ground for pre-registered SIMs.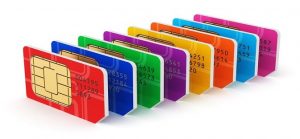 Speaking to journalists in Kano, Danbatta said the commission had recently discovered the syndicate that specialised in selling active registered SIMs to members of the public, adding that some culprits had been apprehended and handed over to security agencies while investigation was still ongoing.
The NCC boss said it had become necessary for the media to sensitive the public on the dangers associated with the purchase of SIMs that had been registered.
He said the commission would not rest on its oars until when all the perpetrators of the illegal act were apprehended because it was a crime against the country and endangered the security of the citizenry.
"It is an important civic responsibility commensurate with registering to vote to ensure that when you buy a new SIM, you register the SIM yourself because you owe a duty to yourself, to this country and to safety of the citizens of this country to ensure you register every new acquired SIM before it is activated.
"Activating a new SIM without registration is illegal consistent with the act establishing the Nigeria Communications Commission, consistent with a subsidiary regulation of the NCC, the SIM registration regulations," he said
He said the commission would continue to appeal to Nigerians especially the citizens of Kano to desist from taking the risk and assist the commission and the Federal Government by ensuring that they lived up to their civic responsibilities.
Danbatta said the commission had instructed the Mobile network operators to provide conductive environment to enable people register their newly acquired SIMs with ease.
Speaking on Kano digital park which is under construction, he said plans were also underway to deploy a digital park in each state of the federation, adding that the commission would start with the six geographical zones.
"Kano has one and there are three more making it four – Lagos, Enugu and Maiduguri. We are building two more in the 2020 budget in Gombe and Ibadan," he added.
He said the idea was to ensure that more digital parks were constructed and equipped in order to serve people living in the areas.