Reps Probe Recruitment, Extortion Scandals @ CBN, Others
House of Representatives said it will investigate the alleged clandestine recruitment process in Nigerian National Petroleum Corporation (NNPC), Nigerian Ports Authority (NPA), Central Bank of Nigeria (CBN) and other Federal Government's Ministry, Department and Agencies (MDAs).
The House made the resolution following a motion introduced by Yusuf Gagdi from Plateau State.
The lawmaker alleged that rather than following due process while recruiting members of staff, the MDAs often use the "back door" to employ those favoured for various positions.
He expressed strong reservation over the conduct of the MDAs, pointing accusing fingers at, specifically, Nigerian National Petroleum Corporation, NNPC; Central Bank of Nigeria, CBN, among others.
He added that though the Federal Government lacked the capacity to employ most graduates, "there is the need for the few openings available to be filled competitively and based on the federal character principles.
"It will amount to injustice if we will be sitting here and allow MDAs to employ people at their own will. So it is important for this House to ask questions on how MDAs, like NNPC, NPA and CBN, recruit."
Ayika Valentine from Anambra State asked his colleagues to consider what they would be remembered for as representatives and come to the rescue of their constituents.
"With what is going on here, you will agree with me that some of our young ones that die in deserts lose their lives because they don't have someone in the corridors of power," he said.
Shettima Ali from Yobe State said the motion calls for immediate constitution of a committee to look into the matter.
Mzondu Benjamin from Plateau State said failure to address the alleged secret recruitment would mean a vote for insecurity and other challenges in Nigeria.
"I represent the unemployed youths of this country. Most of the problems we are facing are as a result of unemployment. A lot of unemployed youths who are out there will receive solace from this move," he said.
The lawmakers, subsequently, resolved to set up a panel that would investigate the matter and report back in three weeks. Vanguard
HiiT PLC Offers N20m Scholarship to University Students on Instructor-led Online Training
HiiT, the leading Information and Communications Technology (ICT) Training Service Provider in Nigeria, has concluded plans to offer scholarships worth Twenty Million Naira (N20m) to interested Nigerian students at the tertiary education level as her humble contribution to the Federal Government COVID-19 Economic Palliatives.
The decision is part of the company's resolve is to support various governments' initiates towards moderating the effect of the Pandemic on our teeming youths who are currently idling away at home to build ICT skills that are in global demand from home, and even begin to earn income.
According to Mr. Kayode Shobajo, Chief Executive Officer, HiiT PLC, all that is required of interested students to apply for the scholarship is to visit: www.hiit.ng/scholarship and complete the Scholarship Application Form. They should however note that this opportunity is on first come, first served basis. The courses on offer include Digital Marketing, Web Design, Digital Literacy, Cisco Certified Network Associate, Python programming and many others.
Shobajo disclosed that unlike most other online training platforms, HiiT Online Training offers Instructor-led training coupled with other training methods including live interactive classes, videos, slides, whiteboards and simulation labs to impact  IT skills that are in huge demands by employers.
"The teaching time and students' interaction time mix are optimized to ensure the best online learning outcome for our cultural environment," he said. "Our Instructors are highly skilled & well equipped to deliver lectures from their homes or anywhere they are comfortable. So, government lockdowns do not disturb our classes. Furthermore, our students can also gain access to the recorded classes at their own time from anywhere in the world."
Speaking further on some of the courses on offer, Shobajo said Digital Marketing enables students gain comprehensive understanding of all major digital marketing channels used today as well as create, launch, and analyze campaigns across a multitude of platforms, including Facebook ads, Google Ads, Google Analytics, and more.
"Digital Marketing has become an integral part of marketing budgets and will soon overtake all other traditional channels of Marketing," he said. "With the demand for digital marketers outweighing the supply, professionals skilled in digital strategy, consumer behaviour, content distribution, and social media are in high demand. This course aims to bridge that gap and create industry-ready Digital Marketers."
On Web Design, Shobajo said with more communication and commerce being conducted online than ever before, the web provides incredible opportunities for Web Designers. At the end of the course, graduates of web design will play a central role in building dynamic websites and applications that deliver content in a variety of formats for multiple devices for organisations.
This course is designed to equip participants with the technical knowledge and skills to create well-designed websites in terms of aesthetics, using today's modern web design tools.
Python, on the other hand, is a powerful general-purpose programming language. It is used in Web Development, Data Science, creating software prototypes, and so on. It has simple easy-to-use syntax. Students will learn the basics of Python, then move on to acquire skills on how to develop Web applications using the Django framework.
The course also covers the basics of creating basic applications using the MVC (model-view-controller) design pattern, as well as more advanced topics such as Administration, Session Management and Authentication.
According to Shobajo, HiiT has graduated over 50,000 students at its existing Training Centres located in Lagos, Abuja, Kano and Ibadan over the past 24 years, and therefore has pedigree as a Training Service Provider, inclusion of Online Training will simply be an extension of our known brand virtue of service par excellence.
And do not forget that we are also a profession IT company duly registered with Computer Professionals Registration Council of Nigeria (CPN).
HIIT's mission is to provide quality and affordable access to Online Training/Education in such a manner that will be superior to other means using the criteria of Learning Outcomes and Return on Investment (ROI).
Court Jails Hackers Who Stole N2.Bn from Union Bank
Economic and Financial Crimes Commission (EFCC) has secured the conviction of one Abass Mohammed and Ibrahim Saidu Jogal, a Bureau De Change (BDC) operator.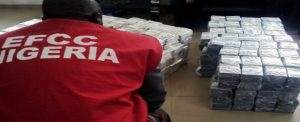 c
They connived to hack into the Flexcube database of Union Bank and stole N2,550,000,000.
Dele Oyewale,  spokesman, EFCC, a statement on Friday, said it received a petition on the theft.
Investigation showed that the money was credited into the accounts of mostly BDC operators, including one Jaxmine BDC, Gona BDC and Great Well Communication.
Mohammed sourced for the account details of Jaxmine BDC from one of his friends, Lawal Ubah, who was a signatory to the account.
"He subsequently gave the details to one Salisu Liman (aka Zico), the ring leader of the syndicate. The sum of N450million was then credited into the account", EFCC noted.
The sum of N79million was transferred from the account of Jaxmine BDC into the account of Digare BDC owned by Jogal for the purpose of buying $500,000.
Further investigations revealed that Jogal only paid $80,000 to Mohammed and kept the balance of $420,000.
The gang was arraigned before Justice K. A. Jose of the Lagos State High Court sitting in Igbosere, on three-count charges bordering on conspiracy, retention and use of proceeds of criminal conduct.
The offenses were contrary to Section 331(1)(b) of the Criminal Laws No. 11, Vol 44 of Lagos State 2011.
The accused pleaded "not guilty" to the charges, paving the way for the commencement of their trial.
EFCC presented three witnesses – Vincent Agwu, a Union Bank official, and two investigators, Joseph Nkeson and Aliyu Abubakar.
Several documents were tendered in court by the prosecution.
Justice Jose found the defendants guilty on counts two and three, and discharged them on count one, which bordered on conspiracy to defraud.
Mohammed was sentenced to one year in prison.
Jose ordered that the sum of $37,000 and $7,000 recovered from him be handed over to Union Bank.
He also directed that a car seized from him be sold and the proceeds given to Union Bank.
On Jogal, the judge observed that he showed no contrition, and failed to pay back a substantial sum of the money traced to him.
Jogal was sentenced to three years in prison.
Justice Jose ordered that the sum of $220,000 and another $200,000 earlier recovered from him be given to Union Bank.
The judge also ordered that his property, whose title documents he gave to the EFCC, be sold and the proceeds handed over to the financial institution.
Babajide Sanwo-Olu, Andrew Cuomo, Cyril Ramaphosa Listed Among Political Leaders Helping the World Fight COVID-19
Info Digital Africa, ID Africa, owners of Neusroom, The Netng and 234Star, has unveiled its Neusroom 100, a collection of 100 people, organisations, nations and things helping the world to fight the deadly COVID-19.
The list comprised of 40 people, 30 organisations, 20 countries and 10 things who have made remarkable contributions to the fight against coronavirus which has swept across the world in the last eight months since it was first discovered in the Wuhan city of China in November 2019.
Lagos State Governor, Babajide Sanwo-Olu, President of South Africa, Cyril Ramaphosa, New York Governor, Andrew Cuomo, President of Madagascar, Andry Rajoelina, Chen Chien-jen, Ex-Vice President of Taiwan are among the political leaders and public servants listed among the 40 individuals.
Each of the personalities, organisations and things celebrated on the list had a few paragraphs written to spotlight their contributions to the global response to COVID-19.
Sanwo-Olu who is the COVID-19 incident commander in Lagos – the epicenter of the virus in Nigeria, was described on the list as being pragmatic in handling the outbreak in the state.
"He has been leading a frontline response to the pandemic, sharing factual and relevant updates, calling for lockdown when it was necessary, and delivering stimulus packages to help the residents to cushion the effects of the lockdown," the report read.
On Rajoelina, the report said he is one of the leaders who have been proactive about finding a cure for COVID-19.
It said: "He has overseen the development of a home-grown herbal remedy, which he promotes as the ultimate cure for COVID-19."
Femi Falodun, ceo, ID Africa, said amid reports of deaths, suffering, social disruptions, conflicts and economic losses brought on by the outbreak, with very little in the media for the world to celebrate, the Neusroom 100 list was compiled as a "celebration of hope, and an acknowledgement of humanity's collective will to survive."