Revocation of SSPA: Death Call for Nitel
The federal government through announced last week the revocation of Shares Sales Purchase Agreement (SSPA) it entered with Transnational Corporation of Nigeria (Transcorp) and subsequently appointed a new technical board that will manage the company.
Government claimed that that Transcorp had breached the condition precedent on which the investment deal in Nitel/M-Tel was consummated, the implication being that Transcorp had walked away from the deal on its own.
Christopher Anyanwu, director general, Bureau of Public Enterprise (BPE) and member National Council on Privatization (NCP) said that the NCP is of the opinion that Transcorp has opted out of the Nitel/M-Tel because it has failed to meet the condition precedent, and that it has been withdrawn. He noted that it is void because it never existed in the first place due to their failure to keep with the terms of the transaction agreement.
He said Transcorp is aware of this fact and that they have already given us the power of attorney (waves the paper) for their equity in the investment.
"Accordingly, the Federal Government has stopped the further sale of all assets of the two companies, whether core or non-core. In the same vein, all sold assets are to be reviewed and any found to have been arbitrarily and unjustifiably sold are to be recovered.
He added that the government was desirous of having the two companies and other privatized non-performing enterprises back on stream and would not leave any stone unturned in this direction.
The BPE boss explained that Transcorp might have sourced their investment funds from banks and other entities, government may open up discussions with the affected institutions to assist them claim their investments.
Before the recent action of government, Transcorp had left Nitel with a debt overhang of $500 million owed a consortium of banks.
By a Shares Sales and Purchase Agreement (SSPA) signed between the Bureau of Public Enterprises (BPE) and Transcorp on November 14, 2006, 51 per cent equity of Nitel was transferred to Transcorp while the government retained 49 per cent.
Under the Post-Acquisition Plan (PAP), Transcorp agreed to inject a minimum of N8 billion new funds into Nitel to prepare it for competition within 30 days and 100 days after the take-over. The PAP was to start the transition of Nitel and its mobile subsidiary, M-Tel, to a profitable and strategic telecommunications operator.
But 30 months after, Nitel's fortunes have nose-dived with its workforce reduced from 13,000 at take-over to less than 1,000 and telephone exchanges and other immovable assets such as switches in comatose.
NCP under the chairmanship of Vice President Goodluck Jonathan approved the constitution of a technical board to manage the affairs of Nitel/M-Tel until a new core investor emerges.
Alhaji Ikra Bilbis, Minister of State for Information and Communications, who read the resolution of the NCP meeting, said the revocation was arrived at after discussing "the outstanding issues in Transcorp's management of Nitel/M-Tel and other issues contained in the Shares Sales Purchase Agreement (SSPA)."
According to him, the decision was based on "serious breaches of the terms and conditions of the SSPA, particularly: exiting of British Telecommunications (BT) as the technical operator, which is condition precedent in the SSPA; failure of Transcorp to inject N8.9 billion cash into Nitel within 100 days of its take-over to address the immediate liquidity problem facing Nitel.
Others include, failure to pay interconnectivity debt totaling about N17 billion; inability to pay workers' salaries in the past 11 months; and failure of Transcorp to maintain Nitel/M-Tel as a going concern, resulting in complete loss of market share from 15 per cent to 0.03 per cent.
Bilbis said it is clear that "Transcorp has deviated and voided the contract in its entirety."
This decision of government sounded good as an effort to revive the ailing used to be telecommunications giant in the country, but there still remain issues that demands explanation which put this effort in doubt. Why is it that whenever serious effort is made to get a technical partner or core investor to revive Nitel that government will come up with revocation of its agreement with Transcorp on Nitel sale? It would be recalled that in 2008 Transcorp had concluded arrangement to sign an agreement with a new investors who were already in the country for the signing ceremony when government suddenly revoked the sale to Transcorp on a Saturday, a non working day. Again in line with federal government and Transcorp the two owners of Nitel agreement to relinquish some percentage of their share holding to a would be core investor, BPE commenced process towards finding a core investor which has been schedule to be completed in September this year, another revocation of agreement was announced.
Transcorp also initiated effort that would have gone a long way in putting Nitel back on its feet with the signing of a project agreement Cisco which was truncated. Under the project deal, Cisco, a leading global information technology firm, agreed to raise $10million to rehabilitate and transform Nitel's fibre optic cable that is lay waste to ensure that Nigerians get speedy and reliable connection to the super highway. The project would also expand Nitel's capacity by six times and create huge volumes of bandwidth in commercial quantity for corporate organizations in telecoms, oil and gas and other multinational firms in the country.
The first phase of the project would have generated between $100milliom and $150million to Nitel every year once it is completed. Government as well directed Transcorp in a letter to stop the contract for no stated reason.
Industry watchers are of the view that, with all these revocation and interference by government it will be very difficult to get foreign core investor for Nitel aside skepticism shown by some foreign investors in investing in a country with poor infrastructure and other business challenges.
The fact that Transcorp has not shown enough seriousness in bringing Nitel to life once again in terms of technical and financial ability is not in doubt. The Federal government of Nigeria's attitude to the whole arrangement also left much to be desired. Although it claimed to have 49 percent of Nitel, investigations show that since the coming on board of Transcorp, it has not invested a dime in its operations. This is definitely contrary to the dictates of the industry which demands constant investment to be able to catch up with the competition. Nigeria CommunicationsWeek investigations show that the politics and interest of some people in government had contributed immensely to frustrate all effort to revive the company by Transcorp. Government said that Transcorp did not inject N8 billion into Nitel within 100 days of its take over, but it was gathered that Transcorp took firm control of Nitel in 2008 two year after it acquired 51 percent share of the company.
It is important to note that the Federal Government which owes 49 percent equity has not made any investment since 2006. The last time an investment was committed to Nitel by government was in 2005 when it disbursed about N60billion into Nitel's operation, the fund which was said to have disappeared into private pockets immediately Nitel's account was credited.
According to Tom Iseghohi, group managing director, Transcorp, Transcorp invested over N5 billion in Nitel within the first year of its take over. This means that going by the share structure, government supposed to have brought in a commensurate investment of over N4 billion.
Mr. Bayo Banjo, vice president, Association of Telecommunications Company of Nigeria (Atcon), said Transcorp has found itself in this sorry state because it is ignorant of the fact that any dealing with government is very difficult because of inherent political interests.
An industry analyst said the entire scenario is a reflection of the fact that government has no business in business. He questioned how government is going to reconcile invest made by Transcorp in the payment of staff salaries when the company is not generating near what is use in running it.
Engr. Gbenga Adebayo, chairman, Association of Licensed Telecommunications Operators of Nigeria (Alton) agreed that enough has not been by both parties in Nitel deal which is responsible for Nitel that controls about 25 percent of market share five years now controls 0.003 percent.
He urged for a complete re-engineering of Nitel before any other effort at reviving the company, especially maintenance of its network facilities that have not been maintained for the past five years.
He noted that, there is not going to be a smooth sale of Nitel going by the events that have happened, and that position of government in respite of the percentage of share to be sold will determine the direction and willingness of any core investor to invest in Nitel.
Adebayo suggested a 100 percent sale of Nitel as government does not have what it take to run business, adding that the current state of affairs in Nitel be made public.
Industry watchers have argued that the position of government to guide the revival process in Nitel is a mere effort to cover up huge debt owe Nitel by people in government as well as their interest.
Satellite Operators Push New Signal across Africa, Indian Ocean Regions
The Agency for Air Navigation Safety in Africa and Madagascar (ASECNA), has started to broadcast a Satellite-Based Augmentation System (SBAS) signal over Africa and Indian Ocean (AFI), providing its first open service in the region via NIGCOMSAT-1R Satellite managed and operated the by Nigerian Communications Satellite Ltd., under the Federal Ministry of Communications and Digital Economy.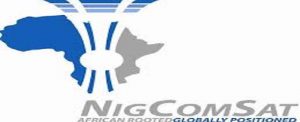 This early open service is provided as part of the programme, which pursues the autonomous provision SBAS services in Africa, to augment the performances of the satellite navigation constellations GPS and Galileo.
With improved accuracy to within a meter, and boosted integrity, availability, and continuity of safety-related applications, these SBAS services will improve flight safety and efficiency in Africa, and also benefit the economy in many areas as land, sea, and rail transport, as well as mass-market applications, supporting user safety, cost-effectiveness, and sustainable development.
The launched open service essentially aims to carry-out technical trials, and to undertake partner airlines field demonstrations for aircraft and rotorcraft, to demonstrate the benefits of the future operational safety-of-life SBAS services, expected from 2024. It will also include early Precise Point Positioning (PPP), and emergency warning service to populations, which performance will be proven through other demonstrations.
The signal-in-space is generated by a dedicated system tested, developed as part of the "SBAS for Africa and Indian Ocean" preliminary design phase, financed by the European Union, and awarded to Thales Alenia Space, Joint Venture between Thales (67 per cent), and Leonardo (33 per cent).
The "SBAS for Africa and Indian Ocean" is based on the European EGNOS (1) developed by the European Space Agency (ESA), acting under the delegation of the European Commission and operated by the European GNSS Agency GSA.
The system prototype uses as reference stations the SAGAIE network deployed by CNES and ASECNA with the support of Thales Alenia Space.
The signal is broadcasted via the SBAS payload on NigComSat 1R GEO satellite of the Nigerian Communications Satellite, and an uplink station deployed in Abuja, Nigeria.
It is compliant to the standards and recommended practices of the International Civil Aviation Organisation (ICAO), and the minimum operational performance standard developed by the Radio Technical Commission for Aeronautics (RTCA) organisation.
It will be visible in the whole of Africa and the Indian Ocean, up to the West Australian coast, and also in Europe.
Dr. Abimbola Alale, managing director/chief executive officer of NIGCOMSAT, said: "we are proud to be part of this ambitious program to provide satellite navigation services in the Africa and Indian Ocean region. The use of our geostationary communication satellite NIGCOMSAT-1R navigation payload to broadcast the first signal will be Africa's premier contribution to SBAS as a regional satellite-based augmentation system for the continent."
On his part, Benoit Broudy, vice president, Navigation Business at Thales Alenia Space in France, said the longstanding expertise acquired with the development of EGNOS1 SBAS in Europe, and KASS SBAS in Korea, combined with the new leading-edge satellite positioning technologies make Thales Alenia the ideal partner to best support countries to implement their own SBAS efficiently.
"The equatorial region represents also a key engineering challenge for such a system due to difficult ionosphere conditions, for which Thales Alenia Space has developed a proven solution," he stated.
Mohamed Moussa, director-general of ASECNA, said the provision of the first African SBAS early service is a crucial major step forward in the development of satellite navigation in the AFI region, and in the deployment of the "SBAS for Africa and Indian Ocean" system, the navigation solution for Africa by Africa.
He said: "It demonstrates the ambition and commitment of ASECNA to enhance air navigation safety for the benefit of the whole continent, in line with my vision for the unification of the African Sky."
ipNX, USTDA Ink Partnership Deal to Develop Nigeria's ICT Infrastructure
ipNX, Nigeria's pioneering and leading information, communications and technology (ICT) company and the United States Trade and Development Agency (USTDA) have signed a partnership deal that will further support the development of Nigeria's ICT and broadband infrastructure and help ipNX expand its fibre-optic network to more than 200,000 residences in Lagos and other locations, including Abuja and Port Harcourt.
A virtual signing ceremony that signalled the beginning of this far reaching relationship between the two parties was held on Thursday, September 17, 2020.
Through this innovative initiative, the USTDA is supporting ipNX to promote inclusive, secure and sustainable connectivity across the nation.
The agreements were made possible as a result of several engagements between the USTDA delegation to Nigeria and the leadership of ipNX; and will advance the goals of the recently updated Nigerian Broadband Plan.
At the Signing Ceremony, Ejovi Aror, group managing director of ipNX, said: "We believe that world-class connectivity and broadband internet access will be pivotal to the digital transformation and socio-economic development of Nigeria.
'We are very positive that this project will play a crucial role in making our belief a reality."
Aror added that with the emergence of the COVID-19 pandemic, the case for a vibrant ICT sector has never been stronger and the new partnership will bring ipNX a step closer to achieving its mission to continually leverage technology to create innovative solutions that help mankind thrive, while making a crucial impact to the lives of Nigerians across the country.
Mary Beth Leonard, U.S. Ambassador to Nigeria, said' "These projects will support the development of Nigeria's telecoms infrastructure and help to achieve the goals of the National Broadband Plan.
"The U.S. Government has committed significant resources to improving telecoms infrastructure in Nigeria and this support is crucial as we believe that investment in critical ICT projects will strengthen the resiliency outlined in Nigeria's economic sustainability plan."
Also present at the virtual event, the Director, Technical Standards and Network Integrity of the Nigerian Communications Commission (NCC), Engr. Bako Wakil, who spoke on behalf of the Executive Vice Chairman of NCC, said: "The support this grant will provide to the telecommunications sector, in particular broadband, is in line with the National Digital Strategy and the National Broadband Plan.
"The NCC would like to congratulate ipNX as it shows the company's integrity and commitment to be selected for this grant".
ipNX also revealed that it intends to continue to work with USTDA beyond the preliminary stage, to execute many more projects into the future that will bring about the digital transformation and socio-economic development of major cities in Nigeria in alignment with the National Digital Economy Policy and Strategy.
With their partnership, both parties fully agree that further development of the nation's broadband infrastructure is key to unlocking the potential promised by Nigeria's digital economy.
According to the World Bank's 'Nigeria Digital Economy Diagnostic Report' released in 2019, Broadband is a key enabler to harness the digital economy transformation and high-speed broadband has the potential to accelerate Nigeria's socio-economic development.
Manfa, ANSICTA Boss Pledges to Collaborate with NITDA for Establishment of Zonal Office in Anambra State
Mr Theo Manfa, managing director/chief executive officer, Anambra State Information and Communication Technology Agency, (ANSICTA) has hinted that they are ready to collaborate with National Information Technology Development Agency, (NITDA) for the establishment of the agency's South-East Zonal office in the State.
He stated this when he led ANSICTA delegation to NITDA's head office in Abuja recently.
Mr Manfa explained that the call for special requests by the state is necessitated by the fact that the state "has long been known as a home of innovation and entrepreneurship, through the various markets like Onitsha and Nnewi and the plethora of locally produced goods they spawned over time."
He said that innovation and entrepreneurship are important elements to drive the digital economy which the nation is striving to create adding that the state has been watching with keen interest the activities of Federal Ministry of Communications and Digital Economy and NITDA which necessitated the intended partnership.
He requested NITDA's partnership with ANSICTA in building an ICT Hub in Anambra State; hosting a NITDA regional office; hosting NITDA events and programs as a State and region; trainings and Skills development programs of NITDA where the State hopes to train 40,000 residents in the next 2 years in Digital skills; establishment of cooperation on the Nigeria Government Enterprise Architecture (NGEA) and the provision of the Unity Board where 150 units were requested for a program for secondary schools in Anambra.
ANSICTA also presented an award to the Director General for his "Outstanding Achievements in Driving theDigital Economy" which was received by Dr. Vincent Olatunji on behalf of the DG.
Dr. Olatunji responded along with comments from some of the Directors and said NITDA would be glad to cooperate with the State.
He said it was gratifying to note that Anambra State now has an ICT Agency as Gov Willie Obiano had visited NITDA 6 years ago and the agency had worked with the State in developing an ICT policy for Anambra.
The success of that exercise is the take off of the agency (ANSICTA) which is the execution arm of the policy developed by NITDA.
He further said ANSICTA was by the speech of its MD really in tune with the affairs and mandates of NITDA and stated that ANSICTA should make a formal application for the things requested at this meeting will be looked into by Management for approval by the Director General.
He also thanked ANSICTA for recognizing the hard work of the DG through the award they presented, which he said was most encouraging.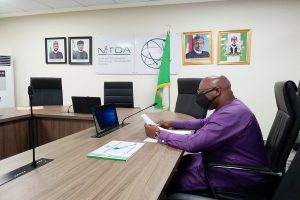 Michael Orekyeh; chief operating officer of ANSICTA was part of the delegation from Anambra State. while the Director General of NITDA, Malam Kashifu Inuwa Abdullahi was represented by the Director E-Government and Regulation, Dr. Vincent Olatunji; Director Office of ICT Innovation and Entrepreneurship – OIIE, Dr. (Mrs.) Amina Sambo Magaji; Deputy Director of IT Infrastructure, Dr. Saidu Kumo; SA Technical to the DG, Dr. Mohammed Yahaya; Corporate Strategy Department, Dr. Taofik Yekini and other Directors and Key Management Staff.