Right To Privacy? Nigeria Needs A Data Protection Law
By 'Gbenga Sesan
"The privacy of citizens, their homes, correspondence, telephone conversations and telegraphic communications is hereby guaranteed and protected." – Section 37 of the Nigerian constitution.
Nigeria's constitutional promise of data protection is far from being fulfilled. This is especially true for transactions involving the transfer of personal data from individuals to governments and businesses. Despite the increasingly important role that data plays as the currency of the country's emerging digital economy, Nigeria does not have a Data Privacy or Data Protection law.
Even though Nigeria lacks a robust data management infrastructure, several government agencies and sector regulators collect citizens' private data with little respect for their rights.
Not only is the same data collected by different agencies, citizens have little control over what is collected, how it is used and have no clear course of action should their data be abused.
The Nigerian Communications Commission, Independent National Electoral Commission, Nigerian Immigration Service, Central Bank of Nigeria, National Identity Management Commission, Federal Road Safety Corps, and other bodies routinely collect or oversee the collection of biometric and other data in their respective silos.
Unfortunately, the conversation around the need to harmonize such sensitive data remains just that — a conversation. Various legislative proposals that could protect people's data are making little progress, exposing citizens to the real risk of data disasters.
Sensitive data including email addresses and phone numbers are frequently advertised for sale online. In one recent case, information of registered voters appeared online following a data breach. In an equally worrying example, sensitive health data processed by a bank on behalf of a hospital was made available online.
In another case, laptops were sold still holding subscriber information that was captured during the SIM card registration process. In all of these breaches, the lack of a clear data protection law meant that those responsible for handling the data were not held accountable.
However, there is hope for better data control and protection in Nigeria. Various government agencies recently resumed discussions on duplicate data collection, control and use. In addition, a Data Protection Bill passed by the House of Representatives is now being considered by the Senate.
The Digital Rights and Freedom Bill, that has made good progress in the House of Representatives, also has a section on data and information privacy. Clearly, the problem we face is not lack of proposals but lack of follow-through.
The National Identity Management Commission, responsible for the management of citizen data, must work with other agencies and stakeholders to secure the appropriate legislative environment that Nigeria needs for personal data protection and privacy. Citizens, who are new to the concept of data ownership, need to be made aware of their rights — including the proposals that could soon become the law of the land.
Until a robust, enforceable law is in place, Nigerian citizens will continue to be denied the protections that their constitution grants them.
'Gbenga Sesan is the Executive Director of Paradigm Initiative
Ekong, UNILAG Postgraduate Student Charged for Allegedly Defrauding Konga
Aniekan Charles Ekong, a  postgraduate student of the University of Lagos (UNILAG), has been charged to court by the Police for defrauding Konga to the tune of over N7.5m.
The alleged fraudster, a former employee of the foremost e-Commerce giant, was arraigned before a Lagos Magistrate Court on Tuesday, August 11, 2020.
According to the charge sheet , Mr. Aniekan Charles Ekong, who hails from Akwa Ibom State, faces a three-count charge of stealing the sum of N7.5m belonging to Konga, impersonation and fraud allegedly perpetrated against the company.
Investigations reveal that the suspect, whose employment had previously been terminated by Konga, was tracked down by the Police to Uyo, the Akwa Ibom state capital.
From there, he was brought back to Lagos and subsequently charged to court for the alleged offences. Findings by our correspondent also reveal that the suspect had allegedly started living large shortly after his exit from Konga, before enrolling for a Master's in Business Administration (MBA) programme with the University of Lagos.
Aniekan, who was arraigned before Magistrate A.O. Ajibade, however, pleaded not guilty to the three-count charge.
Subsequently, the Presiding Magistrate granted him bail. However, he was remanded under Police custody pending the fulfilment of his bail conditions which include the sum of N500,000; provision of two sureties who must be blood relatives who will tender their Tax Clearance Certificate from the Lagos State Inland Revenue Service (LIRS) for three years. Also, one of the sureties must own a landed property in Lagos State.
When contacted, an official of Konga who did not want his name in print because the case is presently sub judice revealed that the suspect's employment with Konga was terminated a while back due to some unprofessional conduct exhibited.
Further, the source disclosed that Konga retains a strict zero-tolerance policy for fraudulent practices and other unethical conduct among staff, noting that anyone found wanting within the organization, irrespective of their position or status, will face the full weight of the law.
The case has been adjourned to Monday, September 7, 2020 for commencement of trial.
Real Estate Stakeholders to Discuss Impact of Remote Working @ #BuiltConverse by #StartupSouth
Stakeholders representing different segments in the built industry will converge online bi-weekly (starting from Friday August 14, 2020 at 1300 (W.A.T)) to discuss different topics affecting the space in an event on Youtube titled #BuiltConverse.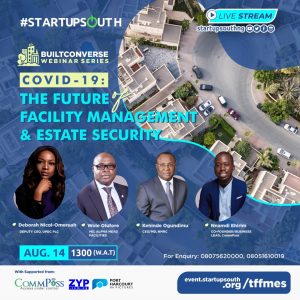 #BuiltConverse by #StartupSouth is a virtual tech/innovation Real Estate solutions Event created to explore and discuss challenges and opportunities from a technological Innovation angle.The theme of the maiden session of the event by #StartupSouth is COVID-19: The Future of Facility Management & Estate Security.
In a statement, Uche Aniche,  convener of #StartupSouth said: "It is estimated that 8 out of 10 of all companies across the world implemented universal work-from-home policies as a result of COVID-19 lockdown and roughly 7 out of every 10 (67%) of these organizations have no intention to return to regular office facilities post-pandemic."
He further revealed that discussions at #BuiltConverse Edition1 will provide a deep dive on the impact and opportunities of COVID-19 on Facility and Estate Management space. Some of the touch points will include Security, Safety and Convenience for both managers and users.
Speakers/panelists include Deborah Nicol-Omeruah – Deputy CEO, UPDC Plc, Wole Olufore, MD, Alpha Mead Facilities, Kehinde Ogundimu – MD, Nigerian Mortgage Refinancing Company and Nnamdi Ehiri – Co-Founder, CommPass.
The series will attract facility managers, real estate professionals,technology innovators, the general public and feature keynotes presentations, panel discussions, Product Demo and Q&A.
This first edition is supported by CommPass (www.thecommpass.com) – a Startup within the #StartupSouth network that provides a simplified cloud-based solution with features that include convenient & contactless Access Control. Safety & Emergency Management for  facility management.
Link to full Agenda: https://docs.google.com/document/d/11RcIyLSGHEQ2TpkSWx6XSTnBDLijAnJCJa6KBw1dZ2M/edit?usp=sharing
Lagos Slams N25m Licensing Fee on Uber, Other Ride-Hailing Operators
Lagos State Government has announced plans to commence the regulations of ride-hailing startups operating in the state.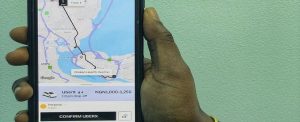 Under the new regulations, ride-hailing operators like Uber and Bolt that have over 1000 drivers henceforth will pay ₦25 million licensing fee and ₦10 million annual renewal fee.
Those that have less than 1000 drivers, they will pay a licensing fee of ₦10 million and an annual renewal fee of ₦5 million. Operators who directly own their cars and employ their drivers will pay only the license fee of ₦5 million if such operators have below 50 drivers.
Those who have over 50 drivers will pay ₦10 million for the operating license.
Additionally, ride-hailing operators are also expected to pay 10 percent "service tax" on "each transaction paid by the passengers" and are mandated to renew their licenses three months before the expiration of the current license.
These regulations are contained in the Guidelines For Online Hailing Business Operation of Taxi in Lagos State 2020.
Besides the licensing and the renewal fee, the Ministry also stated in the online ride-hailing business guideline that they want "Access to e-Hailing Taxi Companies' database (e.g drivers details, accident reports, etc).
The Ministry and her Agencies shall have access to the database of the operators/companies operating e-Hailing Taxi Business in Lagos State.
Bolanle Ogunlola spokesperson for Lagos State Ministry of Transport confirmed that the new regulations will start on August 20.
She said the enforcement of the guidelines will not start until after a stakeholder meeting is held.
According to a document titled, 'Guidelines for Online Hailing Business Operation of Taxi in Lagos State 2020' issued by the Lagos State Ministry of Transportation,: Part 4.1 subsection 5 of the document titled, 'e-Hailing Taxi Operation', stated that all drivers must pay 10 per cent generated on every trip to the Lagos State Government.
"All operators of e-hailing taxi service must pay the state government 10 per cent service tax on each transaction paid by passengers to the operators," the document partly read.