RisingRose is Customer-Centric -Linda
Linda Austin-akuta is the managing director of RisingRose Nigeria Limited. Linda, a pious manager is a graduate of Lagos State University (LASU), obtaining Bachelor of Science in Political Science. Upon completion of her National Youth Service she joined UPS in 2002 as a Client Services Executive. She rose to the position of Accounts Executive after she gathered many awards. She spoke to peter ugwu on matters that need urgent attention by the government in a quest to open courier industry for national development.

RiseRose's Mission
The mission is to provide the best possible delivery service to our customers by curbing the inconsistencies in mails and financial documents delivery system. RisingRose wants to ensure end to the mishandling of the investors' documents. Sometimes, the documents are lost in transit.
Part of the processes of ensuring safety is by packaging the documents in accordance with international best practices.
We are committed to offering superior levels of service with the most flexible options available at shortest possible time. We have been doing this for the past three years and our clients can testify to our integrity and reliability.
We believe in high effective customer service. For instance, there are practitioners that wouldn't know that during packaging if one misses the address labeling, one are creating room for confusion for those that pick the package.
When the names and addresses are blurred or not conspicuously written the delivery may end up in a wrong hand or place. We believe in integrity and trust.

Assessment of Courier Industry
Since we started operations, we have discovered the need to deliver customers' items on time.
For instance, our customers, most of whom we deliver dividends warrants, would want it delivered as scheduled.
If one fails to do that, it may end up in the hands of people that will mis-represent it.
That becomes a problem to the registrar. These documents are time sensitive.
Once we have this kind of job, we make sure we deliver; even if it implies stepping down other things. Moreover, all mails in our care are very important to us and must be treated very urgent.

Expansion Plans As e-Dividends Have Emerged
The conversion of annual reports, dividend certificates, et cetera to compact discs has already been taken care of, especially by the concerned authorities.
When the conversion started, it was still given to us (couriers) to deliver, but the prices crashed. For instance, annual reports that cost N150.00 were reduced to N60 per CD. Even if one is given 100,000 copies to deliver, the revenue was not enough.
However, Nigeria Postal Service (NIPOST) intervened, because CDs are more fragile to handle. The process of packaging the CDs needs extra care; the packaging was different.
So, it attracted extra charges. Presently, it cost N150.00 per CD to deliver.

Rising Rose Expectations
There are many expectations in the industry, like the regularization of the sector. Everybody is expectant that it will become a reality soon.
Meanwhile, in the interim, Courier Regulatory Department (CRD) of NIPOST has been doing what they could, within the limited resources at their disposal to quail some challenges in the industry.
Some people are of the opinion that they are not doing much. But, we believe that they are on the right track.
For instance, one cannot establish a courier company without obtaining a licence; otherwise one is going against the law. The CRD will provide all necessary rules and regulations to guide in the obtaining of courier licence and operation.
The rules form the operational basis for courier companies. We have witnessed in the recent past that some firms were axed by CRD for their inability to play according to the rules. Nevertheless, we feel they can do better if they are made to operate as courier regulatory commission.

Kicks Against Yearly Renewal of Licence
With regards to the annual licences renewal, well, the ANCO EXCOS are working on it and I hope they will come out with something more favourable to all operators.

Caging Portfolio Courier Firms
I believe that CRD is always after those people. It also behooves on the media and industry players to fight the old trends by consistent campaign against that and alerting the regulators when we see any of them in operation.
In ANCO, we can identify our members. It is an illegality that must stop. These people are architects of the downfall of many practitioners, because they would approach unsuspecting customers, collect parcels to deliver and later dump such packages thereby bringing bad name to the courier industry.
Although, they are not magicians, but their operations affect the genuine companies; they are threats to our integrity as an industry.
It boils down to the call for a Commission to manage the affairs of this industry. Meanwhile, the new ANCO executives have sounded the gong; if you are not a member of NAICA or ANCO, you should not be in the industry.
That will help in fishing out the bad eggs. Both the Government, regulators, registrars, recognized practitioners and the customers must unite to cage them.

Unharnessed Potentials
There are many of them. When I was in UPS, we started the warehousing project. Before then, we knew nothing about it in the country.
It has been yielding revenue for the company. Warehousing is an area that courier companies should look into. A lot of people do not want to have warehouse due to safety requirements, so others can leverage on that opportunity.
The online retailers may require such services too. In the actual sense, the online shops ought to partner with courier firms in terms of warehousing and delivery of goods to customers. Even Bulk post should tighten their noose on them.
The potentials in the industry can better be harnessed when players play according to the rules in the industry. They will become templates that future investors will emulate.
Meanwhile, the sector can be equated with the oil and gas. If we get a Commission today, a lot of jobs will be created in the industry.

IT and Courier
What we are doing is not pleasure inclined. Emails are pleasure writings. What we deliver are sensitive and time bound documents. They are physical documents that must be seen and felt at the other end. We still deliver them. So, email or no email we are moving on.
After e-dividends and e-certificates, for instance, we still carry the e-advice, which is meant to notify the shareholders involved that their accounts have been credited. In fact, technology is a plus to what we do. More people are beginning to trust the system.
They can use the internet to track movement of their packages. If you are doubtful of the capital market, you can use your system to monitor how the share is fairing in the market. That has restored shareholders' confidence.

Encounter with Government Agents
We have a lot of challenges in this regard; Government agencies do obstruct the movement of courier dispatch riders on essential duties because of tax collection. These taxes we pay. I am of the opinion that if a special identification is given to us for the dispatch riders, it will enhance our inter-state operations and could reduce some legal risks to us.

Automation
Before now, when we have registered mails we recorded them in note books. This takes longer times. Presently, we give our customers soft copy that helps them to monitor the shareholder' registered manifest. This makes it easier and more convenient to access their customers' share registration.
CBN Pulls Rate Cut Trigger, King Dollar Returns
By Lukman Otunuga, Senior Research Analyst at FXTM,
In a move that caught investors off-guard this week, the Central Bank of Nigeria (CBN) slashed interest rates by 100 basis points bringing the MPR to 11.5%. Given how inflation has been above target since 2015, rates were expected to remain unchanged for the rest of 2020 and possibly early 2021.
The question on the mind of many is whether the rate cut will achieve the desired effect by stimulating consumption and economic growth? Ongoing border closures and disruptions created by COVID-19 have pushed inflation to levels not seen since March 2018 above 13.20% while a drop in the production and price of Oil continues to rub salt into the wound. While looser monetary policy could support growth, it may come at the cost of rising inflation and weaker Naira.
Over the past few months, central banks across the globe have deployed unprecedented measures to defend their respective economies against the coronavirus menace. However, fiscal policy has been identified as the sharper tool with governments across the world providing a critical lifeline to keep the wheels of their respective economies rolling.
Outside of Nigeria, King Dollar made a return by appreciating against every single G10 currency. In times of uncertainty, everyone wants a juicy piece of the world's most liquid currency. As coronavirus cases rise in Europe and other parts of the world, the flight to safety is likely to boost appetite for the Dollar. This is bad news for many emerging markets currencies, especially those with high Dollar-denominated debt.
On the commodity side, Oil prices remain heavily influenced by demand-side factors and the state of the global economy. Prices are likely to remain stuck around the $40 regions in the near term, especially If another round of possible lockdowns hit Oil demand. Looking at the technicals, WTI Crude is under pressure on the daily charts. If prices are unable to break away from the sticky $40 regions, the next key point of interest remains around $38. A weekly close above $41.50 could pave a path towards $43.
NCC Arrests Man for Hacking into DSTV System
Nigeria Copyright Commission (NCC), has arrested one Mr Aliu Olalekan, for allegedly hacking into DSTV system and watching the channels free without subscription.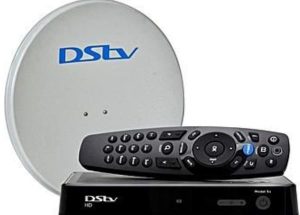 Mr Matthew Ojo, NCC Director in the Lagos Directorate Office said this while speaking with newsmen in Lagos, on Tuesday.
He said that the suspect used to watch DSTV channels free without subscription on his Android phone via an app which he downloaded on google play store.
"This suspect distributed the know-how to his telegram followers and on his blog with the aim of gaining more followers and viewership on his blog and makes more money through google ad-sense.
"The operation was based on surveillance which had earlier been carried out by the Multi-choice team and verified by a copyright inspector, " he said.
He added that the arrest was made in collaboration with a team of copyright inspectors led by the Head of Enforcement Department, Mr Charles Amudipe.
Others included; a team from Multichoice Nigeria led by Mr Umar Ibrahim and policemen from Lagos Command Headquarters, Ikeja.
Ojo said that the joint team conducted an anti-piracy operation at the premises of the culprit in Amukoko, Lagos.
According to him, the suspect was contacted on phone by a member of the operation team on the disguise of patronising him. "The suspect came out to meet the caller and in the process of discussion, he was apprehended.
"The suspect took the team to his resident. The squad paraded his one-room apartment and recovered his laptop and phones used in perpetrating the ungodly act. "He was arrested and brought to the copyright commission office for further investigation, " he said.
Ojo said that, on getting to the commission's office, the statement of the suspect was taken and the inventory of items seized from him taken. He said that investigation on the matter was still ongoing and if found guilty the suspect will be charged to court.
NCC, Digital Encode Support NITRA Innovative Tech Forum On Post-COVID-19 Strategies
The Nigerian Communications Commission (NCC), Nigeria's telecommunications regulator and Digital Encode, Cybersecurity and Compliance advisory company, have indicated interest to partner with the Nigeria Information Technology Reporters Association (NITRA), the national umbrella body of ICT reporters, as it organizes a forum that will x-ray the industry's future plans for ICT growth post pandemic era.
The event, slated to hold on October 15, 2020, will seek to discuss the needs for a fortified ICT sector after the COVID-19 era, and the level of preparedness of ICT stakeholders to embrace the challenge of being pivotal to the stability and growth of all other sectors.
A statement from NITRA National Secretariat in Lagos indicates that due to the pandemic and need to observe the COVID-19 protocol on social distancing, the event will be held via a Webinar.
This year's theme, "Multi-stakeholder Approach To National Recovery Post-Pandemic", is in line with the annual event's generic theme, 'NITRA Innovative Tech Forum', a contribution by NITRA to the development of Information and Communication Technologies (ICTs) innovations and policies in Nigeria.
Prof. Umar Danbatta, executive vice chairman, NCC is expected to deliver the keynote speech at the event and will throw more light on Federal Government's plans, programmes and policies on post-pandemic strategies using ICT.
Dr. Adewale Obadare and Dr. Seyi Akindeinde, founders of Digital Encode, while accepting to support the event expressed their readiness to offer their expertise in Cybersecurity for organisations to prepare against cyber- attacks with the new normal.
They will also highlight areas that are high risks that need fortification in terms of cybersecurity.
Speaking on the event, Mr. Chike Onwuegbuchi, national chairman, NITRA, noted that as the COVID-19 pandemic continues to leave its negative trails across the globe, economic reboot for countries will not only depend on how well they readapt to the new normal, but also more on their recovery plans.
According to him: "While the federal government has consistently expressed its willingness to set all policies in place to engender growth, and accelerated implementation of these policies, private sector firms have also shown great hunger for the task ahead in post-COVID-19 era.
However, the question that needs to be answered is whether all stakeholders are ready for the required task ahead."
The event will also offer participating companies opportunities to publicize some of their individual efforts at contributing to reacting a soft landing or lifeline for SMEs and other ancillary companies as the pandemic threatens their survival.
Digital Encode is a multi-award winning and leading consulting and integration firm that specializes in the design, management, and security of business-critical networks, telecommunications environments and other Information Technology (IT) infrastructures.