Senate Hires Experts to Probe MTN, Buhari's Minister, Others
he Senate has employed the services of international forensic experts in the on-going probe of MTN and others accused of violating the nation's Foreign Exchange Monetary and Miscellaneous Act.
The hired international forensic experts made up of lawyers, accountants and others are to assist in the comprehensive investigation of the alleged repatriation of $13.9 billion by MTN.
Rafiu Ibrahim, chairman of the Senate Committee on Banking, Insurance and other Financial Institutions, disclosed this to journalists at the National Assembly complex, Abuja, yesterday. Ibrahim said that the experts had already arrived Nigeria and had commenced work with other local forensic experts to unravel possible hidden details from the documents that had been submitted by those facing investigation.
He said: "The Senate sees this as very important; it is a weighty allegation and we are going to deal with a lot of documents spanning 16 years. Based on that, we got the approval of the leadership of the Senate and we have engaged international and local forensic experts, accountants and lawyers.
"The team has been fully assembled and they have started working: this is not going to be a normal periphery investigation because it involves a lot of documents. "We will be starting the investigative hearing tomorrow, we will listen to each of them and we will take it from there," he said.
The committee chairman stated that a lot of private individuals and government agencies had been invited to brief it today, noting that some of those invited had submitted requested documents and indicated willingness to be at the hearing.
"MTN has submitted and they promised to attend. Diamond Bank has submitted, Standard Chartered Bank has submitted and they promised to attend. Stanbic has submitted and they promised to attend. "Mallam Ahmed Dasuki has no submission yet, Col. Sani Bello, no submission, but we are expecting them tomorrow.
Other names that will appear are Gbenga Oyebode and Dr. Victor Odili," he said. Others expected to appear before the committee are Minister of Industries, Trade and Investment, Okechukwu Enelamah; former Chairman of Diamond Bank, Dr. Paschal Dozie, and the Financial Reporting Council of Nigeria. Senator Dino Melaye, who blew the whistle on the alleged repatriation, expressed satisfaction with the level of attention given to the allegation. He said: "I am particularly excited that the Senate has engaged forensic auditors who also double as lawyers and who have already commenced work.
I can tell you that even preliminary investigations have revealed that the $13.9 billion is far lower than what the outcome will look like. We have realised from these preliminary investigations that it is actually outrageously higher than the $13.9 billion."
Meanwhile, Enelamah, in a letter to the committee, denied any involvement in the alleged fraudulent repatriation of funds. In the letter HMITI/ GEN.CORR./VOL.1/, dated October 7, Enelamah said he had neither had any engagement with the MTN nor earned dividends.
"I was never owner of Celtelecom Investment Limited or a shareholder in Celtelecom as recorded on pages 402 and 403 of the Votes and Proceedings of the Senate of Tuesday, September 27."Between 1998 and 2015, I served as the Chief Executive Officer of Capital Alliance, a wholly owned subsidiary of African Capital Alliance (ACA), an investment company. "Two funds managed by ACA together with some individuals and entities invested in MTN with Celtelecom as the investment vehicle.
"I served as a director in Celtelecom representing the ACA management fund. I have never claimed that I invested in MTN; neither did I obtain a Certificate of Capital Importation on 7th February, 2008," he said. The minister informed the committee that, according to standard business practice, investors did not have responsibility for the remittance of proceeds from the company they invested in. Accordingly, he said, "so, at no time was I ever in position to transfer funds out of Nigeria on behalf of MTN."
Innovative Forum: NITDA Commends NITRA, Highlights COVID-19 Recovery Programmes
Following the successful conclusion of the Innovative Forum organised by the Nigeria Information Technology Reporters Association (NITRA) to draw a roadmap towards COVID-19 recovery in the ICT industry, the Ministry of Communications and Digital Economy, has expressed readiness to partner with the Association to further seek ways of igniting the industry to growth.
Speaking at the forum, Mallam Kashifu Inuwa Abdullahi, Director-General of NITDA, noted that the opportunity presented by the Webinar event is an avenue to partner with NITRA so that the efforts, programmes and messages of the Agency will get to the grassroots. With the collaboration, he said, "we can transform Nigeria into a strong and Digital Economy in the Post pandemic era."
Enumerating some of the programmes NITDA is engaged with, Mallam Abdulahi, who was represented by the Agency's Director, IT Infrastructure Solutions, Dr. Usman Abdullahi, noted that at the onset of the pandemic, NITDA swiftly initiated several policies and programs for the technology ecosystem and startups to be able to withstand the potential impact of the Pandemic. "We rolled out these initiatives in order to ensure that technology continues to enable innovation and entrepreneurship while addressing challenges of the society."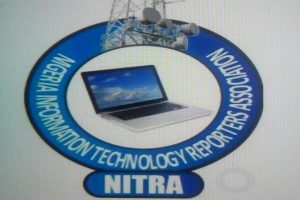 He further noted that a Tech4COVID-19 Committee was constituted with the aim of identifying the challenges the Technology ecosystem is facing during the COVID-19 Pandemic and to propose measures to cushion the effects of the pandemic.
Members of the Committee were drawn from both the public and private sector and are key players in the Technology ecosystem who have made significant contributions to the Technology and Innovation ecosystem. The Committee's recommendations includes strategies to ensure the industry retains about 100,000 ICT Jobs as well as create additional 30,000 in Post COVID-19 Era through the initiative.
"We also organized a special challenge, the Nigeria COVID-19 Innovation Challenge, where Nigerians were challenged to come up with innovation to meet the challenges of the COVID-19 Pandemic and beyond. Over 1,500 startups participated and three emerged winners, namely, Algorizmi, a patient management solution particularly for victims of the COVID-19 Pandemic; Smart Disinfection Chamber,  smart tunnel which can be used for disinfection of persons entering any location and Myclinic.ng, an online platform that enables users to hold video consultations with qualified medical doctors from anywhere and at any time. We are partnering with relevant institutions towards actualizing these ideas."
NITDA, the D-G assured, is also working on a special support scheme for Startups and Hubs, tagged the NITDA Technology Innovation & Entrepreneurship Support Scheme (NTIESS).
The scheme will accommodate sub-schemes in areas covering Incubation Programme; Technical Capacity Building; Internship Programme, and Hub Up-scaling.
Mallam Abdullahi noted that Nigeria has over 130 hubs and several hundreds of technology startups. "These have the capacity of driving innovation and entrepreneurship, and stimulating the economy. The Academia, which has always been at the forefront of research and development, needs to expand its horizon to include innovation. We need more hubs in the academia to nurture the creativity of our youths. Collaboratively, we in NITDA are can make Nigeria a nucleus of innovation".
NITDA's programmes also reaches out to Agritech with the National Adopted Village for SMART Agriculture (NAVSA), an ecosystem-driven digital platform which engages farmers and focuses on using precision/smart farming techniques to ensure significant improvement in efficiency and productivity thereby increasing crop yield; increased profit margin and create more jobs.
These initiatives, the NITDA D-G said, are collaborative efforts by the Agency and relevant stakeholders, aimed at addressing the disruption caused by the COVID-19 Pandemic as well as preparing the country in the Post-COVID-19 Pandemic.
The National Information Technology Development Agency (NITDA), one of the implementing arms of the Ministry, was mandated by the National Information Technology Development Act (2007) to create a framework for the planning, research, development, standardization, application, coordination, monitoring, evaluation and regulation of Information Technology practices, activities and systems in Nigeria. The Agency's role therefore is to develop Information technology in the country through regulatory standards, guidelines and policies. It is the prime Agency for e-Government implementation, Internet governance and General IT development in Nigeria.  Our activities in NITDA are aimed at fast-tracking the realisation of the objectives of NDEPS. 
Danbatta Applauds Media Role in Nigeria's Telecoms Development
Prof. Umar Garba Danbatta, Executive Vice Chairman of the Nigerian Communications Commission (NCC), has commended its media stakeholders for their role in accurate, timely and effective reportage of the telecommunications sector.
Danbatta gave the commendation while declaring open a two-day media capacity building programme organised under the auspices of the Nigeria Information Technology Reporters Association (NITRA) on Tuesday, October 27, 2020 at the Digital Bridge Institute (DBI), Abuja.
"I must applaud every member of NITRA for working assiduously to provide coverage for our activities, as well as provide a platform for our narratives in terms of the various policy initiatives and actions taken to support the national economy.
"Without your continuous cooperation, understanding and professionalism, the Nigerian audience would not have been properly informed about the activities of the NCC," he said.
Represented by Dr. Ikechukwu Adinde, director, Public Affairs, NCC,  Danbatta stated that the ICT industry in Nigeria is, indeed, the most dynamic and most resilient, as it continues to evolve by the day.
According to him, with the shutdown of almost every sector of the economy since the outbreak of COVID-19 pandemic, telecoms sector has continued to provide government and businesses the platform to operate and transact online to ensure that the country's developing economy is sustained.
The EVC, however, noted that the advancements in ICT have reshaped every facet of human endeavour from learning, teaching and communication to other sectors of the economy.
He said the dynamic nature of ICT industry has, thus, informed the NCC's decision to continuously train journalists, with a view to equipping them with the necessary skills they need to report the industry, adding that the misconceptions and misinformation that have trailed the proposed rollout of Fifth Generation (5G) network in the country is a case in point.
"Therefore, we will not relent in our quest for an improved ICT industry in Nigeria and in pursuit of this objective, we will periodically assemble seasoned professionals to educate and enlighten you on the latest trends in the global ICT industry," he said.
He said while the training is in line with the Federal Government's recognition of the important role journalism has played in the development of Nigeria's ICT industry, it is also consistent with one of the critical pillars of NCC's strategic plan on strategic partnership and collaboration with various stakeholders, including the media.
He urged the participants to take the training seriously and take advantage of it to expand their horizons of knowledge on the ICT industry.
"This is very necessary so that when you report events or activities relating to the industry, you are able to translate them into a language that the common man will readily understand for the overall development of the industry," Danbatta said.
"It is our duty and responsibility to ensure that whatever we want to introduce to the Nigerian telecoms space is well understood by Nigerians and all those who make use of our telecoms services and the media forms a part of our critical external stakeholders to make this happen," the EVC added.
MTN Nigeria Appoints Karl Toriola as New CEO
MTN Nigeria has announced the appointment of Mr. Karl Toriola as the CEO designate. His appointment is effective March 1, 2021, providing enough time for an orderly handover.
Mr. Toriola is currently the Vice President: West and Central Africa (WECA), excluding Nigeria and Ghana, a position he assumed in 2016.
During that period, he has overseen the steady progress of the operating companies in the region, notably the turnaround of MTN Ivory Coast and MTN Cameroon.
During his tenure, the WECA markets have made significant commercial and strategic strides. These include the improvement of market shares within the region and the development of mobile financial services..
Since joining the Group in 2006, Mr. Toriola has also held a number of senior operational roles including Chief Technical Officer of MTN Nigeria, CEO of MTN Cameroon and MTN Group Operations Executive.
Mr. Toriola has at various times in his career in MTN Group had oversight responsibility of 16 of the Group subsidiaries and serves on various MTN boards, including MTN Nigeria.
Prior to joining MTN Nigeria, he was the Chief Operations/Regional Officer for Vmobile Nigeria (now Airtel Nigeria) where he was responsible for operations.
Mr. Toriola obtained a Bachelor of Science in Electronic and Electrical Engineering from the University of Ife, a Master of Science degree in Communication Systems from the University of Wales, and attended the General Management Program in Harvard Business School.
In addition, he has attended several executive development courses at various institutions including Wharton Business School, Harvard Business School, Institute of Management Development and London Business School.
He is a Fellow, Nigerian Society of Engineers (FNSE) and Council of Registered Engineers of Nigeria (COREN) as well as a Member, Institute of Directors.
Commenting about the appointment, Ernest Ndukwe, chairman of MTN Nigeria, said "After a thorough and rigorous selection process, we are delighted to welcome Karl back to MTN Nigeria.
"Recognised throughout the industry as a highly experienced and well regarded business leader, Karl has been a member of the MTN family for over 14 years and has an intimate understanding of the telco business. 
"His appointment further reaffirms the Company's commitment to succession planning as well as retaining and developing identified high performing executives.
"With his rich credentials, I am personally pleased that Mr. Karl Toriola is well-suited to lead MTN Nigeria's Executive Management team through the next stages of growth in the years ahead"
The current CEO of MTN Nigeria, Mr. Ferdinand Moolman, will exit this role with effect from 1st March 2021 and assume a new role as MTN Group Chief Risk Officer.
Mr. Moolman joined MTN in 2002 and has held several senior positions within the Group, in Nigeria and Iran.
He joined the Board of MTN Nigeria in 2014 as Chief Financial Officer (CFO) and became CEO in 2015.
Under his leadership, significant progress has been made in stabilising the business and setting it on a sustainable growth path.
He will remain on the Board of MTN Nigeria in his new role as the MTN Group Chief Risk Officer.
"The Board of MTN Nigeria wishes to express its gratitude to Ferdi for his exemplary leadership.
"He has played a critical role in the Company's development and success, and while we will miss him, we wish him the best in his new role at MTN Group" said Dr. Ndukwe. 
In response, Ferdi Moolman said, "I wish to thank the Board of Directors, Management, our dedicated shareholders and my amazing team, for all of the support you have given me through the years.
"I am proud of the people of MTN Nigeria and the Company we are building; and while this is a time of great challenge and opportunity, I remain steadfastly confident in the greater potential and future of this nation and the significance of our role within it.
"It has been my honour and privilege to serve this great Company. I am grateful for my time here and the supportive relationships built over time."
Commenting on his new appointment, Karl Toriola said, "I am delighted to be returning to serve in my country at such a critical point in history when the services we provide are so important to our national development.
"MTN Nigeria is a great company with exceptional people and extraordinary customers, who place a high value on those services.
"I have a clear focus on delivering a stellar network experience and enhanced customer service; and look forward to working with an outstanding group of leaders, in and out of government, over the coming years to continue harnessing our capabilities, transforming our relationships and delivering even greater value to our nation and her people."