Sub-Saharan Africa's Digital Exclusion Woes Persist – Goodluck
Akinwale Goodluck, head of Africa at the GSM Association (GSMA), has said that though a lot of people in Sub-Saharan Africa are covered by a mobile broadband (MBB) network, they still don't subscribe to mobile Internet.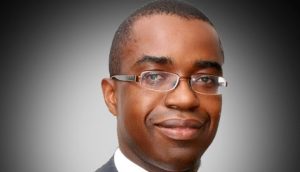 He noted that bridging the mobile Internet usage gap remains a significant challenge in the region.
Goodluck made the comments during a Webinar organised by Huawei, focusing on digital infrastructure as the foundation for national prosperity.
Global Internet penetration has passed 50%, with Sub-Saharan Africa at 24%, GSMA stats show.
"The biggest task for us as stakeholders in Sub-Saharan Africa now is to bring more and more people online, so that they can participate in the digital economy and then we can see this growth that we are expecting the Internet will provide for us in Sub-Saharan Africa," said Goodluck.
"We've still got a relatively big coverage gap across the region but we are seeing operators supported by OEMs like Huawei and Ericsson beginning to develop more and more rurally sensitive solutions in terms of costs, technology and ability rollout, which is beginning to impact mobile broadband across rural areas."
Barriers to entry
GSMA research shows 62% of the over 800 million people across Sub-Saharan Africa that don't use the mobile Internet are covered by a MBB network.
According to Goodluck, this highlights that the problem is not necessarily coverage but that there are barriers stopping people from going online, which need to be addressed.
While barriers like digital literacy, affordability of devices and data bundles, security and coverage exist, he noted that what has become clear now is that there is a lack of relevance for a lot of people in Sub-Saharan Africa.
This problem also exists in developed markets for older demographics, as noted by the GSMA.
He explained: "Music and video are big drivers for Internet adoption and data growth traffic in Sub-Saharan Africa, but the reality is there needs to be a compelling proposition for a lot of people in the region to come online.
"People see no reason to invest in a data bundle. Because of poverty levels, people will only invest money in what will drive economic wellbeing and if they don't see that proposition on the Internet, then they are not going to go online.
"It is on all stakeholders to find that sweet spot for people in Sub-Saharan Africa – what does he or she require, what are the benefits they would like to see and how do we bring them online."
4G leap
Turning to the adoption of 4G in Sub-Saharan Africa, Goodluck said aside from South Africa, which is at 23%, other countries in Africa are below 10%, while the average for the region stands at about 7%.
This, he said, means there is capacity on the ground but there is no throughput. "We are building 10-lane highways but we are only riding bicycles on those highways. There is a lot of work to be done in terms of addressing challenges and barriers to 4G adoption."
He continued that by the end of 2019, 3G connections, for the first time, overtook 2G. "This is a good indicator that more and more people are becoming Internet-aware and we envisage that by 2023, even 4G connections would have outstripped 3G connections. Between 2023 and 2025, 5G will begin to creep in," he added.
GSMA's "The Mobile Economy 2020" report shows the Sub-Saharan Africa region will only see 31 million 5G connections by 2025, which is 3% of the global average.
Goodluck concluded: "5G is going to be an enabler for all the things we are talking about 5G being able to do. It is inevitable for us in Sub-Saharan Africa but it is not imminent. 5G will drive a lot of complex operations but for us in Sub-Saharan Africa, we still need to get quite a few things right before we can rollout 5G.
"5G ultimately is going to be a big game-changer for the world and indeed Sub-Saharan Africa."
ipNX, USTDA Ink Partnership Deal to Develop Nigeria's ICT Infrastructure
ipNX, Nigeria's pioneering and leading information, communications and technology (ICT) company and the United States Trade and Development Agency (USTDA) have signed a partnership deal that will further support the development of Nigeria's ICT and broadband infrastructure and help ipNX expand its fibre-optic network to more than 200,000 residences in Lagos and other locations, including Abuja and Port Harcourt.
A virtual signing ceremony that signalled the beginning of this far reaching relationship between the two parties was held on Thursday, September 17, 2020.
Through this innovative initiative, the USTDA is supporting ipNX to promote inclusive, secure and sustainable connectivity across the nation.
The agreements were made possible as a result of several engagements between the USTDA delegation to Nigeria and the leadership of ipNX; and will advance the goals of the recently updated Nigerian Broadband Plan.
At the Signing Ceremony, Ejovi Aror, group managing director of ipNX, said: "We believe that world-class connectivity and broadband internet access will be pivotal to the digital transformation and socio-economic development of Nigeria.
'We are very positive that this project will play a crucial role in making our belief a reality."
Aror added that with the emergence of the COVID-19 pandemic, the case for a vibrant ICT sector has never been stronger and the new partnership will bring ipNX a step closer to achieving its mission to continually leverage technology to create innovative solutions that help mankind thrive, while making a crucial impact to the lives of Nigerians across the country.
Mary Beth Leonard, U.S. Ambassador to Nigeria, said' "These projects will support the development of Nigeria's telecoms infrastructure and help to achieve the goals of the National Broadband Plan.
"The U.S. Government has committed significant resources to improving telecoms infrastructure in Nigeria and this support is crucial as we believe that investment in critical ICT projects will strengthen the resiliency outlined in Nigeria's economic sustainability plan."
Also present at the virtual event, the Director, Technical Standards and Network Integrity of the Nigerian Communications Commission (NCC), Engr. Bako Wakil, who spoke on behalf of the Executive Vice Chairman of NCC, said: "The support this grant will provide to the telecommunications sector, in particular broadband, is in line with the National Digital Strategy and the National Broadband Plan.
"The NCC would like to congratulate ipNX as it shows the company's integrity and commitment to be selected for this grant".
ipNX also revealed that it intends to continue to work with USTDA beyond the preliminary stage, to execute many more projects into the future that will bring about the digital transformation and socio-economic development of major cities in Nigeria in alignment with the National Digital Economy Policy and Strategy.
With their partnership, both parties fully agree that further development of the nation's broadband infrastructure is key to unlocking the potential promised by Nigeria's digital economy.
According to the World Bank's 'Nigeria Digital Economy Diagnostic Report' released in 2019, Broadband is a key enabler to harness the digital economy transformation and high-speed broadband has the potential to accelerate Nigeria's socio-economic development.
Manfa Pledges to Collaborate with NITDA for Establishment of Zonal Office in Anambra State
Mr Theo Manfa, managing director/chief executive officer, Anambra State Information and Communication Technology Agency, (ANSICTA) has hinted that they are ready to collaborate with National Information Technology Development Agency, (NITDA) for the establishment of the agency's South-East Zonal office in the State.
He stated this when he led ANSICTA delegation to NITDA's head office in Abuja recently.
Mr Manfa explained that the call for special requests by the state is necessitated by the fact that the state "has long been known as a home of innovation and entrepreneurship, through the various markets like Onitsha and Nnewi and the plethora of locally produced goods they spawned over time."
He said that innovation and entrepreneurship are important elements to drive the digital economy which the nation is striving to create adding that the state has been watching with keen interest the activities of Federal Ministry of Communications and Digital Economy and NITDA which necessitated the intended partnership.
He requested NITDA's partnership with ANSICTA in building an ICT Hub in Anambra State; hosting a NITDA regional office; hosting NITDA events and programs as a State and region; trainings and Skills development programs of NITDA where the State hopes to train 40,000 residents in the next 2 years in Digital skills; establishment of cooperation on the Nigeria Government Enterprise Architecture (NGEA) and the provision of the Unity Board where 150 units were requested for a program for secondary schools in Anambra.
ANSICTA also presented an award to the Director General for his "Outstanding Achievements in Driving theDigital Economy" which was received by Dr. Vincent Olatunji on behalf of the DG.
Dr. Olatunji responded along with comments from some of the Directors and said NITDA would be glad to cooperate with the State.
He said it was gratifying to note that Anambra State now has an ICT Agency as Gov Willie Obiano had visited NITDA 6 years ago and the agency had worked with the State in developing an ICT policy for Anambra.
The success of that exercise is the take off of the agency (ANSICTA) which is the execution arm of the policy developed by NITDA.
He further said ANSICTA was by the speech of its MD really in tune with the affairs and mandates of NITDA and stated that ANSICTA should make a formal application for the things requested at this meeting will be looked into by Management for approval by the Director General.
He also thanked ANSICTA for recognizing the hard work of the DG through the award they presented, which he said was most encouraging.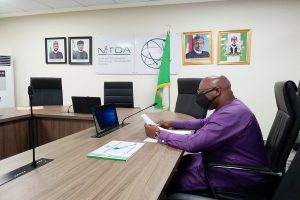 Michael Orekyeh; chief operating officer of ANSICTA was part of the delegation from Anambra State. while the Director General of NITDA, Malam Kashifu Inuwa Abdullahi was represented by the Director E-Government and Regulation, Dr. Vincent Olatunji; Director Office of ICT Innovation and Entrepreneurship – OIIE, Dr. (Mrs.) Amina Sambo Magaji; Deputy Director of IT Infrastructure, Dr. Saidu Kumo; SA Technical to the DG, Dr. Mohammed Yahaya; Corporate Strategy Department, Dr. Taofik Yekini and other Directors and Key Management Staff.
Patanmi, Danbatta, Others Set for 2020 Virtual Internet Governance Forum
Dr. Isa Ali Ibrahim Pantami, minister of Communications and Digital Economy, Prof. Umar Danbatta, executive vice chairman of the Nigerian Communications Commission (NCC), and other key players in the country's Information and Communications Technology (ICT) sector are set for the 2020 virtual Nigeria Internet Governance Forum (vNIGF).
The 9th edition of the annual event, which will hold virtually this year due to the Coronavirus (COVID-19) pandemic, is scheduled for September 23-24, 2020 with the theme "Achieving Inclusive Digital Economic Development in the Post-COVID19 Era."
The vNIGF 2020 will be chaired by the Permanent Secretary, Federal Ministry of Communications and Digital Economy, Mr. Istifanus Musa.
The organizers in a statement, observed that the COVID-19 pandemic has exposed the critical importance of digital technologies in fostering inclusive national development and this has necessitated the thematic focus of the conference, where Nigeria Internet Governance Forum Multi-stakeholder Advisory Group (NIGF-MAG), the body of organisers of the event, will come together to chat the way forward, as a community of Nigeria's Internet ecosystem.
The theme of this year's event amplifies how the focus of the NIGF-MAG, from both the business and policy communities, is shifting from shaping a resilient Internet for societal sustainability to understanding the effect and impact of COVID-19 on individual and corporate lives and activities, especially with regard to women and youths.
While the NIGF-MAG has assured of a good virtual experience at the programme, it said that the virtual conference will be preceded by the Youth Internet Governance Forum (YIGF) and Women IGF (WIGF) on September 23, 2020, while the main event at which Dr. Pantami will deliver a keynote address on the theme holds on September 24, 2020.
Aside Pantami and Danbatta, organisers have also confirmed a lineup of eminent speakers for the vNIGF 2020 who will participate at high-level panel discussions on the thematic focus of "2020 to 2030 Digital Economy Strategy."
The speakers are Founder and Chief Executive Officer, MainOne, Ms Funke Opeke; Chair of the Global IGF MAG, Anriette Esterhuysen; Coordinator, West Africa IGF, Mrs. Mary Uduma; Prof. Adenike Osofisan of University of Ibadan; and Dr. Nnenna Ifeanyi-Ajufo of Swansea University.
Others include a digital policy expert at Google, Mrs. Titi Akinsanmi; President and Chief Executive Officer, High Tech Centre for Nigerian Women and Youths, Dr. Wunmi Hassan; Coordinator, YouthIGF-NG, Uffa Modey, among others.
Members of the public from the private sector, government, civil society organisations and inter-governmental organisations, academia as well as Internet end-users are encouraged to register and attend the event live on the NIGF event website on https://2020.igf.ng and across its social media platforms, @NigeriaIGF.
According to the organisers, registration and attendance is free. Upon registration, participants will receive the event notifications and updates, free access to the digital edition of the event's report and more.
The NIGF-MAG comprises stakeholders from the Federal Ministry of Communications and Digital Economy (FMoCDE), NCC, the National Information Technology Development Agency (NITDA), the Nigeria Internet Registration Association (NiRA), Internet Society Nigeria Chapter (ISOC NG), DigitalSENSE Africa Media (DSA), in partnership with other local Internet stakeholders.