Sustaining a Courier Business
Courier business like every other business thrives on certain fundamentals; they include making and keeping promises. It is needless to make promises which you know you can hardly fulfill. It is advisable to make promises carefully and keep them always, even if it means a loss of margin or time. Word travels quickly when you fail to keep your promise. Ones reputation should be his greatest business asset and there is need to protect it at all costs.
A courier company should be able to devise a strategic plan and stick with it. A strategic plan starts by defining your strategic position. What is it that differentiates an operator from others and makes her services worthwhile? To determine a strategic position, one needs to consider how he can capitalize on industry trends, developments and competitive opportunities to make profit, as well as turning these advantages into a strong marketing message that is clear and precise. As you are taking advantage of this, you should also cuddle your present clients.
Current clients are also great for alerting you to other in-house projects in some other departments. Don't wait for an invitation. Ask if there might be colleagues in the company who could benefit from your services. Finally, your current clients can help you locate work outside of the company if you're bold enough to ask for outside referrals.
There is also the need to market incessantly. Creating a marketing plan is the easy part, making that first cold call is the difficult part. The good news; if your marketing plan is filled with relationship-building opportunities and exercises, there is no cold calling. It's all warm calling to potential clients whom you've already had the pleasure of making acquaintance with at seminars, conferences and classes, friends, colleagues, clients.
In a period when the world economy is experiencing layoffs and cutbacks, the courier sector is affected with a reduction in volume of goods in transit. To be able to weather the storm and keep afloat when the storm is over, courier companies should mind cash flow (in and out). According to resource materials, more businesses fail from cash flow problems than any other reason. Cash flow is a two-headed monster. It is a advisable to purchase strategically, spend wisely, and negotiate well.
Many professionals now enter into partnerships to reduce workload or for camaraderie. In savoring strategic partnership, there is need to look for a courier company that is willing to work as hard as your own company and one has a proven track record. That special company should have business, creative or technical strengths that complement, not mimic, yours.
Many a superb friendship has been ruined in partnership. If your partner ends up being a drain, your company will suffer emotionally and financially and run the risk of losing clients — perhaps to your former partner. Courier operators are therefore advised to their due diligence on potential partners just as they would on any investment in the future.
Practice the fundamentals because they truly are: professional work habits, excellent customer service, best face forward, win-win partnering, appropriate use of time and technology for each project, answering the phone, responding quickly to e-mails, rectifying errors with a smile. They're fundamental and they work.
Glo Simplifies Customers' Access to Company's Information
Globacom has demystified what used to be a cumbersome task of getting company's information from its website, a situation that had in the past, frustrated several customers from getting relevant information from company's website.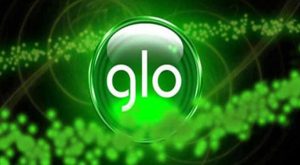 It is now easy for companies and organizations to give their stakeholders free access to their websites through a service called Sponsored Data on the Globacom network.
Through the service, customers and other members of the public will be able to browse the website of the sponsoring company even when the members of public have no active data subscription.
Explaining the service, Globacom said companies would be able to buy data buckets and subsequently allow their existing and prospective customers or any other member of the public to access their websites, apps and other data services without having to expend their own data. The cost of access by the end-user is borne by the sponsoring companies.
Globacom in a statement disclosed that Sponsored Data service is a more targeted and effective method of inducing trial of the sponsoring company's digital products as well as free trial and free sampling of its content.
The telecom operator said the service would give better return on investment (ROI) to the sponsoring companies, adding that it will facilitate over 70 per cent increase in customer engagement and foster incremental revenue through the engagement of new customers. The company said this service would be particularly beneficial to betting companies, IT and Technology companies, manufacturing concerns, banks, schools and others.
Globacom said staff of the sponsoring companies who are on the Glo network could also benefit from the sponsored data plans.
According to Globacom, there are various options for companies and organisations wishing to use the sponsored service as they are free to choose from sponsored data buckets ranging from 200GB to 50TB, according to their needs.
Globacom said "the plans are already available on the network and are valid for renewable 30 days."
Globacom said it would continue to come out with solutions that would boost customer's experience, especially at the period of CoVID-19 that has increased online activities of organisations, since most customers and staff of organisations have shifted to online activities in order to align with the new normal, brought about by COVID-19 pandemic that has negatively impacted on businesses.
Join Inlaks Live TechTalk Edition on Hyosung's Revolutionary MV 100 ATM Model
Inlaks, the leading Information Technology Systems Integrator specialised in the deployment of highly scalable ICT Infrastructure solutions, will on Monday September 28, deploy the second edition of its virtual thought leadership segment called "TechTalk".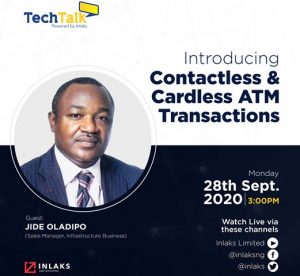 Techtalk which was formerly a pre-recorded segment hosted on the organisations YouTube channel has now transitioned into a live virtual event across Instagram, Facebook, Twitter and YouTube. The virtual edition kicked off in August 2020 with a segment on Financial Crime Mitigation, honing in on the superiority of Temenos Financial Crime Mitigation Solution with Emmanuel Orororo, Sales Manager, Financial Business, Inlaks.
The 2nd edition of Tech Talk promises to offer the same measure of insights as it dives into the world of Automated Teller Machines (ATM) with a focus on MoniValue 100, a revolutionary ATM solution by Hyosung TNS. The MoniValue 100 is especially adapted to the present times as it is a cardless, contactless and changeless solution.
Join this virtual event live by logging on to any of the social media pages below on Monday, 28th September 2020. YouTube: Inlaks, Facebook: InlaksNg, Twitter: Inlaks, Instagram: InlaksNg
Inlaks is a leading system integrator in Sub-Saharan Africa. The company partners with leading OEMs in the technology industry to provide world-class information technology solutions that exceed the needs of its customers.
Over the years, Inlaks has built a reputation as the foremost ICT and Infrastructure Solutions Provider, helping customers effectively seize new market and service opportunities.
With an impressive customer base that includes six Central Banks in West Africa, 18 of the 24 banks in Nigeria and other major customers in the West African region, Inlaks has become the dominant Information Technology Company in Africa.
Inlaks' customers cut across various segments including Banking, Telecommunication, Oil/Gas, Power, Utilities and the Distribution sectors of the economy. For more information, please visit www.inlaks.com
Samsung Galaxy S20 FE: Inspired by Fans for the Fans
Samsung Electronics Co., Ltd. has revealed the Galaxy S20 Fan Edition (FE), the newest member of the Galaxy S20 series. Galaxy S20 FE is a premium flagship smartphone that includes innovations Galaxy fans told us they love most, and it is also made available at an accessible price point.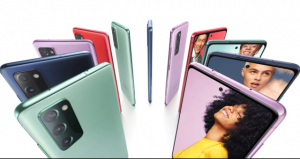 COVID-19 disrupted the world as we knew it and technology is now playing a more crucial role in our lives and that is why we created Galaxy S20 FE; to deliver flagship experiences to more consumers.
Samsung took select features of the Galaxy S20 series, such as the super smooth scrolling display, an AI-powered camera, advanced chipset, hyper-fast connectivity, all day battery, expandable storage, with a streamlined premium design, in order to create the all-new Galaxy S20 FE.
"The S20 FE is an extension of the Galaxy S20 family and is the start of a new way to bring meaningful innovation to even more people to let them do the things they love with the best of Galaxy." Says Mr. Caden Yu, the Managing Director, Samsung Electronics West Africa
All you want, to do what you love
Express the best of yourself when out on a day trip or at night catching fun with a pop of color that reflects your personal style, attitude and personality. The S20 FE comes in variant colors of Cloud Red, Cloud Lavender, Cloud Mint and Cloud Navy.
With the S20 FE, the fun never stops. The pro grade camera and 30X Space zoom help you capture memorable moments whether near or far at day time.
Plus, the night mode multi-frame and powerful performance gets you through the fun nights and the 4500mAH battery keeps you on all day with little in between time to recharge using the 15W fast charging.
And since life can be unpredictable, the Galaxy S20 FE is water and dust resistant; IP68 rated. Better yet, when accidents happens, one can rest easy knowing the 24 months warranty and Screen repair offer that comes with Pre order has got your back.
Pre order
The S20 FE is available for pre order from the 9th of October with a Wireless Bluetooth earphones, Clear Standing cover and Screen repair offer. You also get a 4 month Free Subscription on YouTube premium. Trade In Discount Offer also available from Pre order. Trade in your old phones and enjoy discount on the S20 FE
Launch
The S20 FE would be officially available in the market from the 23rd of October. Visit any of our Samsung Experience Store nationwide for an amazing and pleasurable experience.
Device Specifications
With its variants of colors, S20 FE comes with a 6GB RAM/128GB ROM, a long lasting battery of 4500mAh with 15W fast charging, a 32MP selfie camera and a 120Hz Super-Amoled display.