Tech4Dev Launches 'the I am a Woman Techster Campaign' with an Art Exhibition
To achieve her goal of impacting 10,000 women in 2021 and 5 million women across Africa by 2030 through the Women Techsters initiative, Tech4Dev – a non-profit social enterprise working to provide access to decent work for Africans through digital and technology skills empowerment and advocacy – launched the #IAmAWomanTechster Campaign with an Art Exhibition on Sunday, 12th of September 2021.
The Women Techsters Initiative is an initiative of Tech4Dev in partnership with Microsoft aimed at bridging the digital divide between men and women in the technology ecosystem by empowering 5 million women across Africa with digital and deep tech skills by 2030.
The initiative is currently being delivered across five African countries, Nigeria, Ghana, Kenya, South Africa and Egypt, to reach 10,000 women by the end of 2021.
The #IAmAWomanTechster Campaign was born out of the need to advocate for and inspire more women to consider technology careers, celebrate women who have built careers in these fields to serve as a model for other women and possibly provide guidance to the next crop of women through their career journeys.
To launch the Campaign, Tech4Dev called for visual artists to share artworks celebrating women and women in technology and STEM fields. Out of 43 entries submitted, 16 finalists were chosen, with 3 of them – Ifeoluwa Aminu, Yewande Ambeke and Jessica Ogechi Louis – emerging as winners of the competition to go home with $500 each.
Speaking at the Art Exhibition and Campaign launch event, Joel Ogunsola, the Co-Founder and Director of Partnerships and Sustainability at Tech4Dev, highlighted the aim and objectives of the Campaign.
He said, "As an organization that is passionate about bridging the digital divide between men and women in the technology ecosystem, we decided the best way to launch the #IAmAWomanTechster campaign was by celebrating Women in tech and STEM fields using various art forms to showcase and support women within the technology ecosystem because representation matters.
"We are big on empowering young people, and as a result, all proceeds from the artworks sold will be remitted to the artists, and all winners will receive their winnings."
The I Am a Woman Techsters Campaign will be a yearly campaign advocating for gender inclusion within the technology ecosystem. All conversations around the Campaign can be followed using the #IAmAWomanTechster hashtag.
Infinix Cuts Through the Clutter with the ZERO X Pro Launch
Global smartphone company, Infinix, launched the new ZERO X Pro at an exclusive event in Radisson Blu Ikeja. The launch event themed #SeeBeyond, show in attendance Key tech, photography and lifestyle experts including Tobi Ayeni (Miss Techy), TYBello, George Okoro, Alex Ekubo and Osas Ighodaro.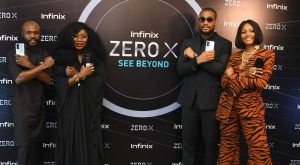 The Newly unveiled device comes in three colour variants of Nebula Black, Starry Silver and Tuscany Brown, and is equipped with cutting edge camera features that capture visuals outside of the norm, including super moon-mode, night-selfie mode, periscope lens and a powerful hybrid zoom. The device which is considered an affordable luxury has set the stage for a whole new era of smart phone technology.
An important inspiration behind the design and features of the new Zero X series was derived from human's desire to do the extra ordinary, to be more to strive of the impossible: be it man's first footsteps on the moon or inventions that solve global issues. The need to see beyond, this is the driving factor that has led to the development of this product.
Speaking at the launch, Infinix representative, Kevin Olumese, said, "The Zero X series is an amazing addition to the Infinix Family, we are proud of its photography and gaming capabilities. We know every user who purchases the device will be equally amazed."
Attendees of the event also had the opportunity to gain expert advice from photography experts TY Bello and George Okoro, on how to get into a creative mindset and learn how the ZERO X Pro smartphone enables users to capture impeccable images of nature and lifestyle. The innovative device, which is part of the new ZERO X Series, bridges the gap between smartphone cameras and professional imaging.
"It is quite exciting to see a phone that can capture the moon. You can see beyond and gaze at the stars just like you would with a telescope. I'm intrigued to see what infinix is going to do next," TY Bello said.
As part of the launch campaign initiatives Infinix and Royal Observatory Greenwich recently embarked on a corporate partnership to introduce the ZERO X Series to a global audience. During the event, technology KOL, The Tech Chap demonstrated the power of the smartphones' "Super Moon Mode" by showcasing his experience using the ZERO X Pro's high-performance camera technology. The audience were treated with a juxtaposition of a portrait of the moon that was shot through a telescope, and another using the ZERO X Pro smartphone.
"Technology is all about innovation and pushing boundaries, both in terms of new features and also accessibility with how affordable it is," said The Tech Chap. "The flagship ZERO X Pro offers a great all-round experience and its impressive camera setup literally, and figuratively, shoots for the moon!"
With the See Beyond event and corporate partnership with the Royal Observatory Greenwich, Infinix continues its mission towards creating a world that allows for the next generation to explore the universe and discover the endless possibilities that are ahead of them.
The cutting-edge technology integrated into Infinix's ZERO X Pro is the beginning of what the brand aims to achieve in its journey towards closing the gap between smartphone technology and stunning photography. Through this device, Infinix seeks to empower today's youth to pick up their smartphone and create something visually incredible.
The Zero X series will vary in price across regions and will retail in Nigeria for N151,000 for the Zero X and N187,000 for the Zero X pro. First 500 people to buy the Zero X or Zero X Pro get a gift box worth 10k and 7Gb instant data reward from 9mobile.
MTN Nigeria Joins FG Delegation at the 2021 Edition of UNIIS, Woos investors
MTN Nigeria is participating at this year's edition of the US-Nigerian Investment Summit scheduled to hold on the 17th and 18th of September, 2021 in New York City.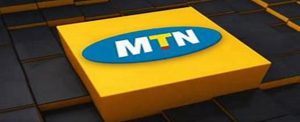 The participation is in furtherance of the company's commitment to partner with the Federal Government, through the Ministry of Industry, Trade and Investment, to attract investors and investment to Nigeria.
Themed "Nigeria: The Future of Global Business", the event builds on the success of the 2018 maiden edition.
Olutokun Toriola, Chief Executive Officer, MTN Nigeria, as well as Chief Financial officer, MTN Nigeria, Modupe Kadiri will be in attendance at the summit.
Toriola will be speaking at the summit, highlighting opportunities in Nigeria with MTN Nigeria's success story as a reference.
"We are passionate about the development of our economy. This can be seen in our unrelenting efforts in working with Government and institutions in different sectors to advance economic growth in our nation.
"We believe in the many opportunities Nigeria avails investors, and our 20 year journey is a testament to the promise the country holds," said Toriola.
The US-Nigeria Investment Summit plays a vital role in attracting and facilitating business investment and job creation by raising awareness about a range of opportunities, and enabling vital direct connections between investors and the Nigeria economy.
The investment summit features senior government officials, C-Suite business executives, and other thought leaders.
MTN Nigeria continues to advance its Good Together philosophy through strategic interventions, working with the people and government of Nigeria.
Recently, the company announced a series of activities as part of its milestone anniversary celebration including participating in the Road Infrastructure Tax Credit Programme (RITC) for an opportunity to reconstruct the Enugu – Onitsha expressway in South-Eastern Nigeria, building a world-class campus in Nigeria and selling down up to 14% of its equity to Nigerians.
Ericsson, Unikie Optimize Factory Parking with a 5G Private Network, Automation
With more than 500 global auto factories and 90 million cars produced in 2019 alone, efficiently managing vehicle logistics onsite is a crucial need. With 5G and automated parking, automakers can save time and reduce costs.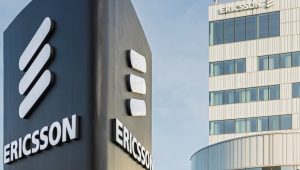 Ericsson and industry 4.0 partner, Unikie, are collaborating to trial automated factory parking with Ericsson's 5G standalone (SA) private network.
Finnish company Unikie develops software for real-time autonomous operation and process management in automotive and industrial solutions, including automated factory parking and valet parking.
At the test facility in Turku, Finland, vehicles are remotely controlled through a secure and reliable Ericsson 5G private network, utilizing edge computing and Unikie's Automated Factory Parking (AFP) solution.
As a result, vehicle logistic management at the factory can be fully automated due to reliable connectivity, low latency to meet safety requirements, and the high-security standards of the 5G private network.
As cars roll off the production line, drivers move cars to a parking area before being shipped, which takes approximately 30 minutes. With Unikie's AFP solution of sensors and software, automakers can control and monitor the car factory route and automate parking.
Automakers benefit from identifying the exact location of parked vehicles which reduces search time and labor costs. With precision parking, the parking space is optimized by up to 20 percent. An additional benefit is increased safety for onsite staff and minimum vehicle parking accidents. Other possible use cases for the technology include airport parking, shopping malls and logistic hubs.
Vesa Kiviranta, Chief Business Officer, Automotive, Unikie says: "Together with Ericsson, we can support the reliability and performance requirements critical for large automotive manufacturers and other industries with vast logistics areas. Controlled autonomous vehicles onsite are efficient and safe not only for the entire automotive production ecosystem but for all logistic ecosystems."
Jan Diekmann, Technical Account Manager, Ericsson says: "5G private networks enable automotive manufacturers to increase productivity, reduce costs, and improve worker safety. Combined with Unikie's automated factory parking solution, vehicle logistics are transformed. It is exciting to be a part of this project."