Twitter Mulls Subscription Options as Ad Revenue Drops Sharply
Twitter is actively exploring additional ways to make money from its users, including by considering a subscription model, CEO Jack Dorsey said Thursday.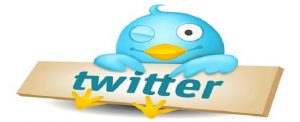 The move comes as Twitter suffers a sharp decline in its core advertising business.
"You will likely see some tests this year" of various approaches, Dorsey told analysts on an investor call held to discuss the company's second quarter earnings results.
Dorsey said he has "a really high bar for when we would ask consumers to pay for aspects of Twitter," but confirmed that the company is seeking to diversify its sources of revenue in what are "very, very early phases of exploring."
Earlier this month, rumors flared about a paid Twitter option after the company posted a job opening focused on building a subscription platform codenamed "Gryphon."
Twitter's stock surged at the time, signaling investor appetite for the company to find new revenue streams.
Shares of Twitter rose 4% in early trading Thursday following the earnings results.
Like its rival social networks, Twitter has focused on offering a free service and making money by allowing brands to target ads to its millions of users.
"We want to make sure any new line of revenue is complementary to our advertising business," Dorsey said. "We do think there is a world where subscription is complementary, where commerce is complementary, where helping people manage paywalls … we think is complementary."
Twitter's growth plans are under close scrutiny as many advertisers pull back due to the pandemic. On Thursday, Twitter reported second-quarter ad revenues of $562 million, a 23% decrease compared to the same quarter a year ago.
The company has also been hit by advertisers participating in an ad boycott of social media, linked to the nationwide racial justice protests. But Twitter executives declined to say how much of an impact the boycott has had on Twitter's business.
Twitter's earnings report follows what Dorsey described as a "tough week" in which the company scrambled to address a massive hack that compromised numerous verified accounts, including those of Barack Obama, Joe Biden, Elon Musk and Jeff Bezos.
On the eve of its earnings results, Twitter announced that dozens of accounts — including one elected official in The Netherlands — may have had their direct messages accessed by hackers as part of the security incident.
Dorsey apologized on the conference call Thursday for last week's massive security breach, saying "we fell behind" on the company's security obligations.
"We feel terrible about the security incident," he said. "Security doesn't have an end point. It's a constant iteration … We will continue to go above and beyond here as we continue to secure our systems and as we continue to work with external firms and law enforcement."
Ekong, UNILAG Postgraduate Student Charged for Allegedly Defrauding Konga
Aniekan Charles Ekong, a  postgraduate student of the University of Lagos (UNILAG), has been charged to court by the Police for defrauding Konga to the tune of over N7.5m.
The alleged fraudster, a former employee of the foremost e-Commerce giant, was arraigned before a Lagos Magistrate Court on Tuesday, August 11, 2020.
According to the charge sheet , Mr. Aniekan Charles Ekong, who hails from Akwa Ibom State, faces a three-count charge of stealing the sum of N7.5m belonging to Konga, impersonation and fraud allegedly perpetrated against the company.
Investigations reveal that the suspect, whose employment had previously been terminated by Konga, was tracked down by the Police to Uyo, the Akwa Ibom state capital.
From there, he was brought back to Lagos and subsequently charged to court for the alleged offences. Findings by our correspondent also reveal that the suspect had allegedly started living large shortly after his exit from Konga, before enrolling for a Master's in Business Administration (MBA) programme with the University of Lagos.
Aniekan, who was arraigned before Magistrate A.O. Ajibade, however, pleaded not guilty to the three-count charge.
Subsequently, the Presiding Magistrate granted him bail. However, he was remanded under Police custody pending the fulfilment of his bail conditions which include the sum of N500,000; provision of two sureties who must be blood relatives who will tender their Tax Clearance Certificate from the Lagos State Inland Revenue Service (LIRS) for three years. Also, one of the sureties must own a landed property in Lagos State.
When contacted, an official of Konga who did not want his name in print because the case is presently sub judice revealed that the suspect's employment with Konga was terminated a while back due to some unprofessional conduct exhibited.
Further, the source disclosed that Konga retains a strict zero-tolerance policy for fraudulent practices and other unethical conduct among staff, noting that anyone found wanting within the organization, irrespective of their position or status, will face the full weight of the law.
The case has been adjourned to Monday, September 7, 2020 for commencement of trial.
Real Estate Stakeholders to Discuss Impact of Remote Working @ #BuiltConverse by #StartupSouth
Stakeholders representing different segments in the built industry will converge online bi-weekly (starting from Friday August 14, 2020 at 1300 (W.A.T)) to discuss different topics affecting the space in an event on Youtube titled #BuiltConverse.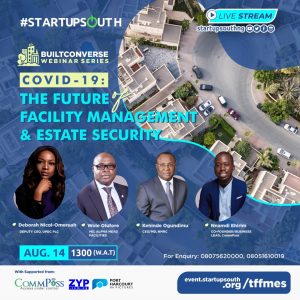 #BuiltConverse by #StartupSouth is a virtual tech/innovation Real Estate solutions Event created to explore and discuss challenges and opportunities from a technological Innovation angle.The theme of the maiden session of the event by #StartupSouth is COVID-19: The Future of Facility Management & Estate Security.
In a statement, Uche Aniche,  convener of #StartupSouth said: "It is estimated that 8 out of 10 of all companies across the world implemented universal work-from-home policies as a result of COVID-19 lockdown and roughly 7 out of every 10 (67%) of these organizations have no intention to return to regular office facilities post-pandemic."
He further revealed that discussions at #BuiltConverse Edition1 will provide a deep dive on the impact and opportunities of COVID-19 on Facility and Estate Management space. Some of the touch points will include Security, Safety and Convenience for both managers and users.
Speakers/panelists include Deborah Nicol-Omeruah – Deputy CEO, UPDC Plc, Wole Olufore, MD, Alpha Mead Facilities, Kehinde Ogundimu – MD, Nigerian Mortgage Refinancing Company and Nnamdi Ehiri – Co-Founder, CommPass.
The series will attract facility managers, real estate professionals,technology innovators, the general public and feature keynotes presentations, panel discussions, Product Demo and Q&A.
This first edition is supported by CommPass (www.thecommpass.com) – a Startup within the #StartupSouth network that provides a simplified cloud-based solution with features that include convenient & contactless Access Control. Safety & Emergency Management for  facility management.
Link to full Agenda: https://docs.google.com/document/d/11RcIyLSGHEQ2TpkSWx6XSTnBDLijAnJCJa6KBw1dZ2M/edit?usp=sharing
Lagos Slams N25m Licensing Fee on Uber, Other Ride-Hailing Operators
Lagos State Government has announced plans to commence the regulations of ride-hailing startups operating in the state.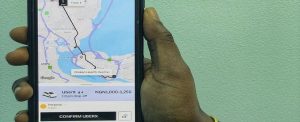 Under the new regulations, ride-hailing operators like Uber and Bolt that have over 1000 drivers henceforth will pay ₦25 million licensing fee and ₦10 million annual renewal fee.
Those that have less than 1000 drivers, they will pay a licensing fee of ₦10 million and an annual renewal fee of ₦5 million. Operators who directly own their cars and employ their drivers will pay only the license fee of ₦5 million if such operators have below 50 drivers.
Those who have over 50 drivers will pay ₦10 million for the operating license.
Additionally, ride-hailing operators are also expected to pay 10 percent "service tax" on "each transaction paid by the passengers" and are mandated to renew their licenses three months before the expiration of the current license.
These regulations are contained in the Guidelines For Online Hailing Business Operation of Taxi in Lagos State 2020.
Besides the licensing and the renewal fee, the Ministry also stated in the online ride-hailing business guideline that they want "Access to e-Hailing Taxi Companies' database (e.g drivers details, accident reports, etc).
The Ministry and her Agencies shall have access to the database of the operators/companies operating e-Hailing Taxi Business in Lagos State.
Bolanle Ogunlola spokesperson for Lagos State Ministry of Transport confirmed that the new regulations will start on August 20.
She said the enforcement of the guidelines will not start until after a stakeholder meeting is held.
According to a document titled, 'Guidelines for Online Hailing Business Operation of Taxi in Lagos State 2020' issued by the Lagos State Ministry of Transportation,: Part 4.1 subsection 5 of the document titled, 'e-Hailing Taxi Operation', stated that all drivers must pay 10 per cent generated on every trip to the Lagos State Government.
"All operators of e-hailing taxi service must pay the state government 10 per cent service tax on each transaction paid by passengers to the operators," the document partly read.