Umunna, Nigerian Tipped as First Black British PM
Chuka Umunna of Nigerian descent on May 7, 2015, could make history by becoming the first black Prime Minister of the United Kingdom.
Born in London in 1978, Chuka was bred in the UK. His late father, Bennett, hailed from Anambra State while his Irish mother, Patricia, is a solicitor.
He is a British Labour Party politician who has been the Member of Parliament for Streatham since 2010 and the Shadow Business Secretary since 2011.
Co-incidentally, Chuka shares startling similarities with the United States President, Barack Obama, who is the first black President of the world's most powerful nation.
For instance, Chuka is of mixed race, being the child of a Nigerian father and an Irish mother while Obama is also of mixed race, being the offspring of a white American woman and a Kenyan father.
Also Chuka's father, Bennett, was killed in a mysterious car accident in Nigeria in 1992 while Obama's father was killed in a car accident in Kenya in 1982.
If history repeats itself as it is being predicted by British political observers, Chuka, who is also a six-foot tall lawyer like Obama, could become the first black Prime Minister in the UK.
Chuka's life story is perhaps a better guide to his future political direction. It is the story of a rise from the streets of South London (scene of some of Britain's worse race riots in the 1980s) to the parliament. But it is not the story that some might expect.
His father, Bennett, was a Nigerian labourer, who arrived in Britain in the sixties with one suitcase and no money.
Having borrowed the fare from Liverpool to London, he worked in a carwash, became a successful businessman and died in a car crash when his son was 13.
Bennett began an import-export business trading with Nigeria and was starting to make a decent living when he met Patricia Milmo, a solicitor, at a London party.
She happened to be the daughter of Sir Helenus Milmo, a Cambridge-educated High Court judge and a prosecutor at the Nuremberg Nazi trials. They later got married, a rare combination during a time of high social inequality and racism.
Chuka believed his father was killed because he refused to indulge in corrupt practices when he was running for the governorship of Anambra State during the administration of former military dictator, General Ibrahim Babangida (retd.).
Bennett died after his car ran into a lorry carrying logs along the Onitsha-Owerri highway in Anambra. Bennett had been splitting his time between London and Nigeria – where he unsuccessfully ran for the governorship of Anambra State and had taken a stand against bribery.
At a point Bennett was also the owner of the Rangers International Football Club of Enugu, the darling of the Igbo people.
When quizzed about his father on Sky News, he had this to say: "There was a lot of speculation in Nigeria at the time around his death. He was a national political figure standing on an anti-corruption ticket and refused to bribe anybody.
"We don't really talk about it because it is not going to bring him back but I think he would be bowled over that his son is now a politician just like him."
Chuka, an English and French Law graduate from the University of Manchester, who also holds a Master's degree from Nottingham Law School, says his interest in politics was shaped by seeing extreme poverty while visiting his father's relatives in Nigeria and the social divide in his own Streatham constituency in the UK. He says that he is "not super-religious" but that his soft-left values are "rooted in my Christianity."
The 35-year-old Labour Party Member of Parliament, however, has two hurdles to cross if he is to make history in the UK. This is because in the UK, for one to become the Prime Minister, the person must first be a Member of Parliament, the person's party must win majority of seats out of the 560 seats in the House of Commons during the parliamentary elections and the person must be the leader of his party.
Presently, Chuka is the Member of Parliament for Streatham, a position he has held since 2010 but must re-contest in 2015 and win to retain the seat.
He is also the Shadow Business Secretary, a position held by a member of Her Majesty's Loyal Opposition. The duty of the office holder is to scrutinise the actions of the government's Secretary of State for Business, Innovation and Skills and develop alternative policies. The office holder is a member of the Shadow Cabinet.
According to the UK Telegraph, Chuka is rumoured to have the strong support of a former British Prime Minister, Tony Blair, who was also a Labour Party leader.
According to the British newspaper, when asked if he was Blair's anointed candidate, Chuka said, "I really don't know anything about that."
However, when he was pressed further whether he aspired to head his party, he said, "I don't entertain any discussion beyond winning the election next year. That would be completely hypocritical of me. To start thinking about hypothetical scenarios would be totally indulgent. All my energy is focused on winning the election, and so should everyone's. It will be very close."
Chuka is one of the youngest MPs in the UK having been introduced into British politics by the current Labour Party leader, Ed Miliband, while he was in his 20s.
It was Milband that helped him become an MP and later made him his Parliamentary Private Secretary before he was promoted to the Shadow Cabinet in October 2011. He is tipped to become Miliband's successor and could become the Prime Minister should the Labour Party win next year's election.
Chuka, however, claims to hate the comparison of him and Obama which he terms the "construct of lazy journalists." He sharply divides opinion in British politics. Good-looking, articulate, new-media-savvy and a good orator.
According to FT Magazine, he is not universally popular among his own colleagues, who see more style than substance.
"He just has a knack of alienating people," said one experienced Labour MP. "He is probably the most natural communicator I've seen since Tony Blair. The problem is that each week he has fewer supporters than he did at the start of the week."
Even potential allies recount stories of apparent slights or snubs. A senior party figure says, "Chuka has put people's backs up.
They feel he is inaccessible." Another long-serving MP adds, "The idea of learning the trade first is only for mere mortals, not for him." Peter Mandelson, the former Labour business secretary who played a key role in Blair's rise through to the top, thinks the explanation for this is quite simple, "Envy plays a big part in politics," he says.
Like Blair, Chuka sometimes connects better with those beyond his own circle. John Cridland, head of the CBI employers' group, calls him "a guy with whom we can do business." Andrew Tyrie, Tory Chair of the Commons Treasury Committee, say: "He's extremely talented and charming." Andrew Adonis, a former Labour minister, sums up his cross-party appeal: "The best politicians are those who look outwards not inwards."
However, allies of the current British PM, David Cameron, scoffed at the idea that Chuka might represent a threat to Cameron's second term bid.
"I can't think of any issue where he's put us under pressure," says one close friend of the prime minister. "He's pretty average – he's a slick corporate lawyer."
Also, among his fellow party members, Chuka's lack of political definition is another source of irritation as some claim they struggle to work out what he really believes in. But Chuka says people should show a bit more patience. "It would be rather unhealthy if after just three years in parliament I was setting out some blueprint for my country," he says. "What do people expect?"
But some see him as the potential leader of a mainstream 21st-Century Labour party with the kind of crossover appeal of Blair's New Labour. Despite initial reservations that Chuka might be a bit too left-wing, Blair has started seeing him regularly. "Chuka strikes Tony as very smart," says one close ally of the former PM. "Business is a particularly important brief in tough economic times and Chuka seems to be rising to the challenge."
As if Blair's blessing was not enough, Chuka recalls the "honour" of spending "a small bit of private time with former US President, Bill Clinton, who he describes as one of his political heroes. "I think he defies the left-right description," Mandelson says in approbation. "He's part of a generation that transcends those labels."
He has also recently been to Europe to meet his friend, the French PM, Manuel Valls.
According to statistics, almost 15 per cent of people in Britain describe themselves as "non-white" but the country has never had a party leader from an ethnic minority background. Nobody has ever come close. Chuka confesses that until his late teens he had not even thought about a career in politics because there was "nobody who looked like me" running the country.
Chuka has been vocal in the call for a reduction in government spending as well as issues on immigration. "They [the French] have something like 40 ministers compared to our 80," he says.
On the EU itself, he has called for reform, saying not long ago that free movement of workers was not intended to mean free movement of jobseekers. "As one of the most pro-European shadow ministers, I don't think you can ignore the impact that free movement has had on some of our communities," he says, adding that it has changed because there are "many more EU members."
He adds, "There's a number of things we need to look at. Those who tend to raise the issue of immigration with me are my African and Asian constituents. They want confidence there are proper controls.
"They want to see people integrate, which is why we shouldn't be spending all this money translating documents and [instead] directing resources to ensure people learn English. And you do need to look at free movement."
Next year's election may not be based on ethnicity but it obviously will be hard not to notice that a British-Nigerian could become the leader of one of the world's wealthiest countries.
On the issue of ethnicity, Chuka has this to say, "A lot of people presume – because of my ethnicity – that I come from a particular social background. I am very quick to disabuse people of any sense that I've wanted and struggled in the way that, say, my father did. I come from a fairly middle-class background. People try and pigeonhole you in a box and I find that frustrating sometimes."
If Chuka is hard to pigeonhole, that may be linked to his own pedigree. It seems likely, if not certain, that Chuka, whose name means God is the greatest, is destined to become a larger presence in his party and thus a bigger potential target despite being a person whose father came to the UK from Nigeria without a dime.
MTN Launches 'Visitor SIM', Designed for Guests Coming into the Country
MTN Nigeria has announced the introduction of its new Visitor SIM specially designed for guests travelling into the country.
The Visitor SIM comes pre-loaded with an appealing package that includes local and international call and data bundles.
This package will enable people visiting from other countries to stay connected with their friends, family and business associates on MTN's super-fast network.
MTN VisitorSIMs are easy for inbound international visitors to acquire, activate and use, in addition to which they offer far better value than any roaming tariff.
Not available from any other operator, the service is poised to deliver convenience and the best-in-class customer experience in line with MTN's brand promise.
According to Adekunle Adebiyi, chief sales and distribution Officer, MTN Nigeria, "The new Visitor SIMs will ensure that before setting foot outside the airport, people visiting Nigeria can plug in, reconnect – to loved ones, associates, tools and information, and begin sharing their remarkable experiences, with no concern about roaming charges."
MTN Visitor SIMs are available in the arrival halls of international airports and other ports of entry.
They are valid for 14 days, which can be extended up to 30 days via MTN's self-service menus or USSD.
Nigeria COVID-19 Response: UNICEF, IHS Nigeria Collaborate to Contribute Medical Supplies
United Nations Children's Fund (UNICEF) received the delivery of 115,800 COVID-19 test kits to support the fight against the COVID-19 pandemic in Nigeria. These supplies were funded by IHS Nigeria, the Nigerian subsidiary of IHS Towers.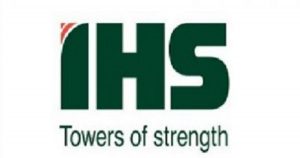 Testing remains the mainstay of the response led by the Presidential Task Force and Nigeria Centre for Disease Control (NCDC) and the first step towards diagnosing the infection. Tests enable health officials to understand the COVID-19 status of an individual and link that person to care, support and treatment while contributing to the protection of families and communities.
"Testing remains a core strategy of Nigeria's response to COVID-19. This is critical for understanding the burden of the disease on our population and targeting our response activities accordingly. The primary goal of the Nigerian Government is to control the spread of this disease.
"This donation from IHS Nigeria through UNICEF will contribute to the national stockpile of test kits managed by NCDC, and support efforts of the growing network of accredited laboratories across the country for the testing of COVID-19. We are grateful for the continued support from UNICEF, IHS Towers and other partners." said Dr. Chikwe Ihekweazu, Director General, NCDC.
IHS Towers has been a strong and continuing partner of UNICEF. At the onset of the coronavirus in Nigeria in late February, IHS Nigeria provided funding to UNICEF to urgently procure essential supplies and equipment with which UNICEF supported the Government of Nigeria in its COVID-19 response.
"UNICEF is deeply appreciative of IHS Towers' commitment to being a partner in UNICEF's work in Nigeria. Once more, IHS has shown great generosity in supporting UNICEF's ongoing efforts to work closely with the Government of Nigeria in the fight against COVID-19.
"I am very delighted to receive this huge contribution from IHS Towers, the benefit of which will reach many more children and their families", said Peter Hawkins, UNICEF Country Representative.
"We are proud to have played an important role in supporting the Government and our communities where we operate to provide crucial tools needed to fight this pandemic. We understand this virus is here to stay for the foreseeable future, but are confident that with our support, and that of our other private sector colleagues, we are helping to manage and mitigate the impact of the virus in our country" said Mohamad Darwish, Chief Executive Officer of IHS Nigeria.
This recent support of essential tests makes IHS Towers the biggest private sector donor for UNICEF Nigeria's emergency response to the COVID-19 pandemic.
Coca-Cola, Red Cross Society Expand Fight Against COVID-19 In Nigeria
In a bid to support the fight against the Coronavirus disease, the International Federation of Red Cross and Red Crescent Societies (IFRC) along with its national society Nigerian Red Cross (NRC) has started the distribution of PPEs and risk communications efforts to the tune of N228 Million to support its COVID-19 interventions in Nigeria.
This is part of The Coca-Cola Foundation's $2.5million grant to the International Federation of Red Cross and Red Crescent Societies (IFRC) to support the COVID-19 pandemic within the West and Central Africa sub-regions.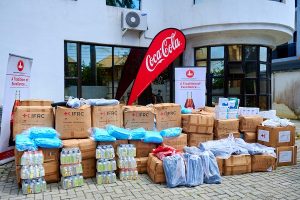 The grant, which leverages the long-standing partnership between The Coca-Cola Company and the International Federation of Red Cross and Red Crescent Societies (IFRC), seeks to support national efforts in the fight against the Coronavirus disease through the provision of essential medical supplies, personal protective equipment (PPE) and risk communications to impacted communities, healthcare personnel on the frontlines and treatment centres across the country.
Speaking on the donation, Yebeltal Getachew, managing director, Coca-Cola Nigeria Limited, explained, "The Coca-Cola System (Coca-Cola Nigeria, Nigeria Bottling Company and Chi Limited) remains committed to providing support to the communities we serve during these challenging times.
"By providing healthcare workers with much-needed PPEs, we are confident that this will go a long way in ensuring their safety as they remain on the frontlines of the fight against COVID-19.
"Coca-Cola is proud to support the Red Cross as we deliver on our purpose of making a difference across the world". 
Medical supplies being donated comprise N95 respirators, surgical masks, examination gloves, face shields, medical gowns, no-touch thermometers, disposable aprons, heavy-duty rubber gloves, rubber boots, basic masks, disposable gloves, and hand sanitizers.
Expressing his gratitude for the donation, Abubakar Kende, secretary-general for the Nigerian Red Cross Society explained, "We have identified the facilities in urgent need of these PPEs in consultation with NCDC and the Federal Ministry of Health and will subsequently be distributed to these centres.
"This will ensure that treatment centres across the country are properly equipped with necessary PPEs as we continue to fight the disease".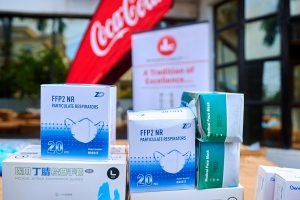 IFRC seeks to directly impact the lives of over 1.4 million people in Nigeria and across other countries in West and Central Africa under this partnership. For over a century, The Coca-Cola Company and the International Federation of Red Cross and Red Crescent Societies (IFRC) have sustained a rewarding partnership that has seen the rehabilitation and preservation of human lives across the world through the delivery of humanitarian aid and emergency response to communities affected by disasters.