VCNI Announces New Africa Executive Leadership Team As Alex Okosi Moves to New Opportunities
ViacomCBS Networks International (VCNI) has announced the departure of VCNI veteran Alex Okosi, Executive Vice President and Managing Director of VCN Africa and BET International at the end of February 2020, Craig Paterson and Monde Twala will be named as co-General Managers of ViacomCBS Networks Africa.
"Alex has made an immeasurable impact on our business in Africa," said Raffaele Annecchino, President of ViacomCBS Networks Europe Middle East, Africa and Asia.
"Since launching MTV Base in 2005, Alex has spearheaded the development of our business on the continent, which now delivers more channels to Africa than any other international network – reaching 100 million viewers in 48 territories across MTV, Comedy Central, Nickelodeon and BET."
Okosi took over leadership of BET International in 2017 and has continued to advance the value of the brand internationally delivering double-digit distribution growth and improving profitability and margins.
Under Okosi's leadership, BET International elevated its presence at the BET Awards by incorporating the "Best International Act" award into the live broadcast, which simulcasted live in Africa for the first time. In addition, BET International expanded its presence during the BET "Hip Hop Awards" by launching a new category to honor artists from around the world.
"I am proud to have had the opportunity to build our Africa business from the ground up," said Okosi. "This has played a pivotal role in transforming the music and content space and changing the narrative on Africa.  Leading our Africa and BET International businesses to success is testament to the extraordinary teams, colleagues and partners that I have worked with throughout my tenure.  ViacomCBS has been my home for more than 20 fantastic years, and I leave behind incredible creative and commercial talent that will continue to deliver growth."
David Lynn, President & CEO of ViacomCBS Networks International added, "I'm immensely grateful to Alex for his contribution to the success of VCNI, including his role in developing such a strong team of successors.  Alex's leadership has been essential to our success in Africa and to the continued growth of BET International."
ViacomCBS Networks Africa (VCN Africa) Leadership Team:
Effective March 1, 2020, Monde Twala and Craig Paterson will assume their new roles as General Managers of VCN Africa.
As co-head of the business, Twala, Senior Vice President & General Manager, Editorial VCN Africa, will focus on content, creative, editorial and marketing across all VCNI brands. Twala is currently the Vice President of ViacomCBS Networks Africa's BET, Youth & Music brands.
Twala is responsible for driving the development and growth of iconic music, youth and entertainment brands BET, MTV, MTV Base and MTV Music24, across the African continent. Monde joined the company in 2016 after nearly 20 years' experience in the South African broadcasting and media industry.
Paterson, Senior Vice President & General Manager, VCN Africa, will be responsible for all corporate functions, including business development and strategy. Currently Senior Vice President, Business Operations for ViacomCBS Networks Africa, Paterson is responsible for driving strategic growth and business opportunities in Africa. Prior to this role, Paterson was responsible for Operations and Finance for multimedia brands MTV, MTV Music24, Nickelodeon, Nick Toons, Nick Junior, MTV Base, BET and Comedy Central on the African continent. He spent nearly five years at Viacom beginning in 2011 as VP of Operations and Finance in Africa and returned to the company in 2018 as Senior Vice President of Business Operations in Africa.
"I am delighted that Craig and Monde will take over leadership in this important market," said Annecchino. "Both have worked with Alex for years, which coupled with their expertise will ensure a seamless transition. Craig and Monde are experts in their respective areas and in addition to incredible business acumen, have demonstrated leadership and collaborative excellence throughout each of their careers and tenures with the company."
ViacomCBS Networks International ViacomCBS Networks International, a unit of ViacomCBS Inc. (NASDAQ: VIAC), is comprised of many of the world's most iconic consumer brands. Its portfolio includes Network 10, Channel 5, Telefe, Viacom 18, ViacomCBS International Studios, Nickelodeon, MTV, Comedy Central, BET, Paramount Network and Pluto TV among others. In addition to offering innovative streaming services and digital video products, ViacomCBS Networks International provides powerful capabilities in production, distribution and advertising solutions for partners on five continents and across more than 180 countries.
Motorola Solutions Launches New Device Designed for SMBes in Sub Saharan Africa
Global leader in mission-critical communications, Motorola Solutions, launches a new two-way radio device specially designed for small and medium businesses in Sub Saharan Africa.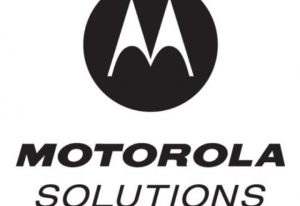 The MOTOTRBO™ DP540 two-way radio is built for cost-conscious businesses looking to transition to digital technology for reliable and efficient communications.
As demand for digital radio communication rises, small and medium businesses are looking for simple and affordable solutions for their communication needs without the need to compromise on quality.
MOTOTRBO™ DP540 is the perfect tool for users in need of an entry-level digital radio, offering ease of use and powerful digital-enabled features. The new device, available through certified Motorola Solutions resellers in Sub-Saharan Africa, is based on the ETSI Digital Mobile Radio (DMR) Standard, proven worldwide in affordable digital systems with low complexity.
"In today's economy, small and medium businesses are constantly under pressure to deliver more, and deliver fast, all while keeping a conscious mind on reducing costs," said Laurent Tribout, director of Motorola Solutions indirect sales for Sub-Saharan Africa. "With this in mind, we've developed a communication solution that holds all the necessary features in one affordable device"
Ruggedly Versatile, Digital Out-of-The-Box
One of the risks of migrating from analogue to digital technology is the transition period which can potentially interrupt business operations.
To make this transition smooth and easy, the MOTOTRBO™ DP540 can operate on both digital and analogue modes. In this way, radio users can operate and communicate on their new MOTOTRBO DP540 radios while on the job, as the business transitions to digital technology.
The compact, ruggedly-engineered device is built to withstand harsh conditions and resist corrosion even in the saltiest environments such as seaports and harbours. It boasts superior audio output and unique features, such as voice announcement customization, allowing users to customize the default voice announcement languages using their own audio files.
MOTOTRBO™ DP540 is also built for multi-language working environments, with special audio profiles designed to deliver enhanced audio quality when speaking languages with distinct rolled "R"s such as French or Afrikaans.
Handsfree When Sanitation is Key
As in many mission-critical work areas, healthcare workers rely on two-way radio communication for many of their daily tasks. Whether it's coordinating patient arrivals, or briefing an ambulance team on the way to a scene. In many circumstances, such as medical staff treating COVID-19 patients, it is not ideal for personnel to be handling their radio devices.
The portfolio of MOTOTRBO devices, including the new DP540 model, is equipped with a Voice-activated Transmit (VOX) feature, which allows users to operate their radio without the need to press the Push-To-Talk (PTT) button. Along with compatible earpieces designed for handsfree operation, healthcare workers and other essential workers can keep their hands free and clean.
FI Lagos Anounces Final Admissions deadline for Cohort III
The first and second cohorts of Founder Institute Lagos saw the emergence of 45 new companies all geared towards solving various problems leveraging technology.
Cohort III kicks off from the 19th of August, 2020, and sessions take place one night per week via zoom, over a 14-16 weeks period.
If you apply today, then you will be able to take advantage of the free DNA test HERE ($50 value), or you can learn more here. Anyone building a business that is pre-funding is welcome to apply, including established businesses and teams, aspiring entrepreneurs.
It is interesting to note that leaders of some of the world's fastest-growing startups have used the Founder Institute to raise funding, get into seed-accelerators, generate traction, recruit a team, build a product, and more.
If you enrol by 11.59 pm on Sunday's Final Admissions Deadline, you will be eligible for a reduced course fee and have the best chance of being accepted. Get started here.
In the words of Chukwuemeka Fred Agbata Jnr., regional director, Founder Institute, startups who make the decision to join the program will be learning how to build and launch a company in a structured way plus become a part of a global network of innovators, mentors and investors.
The Founder Institute (fi.co) is the world's largest pre-seed startup accelerator, based in Silicon Valley but with chapters in close to 200+ cities.
The program provides high-potential entrepreneurs and teams with the support network and structured process needed to build an enduring business.
MultiChoice Announces a New Way to Keep Customers Informed
As a part of its resolve to continually create innovative ways to offer customers the best service, DStv has announced the launch of Enhanced Decoder Notification (ED) functionality which aims to address communication issues for subscribers and take the admin out of viewing, so, consumers can get back to being entertained.
This new functionality will provide viewers with streamlined access to important subscription information, including rewards notifications, payable subscription amounts, methods to avoid late payment and disconnection.
This will be done by displaying icons that represent the different types of notifications on top of Live TV and will be available on the DStv decoders. The message will also be added to the Mail Messages screen.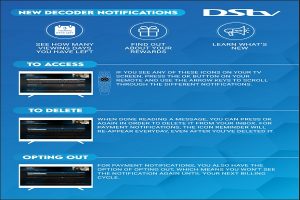 John Ugbe, chief executive officer MultiChoice Nigeria, said "In the ever-advancing world of video entertainment, innovation is a key driver of the business.
"MultiChoice is always dedicated to delivering innovative resources to ensure continuous improvements in our products."
Through a myriad of innovations that ensure customers satisfaction as well as guarantee a rewarding journey for all our subscribers – MultiChoice continues to position itself as one of Africa's major entertainment sources, and now, with the introduction of the new EDN service ensures fewer interruptions during viewing.
For more great entertainment, don't forget to download the DStv Now app for live-streaming and the MyDStv app to take control of your subscription.