Africa in Motion: Accelerating Africa's Digital Future
By Fadi Pharaon
As a continent with very high potential for growing economies, how can African countries accelerate their digital adoption and leapfrog into a new era of socio-economic prosperity?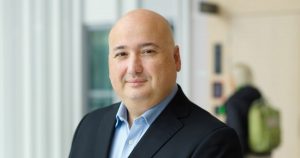 This could be achieved by leveraging new technologies that make it easier to conduct business, raise productivity and efficiency while encouraging an inclusive society. Embracing new ways of enabling positive change will boost livelihoods, promote financial inclusion and improve access to health, education, government services and more.
With the ambition of supporting the acceleration of Africa's digitization journey, we are working jointly with our customers – the service providers – and other stakeholders across the continent to enable #AfricaInMotion.
Digitization Boosting Economies
We believe that Information and Communications Technology (ICT) is the catalyst for digital transformation, with mobile networks being the crucial ingredient in increasing Africa's economic competitiveness in the global arena. While we have witnessed impressive market developments in recent years, Africa's ICT sector still has growth potential compared to leading economies.
As digital infrastructure and transaction become increasingly impactful to the development of the African societies and economies, affordable broadband access will need to be extended to over a billion individuals to bridge the "digital divide" and enable them to reap the benefits of the digital economy.
The Ericsson Mobility Report shows us that, by 2025, 77% of subscriptions in the Middle East and North Africa are expected to be for mobile broadband, while in Sub-Saharan Africa mobile broadband subscriptions will increase to reach around 72% of mobile subscriptions.
Mobile broadband connectivity not only offers great potential to transform cities and industries, but it enables connectivity as a basic human right; fostering inclusion and making a positive, sustainable economic impact.
With our commitment to innovation and long history of engaging in Africa's telecom industry, we at Ericsson are driven to deliver the next-generation technology solutions to Africa. These can enable sweeping changes to industrial production, allow seamless access to societal services and provide people with ways of living harmoniously with their environment.
Sustainability Through Connectivity
Bridging the "digital divide" is a demanding journey both for the public sector and the telecoms industry. This carries significant potential to contribute to the United Nations Sustainable Development Goals (SDGs) in Africa. In order to achieve that, we have a continuous on-going journey serving several parameters.
And the story just begins here. We strongly believe in the importance of education for the economic development of Africa by building the right foundation to propel a steady eco-system.
Our efforts to support education in Africa is a continuous determination and for that we are proud to launch our three-year global partnership with UNICEF that will help map school connectivity in 35 countries by the end of 2023. Our partnership will support the UN's Giga initiative, a global program led by UNICEF and the International Telecommunications Union (ITU) that aims to connect every school to the Internet.
Another key example in supporting education is our "Connect to Learn" program, an initiative that implements Information and Communications Technology (ICT) in schools often in resource poor settings to enhance the quality and access to teaching and learning resources in a safe, cost effective, and user-friendly way.
The program uses the power of mobility, broadband and cloud solutions. Since 2008, we have helped to connect over 500,000 people, students and teachers at remote villages across 10 sub-Saharan countries with technology tools, digital learning resources and new interactive forms of teaching pedagogies.
Furthermore, another testimony that reiterates our efforts in supporting education, is our recently announced "Ericsson Educate" initiative with UNESCO.  In response to how the global COVID-19 Pandemic, UNESCO and Ericsson have  launched a new portal for teaching Artificial Intelligence (AI) to children.
Teaching AI is a learning program, which includes a free, multi-lingual artificial intelligence (AI) skills portal that can be accessed globally by parents and teachers, enabling them to support children and students in home learning environments to learn about AI.
Additionally, we have also launched recently our Digital Lab program in South Africa. The program represents Ericsson's commitment to supporting the UN Sustainable Development Goals – especially Goal #4, with the aim of ensuring inclusive and equitable quality education and promoting lifelong learning opportunities for all.
The Ericsson Digital Lab program is an innovative education program targeted towards older children to support them in their first encounters with the world of programming and new technologies.
The program started in Gothenburg, Sweden, as a collaboration with Universeum, a public science centre based in Gothenburg. During 2019-20 the program was expanded to South Africa. We partnered with "Wot-If? Trust" to bring this innovative digital skills program to the youth in Diepsloot, Johannesburg, South Africa and our ambition is to expand this initiative to more young students across Africa.
On the other hand, we also focus on another fundamental goal and that is financial inclusion through the use of digital technology which is an essential element in furthering the economic development of Africa. Mobile money services have become an essential, life-changing tool across the continent, providing access to safe and secure financial services but also to energy, health, education and employment opportunities.
One key example to showcase our efforts in that area is our Ericsson Wallet Platform that allows users to store, transfer and withdraw money; pay merchants and utility providers; and use financial services such as savings and loans.
With connectivity acting as a critical enabler of social and economic change, sustainable technologies that support the SDGs are the need of the hour.
According to Ericsson research, ICT solutions could help to reduce greenhouse gas (GHG) emissions by up to 15% by 2030, amounting to around ten gigatons of CO2e—more than the current carbon footprint of the EU and US combined.
Examples of areas where the savings can be enabled by ICT solutions are transportation, energy, industries and agriculture. This is reflected in our initiatives such as Ericsson Weather Data and Mixed Reality for Urban Design.
Clearly, the SDGs provide a unique opportunity for interesting discussions that will lead to more multi-sectoral partnerships and opportunities that will help spur progress towards meeting the goals.
Partnerships and Collaborations for Societal Impact
What is now needed is a framework that facilitates harnessing the power of ICTs to foster inclusive socioeconomic development across Africa. However, this bridging of the digital divide – which promises to level the global playing field so Africa can achieve its full potential – requires a well-planned policy and regulatory environment.
A conducive, enabling policy environment that generates regulatory certainty is key to encouraging market development through partnerships, entrepreneurship, job creation and knowledge sharing. Factors like:
Timely availability of ample, cost-effective and harmonized spectral resources
Support of long-term stable network regulations that uphold the principle of technology neutrality, stimulate investments and foster infrastructure competition
Provision of free flow of data, while ensuring data protection, privacy and security regulation
We at Ericsson Middle East and Africa are constantly looking for opportunities to collaborate and engage with partners across the board to facilitate such policy development to fast tracking digitization across the African continent and our recent collaboration with the African Telecommunications Union is one clear example.
Fostering and Empowering Local Talents
At Ericsson, we strongly believe in the great competencies of the local talents in each market where we operate and for that we continue to offer our employees opportunities  that guide and supports them from a knowledge, competence, and skill development perspective — to foster an innovative, high-impact learning culture focused on continuous development.
Additionally, coaching and mentoring are critical elements of career development at Ericsson. We have best-in-class mentors who guide our people in Africa through every stage of their career, empowering them to seek more learning and growth opportunities.
One of the initiatives we launched in-light of our efforts to supporting young talents is our "Ericsson Graduates Program ", a program that will offer fresh graduates a chance to join experienced Ericsson staff for on-the-job, online and classroom learning followed by recruitment to join the Ericsson world.
The program also engages with young talents from Africa -the Change makers-to explore and identify innovative ideas, which reflect and capture the needs of the continent with an ambition to accelerate the African markets' digitalization journey.
The Change makers attend multidisciplinary sessions with Ericsson specialists spanning across technology, business and entrepreneur to empower and enable them to ideate and work on their ideas in a well-rounded approach. Our ambition is to continue with this program and train and hire more fresh graduates in the coming period.
When it comes to empowering young talents and innovation, we can proudly mention the Ericsson Innovation Awards (EIA), a global competition that gives university students the opportunity to turn their ideas into reality by collaborating with EIA mentors.
In 2018, a team from Senegal has been selected as the overall winner of the Ericsson Innovation Awards winning an amount of 25,000 Euros for their idea that addresses lack of school labs in Africa. This year we are excited to launch the same competition very soon and we look forward to receiving ideas from young students from Africa and across the world.
Accelerating the Future
As we look ahead, it's clear that Africa shows significant promise for economic, technological and infrastructure growth over the coming years. Yet, there are still many challenges we must overcome if we are to deliver real sustainable change for all.
While there are parts of the continent trialing 5G services, majority of countries remain focusing on 3G and 4G as smartphone affordability improves year on year. The development of advanced wireless digital infrastructure is an integral part of Africa's growing economy.
Mobile broadband access has proved to be an essential driver of an inclusive information society that integrates digitization in all critical aspects of life, such as education, transport, health, energy and even homeland security. Never has this been more evident than during the current COVID 19 pandemic.
Ericsson focuses on assuring best performing networks in Africa, while also offering the best digital services and solutions to our customers. Our aim is to create a unique customer experience evolving from networks adopting automation, artificial intelligence and analytics.
One of our focus areas also is reducing time-to-market and flexibility in launching services for our customers towards their subscribers. From an operations perspective, we emphasis driving service delivery efficiency through adoption of advanced tools. We will continue our purposeful growth of mobile broadband, fixed wireless access and fintech services so that our service provider partners reach out to further communities across the continent.
Our promise to Africa
Tackling the digital divide, continuing to build a robust ICT infrastructure, promoting sustainability, innovation, education and entrepreneurship will be critical for maximizing the role of technology in boosting resilience and inclusive growth in Africa.
By achieving that, Africa will experience a paradigm shift on all levels with new game-changers as e-health, e-government and e-education; the African society will accelerate into a much economically advanced nation. However, collaboration between the different stakeholders in the ecosystem becomes even more important than ever to achieve this vision.
Our promise and commitment towards Africa are to always support a world where digitalization is transforming the eco-system; enabling sustainable growth, economic development and opening up opportunities for all.
To accelerate our promise to Africa and achieve a true impact, we are looking forward to supporting our customers in their quest, bringing our latest innovation, leveraging our global skill and scale to the benefit of Africa's digital development.
Fadi Pharaon is President of Ericsson Middle East and Africa
Encomiums for TD Africa as Nigeria Prepares for Tech Experience Centre Launch
A number of globally renowned Original Equipment Manufacturers (OEMs) in the technology space have commended TD Africa, Sub-Saharan Africa's leading technology, lifestyle and solutions distributor for successfully birthing the continent's first Tech Experience Centre.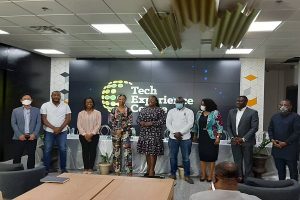 The commendations come ahead of the October 1st launch of the centre located in the high-rise Yudala Heights on 13 Idowu Martins, Victoria Island, Lagos.
Equally important, the Minister of Communications and Digital Economy, Dr. Isa Ali Pantami is expected in Lagos to commission the Centre, with the Lagos State Governor, BabajideSanwo-Olu, alongside a number of other high profile dignitaries, expected in attendance. The event will be streamed live to millions across the world from 5pm.
In a chat with newsmen, Chidalu Ekeh, head of the Tech Experience Centre, stated that aside reducing the decision making cycle for Chief Executive Officers (CEOs), Chief Information Officers (CIOs), Chief Technology Officers (CTOs), as well as other technology consumers, the Centre will also serve as a training centre for young Nigerians on latest technology.
"We are creating a path in this country where state-of-the-art technology will be accessible to CEOs, CIOs, CTOs and others technology consumers, so that they can make prompt decisions without leaving the country," Chidalu said.
"What we have on board is a tech genius area where our customers will be able to take advantage of the partnerships that we have with the various OEMs on board.
"The Centre will afford young Nigerians the opportunity to receive world-class training on the latest technology."
Also speaking on the reason for mobilising other tech giants to bring the massive project to life, Mrs. Gozy Ijogun, managing director (Sales) TD Africa, explained that the centre is aimed at adding value to the technology space in Nigeria in particular and Africa in general.
Ijogun said: "I am sure everyone is wondering what TD Africa is doing with the Tech Experience Centre. At TD Africa, we consider ourselves value added distributors.
"We are not just here to buy and sell. We add value to the economy. For that reason, we came up with the Tech Experience Centre so that Africans can experience technology the way it should be in this part of the world.
"No other distributor can do this. TD Africa is here to add value to the Information and Communication Technology (ICT) ecosystem."
The Centre, housed within an impressive eight-floor edifice, will play host to tech giants, such as Cisco, Microsoft, Dell Technologies, HP, Schneider Electric, Zinox, Philips, Samsung, Apple and Bosch, among others.
"The structure also houses a cutting-edge gaming arena, lifestyle and smart home area, café, training centre, conference rooms and expansive office spaces, among others.
Olakunle Oloruntimehin, general manager, Cisco, West Africa, expressed delight with the concept behind the Tech Experience Centre, adding that it would be a great opportunity to offer latest technologies to consumers under the same roof with other tech giants.
"It is a good opportunity to collaborate with TD Africa and other OEMs under one roof. Technology is being democratised and it is important that people come together to take this outcome forward.
"Cisco is excited not only to partner with TD Africa but also to work with other OEMs under one space to make this work," Oloruntimehin said.
Chioma Iwuchukwu-Nweke, country manager (Nigeria), Philips, also expressed excitement with the expected launch of the project. She revealed that Philips would delight tech customers at the Centre with latest health-driven home appliances.
Nweke said: "This is a dramatisation of the phrase 'think global, act local.' This is what TD Africa is doing with the Tech Experience Centre, by bringing lots of multinationals in the technology space in one place so that customers will experience latest technology.
"Before now, people always take technology to be something they have to travel outside the country to experience.
"We are sure that the Centre is going to change this narrative, especially at this time when the thought of travelling is a little bit scary for a lot of people. For us at Philips, customers should expect total innovative home appliances."
On her part, Vivian Mike-Eze, marketing communication manager, Schneider Electric, commended the vision behind the initiative.
She urged tech consumers to be ready for an immersive experience with smart home concepts at the Tech Experience Centre.
"There has not been such a centre that gathers all the tech giants together in one place here in Nigeria. So, TD Africa has really set a precedent.
"I believe that people visiting the Tech Experience Centre expect to experience technology. In Nigeria, there is really a market for advanced technology that has been ignored for too long.
"This vision by TD Africa to bring the latest technology and get customers to experience it live is a fantastic opportunity to tap into. Because of the Centre, customers do not need to travel to the US or UK to actually see latest technology.
"Schneider Electric promises customers home automation, using the smart phone concept, when they walk into the Tech Experience Centre.
"This involves having the ability to control the temperature and ambience in their homes, with just a voice command. It is easy to talk about it, but there is no better idea than experiencing it by testing the controls and seeing it live."
In addition, Microsoft Senior Partner, Specialist-Modern Work, Josh Adekeye, appreciated TD Africa, noting that the Centre will promote customer immersive experience. He promised that Microsoft would always support the Centre, which will reduce the burden for Microsoft to fly its customers to other countries to see its latest technological rollouts.
Adekeye said: "For us at Microsoft, when we heard about the Tech Experience Centre, we knew that it was something we needed to participate in. Before now, we usually fly our customers to Microsoft Technology Centre either in Dubai or in the US.
"However, when this opportunity came, we indicated interest and supported TD Africa to achieve it. We will always support the Centre. The beauty of technology is in seeing it.
"What Microsoft brings to the table is customer immersive experience. It means the customer will see the technology, feel the impact and make their decision easily and quickly."
Lending his voice, Managing Director, Samsung (Nigeria), CadenChiyeon Yu hailed TD Africa for galvanising other tech giants to bring the Tech Experience Centre to life, adding that the Centre will afford Samsung a great opportunity to expose customers to its latest offerings in Internet of Things (IOT), Artificial Intelligence (AI) and other innovations shaping the global tech ecosystem.
Meanwhile, Ayokunmi Solesi, Country Manager (Nigeria), Bosch, described the Centre as a huge landmark on the African continent, adding that Bosch was ready to bring modern kitchen appliances to the delight of customers at the Centre.
Solesi said: "This is live experience. When you see big OEMs like Bosch, Schneider Electric, Samsung, Cisco, Microsoft, among others coming under a platform, you will realise that something great is about to be born.
"This is a huge landmark, not just in Nigeria, but also in Africa. For us at Bosch, this is a very commendable initiative," Solesi said.
The Tech Experience Centre is an ambitious project, the first of its kind in Africa, to house global technology giants under one roof, with the aim of making latest and cutting-edge technology easily accessible to Nigerians and other nationals.
Experts and economic watchers have hailed the expected launch of the centre as a major development that will shore up Nigeria's relevance in the global technology space, while also boosting the nation's economy.
FG Mulls Zero Charge Policy for Educational Websites
Federal government is considering a new national policy for zero rates on educational websites to allow consumption of content without charges to mitigate the impact of COVID-19 on learning, according to Isa Pantami, minister of Communications and Digital Economy.
Pantami stated this while delivering an address at a webinar organised by Lead Inspire Network in Abuja over the weekend.
The theme of the webinar was Enhancing Virtual Learning and the Challenges of Internet Penetration in Nigeria.
Mr Pantami, represented by Mr Usman Gambo, director, Information Technology Infrastructure Solutions, National Information Technology Development Agency (NITDA), said the policy would contain appropriate incentives for mobile network operators and internet service providers.
The minister agreed that sufficient access to the internet was essential for the development of an informative society and that the Nigerian government was also working to increase the broadband penetration from its current level.
He noted that broadband penetration currently stands at 40.2 per cent and the plan is to make it 70 per cent by 2025.
"This is the target we set for ourselves in the Nigerian National Broadband Plan.
"It will be of great benefit to the education sector and we would focus more on enabling appropriate contents, infrastructure, capabilities for learning and teaching," he said.
He added that few agencies under the ministry had established digital centres, capacity training centres, e-accessibility centres, school knowledge centres, e-Libraries, ICT Hubs and innovation parks across the country to propel broadband penetration.
"In just one year, we have deployed over 200 of these centres across the country and they are mostly situated in rural areas, equipped with at least 25 computers, back-up power supply and free internet service.
"In addition to providing free internet services, the centres also serve as innovation hubs and learning centres for the local community," Mr Pantami said.
He said that NITDA had issued Framework and Guidelines for Public Internet Access to regulate government approach to deepen internet penetration and bridge the digital divide.
On his part, Umar Danbata, executive vice chairman, Nigerian Communications Commission (NCC), stated that COVID-19 had created a new level for education that required a new approach.
Represented by Mr Henry Nkemadu, a Director with the commission, Danbata acknowledged that high cost of Right of Way (RoW), multiple taxation, operating expenses and economic downturn had affected internet penetration but reiterated that government was putting measures in place to ease the challenges.
Mr Sope Afolayan, co-founder, Lead Inspire Network, said the event was aimed at providing equal access to children at all levels and redirect the thinking of policymakers on the need to see the acquisition of education beyond the four walls of the classroom.
Tech Experience Centre will Boost Nigeria's Socio-Economic Profile, Says Cisco Boss
The establishment of the Tech Experience Centre, an unprecedented technology project set for launch in Lagos, will deliver excellent social, commercial and economic opportunities that will potentially create wealth for Nigeria.
The foregoing represents the thoughts of  Olakunle Oloruntimehin, general manager, West Africa, Cisco.
Equally important, Cisco, a worldwide leader in IT and networking, is one of the global tech giants that will be represented in the centre, a development which Oloruntimehin remains confident will generate innumerable positive outcomes for the Nigerian economy.
The Tech Experience Centre is set for launch on Thursday, October 1, 2020, the occasion of Nigeria's 60th Independence Anniversary.
''Nigeria can expect Cisco to leverage this centre as part of our ongoing efforts in this region and globally to accelerate an inclusive future for all. Cisco people, technology and related resources delivered at this centre can be expected to ensure the interventions that will predictably deliver social, commercial and economic outcomes for Nigeria and the West Africa region.
"Our focus on partnerships and collaboration will include the space for SMME support, building a community that can be leveraged to improve the wealth of Nigeria,'' he said.
In addition, Oloruntimehin has expressed delight with the presence of Cisco among other globally renowned tech brands in the centre.
Specifically, he referenced the multiplier effect the Tech Experience Centre will have in encouraging local IT participation and the chance to have Nigeria's voice heard in the global technology race.
''Cisco is particularly pleased to be collaborating with other stakeholders in the Tech Experience Centre project.
"The Tech Experience Centre provides the ideal platform for collaboration amongst global technology players in a melting pot of sorts.
"The outcome of this should provide for local IT and technology industry participation and the incentives required to leverage the visible talent and opportunity potential in Nigeria. Innovation is global and the centre provides the interventions for Nigeria's contribution.
''Also, the democratization of technology outcomes should rank high as one of the impacts that this centre will deliver and by extension the provision of access to the evolving global technology landscape.
"My belief remains that access to education and the Internet, including the inherent opportunities for knowledge sharing, collaboration and innovation are the two most important equalizers in life.''
Further, the Cisco executive has urged visitors to the Tech Experience Centre to look forward to enriching innovations and partnerships; even as he lauded TD Africa, Sub-Saharan Africa's foremost technology, lifestyle and solutions distributor for spearheading the ambitious project.
''At the centre, we expect our partners, customers and participation from our social responsibility collaboration e.g. Cisco Network academy. We expect to use the centre as a part of the showcase for our technology solutions, while we remain deliberate about building a relevant community of SMME that can compete at the global stage.
"Our traditional and emerging partners would also be welcome to the centre to collaborate with Cisco and other stakeholders in key areas like Devnet/DevOps, software engineering etc.
''We focus on partnerships and collaboration. We are a company that has a proven track record off the back of a successful global partner program over the years. This approach is consistent in the way we continue to partner with TD Africa, to provide market development and penetration where required in the region for Cisco technology.
TD Africa is showing palpable intent with the launch of this Tech Experience Centre and I will encourage them to stay bold and continue to push the boundaries for technology in the region,'' he concluded.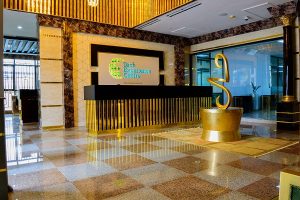 The Tech Experience Centre is widely expected to bridge the gap to cutting-edge technology for millions of Nigerians.
The centre, the first of its kind in Africa, located within the prestigious Yudala Heights on Idowu Martins Street, Victoria Island will be flagged off by the Minister of Communications and Digital Economy, Dr. Isa Ali Pantami, who is expected in Lagos for the official commissioning by 5pm.
The Tech Centre is widely expected to boost Nigeria's relevance in the global technology race and shore up the country's march to technology independence.
For the first time, Nigeria will play host to the latest global technologies including those not normally available in Africa, offering all classes of visitors a first-hand experience of new gadgets, solutions and infrastructure that would have previously required a visit abroad, thereby saving corporate organizations, government establishments and individuals money or scarce foreign exchange expended on these trips.