Akwa-Ibom: From Smart City to Smart-State
Chris Uwaje
First, it is essential to state that Akwa Ibom was the first State in Nigeria to establish and enthrone a State Information (IT) Policy and created a Science and Technology Office at the Cabinet level – represented by a Commissioner.
True to type, the State has also become the first to appoint a full-fledged ICT professional as SSG. Indeed, the 'first kid on the block' concept in contemporary development is not new.
Chief Obafemi Awolowo applied it in 1955 when he enthroned 'Free Education' in the South-West and Bill Gates of MS and Steve Jobs of Apple PC applied it to fire and light-up the accelerated development of global ICT Ecosystem.
It was year 2003 – sitting on the dark windows of a Night Bus to Uyo – I headed into an adventure of the unknown. The mission was to explore the e-Readiness of Akwa Ibom State ICT development.
Oblivious of the challenges before me, delighting from the bus on arrival on the early morning the next day, I was welcomed by a refreshing breeze full of rich oxygen engulfed in a distant voice of 'Welcome to Uyo'.
It was at that moment that I realized that my mission was to lay a foundation for ICT as the most strategic imperative for the sustainable development and competitiveness of the State in the very near future.
Today, that future is here – giving us the privilege to look back and advance our evaluation as proof of concept for assessing 21st Century development and growth at the State level. Before we evaluate the advantages of Akwa Ibom State as one of the very first to establish an IT Policy, let's look at the future of ICT e-readiness of Akwa Ibom State in view of the current state of things.
Based on my assessment of the ICT landscape in Akwa Ibom 2016-2018, the state will be one of the most advanced ICT Smart-State in Nigeria and indeed perhaps the first to deploy Robots for Education, Health, State Security, Essential public service, etc for sustainable development (derived from her current advantages of small population of 5.4m, enormous resources and abundant intelligent pioneers with 'Can-do Sprit'); Readiness for acceleration of robust ICT infrastructure development, with respect to State-wide Broadband Internet access, State of the Art Fibre Optics Network for state security and youth empowerment will unleash monumental innovation beyond basic imagination.
The State would harness the advantages of Internet of Things and Nano Technologies as diversification strategy of Akwa Ibom economy from Oil & Gas to Information Intelligence resources in preparation for Information Society (IS).
Before others States realize the ICT State of Things in Akwa Ibom, the environment would have propelled the State from the shadows of 'Smart-City' to the villa to the metropolis of Smart-States by 2030.
This would be actualized by intensifying AI and Machine to Machine (M2M) Solutions strategies and multiply the dividend to her people exponentially.
The secret of all these is hidden on the probability that the State government will promote the establishment State Innovation development Fund for Software Engineering Institutes (SDI), Code-accelerator based Education, Innovation Hubs, Critical Local Data centres, ICT Research Centres, etc – leading to position Akwa Ibom as the first destination for ICT Skill Resources and solutions to serve the nation and the ICT-hungry African market.
Today, as we speak, many States  in Nigeria are yet to develop State ICT policy and their ICT development funding mechanisms are at the lowest bottom of the budget ladder. Flash back, the same scenario was experienced in 1955, when Chief Obafemi Awolowo established Free-Eduction in the South West Region of Nigeria, while others were asleep – making the South West the current leader in the statistical spread of those who can read, write and educated all through West Africa and beyond.
That is not all, the South West ICT agenda of empowering many millions of its citizenry with ICT competence of 'how to code' will further put the region many miles ahead of the others in the next decades. That is where Akwa Ibom will stand tall amongst equals in the emerging creative society. The State has done well in ICT spend and investment over the years.
Moving forward with the deserved appointment of Dr, Emmanuel Ekuwem – an exceptional IT Professional and renowned Tele Communications expert as the State Secretary of Government of Akwa Ibom State, the expectations are that Akwa Ibom State will undoubtedly become the first address for ICT knowledge advancement, solutions, services and creative dimensions for the sustainable future.
The current landscape ICT advantage of Akwa-Ibom State was conceptualised in 2003. This established the State Information Technology (IT) and Science and Technology (S&T) Policies respectively.
These sets of policy frameworks were aimed at: Creating knowledge and innovation clusters for strategic and sustainable development of the State. Retooling the workforce in readiness for e-Government programs designed to meet the basic and central needs of the State.
Finetuning leadership and governance operations. Discovering and enthroning new knowledge resources to serve core business–commercialisation activities.
Reposition the State's ICT brand to engage national and International entrepreneurial and innovation culture. Engaging knowledge workers and core Stakeholders to relocate to the State for the real mission of adding sustainable value State development and prosperity.
In the beginning, the central goals include but not limited to the following: Transform Akwa Ibom through ICT. Conceptualize the establishment of Akwa Ibom State's ICT Policy and premier Information and Communication Technology (ICT) Park as the central Hub and strategic platform for transforming and accelerating the development and advancement of new Knowledge Resources to empower existing start-ups, small and medium scale businesses and industries.
Apply R&D to understand and master the secrets behind accelerated ICT, future applications and related Technology development curves in innovation, electronics, advanced materials business and e-Government development. Develop and built new Entrepreneurs and Techno-preneurs Culture.
While wishing Akwa Ibom State well in pursuance of her sustainable ICT mission, there is need to invigorate and apply design-thinking process to accelerate Youth employment through ICT knowledge empowerment and the commercialization of innovative State technologies. Above all, there is need to improve and protect the State's Critical ICT Infrastructure, business incubation, knowledge coaching, skills development, strategic relationship networks and access to capital.
For the records, Dr. Emmanuel Ekuwem shared the vision with professional advice at the founding stage of the State's IT Policy. Those who were in the line of fire for actualizing the establishment of the foundation of Akwa Ibom State's ICT vision and mission at the critical stage include but now limited to the followings:  Obong. Victor Attah– First and Former Executive Governor of Akwa Ibom State.
Dr. Linus Asuqor  First Commissioner for S &T, Chris Uwaje of Connect Technologies as Lead Consultant, Obong. Effangga, former PS of S&T. Prof. Ntuen (Department of Human Machine, North Carolina University, USA, Chief Ebitimi Banigo: Former  Federal Minister for S&T, Prof. Akpan Ekpo , former VC of Uni Uyo, Yinka tanimowo, Gbenga Sesan as technical support and others too numerous to mention. Time for other States to learn ans share from Akwa Ibom's ICT strategy and experience.
FG Launches Central Database for Stolen Asset Tracing
Federal government has launched a Central Database under the Asset Tracing, Recovery and Management Regulations (ARTM), 2019 and the Central Criminal Justice Information System (CCJIS) under the National Anti-Corruption Strategy (NACS) 2017 – 2011 to assist in the fight against corruption.
Mr Abubakar Malami, attorney-general of the federation (AGF) and minister of Justice, at the launch in Abuja, said the database will ensure uniformity of process, access and information feeding to deepen transparency and accountability in the management of recovered assets.
To ensure compliance, he said his office is developing legislation for the full implementation and operation of the CCJIS.
"We will work together to establish and re-enact transparency and accountability in governance and management of our resources which we have committed to do by way of strengthening International Cooperation of our membership of Open Government Partnership," he said.
In his speech, Mr Femi Gbajabiamila, speaker of the House of Representatives, represented by Mrs Ugonna Ozurigbo, chairman, House Committee on Justice, said the regulation on Asset Tracing, Recovery and proper management of proceeds of crime was signed on October 24, 2019, and took effect from November 1, 2019, replaced the proceeds of Crime Regulation of 2012.
The new regulation titled Asset Tracing, Recovery and Management Regulations 2019 empowers the AGF to take charge of the custody and management of all final forfeited assets, approval and appointment of asset managers and operating and maintaining a database for the records of all recovered assets within and outside Nigeria.
He said, the AGF's office, under the new regulation, is also required to coordinate inter-agency investigations into recovery matters within and outside Nigeria from all law enforcement agencies whose law empowers them to undertake recoveries and maintaining a depository for all forfeiture orders issued by the Nigeria courts and courts outside Nigeria.
Asset Tracing, Recovery and Management, according to the Speaker, is a core value of good governance and its effective management will serve as a deterrent to would-be fraudulent minded individuals who may find themselves in public offices.
According to him, states resources must not be allowed to be stolen but if that happened by fraudulent individuals, efforts must be taken to trace the proceed, recover same and manage for the interest of the generality of the people.
"When the proceeds of crime are traced and recovered but again looted by government officials, I dare to say such act amounts to the crime of tertiary capacity and must be avoided.
"Assets not accounted for are assets lost; loss of assets undervalues the economic potential of a country and will negatively impact on the net worth of a country. Accordingly, Asset Tracing Recovery and Management is a panacea to rekindling of the value system of a nation," the Speaker noted.
Konga, Nigeria's foremost ethical and innovative composite e-Commerce brand is set to unveil a revolutionary new solution – Konga Bulk – which the company says will represent the new normal for forward-thinking businesses and consumers in the Nigerian corporate space.
Equally important, Konga Bulk, the latest innovation from the e-Commerce giant, is set to go live on Monday, September 21, 2020.
Through this initiative, Konga is rolling out a mega platform which has been touted a potential game-changer, offering manufacturers, distributors, resellers as well as Small and Medium Enterprises (SMEs) an opportunity to take advantage of Konga's world class assets including its secure regional warehouses, smart offices, cutting-edge technology, advanced logistics capabilities through an internally-owned subsidiary, Kxpress and its Central Bank of Nigeria-licensed payment platform known as KongaPay.
This is in addition to leveraging Konga's e-Commerce engine and extensive marketing expertise in bringing their products and services to the consciousness of millions of Nigerians nationwide.
In other words, Konga is taking a huge burden off the shoulders of manufacturers and other business owners in Nigeria through this ambitious project.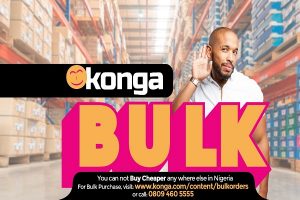 By allocating physical office and warehouse spaces to partner businesses and placing its many other cutting-edge assets at their disposal, Konga is ushering many into the new normal by bringing succour to corporate entities, many of whom have been encumbered by the COVID-19 pandemic.
Furthermore, Konga Bulk will play a very important role, bridging the gap to genuine products and services between manufacturers, distributors, resellers, bulk buyers and consumers.
Resellers and other bulk buyers can also take advantage of best prices available for genuine products exclusively through Konga Bulk.
Kalu Johnson, vice president, Strategic Business, said businesses who sign up on Konga Bulk have a lot to gain.
''Konga Bulk is a very ambitious project which we have positioned as the new normal.
"It is a unique opportunity for manufacturers to take advantage of the huge assets and real estate, both physical and virtual, available at Konga.
''We have invested significantly and strategically in various areas of our operations.
"Today, Konga owns arguably the largest single warehouse space in Lagos in addition to other similar massive infrastructure in other parts of the country such as Onitsha, Port Harcourt, Uyo, Abuja, Owerri and other locations.
''As a manufacturer, distributor or business owner signed up on Konga Bulk, you no longer have to worry about owning your own office or warehouse space. Nor do you have to bother about the heavy investment in logistics, delivery, payment solution, technology, marketing or activations.
"You can rely on Konga's world class competencies and assets in these areas.
''Businesses must find a way to rebound from the difficulties occasioned by the COVID-19 pandemic.
"Konga Bulk, which is focused on ushering in the new normal, is one of the innovations we have come up with to provide a way out,'' he concluded.
Konga Bulk goes live online at www.konga.com and offline in every Konga retail store nationwide on Monday, September 21, 2020.
Access Bank Reaffirms Support for An Innovative, Smart Lagos State
Mr. Herbert Wigwe, managing director and chief executive officer of Access Bank Plc, has said that Access Bank Plc will not relent in supporting innovative programmes aimed at transforming Lagos into a 21st century State driven by technology innovations.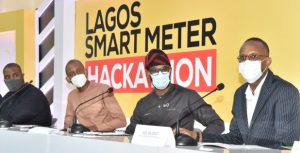 Wigwe spoke yesterday during the finals of the Lagos State Smart Meter Hackathon design held at the Bank's Corporate Headquarters in Lagos.
An initiative of the Lagos State Ministry of Energy and Mineral Resources, the Hackathon is aimed at providing affordable electricity meters to the populace by facilitating the design and production of meters that will accelerate efforts towards achieving improvement in energy distribution, monitoring and prevention of revenue leakage.
Wigwe who was represented by Mr Ade Bajomo, executive director, IT & Operations at Access Bank, said that supporting the Hackathon once more reinforces the Bank's commitment to leveraging technology for the betterment of the society.
"Having Hackathon and innovative programmes like this, has always been part and parcel of our DNA in Access Bank. We are forever looking for new things to do to solve real problems in Africa and beyond; new things that would move the life of our people forward.
"We are always looking forward to doing things that would make more people financially independent, driving and enhancing the well-being of the entire society," he said.
He noted that now the world is witnessing the Fourth Industrial Revolution, and there are Africans working with the rest of the world and using technology to solve the problems of the people.
Wigwe stressed that Access Bank does not exclude the rest of the world when it comes to using technology innovations to address the problems of the people.
"That is why this Hackathon is very important because it's our people solving our problems and leveraging global solutions to finding our answers to our own problems.
"And that is why at the Africa Fintech Foundry (AFF), which Access Bank is promoting, we want to have more innovators and innovations that will help in transforming our society for the better," he said.
The Access Bank boss stated that to see this Hackathon come to light shows the commitment of the Lagos State Government to not only the project, but to the actualization of a smart Lagos, where electricity is accessible and affordable.
He pledged Access Bank's continued support to the Lagos State Government's efforts at building a smart state.
Mr. Olalere Odusote, convener of the Lagos Smart Meter Hackathon and the State's Commissioner for Energy and Mineral Resources, said that there were very many talented people who applied for the Hackathon, noting that there were 65 submissions in all, out of which its panel of experts reduced the number to the five finalists that participated at the finals of the Hackathon.
"We had the hardware yesterday and we were very impressed with what we saw. We are expecting no less from the software side. We are going to get engaged, look at what they have to offer and then integrate it into our future.
"We are trying to solve our own problems by ourselves. This is just the start; it is not a one-off project. At the end of the event, we will take the product to our prototype mode; we will take the product to a commercial development process," he said.
The Commissioner said they were not just doing the Hackathon for the sake of it but are looking for solutions that will contribute to making Lagos a 21st Century economy.
He thanked Access Bank for its generosity, support and partnership with the State government. He also thanked other partners for joining in the journey of making Lagos a great state.
Five contenders each emerged from both categories of the competition, and the two winners are expected to share the prize money of seven million naira.
Finalists were shortlisted after a transparent, rigorous and competitive process.
The Hackathon attracted 274 registrations or entries, 127 of which bid in hardware category, while 147 competed in software group.
The five software finalists for the Hackathon on Thursday were Magnitronics, Vectorians, Zeena Platform, Chosen Soft Tech and Gideon. 
It would be recall that during the launch of the programme on July 30th, 2020, the Lagos State Governor, Babajide Olusola Sanwo-Olu noted that the Smart Metre Hackathon Initiative marked a significant milestone in the implementation of the State Government's plan towards improving access to electricity.
He said it aligned with the Sustainable Development Goal 7 of the United Nations, targeted at achieving universal access to affordable, reliable, sustainable, and modern energy for all by 2030.
The Lagos Smart Meter Hackathon 2020 was convened by the Lagos State Ministry of Energy & Mineral Resources, curated by Eko Innovation Centre, and sponsored by Access Bank Plc, Egbin Power, and Ikeja Electric Distribution Company.
Other sponsors include Mojec International, Eko Electric Distribution Company, MOMAS Electricity Meters Manufacturing Company, ElSewedy Electric, Royal Power & Energy, Venture Garden Group, InfraCredit, and Axxela Limited.
They were supported by the Lagos State Office of Innovation and Technology, Lagos State Employment Trust Fund (LSETF), the Nigerian Electricity Management Services Agency (NEMSA), Africa Fintech Foundry (AFF), Oracle, IBM, General Electric, Business Day and Accelerate TV.
The Grand Finale of the Hackathon holds on Friday, September 18, 2020 at Eko Innovation Centre, Ikoyi, Lagos.