Ericsson Predicts Increased 5G Uptake in Africa
Ericsson says more service providers in the Middle East and Africa (MEA) region will this year adopt 5G technology in their operations.
Chafic Traboulsi, head of networks at Ericsson Middle East and Africa, says preparing for 5G opportunities is a must for service providers.
His assessment comes as there is general consensus the 5G market is developing much faster than the previous generation 4G LTE standard.
In its Mobility Report published in November last year, Ericsson predicted 5G will be adopted faster than 4G LTE.
The IHS Markit 5G Economy Study, commissioned by Qualcomm, shows 5G sales enablement of $13.2 trillion by 2035, an increase of $1 trillion over the original forecast released in 2017 which estimated $12.3 trillion.
Traboulsi says during 2019, his company saw increased uptake of 5G technologies as Ericsson MEA announced seven commercial 5G agreements with operators in different countries: Etisalat UAE, Ooredoo Qatar, STC Saudi Arabia, Zain Bahrain, Batelco Bahrain, MTN South Africa and Mobily.
"In fact, service providers in the MENA region can target a potential revenue opportunity from $15.18 billion to $45.91 billion by 2030 provided they adapt their business model to become service enablers and creators."
Traboulsi explains: "On a global level, to date, Ericsson signed 78 commercial 5G agreements or contracts with unique operators, of which 24 are live networks with the Middle East and Africa region contributing to around 29%.
"In the MEA region, Ericsson has already cemented its 5G leadership position during 2019 by implementing the 5G networks and by improving our customers' network capabilities in both 4G and 5G."
Traboulsi notes that with consumer and personal communication-centric commercial 5G networks already live, the next wave of 5G expansion will allow businesses to digitalise with more mobility, flexibility, reliability and security – taking the Internet of things (IOT) and industrial applications to never-before-seen levels.
"Industry digitalisation opens new opportunities for service providers to build and extend their businesses beyond connectivity. The 5G-IOT landscape offers enormous potential but is complex to navigate and demands a comprehensive understanding of the different driving forces and barriers for different industries in focus.
"The probability to be successful in capturing parts of this potential is higher in the next five to seven years when roles and market shares are established rather than later. First mover's advantage is clear. Addressing these opportunities could enable service providers to unlock additional revenue streams of up to 35%, on top of the current scope of business by 2030."
NCC Says COVID-19 Presents Opportunities and Challenges
Nigerian Communications Commission (NCC) has said that the Covid 19 pandemic has also drastically changed communication and interaction with digital platforms becoming the norm for carrying out official and personal activities.
Dr. Ikeckukwu Adinde, director, Public Affairs, NCC, who stated this during a virtual meeting with online media journalists yesterday, also said that the digital media environment has brought about new opportunities and challenges for online journalists.
Adinde, said that "One of the many benefits of what you do as an online journalist is the real-time dissemination of information and the immediacy it involves.
"The availability of online news 24/7 and its accessibility and availability to consumers make your work very important, you are therefore constantly faced with the challenge of not only reporting events real-time, sometimes, but balancing that need for speed with the accuracy and integrity demanded by your profession." He added.
According to him, "the communications sector and telecoms, in particular, is indeed the most vibrant and dynamic sector of the economy  and requires excellent leadership and stewardship, no wonder  President Muhammadu Buhari recently approved the reappointment of Prof. Umar Danbatta as the EVC/CEO of the NCC for another term of five years which has since been  confirmed by the Senate."
The fate of Nigeria's telecommunications industry has yet again been entrusted to a tested and trusted hand and you have a role to play to ensure factual reportage of the Commissions activities and initiatives.
He said that the National Digital Economy Policy and Strategy (NDEPS), the New National Broadband Plan (2020-2025), the NCC Strategic Management Plan (2020-2024), creation of the Digital Economy Department all underscore the policy directions of the Federal Government which the NCC is expected to drive working with the supervising ministry and other relevant industry stakeholders to extend the frontiers of the digital economy for Nigerians.
The director also solicited the  continuous support of the journalists in the area of enlightening the general public on the various consumer-centric regulatory initiatives of the Commission.
"As our online media partners, I urge you to constantly visit the NCC's official website (www.ncc.gov.ng) which is a repository of information and necessary latest statistics on the performance of the telecommunications industry" headed.
Kashifu Abdullahi Blazes the Trail at NITDA as Director General
National Information Technology Development Agency (NITDA) is a federal government agency saddled with the responsibility of developing and ensuring the growth of information technology in the country. The agency formulates policies and programmes to achieve this mandate which is supervised by its director general.
Over the years, the agency has witnessed several director generals who during their tenure have made impacts towards the growth and development of information technology. But, the current director general in the person of Mallam Inuwa Kashifu Abdullahi has distinguished himself with several accomplishments within the short period of taking over as the helmsman at the agency.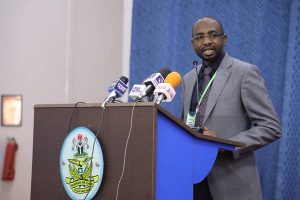 Come Wednesday August 20, 2020 will mark his first 365 days in office, having been appointed by President Muhammadu Buhari, GCFR  on August 20, 2019, Mallam Inuwa Kashifu Abdullahi has been able to implement notable regulatory instruments: like Nigeria e-Government Interoperability Framework (Ne-GIF); Nigeria Cloud Computing Policy (NCCP);Nigeria ICT Innovation and Entrepreneurship Vision (NIIEV);Framework and Guidelines for ICT adoption in Tertiary Institutions; Guidelines for Nigeria Content Development ICT as amended; and Data Protection Implementation Framework.
Mallam Kashifu Abdullahi is a Technology expert with over fourteen years of working experience in Information Technology operations, business transformation and solution architecture, across both private and public sectors.
He graduated with Bachelor of Technology degree in Computer Science from Abubakar Tafawa Balewa University Bauchi State, Nigeria and was Massachusetts Institute of Technology trained as MIT Sloan strategist.
As the world and Nigeria grapple with the effects of COVID-19 and its attendant dire economic impacts on the global economy, the agency under Mallam Kashifu Abdullahi leadership has embarked on strategic projects to ensure that our economy recover from the effects of the pandemic.
The landmark initiatives launched to cushion the effects of the pandemic and ensure that technology continues to enable business continuity were:
Tech4COVID19 Initiative – This initiative was launched to measure the impact of COVID-19 on the tech ecosystem and proffer solutions especially for startups. The Committee set-up by the agency came up with a Strategic Plan to ensure that the country retains about 100,000 ICT Jobs and create an additional 30,000 in the Post COVID-19 Era.
Virtual Startup Clinic – This initiative was setup to gather Startups, mostly young people to meet with mentors, successful entrepreneurs, investors, industry specialists, business consultants and hub operators with the goal of solving problems and challenges they were facing.
Nigeria COVID-19 Innovation Challenge– This is an online innovation challenge held to meet the challenges the country is facing as a result of the COVID-19 pandemic. At the inaugural challenge 5 startups with highly innovative ideas were selected for the final challenge and 3 of them were selected for further incubation. A support of ₦1 000,000, ₦750,000 and ₦500,000 were won by the 1st, 2nd and 3rd winners respectively.
NITDA Technology Innovation & Entrepreneurship Support Scheme– This is a scheme to support startups and hubs across the country. With over 120 hubs in Nigeria, NITDA is finalizing plans to ensure rapid intervention is provided for hubs and startups based on competence and carefully selected criteria.
SMART Agric Project- This is an initiative by the agency which aims to engage farmers and focus on using precision/smart farming to ensure significant improvement in crop yield, quality of farm produce, efficiency and productivity; increased profit margin, harvest forecast, sales of farm produce and eco-friendly agriculture practice. During this pandemic, we have engaged 130 farmers on this Project.
NITDA Academy– This is a platform for virtual learning where thousands of young Nigerians can have access to a wide range of educational courses and tools online, this basically addresses challenges students face in assessing educational materials.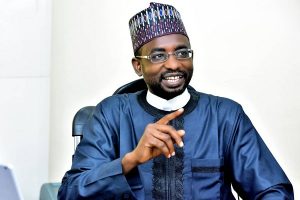 Mallam Kashifu Abdullahi at recent event said that his administration will focus on implementing a strategic roadmap for the development of Nigeria's IT sector, which consists of 7 pillars that are in alignment with the 8 pillars of the National Digital Economy Policy & Strategy.
According to him, "The 7 key pillars of our Roadmap are IT Regulation, Capacity Building, Digital Inclusion, Digital Job Creation, Government Digital Service Promotion, Local Content Development, and Cybersecurity.
"We have rolled out several policies, regulations, and programmes, focusing on those areas.
"However, as the roadmap is set to expire this year as the Nigeria Economic Recovery and Growth Plan (ERGP) which it draws from.
"We have already commenced reviewing it as well as developing the next plan, which will soon be launched.
"It is in alignment with and takes cognizance of the National Digital Economy Policy and Strategy (NDEPS), the Nigeria Economic Sustainability Plan (NESP) and other important plans and policies of this administration".
Mallam Kashifu Abdullahi will no doubt leave an indelible footprint at NITDA and the Nigeria IT space. His unprecedented records of achievements within first one year in office are a testament of his contribution and support to the growth and development of the ICT Sector in Nigeria.
Mondia Pay Records 5.3Bn Transactions as More Telcos Join
Mondia Pay, Mondia's digital payment entity, announced that it recently onboarded a series of new clients and is fast becoming the preferred digital payment solutions provider for telecom operators across Africa. Mondia Pay registered 5.3 billion transactions on its platform last year with telcos across the continent.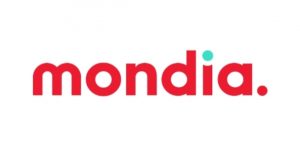 A leader in digital platform services, Mondia Pay enjoys partnerships with operators in South Africa, Botswana, Liberia, Madagascar, Tanzania, Sudan, Guinee, Nigeria, Ivory Coast and Senegal where it provides telcos with the best billing integration, bundling deals, user engagement and subscriber acquisition services.
Mondia Pay's success with African telcos can be attributed to the flexibility of its business model which caters to different operator requirements. Subscribers can access premium content, customise their bundle offers and select the payment options that work for them in a fast and secure environment.
Mondia Pay is in the process of onboarding several new partners in Nigeria and the company is now working on launching solutions with telecom operators in Kenya, Mozambique, Ethiopia, the Democratic Republic of Congo and Burkina Faso.
"We are extremely pleased about Mondia Pay's success in Africa as it reflects our experience working with over 80 telcos across the world and demonstrates our leadership credentials in the digital payment solutions space," said Simon Rahmann, CEO of Mondia Pay.
"Smartphone adoption in Sub-Saharan Africa is set to rise to 66% by 2025 (GSMA) which means that access to online services will continue to grow exponentially. The African operators we are talking to are all seeing an increase in payment purchases for digital services and they are keen to get ahead of the curve to capitalise on this opportunity."
Mondia is an industry leader in content and entertainment services for audience acquisition and engagement. The company helps its partners monetise their entire customer base across mobile, web and apps through innovative and engaging digital experiences.