FG Says No More Subsidies on DSO
Federal Government has said there will be no more subsidies, either of set top boxes or signal carriage as it plans to resume the rollout of Digital Switch Over (DSO), a transition from analogue to digital television broadcasting.
Lai Mohammed, minister of Information and Culture, who disclosed this in Abuja at a "Digiteam" meeting to foster dialogue among the various stakeholders in the DSO architecture, said that while the government is looking for money to pay outstanding debts and restart the DSO roll out, the process will be fully private sector driven and self sustaining.
"On our part, we have made tremendous progress in our efforts to get the much-needed funds for the DSO process, in particular to pay outstanding debts that will ginger stakeholders to resume the rollout and bring the massive benefits of the DSO to Nigerians.
"As I speak, we are putting finishing touches to a memo we plan to send to the Federal Executive Council as part of our relentless efforts to secure the funds to re-start the process, and we are very optimistic that our efforts will pay off soon.
"The Analogue to Digital Switch Over must not be delayed any longer than absolutely necessary," he said.
Recallthat following the successful launch of the DSO in April 2016 in Jos, Plateau state, the federal government announced the reduction of price of set top boxes from the official N10,000 to N1,500 in order to get it across to all Nigerians.
About 200,000 boxes were also given out for the pilot phase free of charge.
Similarly, the Plateau State Government also announced subsidy plans for its citizens and promised to distribute 300,000 boxes to them.
Mr Mohammed noted that moving ahead with the DSO was critical to the post-Covid prosperity of the Creative Industry and that was why the government has taken it as a priority.
He recalled the enthusiasm that greeted the launch of the DSO in Jos, noting that the process was stalled due to many factors but mainly lack of funds.
"After the launch of the pilot phase in Jos, the launch train moved fairly quickly to Abuja on December 22, 2016, then to Ilorin, Kwara State, on December 20, 2017, Kaduna two days later on December 22, 2017.
"We then proceeded to Enugu on February 12, 2018 and finally to Osogbo, Osun State, on February 23, 2018.
"Over two years later, we have not launched the DSO in any state, even when we have 31 more states to cover!," he said.
DStv, GOtv Not Hacked, Says Company's Rep
DStv and GOtv, pay-TV platforms have not been hacked, but undergoing system maintenance, according to a representative of the company who pleaded anonymity.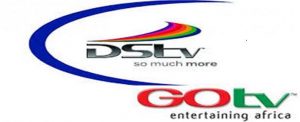 This is contrary to the viral tweet that the platforms have been hacked in support of #ENDSARS protests.
MultiChoice Nigeria had earlier in the week sent messages to subscribers that there will be a system upgrade. The message read: "We will be upgrading our systems from 11 pm, 17 October until 4pm, 19 October. This is to ensure improved system reliability.
Access to your favourite channels will not be affected, however payment, self-service will not be available."
On Twitter, where the news has gone viral, users say that all channels available on the platforms are now free to watch irrespective of the subscription bouquet.
The news is attributed to the Hackers Collective Anonymous who have in the past few days hacked websites of multiple government agencies as support to the #EndSARS movement.
MultiChoice Nigeria is expected to put an official statement on their social media channels soon.
Copyright Commission Cracks Down Notorious Pirates in Yola
The Nigerian Copyright Commission (NCC) has arrested and arraigned seven suspected pirates.
Mr John Asein, Director General (DG) of the NCC, disclosed this in an interview in Yola, while presenting a copyright certificate to a prominent stakeholder in the state.
Asein said that the suspects have "terrorised" authors and owners of other intellectual works in the country.
He said that their arraignment followed intelligence reports on their activities.
"The suspects are not just ordinary people, they are people with huge volumes of pirated works and we have charged them to Court.
"Piracy kills and Nigerians are losing billions of naira yearly to it," Asein said.
He said the commission is currently working with some federal law enforcement agencies on some suspected and targeted areas in the country.
He said activities of pirates are on the increase, adding that their ungodly activities had seriously affected and crippled many creative and intellectual works in Nigeria.
He noted that many citizens are patronising pirated materials, either directly or indirectly.
"There's the need for Nigerians to change their attitude and begin to distance themselves from pirated works. From records available, a lot of Schools across Nigeria patronise pirated books," he lamented.
He appealed to Nigerians to always report any suspicious pirate activity to any of the commission's offices or any security operative.
He described paucity of funds, equipment and manpower as the major challenges affecting effective delivery of services by the commission.
WAP TV Inks Deal with NTA to Return The Village Headmaster on TV
The Village Headmaster, Nigeria's longest ran television drama series,  is set to return on TV as the management of Nigerian Television Authority (NTA) and Wale Adenuga Productions (WAP) signed a memorandum of understanding (MoU), to bring back the iconic drama.
The MoU, which was signed at the NTA Headquarters Abuja, officially marked the beginning of a partnership aimed at resuscitating the drama series that was rested in 1988.
The signing ceremony was attended by top management staff of NTA including Mallam Yakubu Ibn Mohammed, director-general; Mallam Salihu A. Dembos, executive director Marketing; Mr Wole Coker, executive director Production; Mallam Umar Abubakar Dembo, director of Marketing; Barrister Theresa Nwanneri, secretary/legal adviser; and Mrs Mabel Moses, head, Corporate Affairs, as well as the management of WAP represented by , Mr Wale Adenuga, chairman; and Mr Wale Adenuga jnr, managing director.
Created by Chief Olusegun Olusola, culture icon and directed by Dejumo Lewis, it ran on NTA between 1968 and 1988 before it was rested. As the years went by, Nigerians missed some of their favourite stars like 'Amebo' played by Ibidun Allison, the 'Kabiyesi' also known as Oloja of Oja, interpreted by Dejumo Lewis among others, even as death took some away. However, lovers of the series may not have to wait for too long for its return.
Originally a radio drama series, the must-watch started as a radio programme in Ibadan in 1958, with the late sage, Chief Olusola, as creator and producer. It became Nigeria's longest-running television soap opera shown on the NTA, and later one of Africa's first television programmes that delved into inter-ethnic harmony, problem-solving and intervention in public affairs, health, education and family enjoyment.
A source of pride and unity to Nigerians, it is on the premise of this legacy that NTA and WAP would be continuing with this new production, which will premiere on NTA Network from January 2021.
Commenting on the MoU, Wale Adenuga Jnr, said the series, which left its mark on the theatrical sand of times, would be a delight to the fans with its rousing episodes.