ICTs Set to Transform Smallholder Farming
Smallholder farming, which is the backbone of many African economies, is set to be transformed by a combination of investment and increasing access to information and communication technologies (ICTs), particularly mobile phones.
The claim was made Tuesday by Michael Hailu, director of the Technical Centre for Agricultural and Rural Cooperation (CTA) at ICT4Ag, a major conference on ICTs in agriculture.

"On this continent, 65 per cent of the workforce is employed in agriculture and the sector generates 32 per cent of GDP. Smallholder farmers, mostly women, produce 80 per cent of Africa's food. African countries spend up to $50 billion a year on food imports. With abundant land, water and cheap labour, there is no good reason why Africa should import so much food.

"Yet there's good reason to be optimistic. After years of neglect, governments and the private sector are increasing investments in agriculture. Nevertheless, to achieve its full potential, smallholder agriculture must be transformed from a subsistence activity to a profitable, sustainable business. ICTs play a vital role in this transformation. They provide timely advice and information. They help farmers increase productivity. They make markets more efficient. And they increase incomes along the value chain".

The CTA Director said, "the phenomenal growth in the number of mobile phone subscribers in Africa in recent years shows that change was on the way. In 2000, there were just 16.5 million mobile subscriptions in Africa. Now, there are over 650 million. Indeed, the number of people on the continent with access to mobile phones exceeds the number with access to clean water, electricity or a bank account".

Mr Hailu was speaking at ´ICT4Ag: The Digital Springboard for Inclusive Agriculture´ Conference, which is being organised by CTA, the Rwandan Ministry of Agriculture and Animal Resources (MINAGRI) and the Ministry of Youth and ICTs (MYICT).
The conference is taking place in Rwanda, a country where 80 per cent of the working population are employed in agriculture but where the government of President Paul Kagame has also invested heavily in agriculture and ICTs as part of its 'Vision 2020' agenda to turn Rwanda into a middle-income country.
Last week, the Rwandan Government announced that a new network will provide high-speed broadband access to 95 per cent of the country's population within three years.

Rwandan ministers attending the conference shared the upbeat mood. Dr. Agnes Matilda Kalibata, Rwanda's Minister of Agriculture and Animal Resources, reminded the audience of the significance of agriculture in poverty reduction: "Agriculture is a low hanging fruit for poverty reduction. With 40 – 65% employment in this sector in ACP Countries, any investment will have a huge impact on the economy".

She also emphasized the importance of ICT in transforming agriculture.

"Rwanda has committed to transforming the country through ICT. Information and communication technologies (ICTs), social media, Web 2.0 and mobile applications are changing the face of agriculture and rural development in many countries. The use of mobile devices is transforming the communication landscape through dissemination and sharing, and is changing the way we do business. This conference presents an opportunity for participants, Rwandans in particular, to harness the use of ICTs in agriculture and is very much in line with the national vision of making Rwanda an ICT hub in the near future".

Participants at the ICT4Ag conference – including agricultural experts, farmers, young innovators, ICT companies and government officials – are focussing their attention on improvements to agriculture that can be brought about by technological innovation, capacity building and creating enabling policies and infrastructure.
Key issues for discussion are the role of youth and the encouragement of entrepreneurship; the inclusion of farmers in decision-making, information and crowdsourcing; and connectivity.

The Hon Jean Philbert Nsengimana, minister of Youth and ICT of Rwanda, said: "This day is a culmination of more than 10 years of consistent investments in ICT4D policy and strategy formulation, infrastructure development, mobile penetration, education and value added services development in parallel with agriculture modernisation efforts".

Ambassador Valentine Rugwabiza, CEO of the Rwanda Development Board, also a Cabinet member, highlighted the synergies between ICT and investment and also emphasised that indeed ICT is only a tool whose importance will be derived from how well it is used.

Michael Hailu stressed, however, that a major part of the key to securing the potential benefits of ICTs and investment in African agriculture was likely to be the extent to which countries are successful in harnessing the creative input of two key sectors: young entrepreneurs and women.

"Access to ICTs is not uniform", he said, "and there is a digital divide. There is a significant gender imbalance, with men having better access to ICTs than women. And rural areas are significantly underserved compared to cities".

He described the importance of young people as "pivotal".

"Young people have the greatest aptitude for using ICTs, whether it's to communicate or develop new apps to improve agricultural productivity or access faraway markets. Africa's youth must therefore play a pivotal role in the transformation of smallholder agriculture.

"ICTs – in particular mobile devices – have opened up unprecedented opportunities for agricultural and rural development. This development can offer a bright future for millions of women and men who derive their livelihood from farming and other forms of rural employment. Farmers, even in the remotest locations, can easily and readily access vital information on weather, market prices, pests and diseases as well as input prices.

"It is not just about linking farmers to markets or creating employment opportunities for young people. Social media also provide a platform for rural communities to contribute to policy-making".

More than 500 participants from 63 countries, including from Caribbean and Pacific islands, are attending the conference.
CBN Pulls Rate Cut Trigger, King Dollar Returns
By Lukman Otunuga, Senior Research Analyst at FXTM,
In a move that caught investors off-guard this week, the Central Bank of Nigeria (CBN) slashed interest rates by 100 basis points bringing the MPR to 11.5%. Given how inflation has been above target since 2015, rates were expected to remain unchanged for the rest of 2020 and possibly early 2021.
The question on the mind of many is whether the rate cut will achieve the desired effect by stimulating consumption and economic growth? Ongoing border closures and disruptions created by COVID-19 have pushed inflation to levels not seen since March 2018 above 13.20% while a drop in the production and price of Oil continues to rub salt into the wound. While looser monetary policy could support growth, it may come at the cost of rising inflation and weaker Naira.
Over the past few months, central banks across the globe have deployed unprecedented measures to defend their respective economies against the coronavirus menace. However, fiscal policy has been identified as the sharper tool with governments across the world providing a critical lifeline to keep the wheels of their respective economies rolling.
Outside of Nigeria, King Dollar made a return by appreciating against every single G10 currency. In times of uncertainty, everyone wants a juicy piece of the world's most liquid currency. As coronavirus cases rise in Europe and other parts of the world, the flight to safety is likely to boost appetite for the Dollar. This is bad news for many emerging markets currencies, especially those with high Dollar-denominated debt.
On the commodity side, Oil prices remain heavily influenced by demand-side factors and the state of the global economy. Prices are likely to remain stuck around the $40 regions in the near term, especially If another round of possible lockdowns hit Oil demand. Looking at the technicals, WTI Crude is under pressure on the daily charts. If prices are unable to break away from the sticky $40 regions, the next key point of interest remains around $38. A weekly close above $41.50 could pave a path towards $43.
NCC Arrests Man for Hacking into DSTV System
Nigeria Copyright Commission (NCC), has arrested one Mr Aliu Olalekan, for allegedly hacking into DSTV system and watching the channels free without subscription.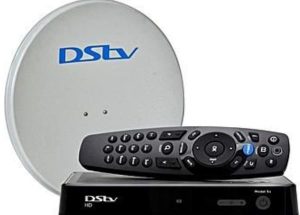 Mr Matthew Ojo, NCC Director in the Lagos Directorate Office said this while speaking with newsmen in Lagos, on Tuesday.
He said that the suspect used to watch DSTV channels free without subscription on his Android phone via an app which he downloaded on google play store.
"This suspect distributed the know-how to his telegram followers and on his blog with the aim of gaining more followers and viewership on his blog and makes more money through google ad-sense.
"The operation was based on surveillance which had earlier been carried out by the Multi-choice team and verified by a copyright inspector, " he said.
He added that the arrest was made in collaboration with a team of copyright inspectors led by the Head of Enforcement Department, Mr Charles Amudipe.
Others included; a team from Multichoice Nigeria led by Mr Umar Ibrahim and policemen from Lagos Command Headquarters, Ikeja.
Ojo said that the joint team conducted an anti-piracy operation at the premises of the culprit in Amukoko, Lagos.
According to him, the suspect was contacted on phone by a member of the operation team on the disguise of patronising him. "The suspect came out to meet the caller and in the process of discussion, he was apprehended.
"The suspect took the team to his resident. The squad paraded his one-room apartment and recovered his laptop and phones used in perpetrating the ungodly act. "He was arrested and brought to the copyright commission office for further investigation, " he said.
Ojo said that, on getting to the commission's office, the statement of the suspect was taken and the inventory of items seized from him taken. He said that investigation on the matter was still ongoing and if found guilty the suspect will be charged to court.
NCC, Digital Encode Support NITRA Innovative Tech Forum On Post-COVID-19 Strategies
The Nigerian Communications Commission (NCC), Nigeria's telecommunications regulator and Digital Encode, Cybersecurity and Compliance advisory company, have indicated interest to partner with the Nigeria Information Technology Reporters Association (NITRA), the national umbrella body of ICT reporters, as it organizes a forum that will x-ray the industry's future plans for ICT growth post pandemic era.
The event, slated to hold on October 15, 2020, will seek to discuss the needs for a fortified ICT sector after the COVID-19 era, and the level of preparedness of ICT stakeholders to embrace the challenge of being pivotal to the stability and growth of all other sectors.
A statement from NITRA National Secretariat in Lagos indicates that due to the pandemic and need to observe the COVID-19 protocol on social distancing, the event will be held via a Webinar.
This year's theme, "Multi-stakeholder Approach To National Recovery Post-Pandemic", is in line with the annual event's generic theme, 'NITRA Innovative Tech Forum', a contribution by NITRA to the development of Information and Communication Technologies (ICTs) innovations and policies in Nigeria.
Prof. Umar Danbatta, executive vice chairman, NCC is expected to deliver the keynote speech at the event and will throw more light on Federal Government's plans, programmes and policies on post-pandemic strategies using ICT.
Dr. Adewale Obadare and Dr. Seyi Akindeinde, founders of Digital Encode, while accepting to support the event expressed their readiness to offer their expertise in Cybersecurity for organisations to prepare against cyber- attacks with the new normal.
They will also highlight areas that are high risks that need fortification in terms of cybersecurity.
Speaking on the event, Mr. Chike Onwuegbuchi, national chairman, NITRA, noted that as the COVID-19 pandemic continues to leave its negative trails across the globe, economic reboot for countries will not only depend on how well they readapt to the new normal, but also more on their recovery plans.
According to him: "While the federal government has consistently expressed its willingness to set all policies in place to engender growth, and accelerated implementation of these policies, private sector firms have also shown great hunger for the task ahead in post-COVID-19 era.
However, the question that needs to be answered is whether all stakeholders are ready for the required task ahead."
The event will also offer participating companies opportunities to publicize some of their individual efforts at contributing to reacting a soft landing or lifeline for SMEs and other ancillary companies as the pandemic threatens their survival.
Digital Encode is a multi-award winning and leading consulting and integration firm that specializes in the design, management, and security of business-critical networks, telecommunications environments and other Information Technology (IT) infrastructures.